General tso chicken in the crock pot is an Asian slow cooker recipe, so now you can have Chinese food at home! This is one of my favorite crockpot meals. Crockpot Chinese food is a family favorite.
This post may contain affiliate links. This means if you click on a link and purchase something, I may earn a small commission from it.

Ingredients to Use:
Chicken breast - provides protein and main part of the dish
Corn starch - makes chicken more textured
Sugar - sweetness to go with the orange flavor
Orange juice - part of the flavor
Ginger and chili powder - adds more flavor
How to Make General Tso Chicken:
First, bread and cook the chicken - this may seem like an obsolete step since this is a slow cooker recipe. However, this is what makes the chicken have more of a crunchy coating.
Then, add remaining ingredients. Let the crock pot finish cooking for you!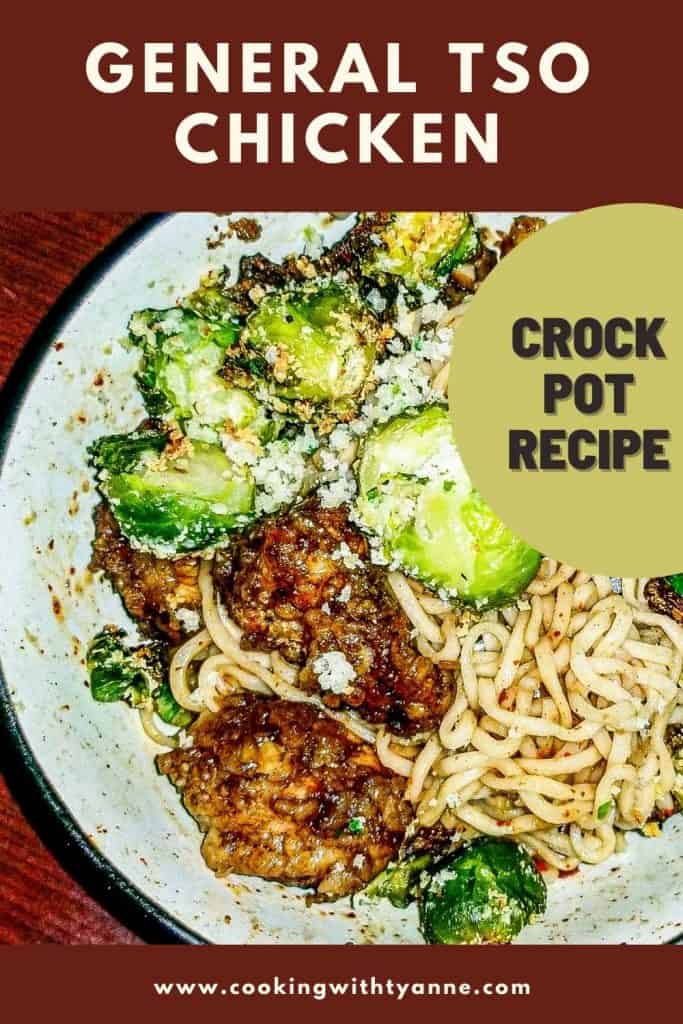 FAQs
How to say general tso:
It can be hard to think of how to say the letters t and s so close together. General tso is pronounced with every letter. tuh-s(s like snake)-o(says its name). Tso like t+so together.
Can I make the chicken in advance?
You can bread and fry the chicken in advance! Store the chicken in the refrigerator until ready to make the rest of the recipe in the crock pot.
How do I know when my chicken breast is done?
Temp - With a meat thermometer, you can remove a piece of the crock pot general tso chicken from heat and insert the meat thermometer. If the chicken temps above 165 degrees Fahrenheit, it is done.
Cutting it open - Without a meat thermometer (I did not have one for years) you can cut a slice of chicken open to see if it is done. If it is white on the inside, it is done. If the chicken is still slightly pink, let cook a bit longer.
Is General Tso Chicken gluten free?
In this recipe it is gluten free because we use corn statch instead of flour to coat the sweet and spicy chicken. Corn startch is naturally gluten free.
How can I store this Chinese slow cooker meal?
Fridge - store this crock pot general tso chicken in an air tight container in the refrigerator for up to one week
Freezer - I have not tried freezing this chicken. If you freeze it, let me know how it goes!
Reheating - how to reheat general tso chicken is fairly easy. Just place refridgerated leftovers in microwave for amount 1 minutre until warm throughout.
What to serve with General Tso Chicken:
My favorite side to pair crock pot general tso chicken with is ramen noodles! You can make them fried and put the chicken on top, if you can use my spicy ramen recipe as a side! You can also serve this chicken with fried rice. I was able to sneak some brussel sprouts to top this dish off as well. This was my first time trying brussel sprouts, and I think this was a good dish to try them in!
Recipe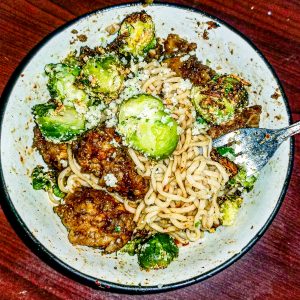 Crock Pot General Tso Chicken
Chinese slow cooker recipe, so now you can have Chinese food at home! This is also one of my favorite crockpot recipes. My favorite side to pair this crock pot chicken with is ramen noodles!
Ingredients
3

cubed chicken breasts

½

cup

corn starch plus more if needed

Salt and pepper as desired

½

cup

sugar

½

cup

orange juice

½

cup

soy sauce

2

tablespoon

minced garlic

1

tablespoon

ground ginger

1

tablespoon

chili powder
Instructions
In a small bowl, combine corn starch and salt and pepper as desired. Roll chicken cubes in mixture and place chicken in skillet with 2 tablespoon oil over medium heat. Brown chicken on both sides.

While chicken is browning, spray slow cooker with nonstick spray. Pour in remaining ingredients into slow cooker and stir. Cover and turn on low.

When chicken is browned, remove from skillet and place in slow cooker. Cook for about 3-4 hours on low stirring every hour. Pair with ramen noodles, rice, and/or a vegetable like brussel sprouts as seen in image.
Notes
*If wanting to make homemade ramen instead of using instant ramen, cook noodles according to directions, but instead of adding seasoning packet at end, drain half the water out and add ¼ cup chicken broth. Add as much as the following as desired: garlic salt, onion powder, soy sauce, red pepper flakes, salt and pepper. If you want other ideas on how to spice up your ramen, click here.
Nutrition
Sodium:
1477.15
mg
Fiber:
0.77
g
Calories:
402
kcal
Fat:
14.62
g
Protein:
34.23
g
Carbohydrates:
31.63
g
---
All information presented on this site is intended for informational purposes only. Nutritional facts listed are a rough estimate and should only be followed as a general idea.