Very simple tomato bruschetta recipe with tomatoes! Just have to throw all ingredients together in a bowl, and make the toast! This toast is made out of a sandwich bread loaf instead of a baguette. You can use a baguette, but not everyone always has one on hand! Sandwich bread it just as doable. This should take no longer than 20 minutes to make from start to finish.
This post may contain affiliate links. This means if you click on a link and purchase something, I may earn a small commission from it.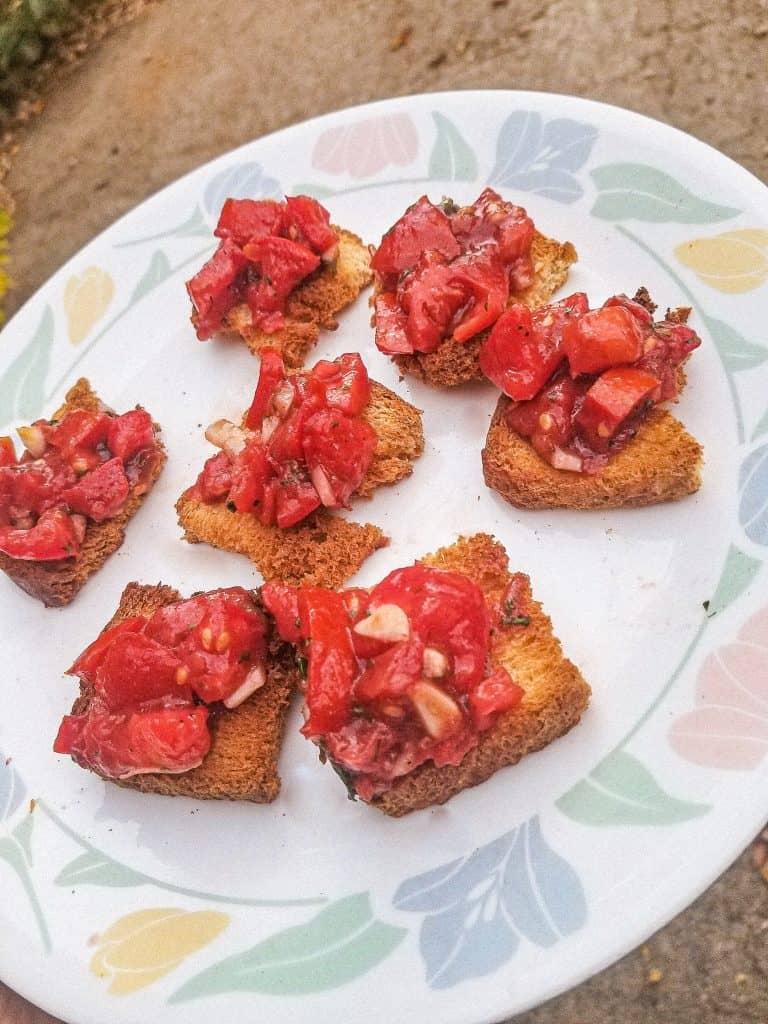 What is bruschetta?
Bruschetta is an Italian appetizer made with fresh tomatoes, garlic, basil, and olive oil that is marinated together. This can be served on toast or in pastas and salads.
Ingredients:
Tomatoes - I used roma tomatoes from my garden. You can used canned diced tomatoes as well though.
Balsamic vinegar - Monari Federzoni
Basil and parsley - I prefer to use fresh basil instead of dried.
Minced onion - you can also use regular onion
Bread - I use whatever I have on hand. The staler the better since we will be toasting the bread!
How to make tomato bruschetta bread:
Make tomato base - this needs time to marinate before serving.
Toast bread - you can toast large quantities of bread in the oven!
Assemble - serve your tomato bruschetta with the toasties right out of the oven
Best bruschetta tips:
Use room temp tomatoes - make sure your tomatoes are room temperature and fresh before beginning this recipe.
Fresh tomatoes - using fresh roma tomatoes gives a better flavor than canned
Marinate - allow mixture to marinate before putting on the toast and eating. It does make a difference.
Assemble as needed - the tomatoes can make the toast soggy if sitting out for a while. It is best to have guests scoop their own bruschetta dip on their own pieces of toast as they please. That way they can also top off their own toast with whatever extra seasonings they want.
What does bruschetta go with:
This goes great with pasta or another Italian dish. You an even serve it on grilled chicken breast or on a salad.
FAQs
How long does tomato bruschetta keep?
I recommend eating this right away. It will keep for a day or so in the fridge, but the tomatoes do not stay fresh tasting and the juices run out.
Can bruschetta be made in advance?
Yes, this can be made a few hours in advance to let the flavors marinate.
Do I need to peel tomatoes for bruschetta?
If your tomato skin is rather thicken, then you can peel them so the tomato is softer while eating. It is not necessary though.
What is the difference between bruschetta and caprese?
Caprese is typically made with fresh mozzarella and is served by itself and not on bread. Bruschetta is usually served on toasted bread.
How to store bruschetta on toasted bread:
Fridge - store this tomato appetizer in an air tight container in the refrigerator for up to one week
Freezer - I have not tried freezing this recipe. If you would like to try it, go for it! Let me know how it goes.
Recipe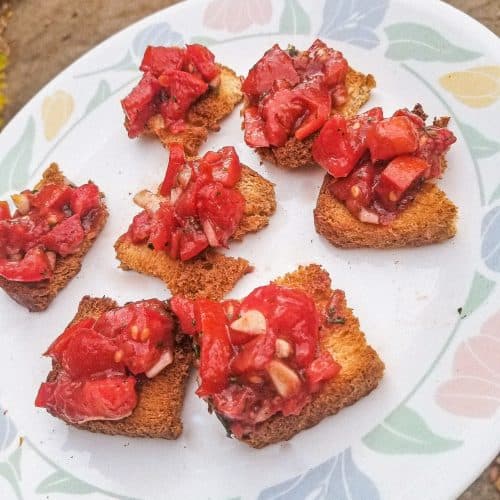 Bruschetta with Bread
Very simple bruschetta appetizer recipe with tomatoes! This appetizer recipe's bread is with a sandwich bread loaf instead of a baguette.
Ingredients
4

cups

tomatoes

diced

3

cloves

crushed garlic

2

tablespoon

olive oil

2

tablespoon

balsamic vinegar

5

basil leaves

chopped

3

tablespoon

minced onion

1

tablespoon

parsley

salt and pepper to taste

7

slices

of bread of your choosing
Instructions
In a large bowl, stir together every ingredient except for the bread. Let flavors marinate in the fridge while you prepare the toast.

Begin making the toast by slicing each bread slice into 4 pieces using a pizza cutter.

Spray a baking sheet with non stick spray. Place bread squares on baking sheet so they are not touching. Bake squares at 425 degrees for about 8 minutes or until they are toasted enough to your liking.

To serve this Bruschetta Recipe with Tomatoes, scoop a heaping tablespoon of the tomato mixture onto the bread squares. Season each bite with extra salt, pepper, garlic, or olive oil on top for extra flavor.
---
All information presented on this site is intended for informational purposes only. Nutritional facts listed are a rough estimate and should only be followed as a general idea.