6 ingredient stuffed garlic bread that is so very easy to make! This recipe is kind of like a combination between cheddar bay biscuits and regular garlic bread since there is garlic butter on the outside with pillow pull apart cheese filled bread inside. They pull apart quite easily like a savory monkey bread. You can use whatever cheese you want such as cheddar, fresh mozzarella, or even regular cubed block cheese. It really is up to you on which cheese you use! This stuffed garlic bread recipe serves about 8 people.
This post may contain affiliate links. This means if you click on a link and purchase something, I may earn a small commission from it.

If you want other ideas on using up refrigerator biscuits, click here.
Favorite ingredients to use for this stuffed garlic bread:
biscuits-I usually use Pillsbury, the off brand (like Great Value) can affect cooking time, but those work as well.
cheese-I like to shred my own cheese, you can also use fresh mozzarella balls for stuffing!
butter-stick butter
seasonings-McCormick, to add flavor
How to make good red lobster bread:
make garlic butter-this is to coat the Mozzarella bombs, and to brush on top
cut and roll out the biscuits-cutting them will make the balls themselves smaller, and rolling them out will make them easier to stuff
stuff with cheese-place shredded cheese on the inside of the flattened biscuit. Fold to enclose the cheese.
dip biscuit ball into the garlic butter mixture-this will give the biscuit a nice butter and garlic flavor. Make sure to let butter drip off before placing it onto the sprayed bundt pan.
top with extra cheese
bake for about 30 minutes, and brush top again with remaining garlic butter before serving!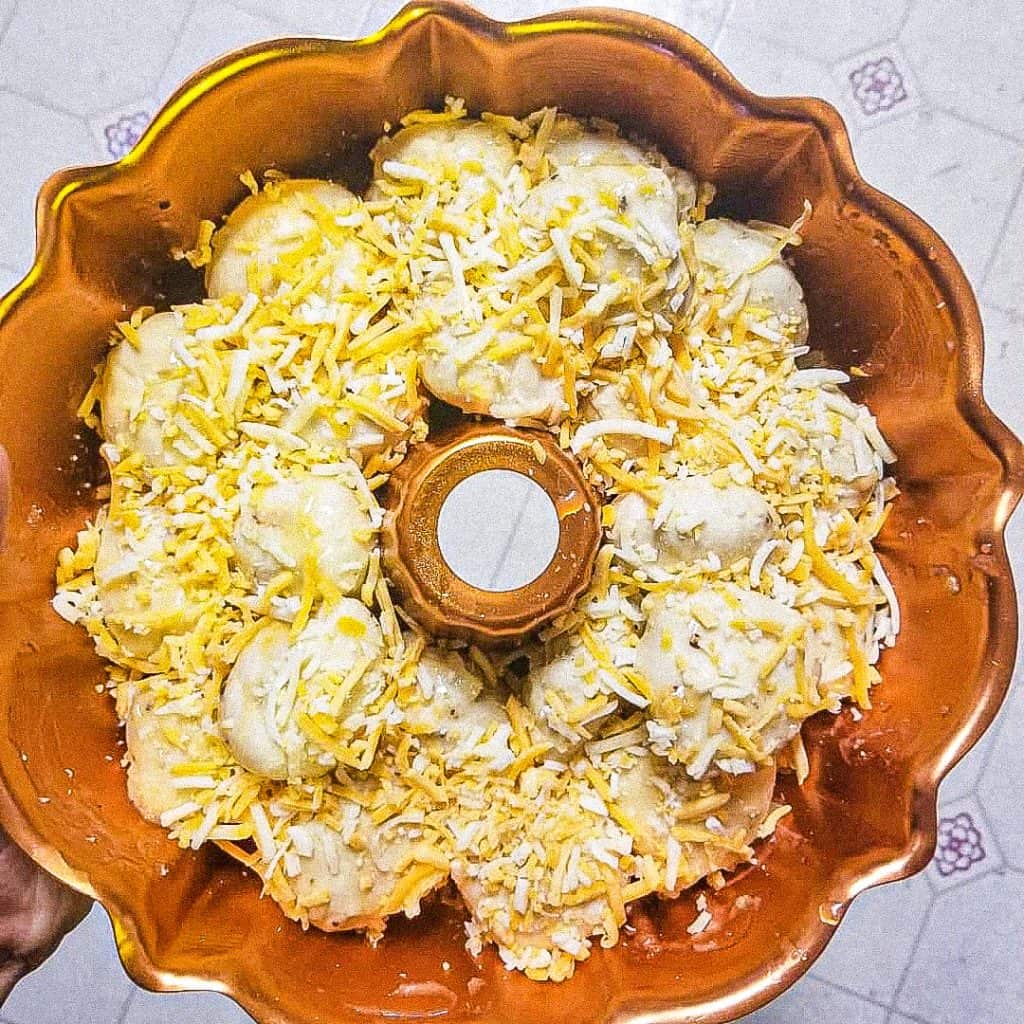 Variations of stuffed garlic bread with mozzarella:
cheese-this stuffed garlic bread recipe calls for cheese and mozzarella, but you can use any cheese you would like!
omit cheese center-you could make stuffed italian bread without the cheese and just put garlic cloves and a square of butter in the center.
not cutting biscuit in half-I like to make my biscuits in smaller balls by cutting them in half, but you can leave them whole if you would like!
more garlic-you can never have too much garlic in my own opinion!
less butter-you do not have to use as much butter as I did if you are cutting back on fats! ⅓ cup of melted butter will be sufficient. I would not go any less though or else it will be hard to roll the balls in butter. The more you cut down in butter, the less remaining garlic butter there will be to go on top of the biscuits when coming out of the oven.
regular baking sheet-if you don't have a bundt pan, place your grilled cheese bombs on a sprayed cookie sheet. Bake for about 20 minutes.
How to store pull apart bread bundt pan recipe:
fridge-store this appetizer bread in an air tight container in the refrigerator for up to one week
freezer-I have not tried freezing these cheese stuffed rolls. If you would like to try it, go for it! Let me know how it goes. I am not sure how it would thaw though so be cautious of that.
Check out my other bread recipes:
Recipe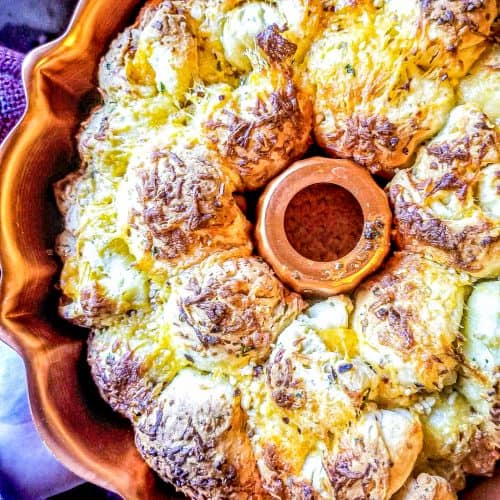 Stuffed Garlic Bread
6 ingredient stuffed garlic bread! Very easy recipe to make! These pull apart bundt pan bread is kind of like a combination between cheddar bay biscuits and regular garlic bread since there is garlic butter on the outside with a cheesy center. They pull apart quite easily like a savory monkey bread.
Ingredients
2

cans of 8 count biscuits

2

cups

cheddar cheese or mozzarella cheese

½

cup

melted butter

1

tablespoon

crushed garlic

seasonings to add at your own preference: garlic salt and Italian seasoning
Instructions
Melt butter in a measuring cup. Stir in minced garlic. Add your own preference amount of garlic salt and Italian seasoning.

Cut a biscuit in half. Spread out a biscuit half or use a rolling pin to make it bigger. Add a pinch of shredded cheese in the middle. Pinch the edges of the biscuit together to close it into a ball.

Drop a rolled biscuit ball into the cup of butter and seasonings. Use a fork to get it out of cup, and let butter drain off for a little bit. Place into a bunt pan. Repeat steps 2 and 3 with remaining biscuits. Save any extra garlic butter.

Top biscuits in bunt pan with any extra cheese not used in cheese filling. Bake at 350 degrees for about 30-35 minutes. To check if cooked thoroughly, pull off a top biscuit and touch to see if edges are doughy. If doughy, cook for an extra few minutes. Brush top with any extra garlic butter. Serve the stuffed garlic bread hot.
Nutrition
---
All information presented on this site is intended for informational purposes only. Nutritional facts listed are a rough estimate and should only be followed as a general idea.