If you have leftover pork or beef roast, the perfect recipe for leftovers is french dip sliders! How to make French dip is so easy using leftover roast, rolls, and au jus can be a 30 minute meal the whole family will enjoy. Using rolls cuts down the assembly time of regular buns. What kind of bread is best for french dip sandwiches is a popular question. Why not cut out the traditional bread or buns and use rolls instead!
This post may contain affiliate links. This means if you click on a link and purchase something, I may earn a small commission from it. In the footer of this page is my full disclosure policy.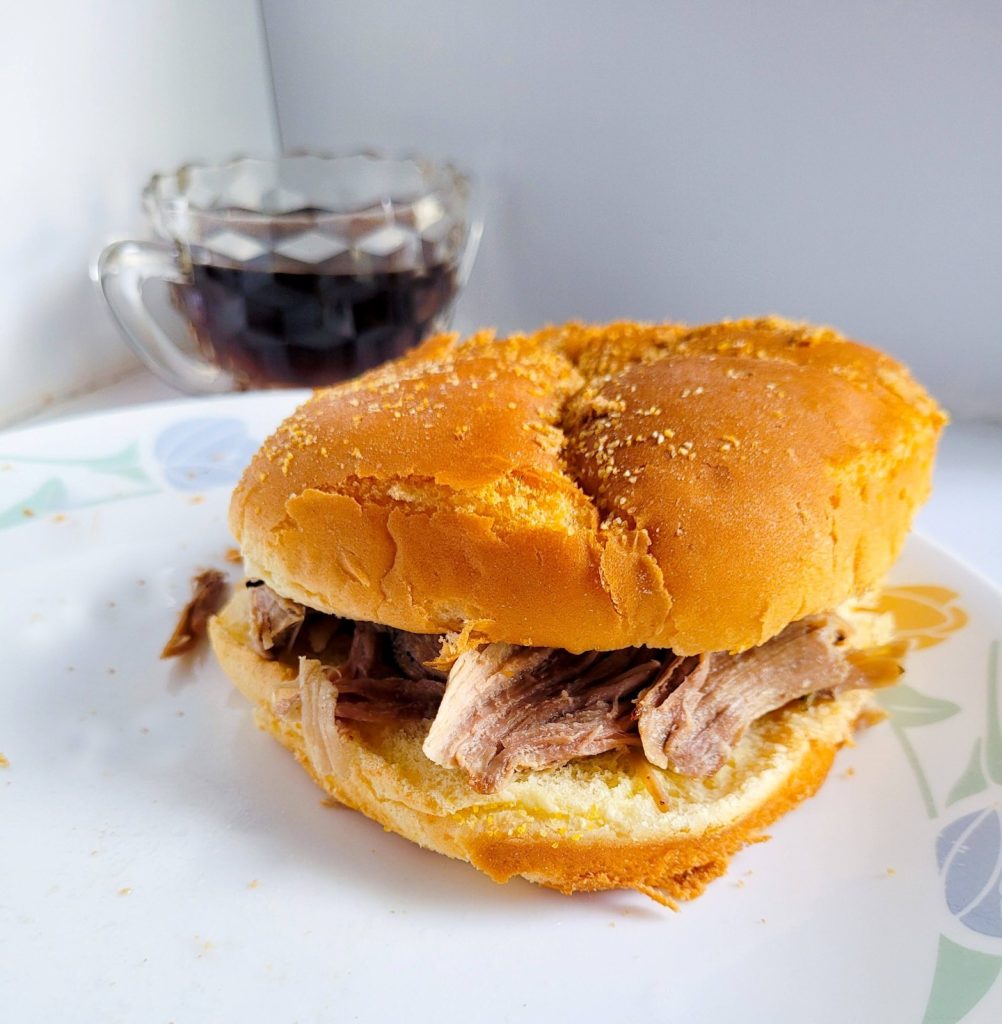 What to serve French dip sliders with:
A French dip sandwich with au jus tastes amazing with a side of French fries! Au jus also makes a great fry dipping sauce. Other popular sides are loaded potatoes, hashbrowns, potato chips, etc.
Check out my other sandwich recipes:
Variations of French dip sliders:
omit cheese-some people think the cheese isn't necessary when dipping the french dip sandwich in au jus. This is also a great way to cut calories.
skip the broil-putting butter and garlic salt on the rolls will still give the rolls flavor. Broiling it just adds more of a grilled taste. You can skip the broilling part if you would like.
cut calories-taking out the butter and cheese would really cut back on calories if you are looking to do so.
ketchup-if you don't like au jus, you can dip your french dip sliders in ketchup, mayo, mustard, etc. Some people even serve french dip with horseradish.
different cheese-swiss cheese is traditional for french dip sliders. This recipe requires provolone for uniqueness. You can use any other type of cheese you want as well. What cheese for french dip sandwich is up to you!
How to store French dip sandwich:
fridge-store this recipe in an air tight container in the refrigerator for up to a week. How to reheat french dip sandwich is fairly easy. I recommend putting it in the air fryer to reheat in 2 parts: roast and bun. That way parts are over heated compared to the other.
freezer-I have not tried freezing this recipe. If you would like to try it, go for it! Let me know how it goes.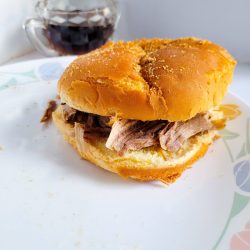 French dip sliders
Sliders are the perfect thing to make out of leftover pork or beef roast.
Ingredients
12

rolls

make sure they are connected

3

tablespoon

butter

1

tablespoon

garlic salt

1 ½

cups

leftover pork or beef roast

heated

12

slices

provolone cheese
Instructions
Pull out all 12 interconnected rolls out of the package. Cut rolls in half so that way you end up with 2 12 inch long bun halves. Place both halves on a 9 x 13 baking sheet.

Spread butter on each of the bun halves. Sprinkle with garlic salt. Low broil for about 1 minute or until edges are crispy and butter is melted. Remove from oven. Let oven cool off for a bit. Reset oven for about 350 degrees.

On the bottom buns, spread pork or beef mixture evenly throughout. Place slices of cheese on top. Place top side of buns on top. Put back in the oven for about 10 minutes or until cheese is melted.

After removing french dip sliders from the oven, brush melted butter on top for a glowing finish. Serve with au jus.
---
All information presented on this site is intended for informational purposes only. Nutritional facts listed are a rough estimate and should only be followed as a general idea.