This Biscuits and Gravy Casserole Recipe is a great way to use up those biscuits that are hiding in the back of the fridge! If you want less biscuit and more gravy, just use one can of biscuits instead of two. I make this comfort food recipe any time of day. It is more than just a breakfast food! This country breakfast casserole is without eggs and serves about 6-8 people and makes a 9x13 baking dish.
This post may contain affiliate links. This means if you click on a link and purchase something, I may earn a small commission from it.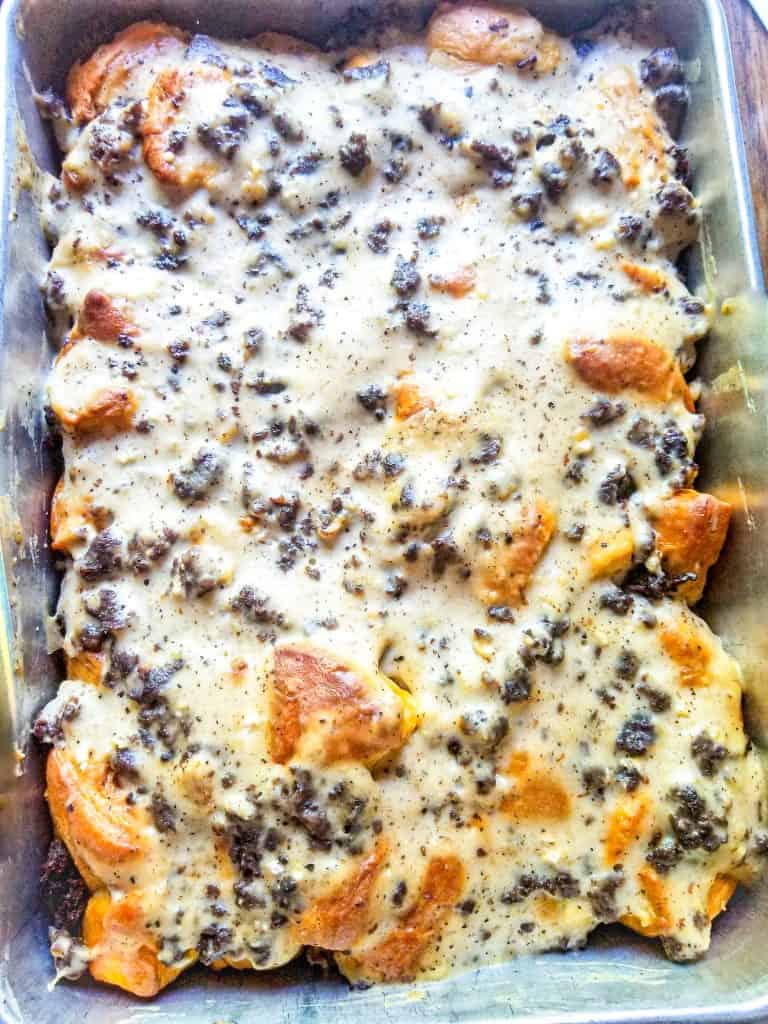 Ingredients:
Sausage - Breakfast pork sausage would be the most tasty in this recipe. I used savory deer sausage the first time making this though because that is what I had in my freezer. It tasted good, but I would recommend breakfast sausage for this sausage biscuit recipe.
Butter - stick or tub butter
Flour - helps make the roux for the gravy
Milk - base for gravy
Biscuits - we use store bought refrigerator biscuits for this recipe.
How to make biscuits and gravy casserole:
Fry sausage - this is important to do first so you have it out of the way before continuing on with the rest of the recipe
Cut biscuits - you can do this while the sausage is browning so that way it cuts down on time. You can use a pizza cutter to cut the biscuits into pieces. I cut each biscuit into 4 pieces, but you can cut them into however many pieces you choose. Place these on a 9 x 13 baking dish that is sprayed. Sprinkle ½ of the sausage on top. Bake.
Make gravy - you can start making the gravy when the timer says the biscuits have 5 minutes left in the oven. White gravy for biscuits really adds flavor.
Pour gravy on biscuits when they come out of the oven!
Make ahead instructions:
You can make this breakfast casserole with biscuits the night before. Follow the recipe straight through. Let cool until room temp. Place a lid or aluminum foil over top the dish, and place in the fridge. When ready to eat, heat in the oven at 375 until heated throughout. You can also cut the casserole into serving sizes and have everyone microwave their own plate instead.
Recipe variations:
Less biscuits - if you want to cut down on carbs, you can use 1 can of biscuits instead of 2. You can use a smaller pan if you are going this route. Staying with the 9 x 13 baking dish is doable when cutting down on biscuits, but there could be spaces in between the biscuit pieces.
More pepper - in my personal opinion, you can never use too much pepper. If you want to use extra pepper than what the recipe requires, you can.
Brats - sometimes I do not have sausage on hand, so I cut open brat skins and squeeze out the meat and fry it as normal sausage. I would recommend using a sweeter flavor of brats if going that method.
Shredded cheese - you can put shredded cheddar cheese on top the biscuits before the gravy if you want more cheese.
Frequently Asked Questions
Sausage gravy too thick - add more milk if you find the gravy being too thick
Sausage gravy recipe too thin - allow gravy to simmer longer to thicken up. Sometimes it is not hot enough and cannot thicken. You can add more flour if you feel like the gravy is still too thin.
Freeze - frozen sausage gravy is tasty. If you wanted to double the recipe for the gravy and freezer part for later you definitely can.
Brown biscuits - if you find the biscuits getting too brown in the oven, place foil on top the pan while baking if the insides are still doughy.
When to know if sausage is fully cooked - This recipe just requires browned crumbled sausage. As long as the sausage it broke apart into small pieces, and no longer pink on any side, it is done.
Homemade biscuits - you can use homemade biscuits instead of store bought. Drop biscuit batter into baking dish and bake according to biscuit instructions, while still putting half the cooked sausage on top.
How to store leftovers:
Fridge - store this breakfast casserole with biscuits in an air tight container in the refrigerator for up to one week
Reheat - To reheat leftovers, place in it in the oven for 400 degrees for about an hour or until heated throughout.
Check out my other breakfast recipes:
Recipe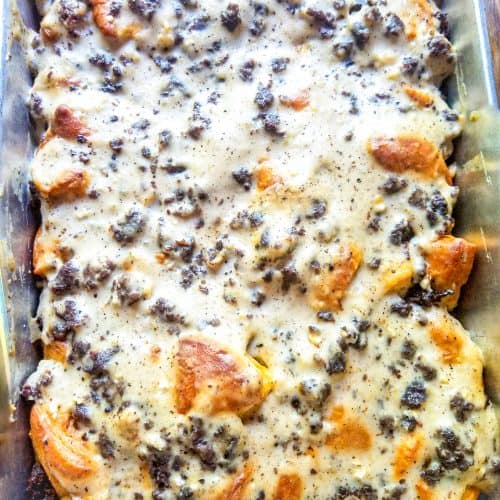 Biscuits and Gravy Bake with Biscuits
This Biscuits and Gravy Recipe is a great way to use up those biscuits that are hiding in the back of the fridge! Homemade sausage gravy and biscuits tastes good any time of the day.
Ingredients
2

cans of Pillsbury biscuits

1

lb

sausage

2

tablespoon

butter

4

tablespoon

flour

2

tablespoon

ground black pepper

salt to taste

2

cups

whole milk
Instructions
Start by browning the breakfast sausage in a skillet with high edges. While browning, use a pizza cutter to cut biscuits into fourths. Place biscuits into a greased 9/13 baking pan.

Once sausage is browned, scoop half of it onto the biscuits in the baking pan. Bake at 350 degrees for around 25 minutes.

At around the 20 minute baking mark, start making the gravy by melting butter in the pan with the sausage in it over medium heat. Once melted, stir in flour, pepper, and salt.

Stir in whole milk slowly, 1 cup at a time. Allow gravy to thicken.

At the 25 minute mark for the biscuits, check to see if tops are brown. If they are not brown, bake for an additional few minutes. Once tops are slightly browned, remove from oven.

Pour gravy over top biscuits. Cut into squares and serve your Biscuits and Gravy. Enjoy!
Nutrition
---
All information presented on this site is intended for informational purposes only. Nutritional facts listed are a rough estimate and should only be followed as a general idea.