Very dense carrot cake with coconut recipe is a great way to use up extra carrots in the fridge. Serve with cream cheese frosting on top. Makes a 9x13 baking dish.
This post may contain affiliate links. This means if you click on a link and purchase something, I may earn a small commission from it.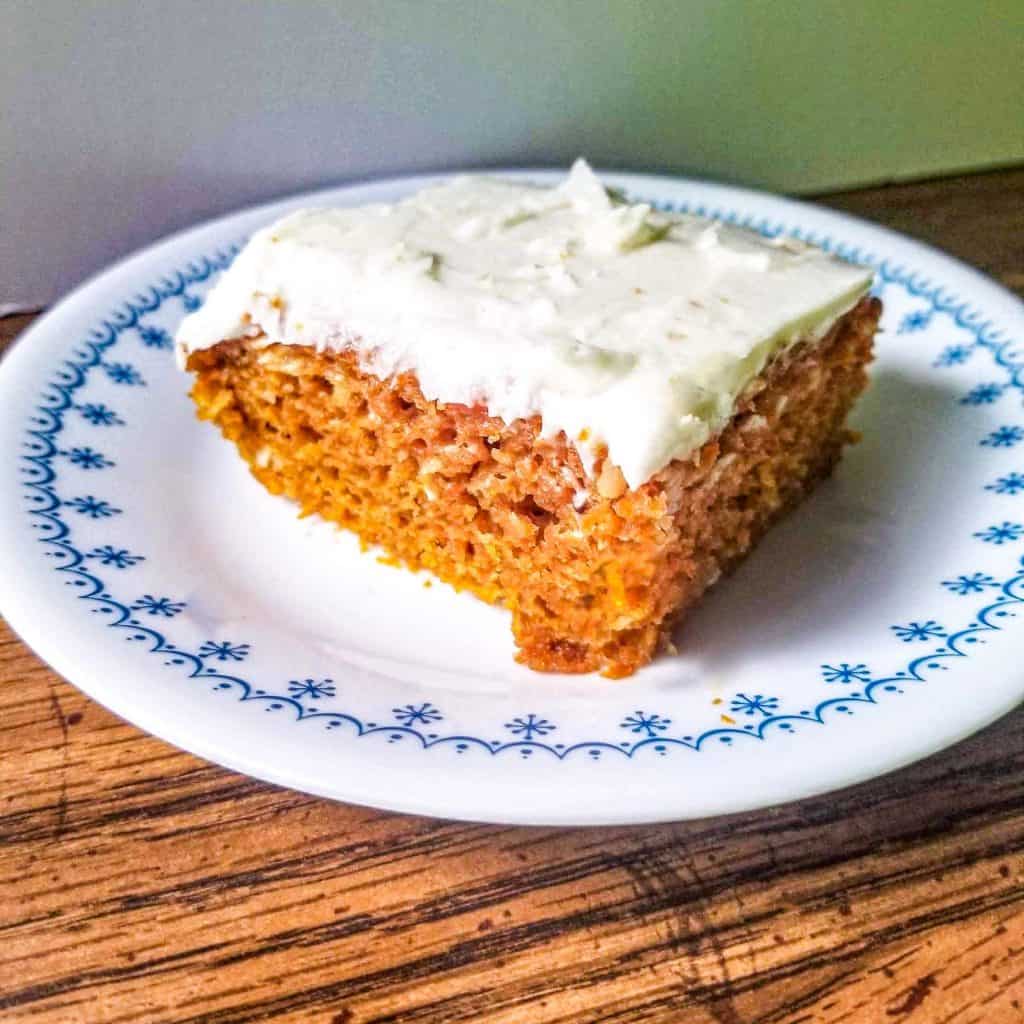 Ingredients:
Flour - provides a base
Baking soda and powder - helps the cake rise
Spices and vanilla - enhances flavor
Unsweetened apple sauce - I buy the kind in cups
Sugars - adds sweetness
Coconut flakes - adds texture and density
How to make carrot cake with coconut:
Stir together dry ingredients
Beat together wet ingredients, then stir in carrots and cocoanut flakes.
Combine wet and dry ingredients, then pour into a sprayed 9 x 13 baking dish.
Bake. Serve with or without frosting.
Tips for making homemade carrot cake:
Grate carrots finely - sometimes while making this, I feel that my carrots are grated too long. A food processor with a shredding blade would help cut down on the length, and would leave your dessert not feeling like eating strings of carrots with frosting
Omit coconut flakes - if you do not have coconut flakes, you can use more grated carrots instead
Keep in the fridge - because of the carrots and frosting, keeping the cake in the fridge will prevent it from drying out. This can last up to a week in the fridge.
FAQs
Why is my carrot cake green?
This cake may turn green when cooked if you do not peel your carrots. Always peel your carrots!
Why is carrot cake dense?
There is a lot of ingredients that are not super moist like carrots and coconut flakes that makes this cake more dense than a normal cake.
How to store:
Fridge - store this cake with frosting in an air tight container in the refrigerator for up to one week
Freezer - I have not tried freezing this recipe. If you would like to try it, go for it! Let me know how it goes.
Recipe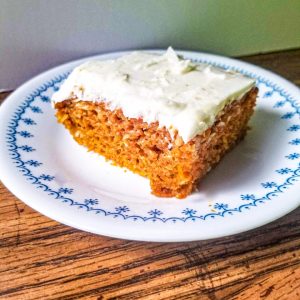 Carrot Cake
Very dense cake recipe! Makes a 9x13 baking dish. I used a vegan cream cheese frosting recipe for the frosting.
Recommended Products
hand mixer or stand mixer
Ingredients
2

cups

flour

1

teaspoon

baking soda

1

teaspoon

baking powder

½

teaspoon

of spices: cinnamon, ginger, nutmeg, and salt

1

cup

unsweetened apple sauce

4

eggs

1

cup

white sugar

1

cup

brown sugar

dash vanilla

2

cup

grated carrots

½

cup

coconut flakes
Instructions
In a small mixing bowl, stir together flour, baking soda, and baking powder, along with the spices. Set aside.

In a large bowl, mix together the apple sauce, eggs, white sugar, brown sugar, and vanilla for 1 minute. Then add in the carrots and coconut flakes. Stir until well combined.

Pour the flour mixture into the apple sauce mixture, and stir.

Spray a 9x13 baking dish. Dump batter into baking dish. Bake at 350 degrees for 30-35 minutes or until toothpick comes out clean. Place on a wire rack to cool. Spread your favorite frosting on top. Serve.
Nutrition
Sodium:
142
mg
Sugar:
31.7
g
Fiber:
1.6
g
Calories:
234
kcal
Fat:
2.8
g
Protein:
4.3
g
Carbohydrates:
49.4
g
---
All information presented on this site is intended for informational purposes only. Nutritional facts listed are a rough estimate and should only be followed as a general idea.