Vegan buffalo wings are a family favorite that very closely resembles chicken! What are buffalo cauliflower wings? It is breaded cauliflower with hot sauce to help you get used to the taste of cauliflower, without actually tasting a lot like cauliflower. Traditionally served with ranch or blue cheese, but you can also put them in tacos!
This post may contain affiliate links. This means if you click on a link and purchase something, I may earn a small commission from it. In the footer of this page is my full disclosure policy.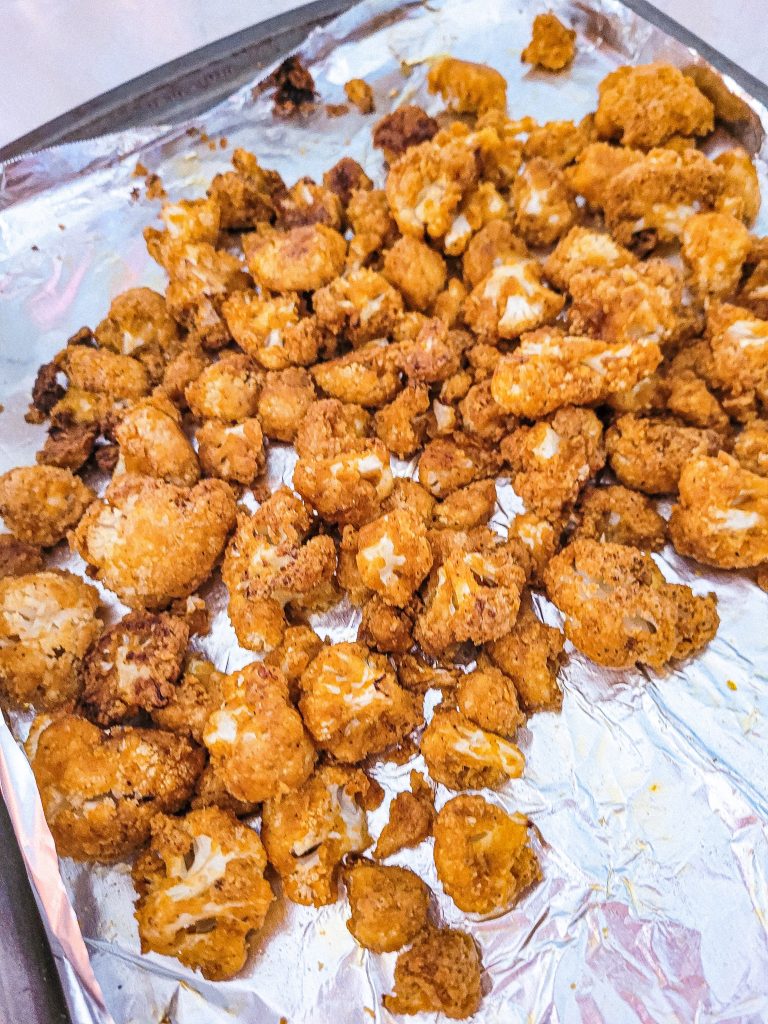 Ingredients:
Cauliflower - the main "meat" of the recipe
Melted vegan butter - to help coat the cauliflower in flour
Hot sauce - the buffalo flavor
Flour - the crispy coating
Spices - helps provide flavor
How to Make Vegan Buffalo Wings:
Cut - cutting the cauliflower into florets makes them bite sized pieces but also helps cut down on the stem that makes them taste less like cauliflower
Bread - pour butter and hot sauce over florets. Stir to coat. Then pour flour/spices on top.
Air fry - until crispy
Tips for making buffalo cauliflower in air fryer:
Cut off stems - this will make make these vegan wings taste less like cauliflower
Add enough flour - flour will make these bites of cauliflower crispy. If your florets are bigger, you may not end up with enough flour. Try to make sure each floret is covered in flour.
Make sure they are done - make sure florets are crispy when you take them out of the oven. If they are not crispy, they will not taste as good.
How to serve:
There are a couple of serving options for air fryer buffalo cauliflower without milk:
Buddha bowl - you can make a buffalo cauliflower buddha bowl!
Tacos - tacos are another great option! Just repare like normal but then add your favorite taco fixings in your taco shell.
Dip - you can make this into a buffalo cauliflower dip
Cooking variations:
Oven - you can make buffalo cauliflower in oven if you don't have an air fryer! Just prepare cauliflower as normal and put aluminum foil on a 9 x 13 baking sheet and spray the pan. Place florets on the pan and bake at the same temperature, but for about double the time.
Fried - frying another option if you do not have an air fryer. You can deep fry them or fry on a skillet over medium heat.
Buffalo Cauliflower vs Chicken Wings
What does buffalo cauliflower taste like? To me it tastes similar to chicken. You cannot deny that it is not chicken, but how this recipe is prepared is the same way you would make buffalo chicken. It looks like chicken, it smells like chicken, it might as well be chicken. It doesn't taste like chicken is a common thought amongst people. It is supposed to be similar to chicken, but it will never be chicken. You just have to get used to that little hint of cauliflower flavor.
What to serve with vegan buffalo wings?
Carrots and celery are typically served with any sort of buffalo flavored meal along with ranch or blue cheese dressing. If you want a carb side dish, garlic bread, or baked potatoes are a great option that will keep you feeling full longer.
How to store:
Fridge - store these air fryer buffalo cauliflower bites in an air tight container in the refrigerator for up to one week
Freezer - I have not tried freezing this. If you would like to try it, go for it! Let me know how it goes. I am not sure how it would turn out, but I don't recommend thawing them before reheating. Go straight from the freezer to oven or air fryer.
Recipe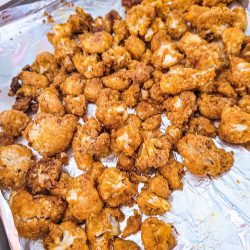 Air Fryer Buffalo Cauliflower
If you want your vegetables to be tasting like your favorite hot sauce then air fryer buffalo cauliflower is for you!
Ingredients
1

head

cauliflower

3

tablespoon

melted butter

vegan

5

tablespoon

hot sauce

½

cup

flour

½

teaspoon

each spice: pepper, salt, garlic powder, Cajun
Instructions
Cut the cauliflower in half. Then, cut each half in half again. Continue in this pattern until it is in florets. Place in a large bowl. I cut the stems off my florets, but that is optional.

Pour butter and hot sauce over the cauliflower. Stir. Pour remaining ingredients over cauliflower. Stir until well combined. Place in batches in the air fryer and air fry for about 8 minutes per batch. They will be done when they look crispy. Serve your air fried buffalo cauliflower with ranch or blue cheese.
---
All information presented on this site is intended for informational purposes only. Nutritional facts listed are a rough estimate and should only be followed as a general idea.