Halloween candy corn cupcakes are a Halloween dessert that is kid friendly and not too spooky! These Halloween cupcakes will be perfect for any Halloween get together, but they can also be used for Thanksgiving as well. The cupcakes do have cream cheese frosting and candy corn on top, however, that is not what makes them candy corn cupcakes, the inside layers do! Technically these Halloween cupcakes are lemon strawberry flavored. Whether you are Team Candy Corn of not, you will like these candy corn cupcakes since they don't taste like candy corn!
This post may contain affiliate links. This means if you click on a link and purchase something, I may earn a small commission from it. In the footer of this page is my full disclosure policy.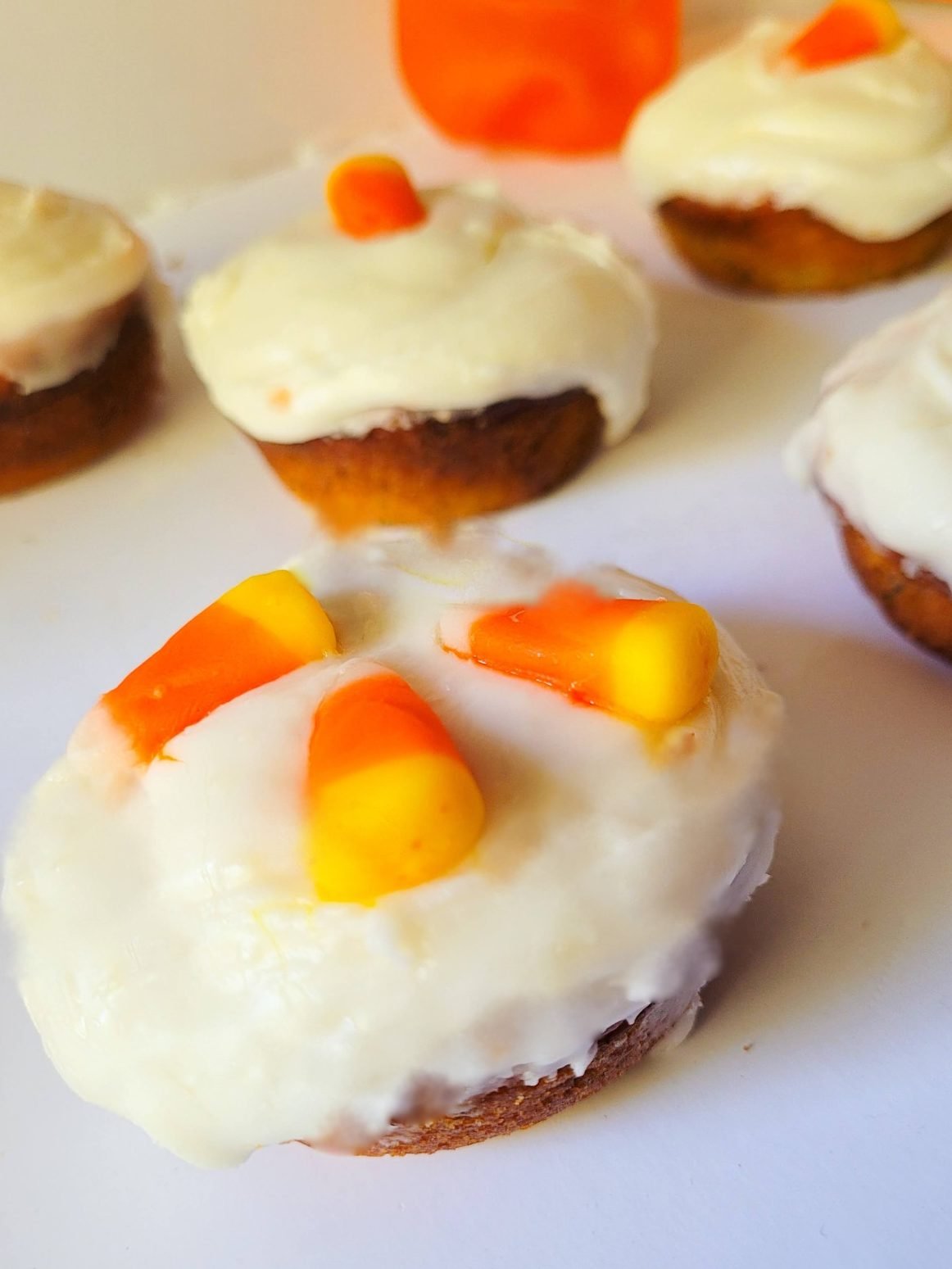 What Ingredients Do You Need for Candy Corn Cupcakes?
Lemon poppy seed muffin mix - the mix is already yellow so no need to add yellow food coloring
Water, vegetable oil, eggs - to make the cake mix moist and stick together
Strawberry or cherry pie filling - dyes the yellow mix orange
Cream cheese frosting - provides the white part of the candy corn look
Candy corn for topping - decoration on top
How to make candy corn cupcakes:
First, you need a yellow muffin mix such as lemon poppy seed. Make sure you have strawberry pie filling on hand too. This recipe only requires enough to turn the lemon cake mix orange, but you still need to have it or else you will have to use food coloring.
Food coloring works, but then you will only have lemon flavored cupcakes instead of strawberry lemon flavored cupcakes. You will need cream cheese icing (or any icing that is white) and candy corn too to top off your Halloween candy corn cupcakes!
To go with these cupcakes, serve witch finger breadsticks.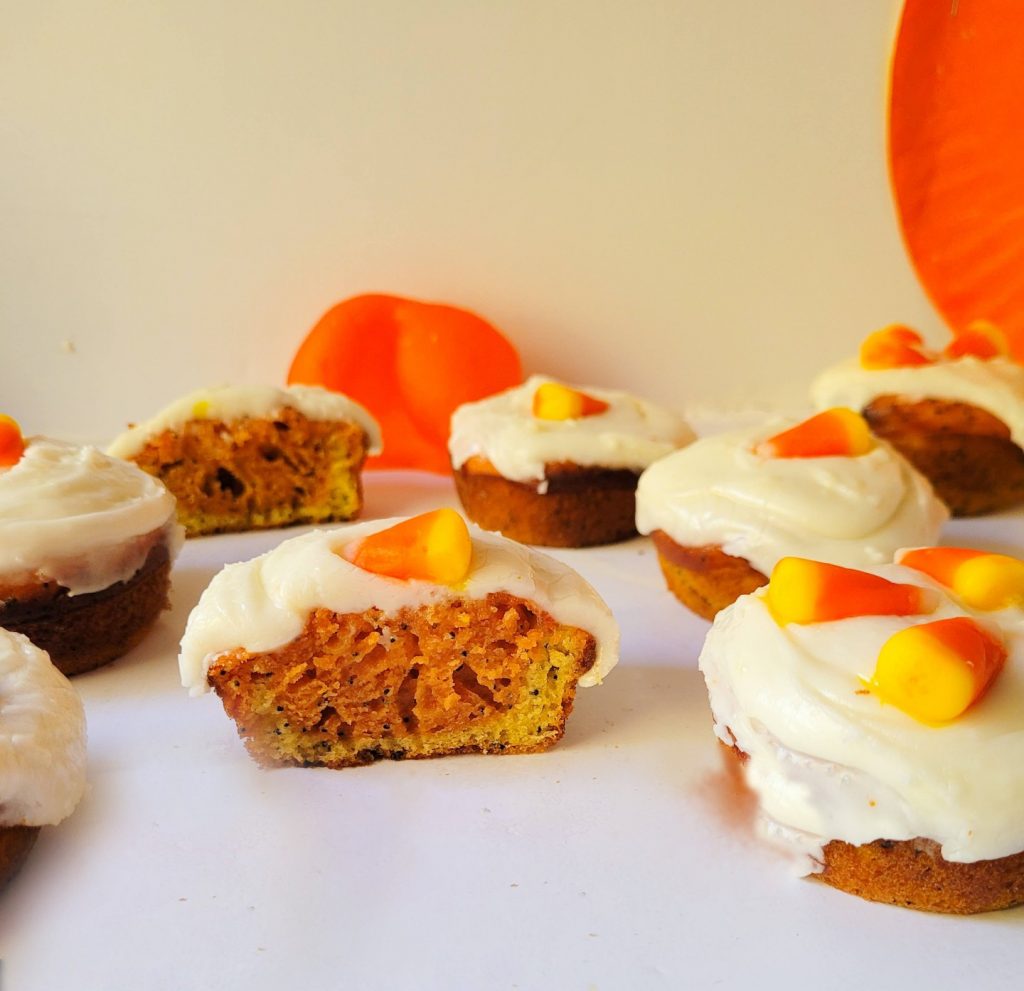 Variations of Halloween cupcakes:
More simple - you can just skip the whole 2 flavor/2 tone cupcake idea and just bake the lemon poppy seed cupcakes and decorate with the candy corn on top. Technically they would still be Halloween candy corn cupcakes, just not as festive.
Red food coloring - if you do not have strawberry pie filling or even cherry pie filling, you can make the 2nd layer orange by using food coloring.
Different frosting - you can make the frosting a different flavor by making it vanilla, butter cream, plain, etc.
Different cake mix - I made this recipe using lemon poppy seed cake mix. You can use any yellow cake mix you would like though. In fact, it doesn't even have to be yellow if you want to dye the base layer yellow with food coloring.
More spooky - you can use the same candy corn concept for a fall cupcake theme, but that does not mean you have to stick with the candy corn top. You can put ghosts on top!
How to store Halloween candy corn cupcakes:
Fridge - store this recipe in an air tight container in the refrigerator for up to one week
Freezer - I have not tried freezing this recipe. If you would like to try it, go for it! Let me know how it goes. I think they would freeze okay. We ate these so fast I did not get a chance to test out how they hold up in the freezer.
Recipe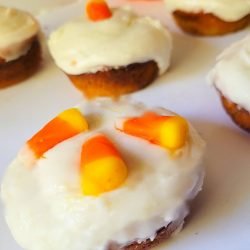 Halloween Candy Corn Cupcakes
The perfect cupcake for Halloween that is not too spooky! Strawberry lemon flavored cupcakes with cream cheese frosting on top are the perfect Halloween dessert.
Ingredients
1

box

lemon poppy seed muffin mix

¾

cup

water

¼

cup

vegetable oil

2

eggs

4

tablespoon

strawberry or cherry pie filling

4

oz

cream cheese frosting

candy corn for topping
Instructions
Stir together muffin mix, oil, water, and eggs in a large bowl.

Preheat oven to 400 degrees and line muffin tin with muffin tin liners. This makes 1 dozen.

Pour each muffin liner about ⅓ full of muffin mix. Then add strawberry or cheery pie filling to the bowl of remaining muffin mix. Stir until well combined. If is is not orange enough, add more pie filling.

Evenly distribute orange muffin mix on top of the yellow muffin mix in the muffin tins. Bake for 15-20 minutes or until a toothpick comes clean. When done, remove from oven and cool on a cooling rack.

When cupcakes are cool, cut off the raised part of the top. Spread cream cheese frosting on top. Decorate with candy corn. Serve.
---
All information presented on this site is intended for informational purposes only. Nutritional facts listed are a rough estimate and should only be followed as a general idea.