Cajun cream sauce can be used for a variety of foods, but my favorite food to put it on is pasta! This Cajun cream sauce recipe is a perfect blend of creaminess and my favorite flavor of the South: Cajun. This sauce also tastes good on white meat fish such as snapper, grouper, and flounder, but also goes with shrimp!
This post may contain affiliate links. This means if you click on a link and purchase something, I may earn a small commission from it. In the footer of this page is my full disclosure policy.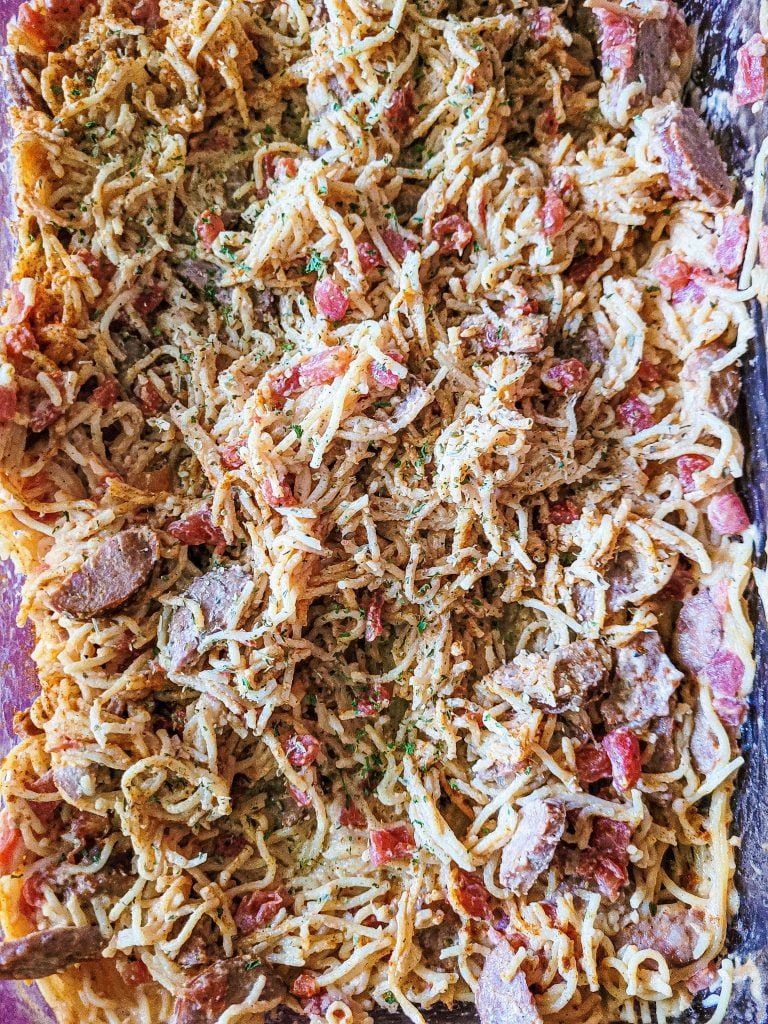 What is Cajun cream sauce made of?
Ingredients include chicken broth, onion, garlic, cream cheese, and Cajun seasoning. It is a tad spicy, but no where near the heat of putting buffalo sauce with it.
The basic steps for making Cajun cream sauce:
Fry butter with onion and garlic - get fully cooked before adding other ingredients
Add broth - this provides the liquid base
Add cheese and seasoning - this thickens and flavors the mixture
Variations of Cajun sauce with Philadelphia:
Use seafood stock - if making this Creamy Cajun alfredo sauce for salmon or shrimp, it is better to use a seafood stock instead of chicken stock for those seafood flavors. How to make Cajun sauce for seafood is fairly easy.
Greek yogurt - Cajun sauce with Greek yogurt can make this a healthier version of Cajun cream sauce. Just replace the cream cheese with Greek yogurt.
Different seasonings - adding different seasonings to make this Cajun alfredo sauce more personable to you is a great option! Salt, pepper, Paprika, garlic salt, oregano, etc are great options.
More cream cheese - if you wanted your Cajun sauce even thicker, you could use half a block more of cream cheese. The texture would be super creamy!
More spicy - if you want your sauce to be more spicy, add more chili powder. There is already chili powder in Cajun seasoning, so adding more would amp it up.
FAQ
What to put Cajun cream sauce on:
Traditionally I made this cajun sauce recipe for pasta. How to make Cajun sauce for pasta is the same as how to make cajun sauce for chicken or anything else besides seafood. Cajun dipping sauce without mayo would be a little tougher to make out of this recipe. In that case, I would lessen the chicken broth up so that it is thicker.
What does Cajun sauce taste like?
Cajun cream sauce tastes like a creamy, Cajun garlic flavored alfredo sauce without the parmesan part of the alfredo. That is the best way I can describe it.
Creole sauce vs Cajun
Creole sauce is more tomato based; this recipe does not have tomatoes in it. That makes it Cajun instead of Creole flavored. Now if you wanted to add tomatoes to make it Creole flavored, you are more than welcome to!
How to store Cajun cream sauce:
Fridge - store this sauce in an air tight container in the refrigerator for up to one week
Freezer - I have not tried freezing this cream sauce recipe. If you would like to try it, go for it! Let me know how it goes.
Similar sauce recipes:
Recipe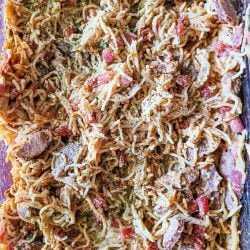 Cajun Alfredo Sauce Recipe
Cajun cream sauce can be used for a variety of dishes. Pasta and chicken are my go to pairings for this sauce.
Ingredients
2

tablespoon

butter

¼

cup

chopped onion

3

tablespoon

garlic

8

oz

cream cheese

3

cups

chicken broth

4

tablespoon

Cajun seasoning

plus any other additional seasonings to taste
Instructions
Melt butter in a medium sized pot over medium heat. Add onion and garlic and cook until lightly golden brown.

Melt cream cheese in pan. Add remaining ingredients once cheese is mostly melted. Cook for about 10 minutes over medium heat to blend all the flavors. Serve your Cajun cream sauce hot!
---
All information presented on this site is intended for informational purposes only. Nutritional facts listed are a rough estimate and should only be followed as a general idea.