Potato pasta is a lot easier to make than regular homemade pasta with flour! These Italian dumplings take only seconds to boil so there is no need to slave over the stove for hours waiting for your homemade potato pasta to be done. They are probably one of the easiest homemade pastas to make and can be paired with any sauces, meats, or vegetables desired.
This post may contain affiliate links. This means if you click on a link and purchase something, I may earn a small commission from it. In the footer of this page is my full disclosure policy.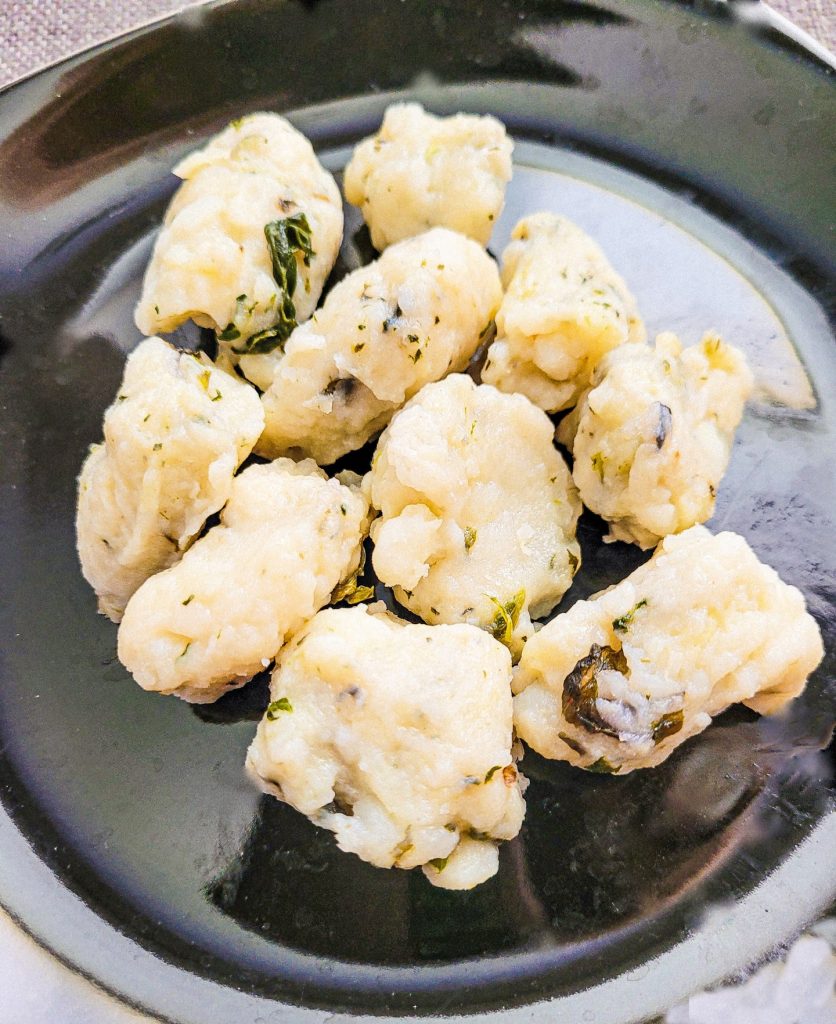 What are Italian Dumplings?
You might know them as potato pasta or gnocchi. They are made of potatoes, flour, and seasonings. That is all. Potato pasta is not gluten free because of the flour in it, they are vegan though.
Ways to eat potato pasta:
potato pasta with cheese-kind of like homemade macaroni, my favorite way to eat Italian dumplings is by making a homemade cheese sauce and rolling them in it.
potato pasta with cream sauce-Alfredo cream sauce or cream cheese in general can be melt in your mouth goodness when served as a sauce with Italian dumplings. Italian dumplings with ricotta are also delightful.
Italian wedding soup-These are perfect in soups as gnocchi!
potato pasta with meat sauce-this is how I served this potato pasta when I first made it. I opened a can of meat sauce and heated it up. I dunked my fresh potato pasta gnocchi in it, and it tasted amazing!
Italian dumplings with pesto-pesto sauce is another one of my favorite ways to eat gnocchi
eat them plain-if you are a potato lover, eating this pasta plain probably sounds intriguing to you!
Check out my other homemade pasta recipes:
Tips for making potato pasta:
use enough flour-one of the mistakes I made the first time making this homemade gnocchi recipe was that I did not put enough flour in it. You kind of have to judge the amount of flour used by the amount of moisture in the potatoes.
make sure the potatoes do not have an clumps-it can be easy to miss mashing a clump in potatoes. When kneading the flour into the potatoes, make sure to check for lumps. This will prevent your homemade gnocchi from having excess moisture. It will also prevent it from tasting so much like potatoes.
season-I used Italian seasoning to season this Italian recipe. You can use any season you would like though.
make sure the potato dumplings are floating-it can be common to mistake movement in the boiling water for your dumplings rising to the surface. Try to make sure they are actually floating versus moving before taking them out. You do not want to take them out too soon.
add flavor-Italian dumplings made from potatos can be rather bland if they are not properly seasoned or if you are using a bland sauce. Try to make them customed to your taste buds.
How to store Italian dumplings:
fridge-store these potato pasta dumplings in an air tight container in the refrigerator for up to one week. I recommed eating them as soon as possible though so they do not soak up moisture from the fridge.
freezer-I have not tried freezing this recipe. I think these would not thaw out very well and would absorb a lot of the mositure from the freezer. If you are still willing to try it, go for it! Let me know how it goes. 
Recipe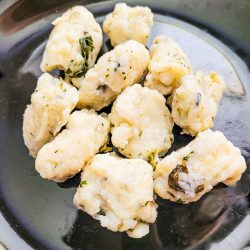 Italian Dumplings
Also known as potato pasta or gnocchi, this pasta takes on the flavor of what you are pairing it with. Serve with your favorite pasta sauce.
Ingredients
5

medium sized russet potatoes

peeled and cubed

1

cup

flour + more if needed

2

tablespoon

Italian seasoning
Instructions
Put potatoes in a large pot with enough water to cover them. Bring to a boil. Boil until fork can easily be stabbed through a potato. This step could take 20 minutes.

Drain out water, and let potatoes cool on a cooling rack. Once cool, grate or mash potatoes until no more clumps. While doing this, place about 4 cups of water in the same pot and begin to bring to a boil.

On a flat surface, sprinkle flour. Add potatoes and seasoning. Knead to mix together. Keep adding flour until potatoes no longer stick to your hands. Roll into quarter size balls.

At this point, your water in the pot should be boiling. Throw 1 potato ball in the water. If it floats to the top within 20 seconds, then your water is ready. Add enough potato balls to the water at a time so the pot is full, but the potatoes are not overlapping one another. They will be done when they are floating. Take them out of the water as the begin to rise to the top and place on a cooling rack. Serve your italian Dumplings with your favorite pasta sauce.
---
All information presented on this site is intended for informational purposes only. Nutritional facts listed are a rough estimate and should only be followed as a general idea.