The Greatest Garlic Parmesan Asparagus
Garlic parmesan asparagus is one of the best ways to eat asparagus! Even those asparagus haters will be loving this parmesan crusted asparagus recipe!
This post may contain affiliate links. This means if you click on a link and purchase something, I may earn a small commission from it. In the footer of this page is my full disclosure policy.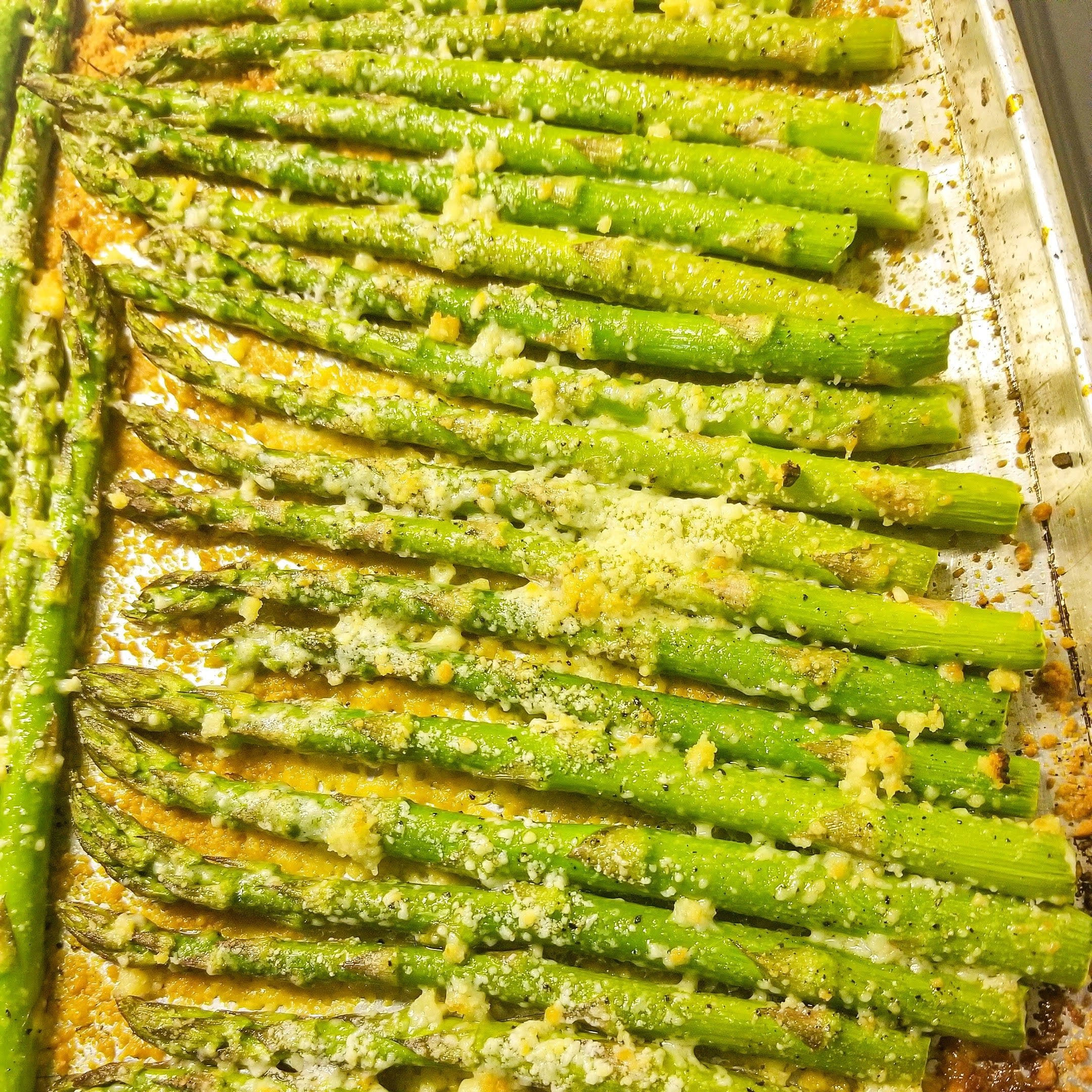 Check out my other vegetable recipes:
What baked aparagus garlic parmesan cheese recipes goes good with:
Steak or another type of meat go excellent with asparagus! I also like to make asparagus for lunches and eat it by itself.
How to cut the ends off asparagus:
You technically do not have to cut the ends off the asparagus, but I like to cut the bottom off so it is not as woody. To do so, you could use a knife. However, not every piece of the vegetable stops getting woody at the same part. I recommend gently trying to snap each piece of the vegetable in half. It will break at the weak part. Then, throw the woody end away and prepare the rest for the recipe.
You could also cut the part with leaves off at the top. This part is totally optional though.
Variations of this parmesan crusted asparagus recipe:
different seasonings-you can switch up the seasonings as much as you want in this recipe! Additional seasonings you might like are steak seasoning, oregano, parsley, etc.
use an air fryer instead of oven-you can make garlic parmesan asparagus in the air fryer as well! Prepare as normal, place in air fryer, and cook for half the time stated.
grilled parmesan asparagus-you can put the prepared asparagus in tinfoil and place on the grill for about 10 minutes or until asparagus is soft.
bacon wrapped asparagus with parmesan cheese-if you wanted to wrap the asparagus in bacon after putting the oil and seasonings on, and then put the parmesan on top of that, it would be super yummy and an even better source of protein
How to store garlic butter parmesan asparagus:
fridge-store this cheesy garlic parmesan asparagus recipe in an air tight container in the refrigerator for up to one week
freezer-I have not tried freezing this crispy garlic parmesan asparagus. If you would like to try it, go for it! Let me know how it goes.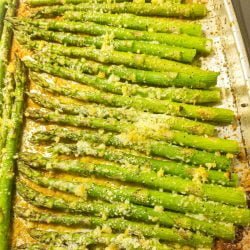 Garlic Parmesan Asparagus in the Oven
One of the best ways to eat asparagus! Perfectly crispy parmesan asparagus every time.
Ingredients
1

bunch

asparagus

woody part trimmed

2

tbsp

minced garlic

1/4

cup

parmesan cheese

grated

olive oil

salt and pepper
Instructions
How to cook garlic parmesan asparagus
Spray baking sheet and place asparagus in an even layer. Using your hands, lather the asparagus in olive oil. Sprinkle with salt and pepper to taste. Rub the seasonings into the asparagus. Then, sprinkle parmesan cheese on top.

Bake garlic parmesan asparagus at 400 degrees for 10 minutes or until asparagus is no longer crunchy. Serve hot.
---
All information presented on this site is intended for informational purposes only. Nutritional facts listed are a rough estimate and should only be followed as a general idea.