This Bacon Shrimp Pasta recipe is the first picture I posted on my cooking Instagram (go follow there @cookingwithtyanne). This is a one pot recipe. This means you don't have to do a lot of dishes after! My grandpa loves cooking with bacon grease so that is why I decided to use it in this recipe.
This post may contain affiliate links. This means if you click on a link and purchase something, I may earn a small commission from it.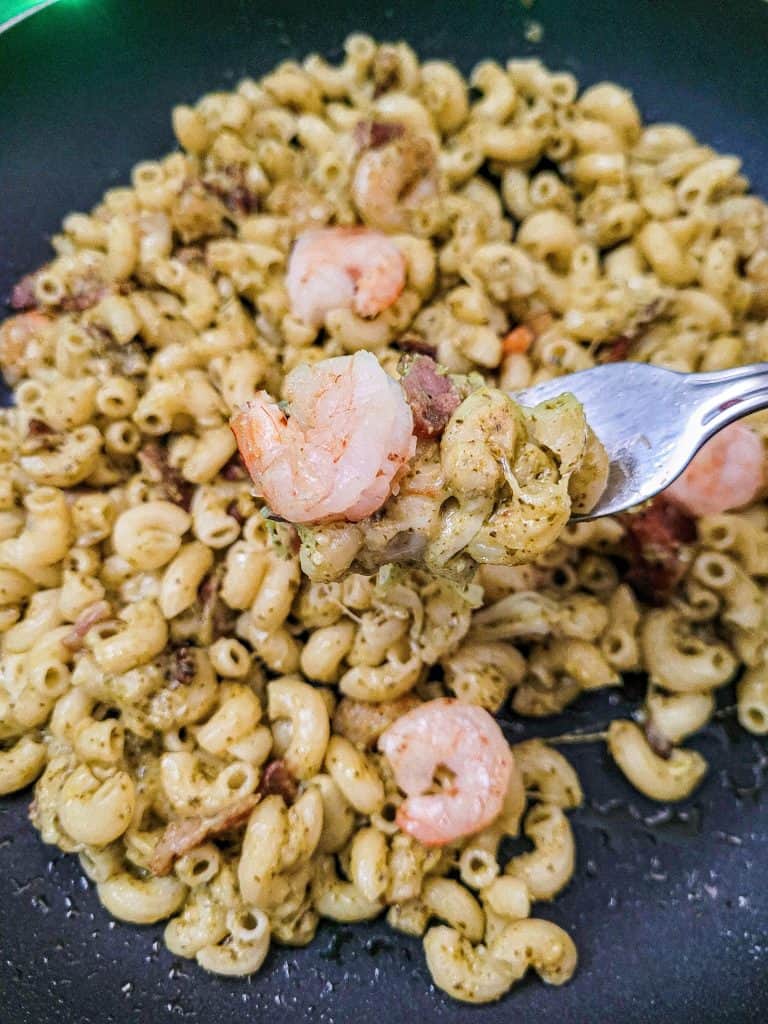 If you want to read a good article on why you can be eating bacon for health benefits, click here.
Main ingredients for pesto shrimp pasta recipe:
Pasta - any shape of pasta works
Pesto - my favorite is ricotta argula, but regular works too
Shrimp - regular sized detailed shrimp work
Bacon - strips of bacon
Cheese - I shred my own
How to make pesto shrimp pasta with bacon:
Fry bacon and save the grease-place cooked bacon on a paper plate with a paper towel to soak up extra grease.
Fry shrimp in bacon grease pan-frying it in bacon grease will give the recipe extra bacon flavor. Season shrimp with garlic salt. Remove shrimp from heat and place on the plate that has the bacon on it.
Cook minced garlic in same previously used pan-this will again give the bacon shrimp pasta recipe more of a bacon flavor. If there is not much grease to lubricate the pan at this point, add more of the saved grease. Add milk and cheese to garlic. Stir.
Add pesto, seasonings, and shrimp and crumbled bacon
Add cooked pasta, Serve bacon shrimp pasta hot!
FAQs
How to thaw frozen shrimp?
The quick route is to put shrimp in a pasta colander and run cold water over it until the ice melts off of it. The slower route would be to place frozen shrimp in the fridge until it thaws. This would require planning in advance.
Do I need to heat pesto?
You do not need to preheat pesto since we are adding it to a hot skillet.
Tips for frying shrimp
Do not use frozen shrimp. Frozen shrimp releases too much water and that will make the bacon grease too watery and it won't stick to the shrimp.
Do not over cook the shrimp. If you are already using cooked pink shrimp from a package, just fry the shrimp enough to be coated in the bacon grease and slightly crisp. You do not want to overcook it or else it could get a rubbery texture.
Variations of shrimp and bacon pasta:
More bacon - you can always add more bacon to your pasta! This will give your pasta more protein as well.
New proteins - scallops, chicken, tofu, etc can be used in addition to or in place of pasta
More pesto - pesto is amazing, and I can never get enough of it! I usually add more pesto to the pasta on my plate.
Different seasoning - you can make this cajun shrimp pasta with bacon if you added cajun seasoning, you can add garlic salt, paprika, turmeric, etc
Omit seasonings - if there is a seasoning you do not like or don't have on hand, you can always omit it
More or less garlic - you can adjust to your personal preference.
What to serve with:
A vegetable would pair nicely with this carb heavy meal. A salad or green beans would be a nice green addition. If you want to go a more traditional route garlic bread or garlic knots would taste amazing.
How to store pesto shrimp pasta:
Fridge - store pasta in an air tight container in the refrigerator for up to one week
Freezer - I have not tried freezing this bacon shrimp pasta recipe. If you would like to try it, go for it! Let me know how it goes.
Check out my other quick pasta recipes:
Recipe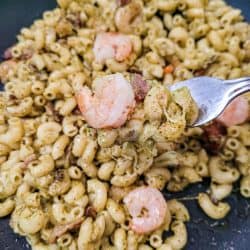 Bacon Shrimp Pasta With Pesto
This bacon shrimp pasta is a one pot, quick pasta. It has creamy pesto sauce, garlic shrimp, and smoky bacon.
Ingredients
16

oz

cooked elebow pasta

15

detailed shrimp

3

strips of bacon

¾

cup

of Gouda cheese

⅓

cup

pesto

½

cup

of milk

1

tablespoon

minced garlic

seasonings up to personal preference: garlic powder, parsley, cilantro, nutritional yeast
Instructions
Fry bacon on medium heat in a deep pan until it is crisp. You can remove some grease as it cooks and put it in a small bowl to save for later. Remove bacon from pan and place on plate with paper towels to dry up the grease.

In the same bacon grease pan, add in shrimp. If needing more lubricant in the pan, spoon previously removed bacon grease back into pan. Cook shrimp on medium heat and season with garlic powder. They will be cooked when their tail curls. Remove from pan and add to plate with bacon.

In same pan used previously in steps 1 and 2, cook minced garlic in the grease until brown. Can add more grease if needed. Add in milk and cheese. Stir until melted.

Add in pesto. Season with the seasonings. Stir. Add in shrimp. If desired, cut shrimp in half before adding. Crumble bacon and add it to this mixture.

Pour cooked pasta onto mixture. Stir. Serve your Bacon Shrimp Pasta hot.
Nutrition
---
All information presented on this site is intended for informational purposes only. Nutritional facts listed are a rough estimate and should only be followed as a general idea.