Honestly, I am not a big eat-an-entire-pepper-in-one-sitting person. But by cutting the green bell peppers in half, it makes it better on the tummy. I finished my half a pepper just fine in this Sausage Stuffed Peppers recipe! This recipe for sausage stuffed peppers serves 6.
If you need other ideas on what to make with bell peppers, click here.
This post may contain affiliate links. This means if you click on a link and purchase something, I may earn a small commission from it.
Check out my other sausage recipes:
Tips for stuffing peppers:
In the directions, I described how to stuff the peppers according to how I stuffed them, but you can stuff them in any order you choose. I experimented and found the way I described them to be the easiest, but it tastes the same no matter the order.
Variations of Stuffed Bell Peppers:
take out meat-you can make this sausage stuffed peppers recipe vegetarian if you omit the sausage
other proteins-if pork is not your favorite protein, adding chicken or ground beef is also an option
brats instead of sausage-sausage is expensive right now! You can substitute ground sausage with brats if you cut open the casing, squeeze out the meat, and fry it like sausage. If doing this, do not choose a very extravagant flavor of brat. Use an original flavor like mild Italian.
omit corn-corn can be a turn off for some, taking the corn out of this recipe does not change the flavor that much. You can skip step #3 and just sprinkle in cheese throughout instead of melting it in the skillet with the corn.
more pepper-if you really like peppers, you can just cut the top off them and scoop out the inside membranes and stuff them versus cutting them in half
cook less or more-by cooking less, your pepper will have more of a crunch. By cooking longer, your pepper will become more soft.
How do I know when my sausage is done?
When my sausage is browned and no longer has a hint of pink, I know my sausage is done! Always cook the sausage before adding to mixture.
Favorite ingredients to use for these pork sausage stuffed peppers recipe:
peppers- I used green but you can use whatever color of bell pepper you want!
rice-long grain enriched rice
picante sauce-provides spice
sausage-I used deer sausage from our fall hunt, any non-sweetened sausage works though like pork sausage or turkey sausage
cheese-shredding your own helps it melt better
corn-canned corn
Overview of this baked bell peppers recipe:
cook rice-the rice is cooked normally, but with less water because you can add picante sauce in about ¾ of the way in for flavor. This also provides more moisture which is why the original amount of water is less than what the rice bag says
cook sausage, garlic and onions-this will help blend these flavors together. Remove them from heat.
melt cheese and corn together on the stove
cut pepper tops off and in half vertical and scoop out membranes. Broil peppers for 6 minutes. I broil mine on the 2nd or 3rd rack notch. I also check mine every 2 minutes while broiling to ensure they are not getting over cooked. If you oven heats unevenly like mine does, I recommending rotating the pan halfway through as well.
stuff peppers, and bake again! I stuffed mine like how the directions say, but you can stuff them in any order you choose. Serve your sausage stuffed peppers hot!
How to store stuffed peppers with sausage:
fridge-store these pork stuffed bell peppers in an air tight container in the refrigerator for up to one week. Reheat in microwave or air fryer until inside temps at 165 degrees. You can add additional cheese when reheating for extra flavor.
freezer-I have never tried freezing sausage stuffed peppers before. If you want to do that, let me know how it goes.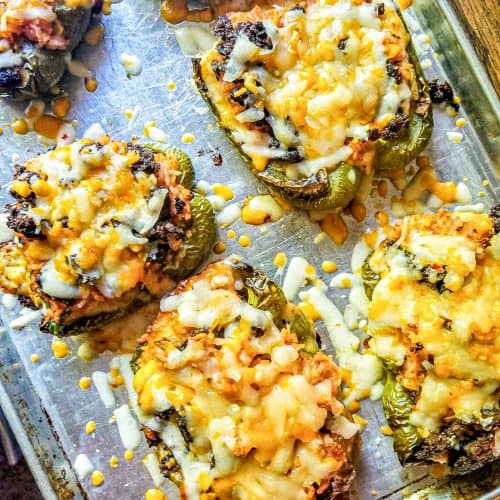 Sausage Stuffed Peppers
Stuffed peppers with cheese are the way to go if needing a baked bell pepper recipe. These stuffed peppers with sausage and mozzarella can be made in 45 minutes. This recipe is for stuffed bell peppers with rice.
Ingredients
3

bell peppers

washed

1 ½

cup

water

1

cup

rice

1 8

oz

jar picante sauce

½

lbs

ground sausage

½

onion chopped

2

tablespoon

garlic

1

cup

mozzarella cheese

7

oz

creamed corn

¼

cup

cilantro

2

dashes lime juice

cheese for topping
Instructions
Dump water into a medium sized pot and bring to a boil. Add rice once boiling. After about 8-10 minutes when there is little water left, add in entire salsa jar.

While rice is cooking, fry sausage in a medium sized skillet. Add garlic and onions. Once well cooked, remove from pan and place on a plate with a paper towel to absorb oil.

In same pan sausage was in, place creamed corn and mozzarella cheese over medium heat until melted.

Cut pepper tops off, and in half vertical and scoop out seeds and membranes. Broil peppers on a sprayed baking sheet for about 6 minutes, rotating the pan halfway through. I put my broil at 490 degrees and the rack was at the 2nd to highest notch. Make sure to watch the peppers closely while broiling because every oven broils differently.

Remove peppers from oven. Scoop the cheese/corn mixture into the peppers first, then rice, and then the sausage mixture. Bake for 30 mins at 375 degrees. Add cheese, and throw back in the oven until melted (about 2 minutes). Serve your Sausage Stuffed Peppers with salsa and sour cream!
---
All information presented on this site is intended for informational purposes only. Nutritional facts listed are a rough estimate and should only be followed as a general idea.