Even if you don't like asparagus, you will like this air fryer Bacon Wrapped Asparagus recipe! I did not like asparagus before this recipe. Definitely make sure your asparagus is fresh though as if it is a little older it can alter the taste. Asparagus and bacon pairs well with a meat dish! 
This post may contain affiliate links. This means if you click on a link and purchase something, I may earn a small commission from it.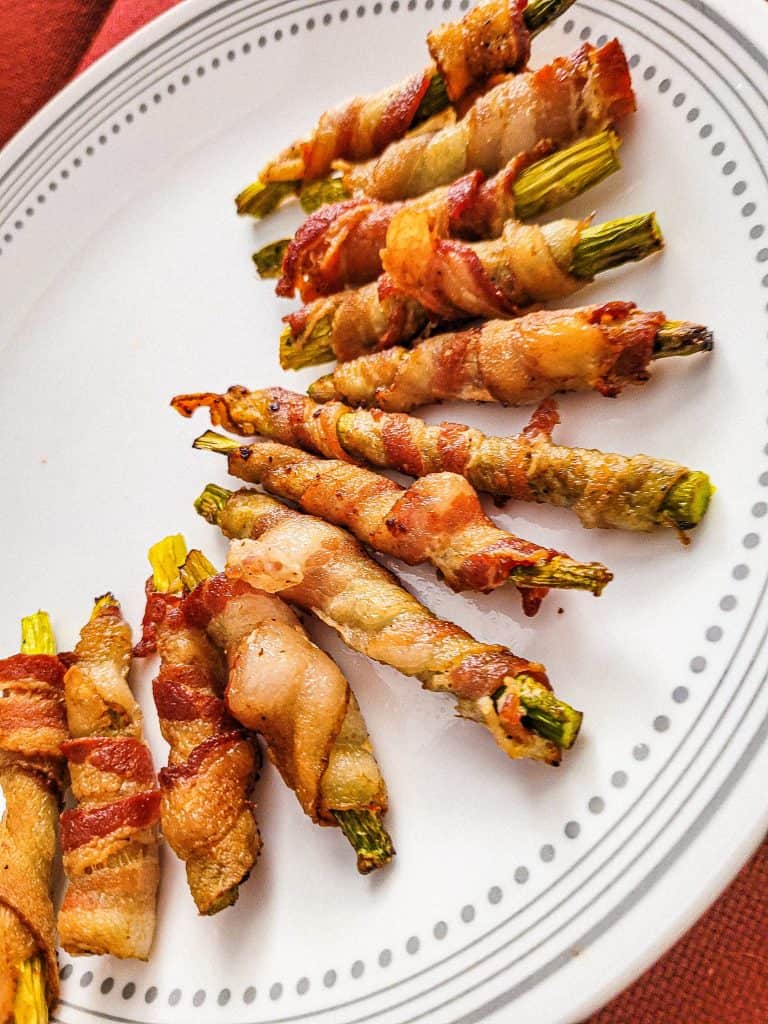 Ingredients:
Olive oil -helps spices stick to asparagus
Asparagus - our main vegetable
Bacon - the savory crunch around the asparagus
Spices - adds flavor
How to make bacon wrapped asparagus in air fryer:
Olive oil and season asparagus - the olive oil will ensure that the seasonings stick to it
Wrap asparagus in bacon - I try to wrap mine as tight as possible
Air fry - it is just that easy! See above note if you would like to cook this air fryer bacon wrapped asparagus recipe without an air fryer
How to make bacon wrapped asparagus in oven:
If you do not have an air fryer, you can also bake these as well! Bake on a slotted baking sheet so the oil congregates at the bottom. I would set them for the same amount as the recipe says for the oven. They might need to cook longer if cooking in the oven though. I just prefer air frying because I think my bacon sticks better to my asparagus that way. You will be able to fit more asparagus on the pan while baking it in the oven though as the air fryer might require a few batches.
Can I make this on the stove?
Yes, you can prep and wrap the asparagus the same way. Fry in a skillet with olive oil until bacon is cooked on each side.
Can I grill asparagus?
Prep and wrap the asparagus according to directions and place on grill. Evenly cook on both sides.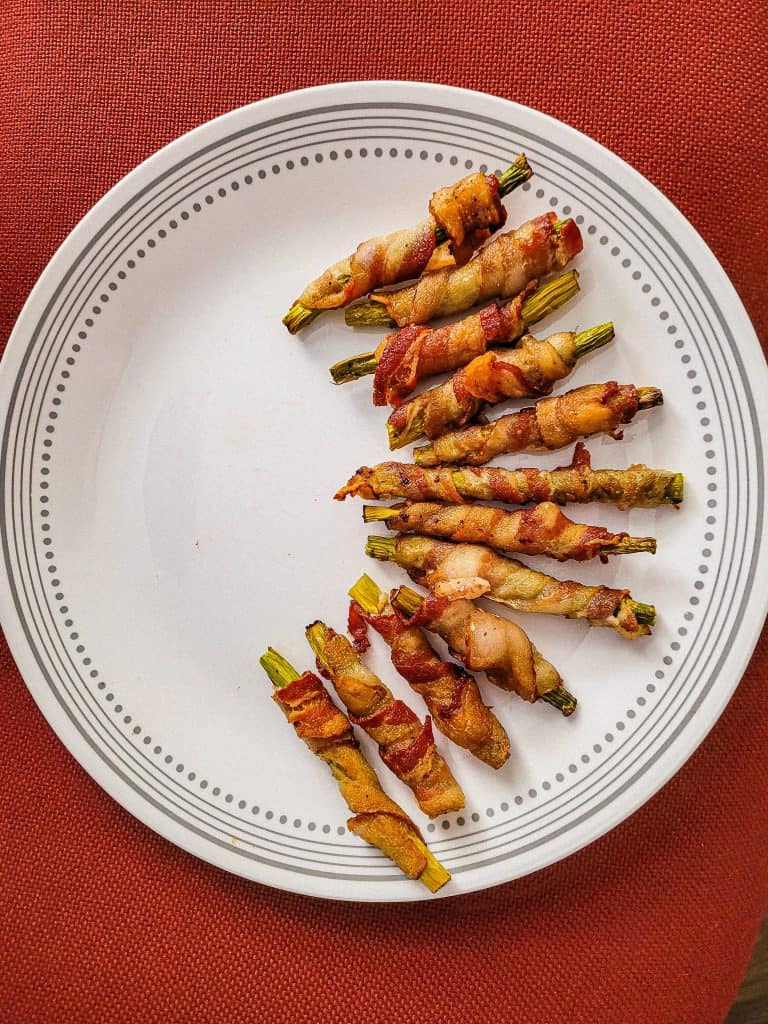 How to trim asparagus:
I do not know how people do this normally, this is just how I do it. If you try to bend the bottom of an asparagus stick, there is a weak spot where it will break. Discard the small part that is stiff and breaks off. This will ensure there is no hard parts in your asparagus with bacon. This step isn't exactly necessary though.
The first time I made these I did not know I was supposed to break the ends off. They tasted slightly hard, but since I did not know I was supposed to break them off, then I did not think it tasted funny or anything. I always leave the top of the asparagus flower on. You can cut this part off if you wish, but then your air fryer bacon wrapped asparagus will not be very long at all at that point.
Tips for cooking bacon in air fryer:
Thin layer in the air fryer - the thinner layer of air fryer bacon wrapped asparagus you lay down into the air fryer, the more evenly they will cook. If you stack them to the top of the air fryer like I did the first time, they might not cook the best.
Use thin bacon - bacon comes in all sorts of thicknesses and lengths. For this specific recipe, it is best to use fairly thin bacon, but not too thin to where it breaks getting it out of the package. Thin bacon helps it cook more evenly around the asparagus. Your bacon does not have to be extremely long either if you trim the asparagus ends.
Variations of asparagus wrapped in bacon:
Add garlic - you could sprinkle some garlic on top of this vegetable side dish if you want to.
Double bacon - as seen in the picture, I only have one strip of bacon wrapped around my asparagus. If you wanted to wrap your bacon more tightly together and use more than one strip so that the whole asparagus is 100% covered in bacon, then you can do that as well
More seasonings - I typically do not season this air fryer bacon wrapped asparagus recipe on top again as I season the asparagus itself under the bacon, but you can add any extra seasonings to the top that you would like.
If you love bacon, check out my other bacon recipes:
Other easy air fryer recipes:
 How to store air fried bacon and asparagus:
Fridge - store this air fryer bacon wrapped asparagus dish in an air tight container in the refrigerator for up to one week
Freezer - I have not tried freezing air fryer bacon wrapped asparagus recipe. If you would like to try it, go for it! Let me know how it goes.
Recipe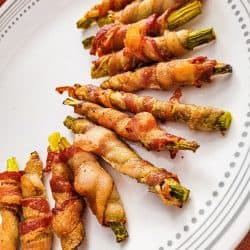 Bacon Wrapped Asparagus
If you don't like vegetables, you will still like this Bacon Wrapped Asparagus. Asparagus with bacon is a unique combination that air fries so nicely together! This asparagus and bacon recipe would pair well with a meat dish.
Ingredients
1 16

oz

package of bacon

thawed, sliced in half length wise

1

standard size bunch of asparagus, with trimmed ends

olive oil

Seasonings: garlic salt, pepper
Instructions
Lightly drizzle asparagus with olive oil. Season with garlic salt and pepper. Using your hands, rub asparagus to ensure it is evenly coated with olive oil and seasonings.

Wrap an asparagus stick with bacon. Place in air fryer. Repeat with remaining asparagus and bacon until gone. It is okay if they overlap in the air fryer, a little bit. Do not fill too full in the air fryer though or it could alternate cook time. You might have to air fry it in batches depending on the size of your air fryer.

Air fry at 400 degrees for about 20 minutes, checking periodically to see if they are evenly cooking. They will be done when the bacon is crispy. I found that my bacon on the very top of the air fryer was getting done, and the lower level of bacon was not; so I removed the top asparagus so the bottom ones had a chance to cook better. I also stirred them around some. Serve your Bacon Wrapped Asparagus with a meat dish!
---
All information presented on this site is intended for informational purposes only. Nutritional facts listed are a rough estimate and should only be followed as a general idea.