Even someone who has never made tofu can make this air fryer salt and pepper tofu recipe. This was the first tofu recipe I made, so I believe anyone can make this easy recipe no matter their tofu skill level. This recipe involves using super firm or extra firm tofu. This recipe does not require a tofu press, but you can use one if you would like.
This post may contain affiliate links. This means if you click on a link and purchase something, I may earn a small commission from it. In the footer of this page is my full disclosure policy.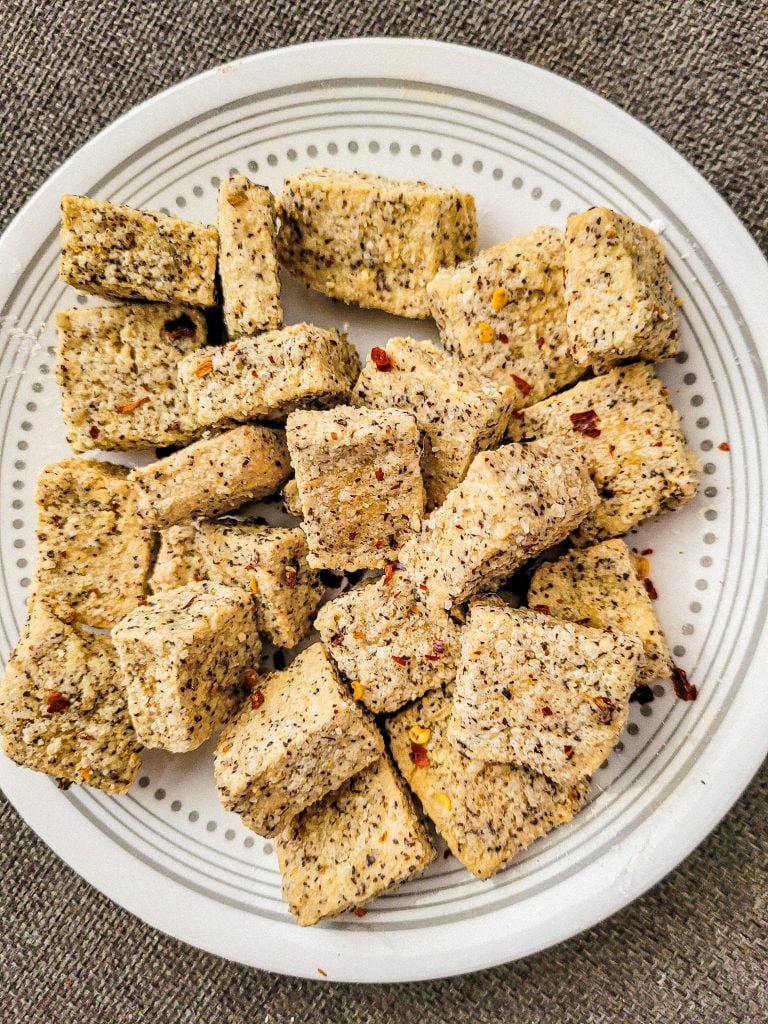 Ingredients
Super or extra firm tofu - the main protein part of this recipe. The firmer the tofu the better
Corn starch - to coat the tofu
Salt, Pepper, Garlic pepper - seasonings for flavor
Red pepper flakes - adds a little spice
Commonly asked questions about tofu:
What does tofu taste like?
Tofu does not have an exact flavor, kind of like cauliflower. Whatever seasonings you put on it, that is what it will taste like. This homemade salt and pepper tofu tastes like mostly crunchy salt and pepper. It is kind of hard and crispy on the outside and softer on the inside, similar to a chicken nugget. If you like tofu a lot after trying it with this recipe, try these other recipes as well.
Where does tofu come from?
Soybeans. Tofu comes from soybeans so if you are allergic to soy, it is best to stay away from tofu.
Where is tofu in Walmart?
In my Walmart, I found my super firm tofu next to the lettuce in the salad area. Tofu is always kept refrigerated so looking in the cold section is a good place to start.
What's the right shape to cut the tofu info?
For this recipe, we want a lot of flavor. It is best to cut the tofu fairly narrow so that it tastes more crispy on the outside. Whereas with the bigger pieces you will have more of a soft inside and that will clash with the crispy outside.
What tofu is best for baking or frying?
Any firm tofu is better for baking or frying over soft. Soft tofu can be easily blended into another shape but it will not old its shape as good as firm tofu will being fried or baked.
Will tofu freeze?
Tofu does freeze, but freezing tofu is not necessarily a good way to preserve it unless you are looking to make the tofu more chewy. If you want tofu to be chewy, definitely freeze it, then thaw it to get that effect. If you want it to be more smooth, do not freeze it.
How to make Salt and Pepper Tofu:
Press the tofu - you cannot skip this step. Getting as much water out of the tofu as possible is necessary to ensure crispy salt and pepper tofu.
Cut tofu - I cut mine into pretty small pieces. I cut it in half height wise, then I cut it 8 strips across and then 4 strips across the other direction.
Prepare cornstarch mixture - cornstarch gives the tofu a nice crispy outside. This mixture also has the seasonings in it as well.
Add olive oil to a bowl - this will help the corn start stick.
Roll tofu in olive oil, then corn starch, then air fry or fry in oil on the stove.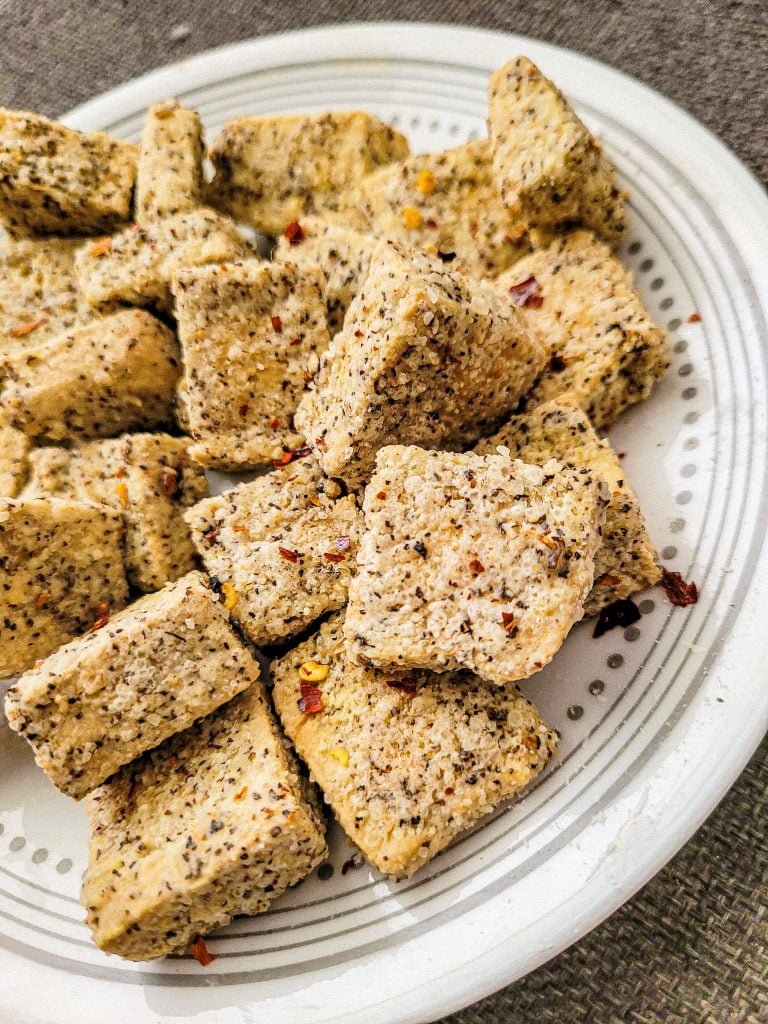 How to press tofu without a tofu press:
If you own a tofu press, you can keep reading. I don't make tofu often enough to buy a tofu press, so this is the method I use to press tofu. This tofu recipe suggests pressing the tofu for at least 40 minutes (20 minutes each side).
Wrap tofu in a tea towel and place on a plate. Be sure to have the tea towel even throughout so there is no creases or edges where the books will go.
Add books on top of tofu. Place heavy books, such as 2 dictionaries, on top of the tofu. This will help press the water out. The tea towel will soak up the water. If for some reason the tea towel gets completely soaked through, make sure the book that is closest to the tea towel is a book that you can afford to get the cover soaked.
Press for 20 minutes, flip tofu over, press for another 20 minutes.
Variations:
Add soy sauce - this recipe is for tofu without soy sauce, but if you wanted to add some soy sauce flavor, you can add soy sauce to the olive oil.
Use egg - egg can be used in place of the olive oil to help the cornstarch stick.
Pan fry - you can pan fry this tofu recipe if you do not have an air fryer. Just make sure it is golden brown and crispy on both sides.
What to serve with salt and pepper tofu:
Tofu with rice would be a good combination for this recipe because the tofu is heavily seasoned. It is best to serve with a side dish that is a little more bland. This salty tofu recipe can also be added to fried ramen noodles to make a stir fry.
Recipe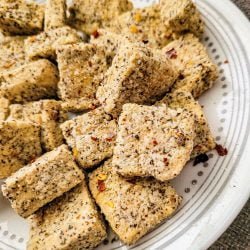 Salt and Pepper Tofu without Tofu Press
You don't need an air fryer for this salt and pepper tofu recipe, but it is easier to make in the air fryer. Frying tofu in the skillet instead of air fryer is an option.
Ingredients
1

block

super or extra firm tofu

½

cup

corn starch

1

tablespoon

salt

1

tablespoon

pepper

1

tablespoon

garlic pepper

½

tablespoon

red pepper flakes
Instructions
Press the tofu with a tofu press or according to method stated above for about 20 minutes each side.

Cut tofu into bite sized pieces. My pieces were no bigger than a half inch tall.

Pour olive oil into a small bowl. Pour corn starch and seasonings into another bowl. Roll tofu in olive oil, and then roll into corn starch. The corn starch coating does not have to be super thick by any means.

Air fry tofu in a single layer in the sprayed air fryer basket for about 12 minutes. Check and stir half way through. Salt and pepper tofu will be done when the tofu is crispy golden brown, but still somewhat soft.
Notes
Store leftovers in an air tight container in the fridge for one week. 
Nutrition
Sodium:
1398
mg
Cholesterol:
15.8
mg
Calories:
74
kcal
Protein:
1.7
g
---
All information presented on this site is intended for informational purposes only. Nutritional facts listed are a rough estimate and should only be followed as a general idea.