A pull apart Christmas tree is traditionally green and savory, but we will put a twist on it! Make it sweet and any color you want using your pie filling of choice! The flavor options are endless with this pull apart xmas tree recipe. Not all trees are green, and the tree part comes from the shape of the bread.
This post may contain affiliate links. This means if you click on a link and purchase something, I may earn a small commission from it. In the footer of this page is my full disclosure policy.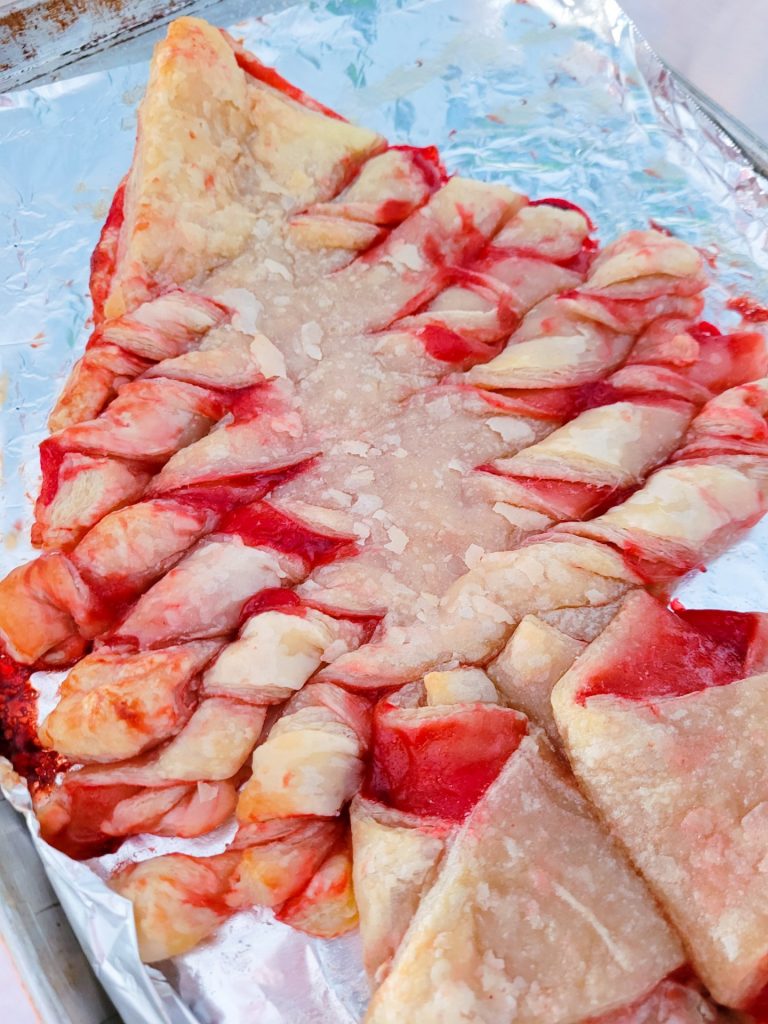 How to make an excellent pull apart Christmas tree:
no chunks of fruit in filling-this recipe requires some sort of pie filling of your choice. You do not want to be spooning chunks of fruit from the filling onto your puff pastry. This would result in a mess of filling falling out during the baking process.
not too much pie filling-putting too much pie filling also can result in your recipe for pull apart Christmas tree bread not working out as planning when the filling spills completely out of the twists. Try to put just enough filling on to give it flavor.
leave room for trunk-don't make the trunk too thin or else the twisting part could result in no trunk. The trunk is what keeps the branches on each side separate from each other.
twist branches-make sure you twist the branches so they look like branches and not lines
Variations of Christmas tree pull apart bread:
savory-you can make this spinach artichoke dip flavored instead of sweet. This would also make it more green and Christmas like.
crescent rolls-pull apart Christmas tree with crescent rolls is an option if you do not have puff pastry on hand. Just mash the cresent rolls into a giant rectangle and make the same way. This might make it a little more savory though than a pull apart puff pastry Christmas tree.
no stump-for some people the stump looks too big. You can just bake it separate and not attatch it to the bread.
mash 2 triangles together-instead of having both cut off triangles at the bottom for the stump, you can roll them together to create one big stump.
no tree shape-you can leave a circle in the middle and cut strips almost all the way across to make a circle shape of pull apart sweet bread twists instead of making it into a tree shape. For some people, they think that is easier.
Check out my other Christmas desserts:
How to store your easy pull apart Christmas tree:
fridge-store pull apart Christmas tree appetizer in an air tight container in the refrigerator for up to one week
freezer-I have not tried freezing this recipe. If you would like to try it, go for it! Let me know how it goes.
Recipe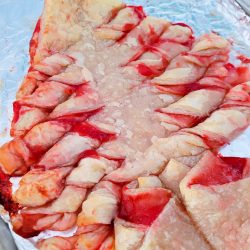 Pull Apart Christmas Tree
Sweet pull apart Christmas Tree dessert make the perfect end to a holiday meal!
Ingredients
2

sheets

puff pastry

6

tablespoon

pie filling of choice

3

tablespoon

sugar
Instructions
Place 1 sheet puff pastry on a sprayed baking sheet lined with aluminum foil. Sprinkle sugar on top evenly. Spread strawberry filling on top. Make sure to get just the filling and not the strawberry chunks. Lay another sheet of puff pastry on top covering the strawberry filling so that it is in an even rectangle shape with no strawberry pie filling peeking through.

Cut the puff pastry into the shape of a triangle by leaving the point at the top and cutting 1 large triangle off each side. With the triangles being cut off, roll them like you would a cresent roll and place at the base of the large triangle to make the stump.

Leaving a trunk in the middle, use a knife to cut the puff pastry into branches. Twist each branch. See picture for reference.

Bake at 375 for 20-22 minutes. Pull off the branches and eat!
---
All information presented on this site is intended for informational purposes only. Nutritional facts listed are a rough estimate and should only be followed as a general idea.