THE BEST Cheese Manicotti Recipe with Spinach
This is the best cheese manicotti with spinach you will ever make! Stuffed manicotti is a dish everyone will love. What is manicotti? Cheese manicotti is a long noodle stuffed with cheese, spinach, and seasonings topped off with a red sauce and baked in the oven! This recipe is for cheese manicotti without meat but you can add meat if you would like. There are other variations stated below in the variation section of this recipe post.
This post may contain affiliate links. This means if you click on a link and purchase something, I may earn a small commission from it. In the footer of this page is my full disclosure policy.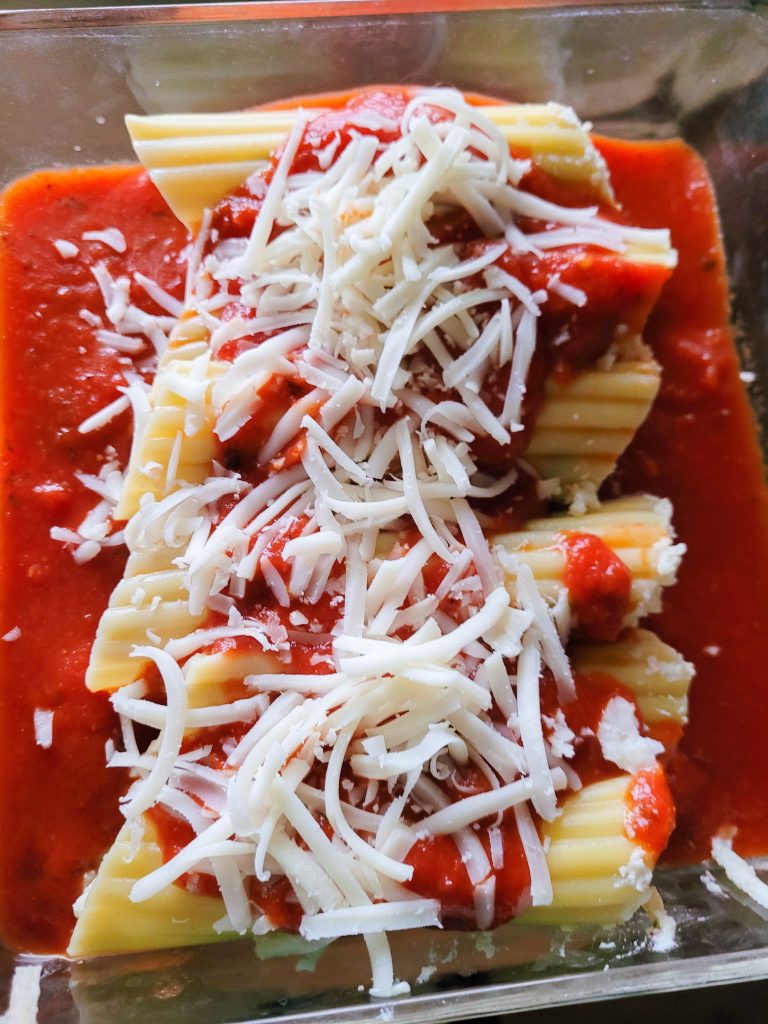 Common questions about manicotti:
Where do buy manicotti shells?

Walmart or another chain store is probably your best bet. Smaller stores might not carry the noodles because they are a larger pasta. That is what makes it more pricey than elbow noodles.

Will manicotti noodles cook in the oven?

You do have to cook manicotti noodles before baking, or at least the kind I buy says I have to do that. Just like no boil lasagna noodles, I am sure there are no boil manicotti noodles out there too!

What does manicotti mean?

Manicotti translates to the shape of large tubes. This makes sense because the noodle is a large tube.

Is manicotti like stuffed shells?

I would relate cheese manicotti to being more similar to stuffed shells than lasagna. Lasagna is layers and manicotti is a stuffed noodle.
How to easily stuff manicotti shells
This recipe allows for easy stuffing of the shells because the cheese and spinach mixture is cold. When it is cold, the ricotta balls up more nicely and is easy to insert into the manicotti noodle.
Don't over cook the noodles-if you over cook the noodles, that will make them harder to stuff because then they are going to fall apart more easily.
Don't try to shove too much cheese mixure in at a time-little by little stuffing is the best way to stuff cheese manicotti. You don't want to risk breaking the noodle.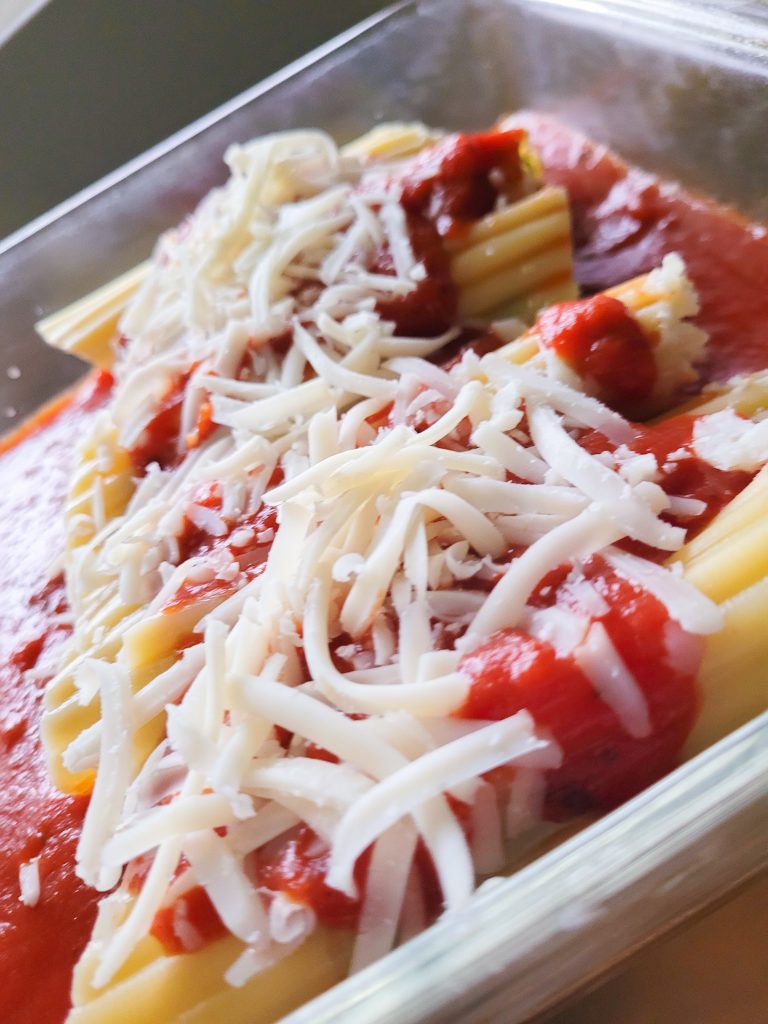 Can manicotti be made ahead of time?
There are two ways manicotti can be made ahead of time
Cook noodles and let noodles cool and store in the fridge.
It can be hard to touch the manicotti noodles to stuff them when they are hot anyway, so if you did not have a lot of time in the evening to wait for the water to boil, you can cook the noodles on a different day.
2. Prepare as usual and put in the fridge until ready to eat
As long as you have a sealable container you bake cheese manicotti in, you can just put it in the fridge and take out and eat later.
Variations of cheese manicotti:
no ricotta-you can make manicotti without ricotta by using cream cheese or cottage cheese instead. Ricotta can be hard to buy some places, however, it is the easiest manicotti cheese because it balls together. This makes it easy to stuff the manicotti shells.
no sauce-if you just want to amplify the cheese manicotti flavor, you can omit the sauce on top. I recommend brushing with olive oil so the noodles do not dry out in the oven though.
add meat-you can make this cheese manicotti with meat if you would like! Easy combination would be manicotti and sausage crumbles. The sausage crumbles would be nicely blended in the ricotta making it easier to stuff. Manicotti and chicken would be a close second if the chicken was chopped fine enough. Beef manicotti is also an option.
different sauce-you can make cheese manicotti without tomato sauce and use alfredo sauce, meat sauce, or any other sauce instead!
more vegetables-this recipe is for cheese manicotti recipe with spinach, but you can add artichokes, tomatoes, peppers, onions, etc to the ricotta center.
Check out my other stuffed pastas:
How to store manicotti without meat:
fridge-store this manicotti without eggs recipe in an air tight container in the refrigerator for up to one week
freezer-can manicotti be frozen? This cheese manicotti recipe can be a freezer meal! Prepare as normal, but make sure to bake in a freezer safe and oven safe container, such as a 9×13 baking dish. Then, let cool to room temperature. Finally, put a lid on the dish and freeze. To reheat, let thaw in the fridge for about 12 hours, then bake at 400 degrees for about 20 minutes or until heated throughout. If you wanted to ensure the manicotti dish will stay fresh in the freezer, wrap in saran wrap before putting the lid on. Just make sure to remove the saran wrap before baking!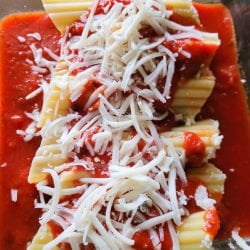 Cheese Manicotti with Spinach
Cheese manicotti with spinach is the best pasta dish you will ever eat!
Ingredients
12

manicotti noodles

2

cups

spinach

2

tbsp

olive oil

8

oz

ricotta cheese

2

cup

mozzarella cheese

plus extra for top

2

tbsp

minced garlic

1

tbsp

of each: italian seasoning, garlic pepper

16

oz

marinara sauce
Instructions
Boil your manicotti noodles according to directions. Drain off water and let cool.

While waiting for the noodles, in a medium skillet, heat olive oil over medium heat and saute the spinach until dark green. Let cool off.

Once spinach is cool, add remaining ingredients (besides noodles and sauce) to skillet with spinach and stir. This will be a cold mixture.

Begin stuffing your noodles with a small spoon by scooping up a little of the spinach and cheese mixture and inserting it into a manicotti shell. Stuffing little by little helps prevent noodle breakage. You can also use your fingers to stuff the noodles. Place on a sprayed 9 x 13 baking dish that has about 1/2 cup of marinara sauce spread across the bottom evenly. Repeat until noodles and cheese mixture are gone.

Pour remaining sauce over noodles and sprinkle extra shredded cheese on top. Bake dish at 375 degrees for about 15 mintues or until the shredded cheese is melted.
---
All information presented on this site is intended for informational purposes only. Nutritional facts listed are a rough estimate and should only be followed as a general idea.