2 ingredient baked potatoes in the air fryer are delicious with crispy skin, fluffy interiors and taste just like the classic oven-baked potato without needing to heat up your oven!
This post may contain affiliate links. This means if you click on a link and purchase something, I may earn a small commission from it. In the footer of this page is my full disclosure policy.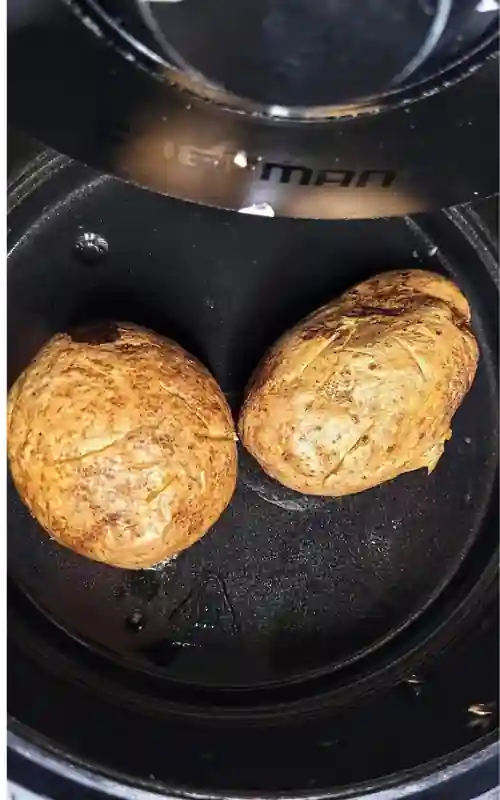 Ingredients
Potatoes - russet holds up best in the air fryer
Oil - helps the skin crisp up
How to bake potatoes in the air fryer
Preheat - preheating the air fryer helps the potatoes start heating sooner.
Wash potatoes - always clean your potatoes before baking! Wash them with a scrub brush and water.
Oil potatoes - coat potatoes in a light splash of olive oil. Rub into potato skin. This will help crisp up the potatoes. You can rub salt on as well during this step.
Stab potatoes - poke holes in 2 places each side of the potato to allow air to escape out of the skin.
Air fry baked potatoes - air fry potatoes for 35-40 minutes at 400 degrees flipping half way through.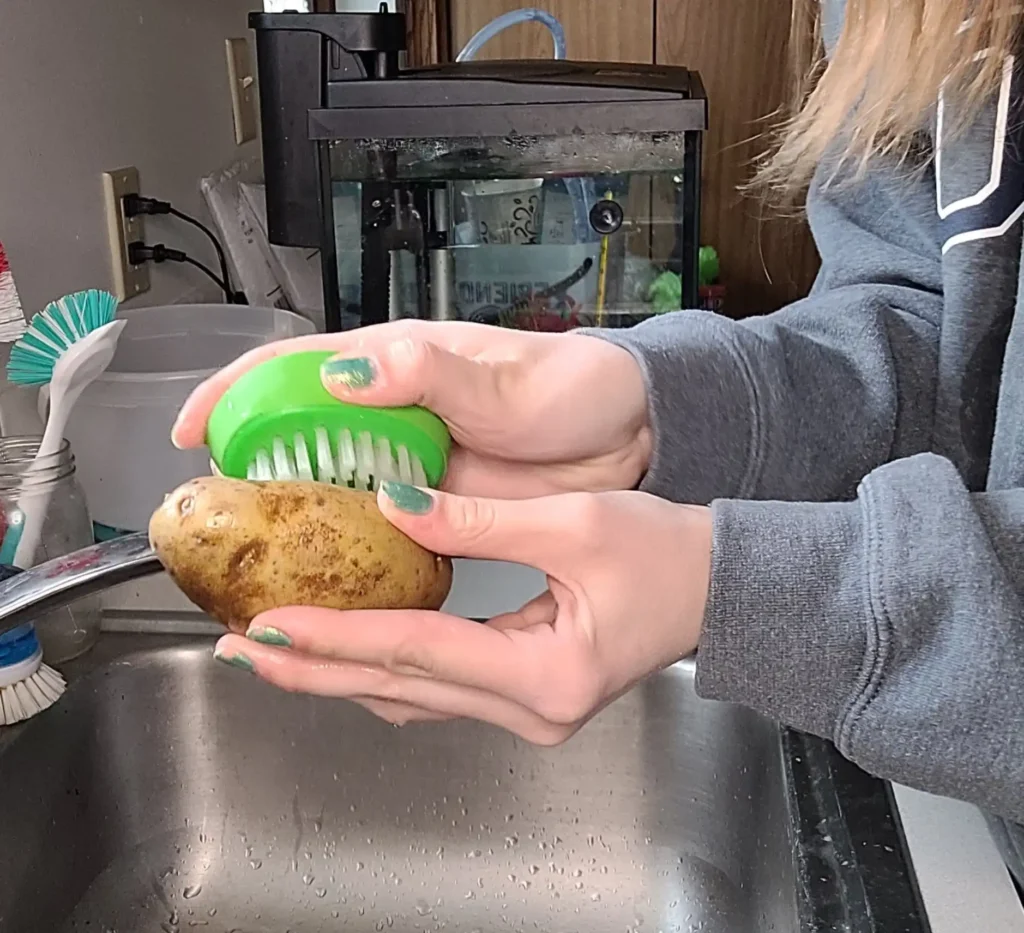 Baked potato toppings
Butter
Sour cream
Cream cheese
Shredded cheese
Bacon
Scallions
Salt
Jalapenos
Onion
Everything bagel seasoning
Chili
Broccoli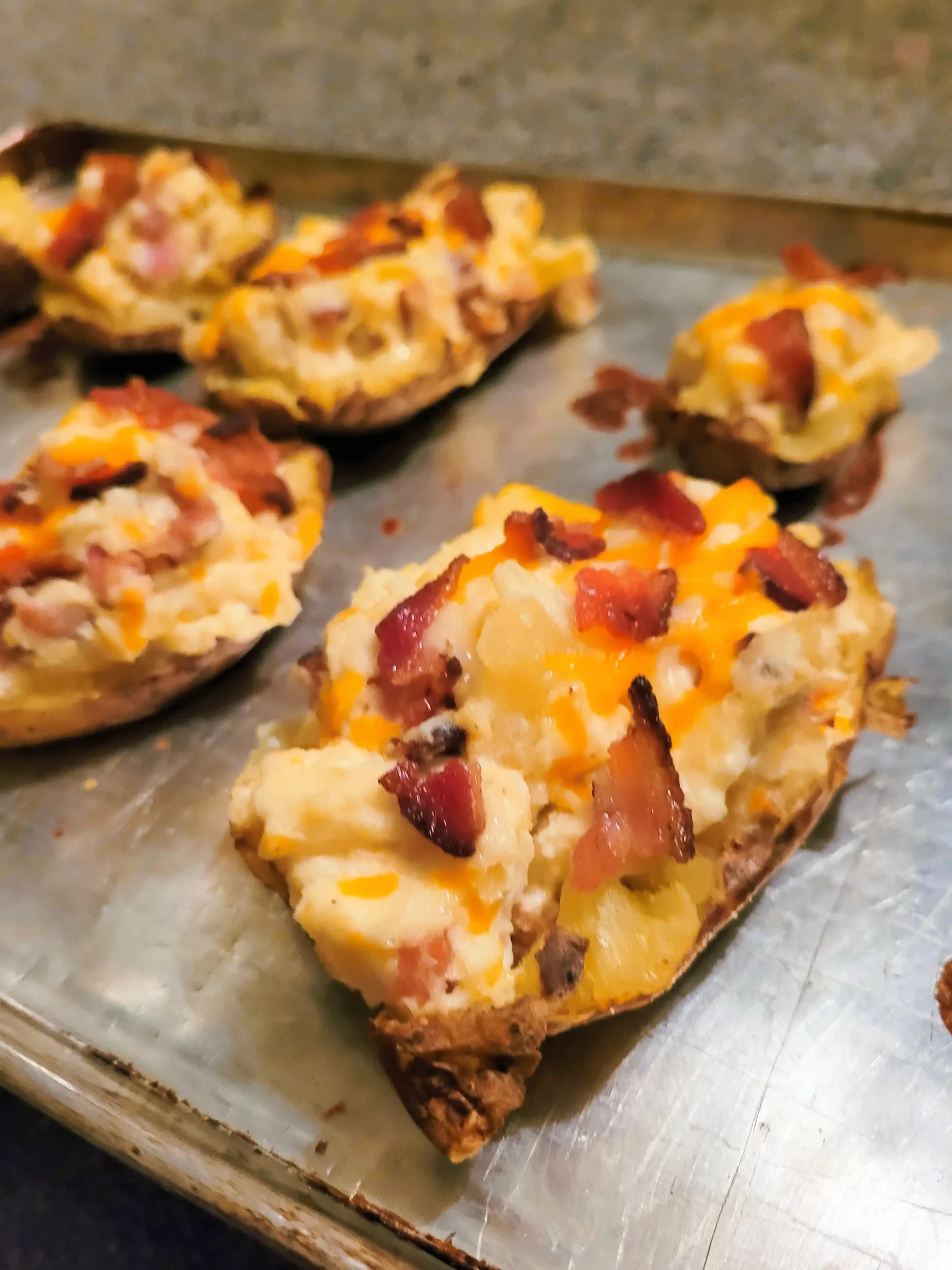 This recipe is step one of making twice baked potatoes.
Tips for making air fryer baked potatoes
Wash potatoes - cleaning potatoes thoroughly will allow the skin to be edible and tasty. Do not throw potato skins away!
Allow enough space - place potatoes comfortably in the air fryer. Do not over crowd the air fryer because the air needs to circulate to cook the potatoes evenly.
Poke enough holes - poke potatoes with a fork at least twice on each side to allow the air to release. This will help the potato hold its shape as well because it prevents potato explosions.
Preheat air fryer - preheating air fryer will knock down the cooking time by allowing the potatoes to be on maximum heat the entire duration of cooking.
Use similar sized potatoes - by using potatoes all of similar size, they should be done cooking at the same time. If using a variety of sizes, they may get done at different times.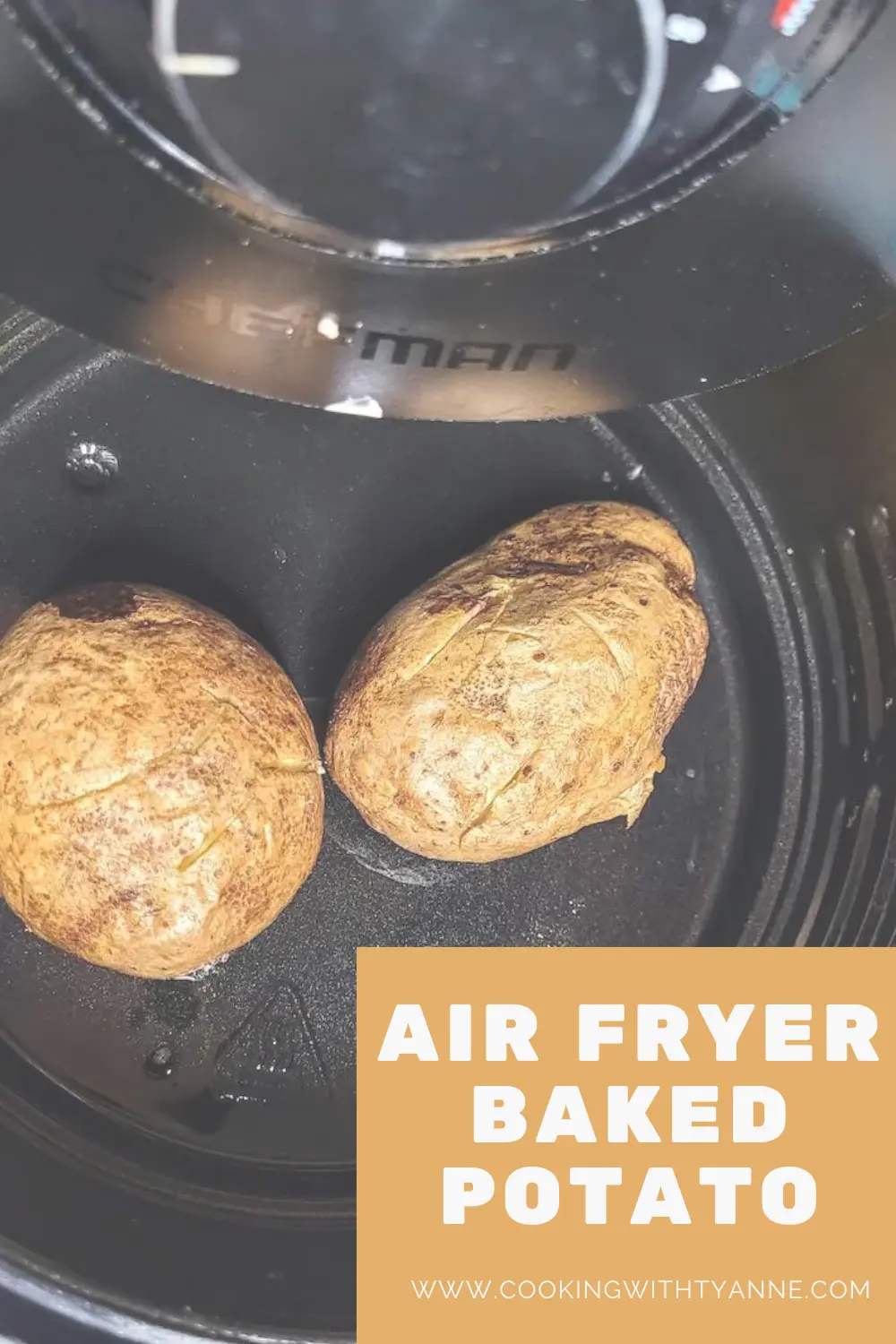 FAQs
How to know when a baked potato is done?
Baked potatoes are fully cooked when they can be poked with a knife and the knife moves smoothly through the potato. Another option is to put a kitchen glove on and squeeze the sides of the potato. If it is squishy, then they are done. When in doubt, it is better to cook for longer than eat an undercooked baked potato.
How long to air fry baked potato?
If you have a small potato, your baked potato could be done in 30 minutes. It could take upwards of 40 minutes to cook a jumbo russet potato in the air fryer.
Best potato for baked potato?
Russet potatoes have a thicker skin that will hold up better being baked. They also have a higher starch content allowing them to soak up the loaded toppings.
How to store air fryer baked potatoes?
Store in the fridge for up to 4 days. Leftover baked potatoes are perfect for potato salad!
What to serve with baked potatoes?
Hamburgers, pork chops, steak, and fried chicken are all classic sides for a baked potato!
Variations:
One variation is to air fry baked potato after first cooking in the microwave. Bake potato in the microwave for about 3 minutes to get the potato cooking. Then, transfer to preheated air fryer to finish cooking. This will allow the potato to develop a more crispy skin.
Other air fryer recipes
Recipe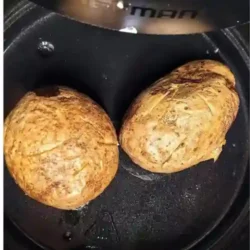 Baked Potatoes in the Air Fryer
Delicious, crispy skin, fluffy insides, and any toppings you want on top.
Ingredients
1

tablespoon

olive oil

2

russet potatoes
Instructions
Preheat air fryer to 375 degrees.

While air fryer is preheating, rub olive oil on each potato. This will help skin crisp up. Stab potatoes with a fork at least twice on each side. Place potatoes in preheated air fryer.

Air fry baked potatoes at 375 degrees for 10 minutes. Then crank the air fryer to 400 degrees for 20 minutes. The potatoes will be done when a fork or knife can be stabbed through the potato with ease. If fork has a hard time going through the potato, air fry a bit longer. Air frying times may vary depending on size of potato.
Nutrition
Sodium:
13
mg
Calories:
207
kcal
Fat:
7.2
g
Protein:
3.6
g
Carbohydrates:
33.5
g
---
All information presented on this site is intended for informational purposes only. Nutritional facts listed are a rough estimate and should only be followed as a general idea.