Treat your taste buds to a savory, spicy, and flavorful meal! For a speedy weeknight dinner try Sheet Pan Shrimp Fajitas. It cooks in one pan, and it's easy to make. Shrimp fajitas in oven might just be your new favorite recipe for lunch or dinner. Since this is a sheet pan meal, the meat and vegetables are all cooked together making how to cook shrimp fajitas simple and allow less dishes. It takes less than 30 minutes to make this recipe as well.
This post may contain affiliate links. This means if you click on a link and purchase something, I may earn a small commission from it. In the footer of this page is my full disclosure policy.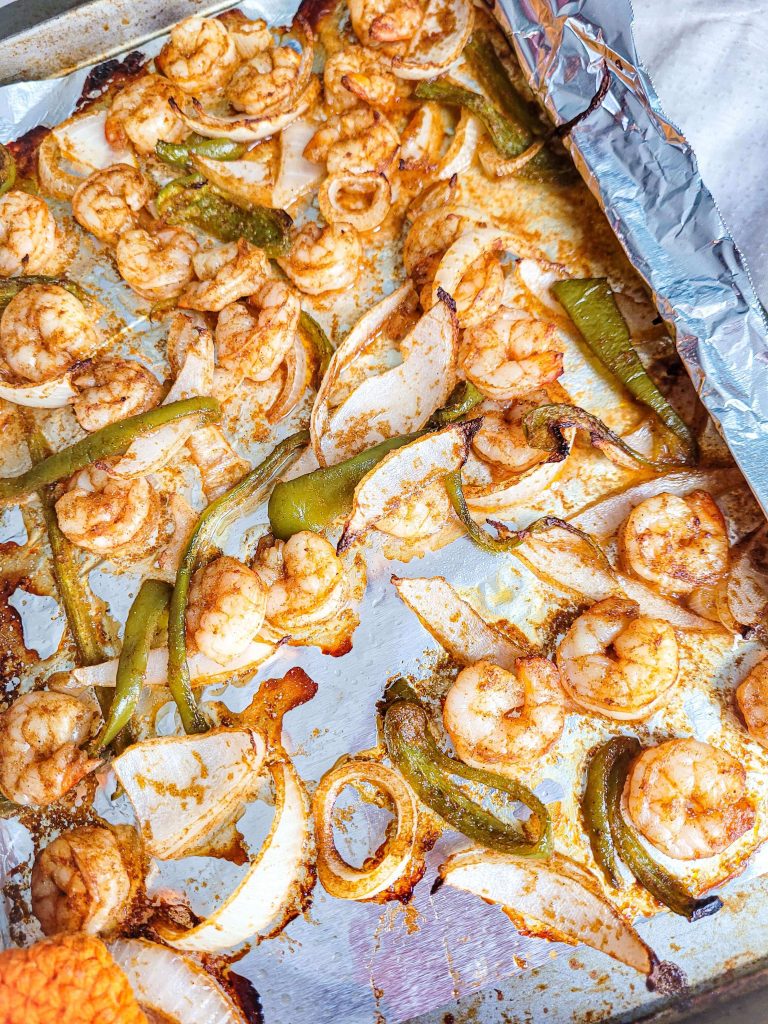 Ingredients:
Shrimp - make sure they are detailed so we don't have to pick the tails out of the fajitas
White onion - cut into strips
Green or red bell pepper - cut in strips
Garlic - for the Mexican flavor
Olive oil -
Hot sauce - provides spice
Tortillas - for serving
How to make fajitas on a sheet pan:
Mix ingredients - this will season all the ingredients before baking.
Bake - place ingredients on a baking sheet lined with aluminum foil. The foil prevents the juices from staining the pan. Bake until veggies are soft and shrimps tails are curled.
How to serve:
Fajitas aren't typically served with rice, but if you are thinking that you need a carb in addition to the tortilla then you could serve this as shrimp fajitas with rice. Common fajitas toppings include tomatoes, guacamole, sour cream, beans, etc. As for what sauce for shrimp fajitas, taco sauce tastes good along with salsa.
Variations of shrimp fajitas with green peppers:
Add more meat - you can make shrimp and steak fajitas taste pretty good! Other meats you can use are chicken or pork.
Additional vegetables - mushrooms, fresh garlic, tomatoes, etc can be added to the sheet pan meal for extra flavor. Just add them to the mixture, and make according to directions. You might have to add additional hot sauce and seasonings to account for an increase in vegetables.
Taco seasoning - instead of hot sauce, you can make shrimp fajitas with taco seasoning
No tortillas - you can make this a sheet pan shrimp fajita bowl if you would like. Tortillas do add to the flavor but they are extra carbs and not 100% necessary for this recipe.
Quesadilla - you can make these sheet pan shrimp fajitas quesadillas fairly easily. I recommend microwaving the cheese and tortilla together over pan frying because the tortilla will bend more that way. Just melt cheese between two tortillas in the microwave and then add the sheet pan shrimp fajitas to the top of it. Top off with toppings, and eat!
Queso - queso can be a topping option for these sheet pan shrimp fajitas. Just dollop some cheese sauce on top instead of shredded cheese.
Seasonings - you can add any additional seasoning you would like!
FAQs
How to know when shrimp is done?
Shrimp is done when tails are curled.
What are fajita toppings?
Common fajita toppings include the following: avocado, salsa verde, pico de gallo, sour cream, black beans, rice, jalapeno slices, corn salsa, lettuce, queso, tomatoes, lime juice, etc.
Can I use frozen shrimp?
I do not recommend using frozen shrimp because the ice will melt the seasoning right off when the shrimp thaws in the oven.
How to store shrimp fajitas without tortillas:
Fridge - store this recipe for shrimp fajitas with garlic powder in an air tight container in the refrigerator for up to one week
Freezer - I have not tried freezing this sheet pan shrimp fajitas recipe. If you would like to try it, go for it! Let me know how it goes. 
Other Mexican recipes
Recipe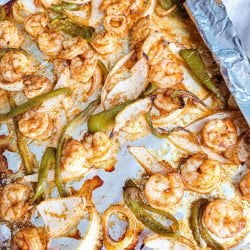 Sheet Pan Shrimp Fajitas
Sheet pan dinners are a great way to cook food while doing other tasks. They are also a great way to cook for the whole family with easy and use less oil.
Ingredients
1

bag

shrimp

detailed

½

white onion

cut in strips

½

green bell pepper

cut in strips

⅓

red bell pepper

cut in strips

2

tablespoon

garlic

2

tablespoon

olive oil

3

tablespoon

hot sauce

½

tablespoon

of both salt and pepper

tortillas
Instructions
In a large bowl, add all ingredients. Stir together to combine.

On a 9 x 13 baking sheet, lay a sheet of aluminum foil to line the pan. Distribute bowl mixture evenly on the sheet pan. Bake at 400 degrees for about 15 minutes or until peppers and onion are slightly charred. Serve in tortillas with sour cream, tomatoes, salsa, guacamole.
---
All information presented on this site is intended for informational purposes only. Nutritional facts listed are a rough estimate and should only be followed as a general idea.