Garlic air fryer kale chips make the perfect snack or side dish! Only 5 ingredients in this recipe: kale, nutritional yeast, garlic pepper, parmesan, and olive oil. These chips are light and crispy with every bite and a great way to eat a whole bunch of kale in one sitting. You hardly can tell they are healthy! Air fryer kale chips takes half the amount of time as the oven. Only 5 minutes until you are eating crispy kale chips without oven!
This post may contain affiliate links. This means if you click on a link and purchase something, I may earn a small commission from it. In the footer of this page is my full disclosure policy.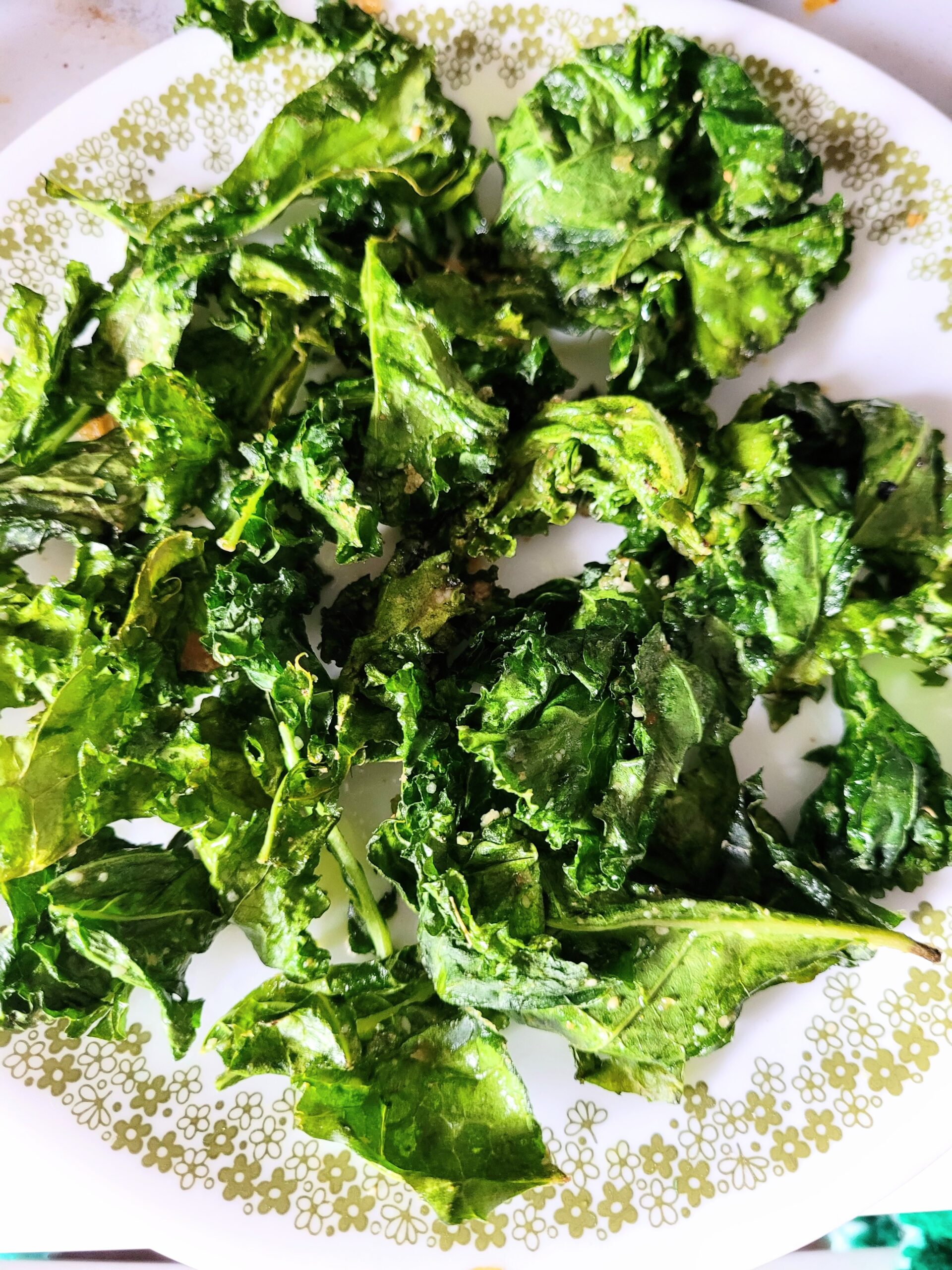 Why you need this parmesan kale chips recipe:
Gluten-free and grain - free chip you can make at home in 5 minutes! You can make other types of chips at home, but these are by far the easiest.
A creative way to use kale. People have kale salads and kale smoothies, but making it into a chip is a different type of snack. Crispy fried kale chips also make a great side dish.
No extra utensils needed! Just an air fryer, knife for cutting, and spoon for stirring.
Ingredients for these air fryer kale chips:
kale - obviously
olive oil - provides crispiness and helps the cheese and seasonings stick
garlic pepper - extra flavor
parmesan - cheesy flavor
nutritional yeast - this can be omitted if you do not have it. It provides cheesy flavor and nutritional value to the kale chips.
How to prep kale for chips
Wash and dry kale - you have to wash the kale or else there could be dirt on it. The easiest way is to rinse it off and dry it in a salad spinner.
Cut leaves - cut the leaves away from the spine/rib of the kale. The spine/rib is very strong in flavor and would not make a good chip. See below for a picture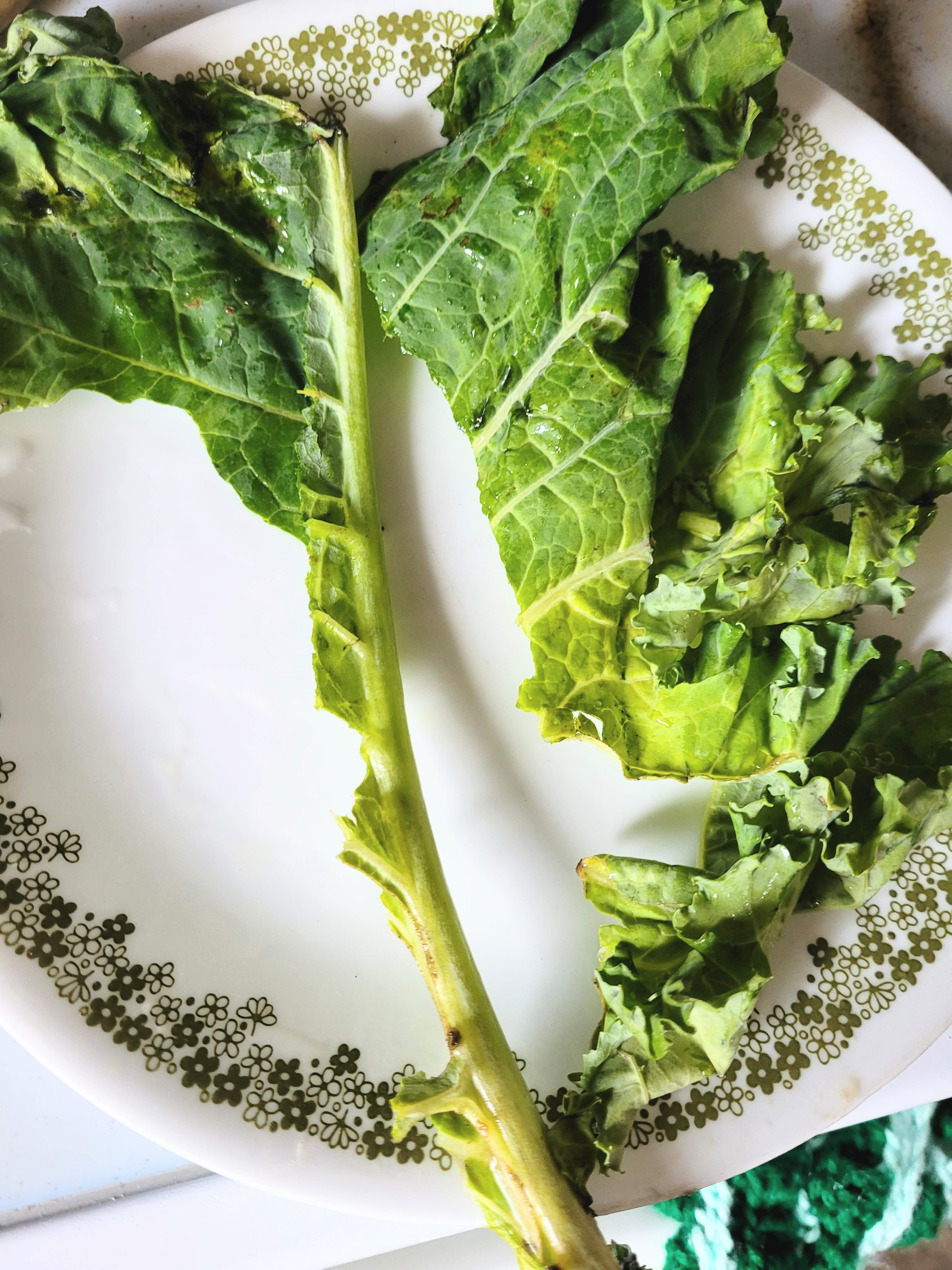 How to air fry kale chips
Prep the kale and place half in the air fryer
Pour half the amounts listed of olive oil and seasonings, stir!
Air fry for 5 minutes! Repeat with 2nd batch.
Seasonings for kale chips
You don't have to put just garlic and parmesan on your air fryer kale chips! The options are endless:
chili powder
tahini
cajun
everything bagel
sea salt
ranch mix
FAQs:
What do kale chips taste like?
Like a light, airy, crispy leaf that has a hint of spinach flavor.
Can kale chips be stored?
Yes, store these low-carb kale chips in an air tight container that has a paper towel in the bottom of it to prevent staining. Store at room temp for up to 4 days. Do not put in the fridge or else they get too moist. You can always reheat in the air fryer to recrisp them.
Why are my air fryer kale chips flying?
You do not want your kale flying up to the top of the air fryer. To prevent this you have a few options:
Bigger pieces of kale - by cutting the kale into bigger pieces, they weigh more. This could help prevent flying.
Air fryer rack - place an additional air fryer rack on top of the prepared kale so it can't fly up.
Can I make kale chips in oven?
Yes, preheat for 350 degrees. Spray baking sheet with nonstick spray. Put prepared kale on the sheet. Drizzle with olive oil. Stir. Sprinkle seasonings. Stir. Bake for 10-12 minutes or until desire crispiness.
What to dip air fryer kale chips in?
Ranch, mustard, tahini, etc.
Other snack recipes:
Recipe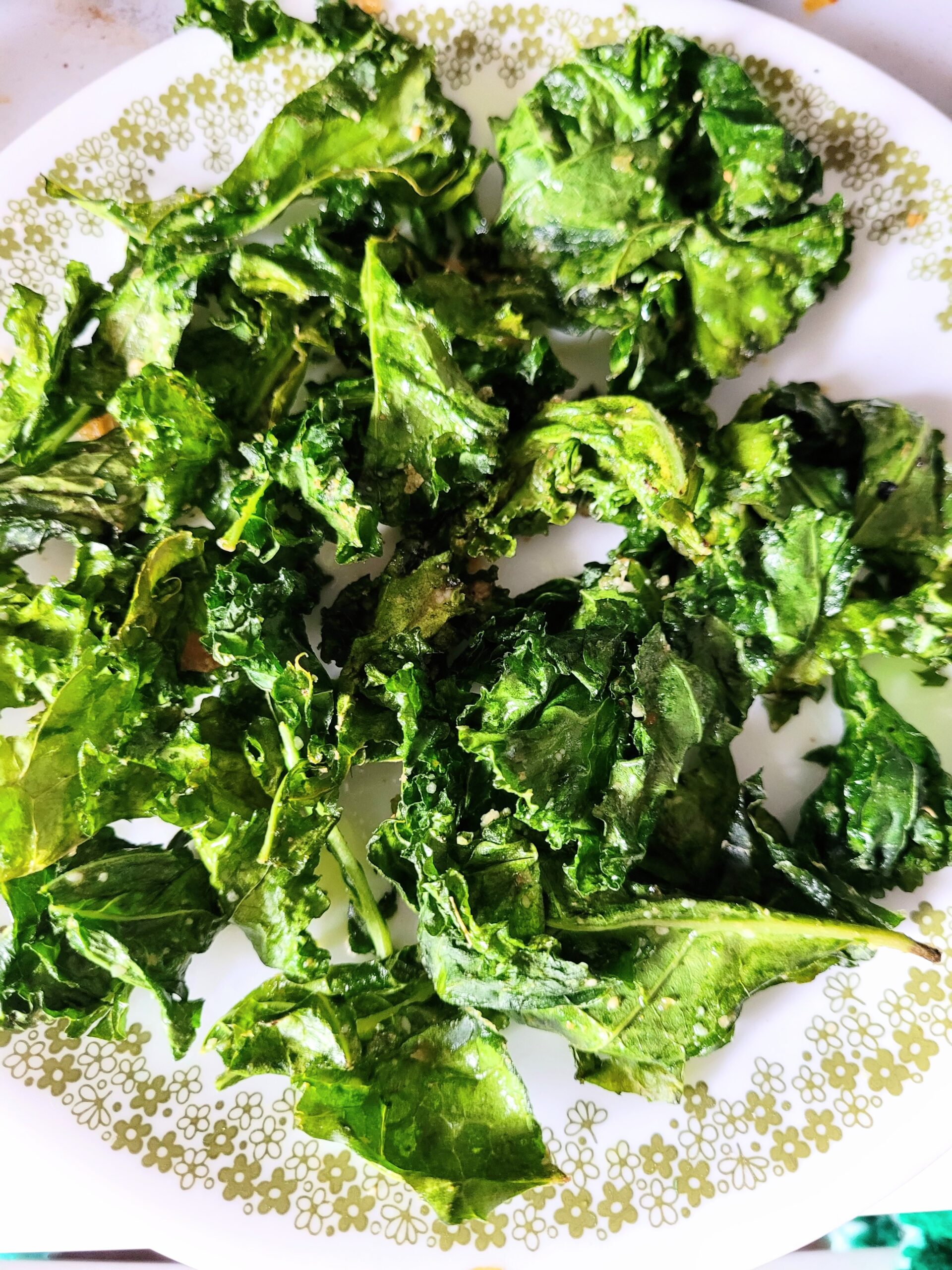 10 Minute Air Fryer Kale Chips
Air fryer kale chips take only 5 minutes to make and are crispy, and airy in every bite! Garlic crispy kale chips are gluten-free and grain-free.
Ingredients
1

bunch

kale

washed and dried

2

tablespoon

olive oil

1

tablespoon

garlic pepper

1

tablespoon

nutritional yeast

1

tablespoon

parmesan
Instructions
On a plate, cut leaves away from the rib. Then cut leaves into smaller pieces about the size of a golf ball or slightly bigger. They do shrink so do not go too small.

Put half the kale in the air fryer (we are doing 2 batches). Pour 1 tablespoon of olive oil on the kale. Stir with spoon. Sprinkle ½ tablespoon of garlic pepper, grated parmesan, and nutritional yeast. Stir again.

Air fry at 350 degrees for 4 minutes or until your desired crispiness. Place kale chips on a plate.

Repeat steps 2-3 with remaining kale. Eat right away or store for later!
---
All information presented on this site is intended for informational purposes only. Nutritional facts listed are a rough estimate and should only be followed as a general idea.