Strawberry shortcake cheesecake lasagna is a dessert that can be served cold or at slightly below room temperature. It serves a large group making it perfect for potlucks, BBQs, Valentine's Day (it is red and white), 4th of July, etc. This is a no bake strawberry shortcake cheesecake recipe so it is perfect for summer as it is a refreshing chilled dessert with luscious layers of whipped cream, shortcake, cheesecake and strawberries. Strawberry cheesecake lasagna is a perfect way to use up strawberries during strawberry season as well. This dessert recipe is done in layers as well so I consider it sort of a dessert lasagna.
This post may contain affiliate links. This means if you click on a link and purchase something, I may earn a small commission from it. In the footer of this page is my full disclosure policy.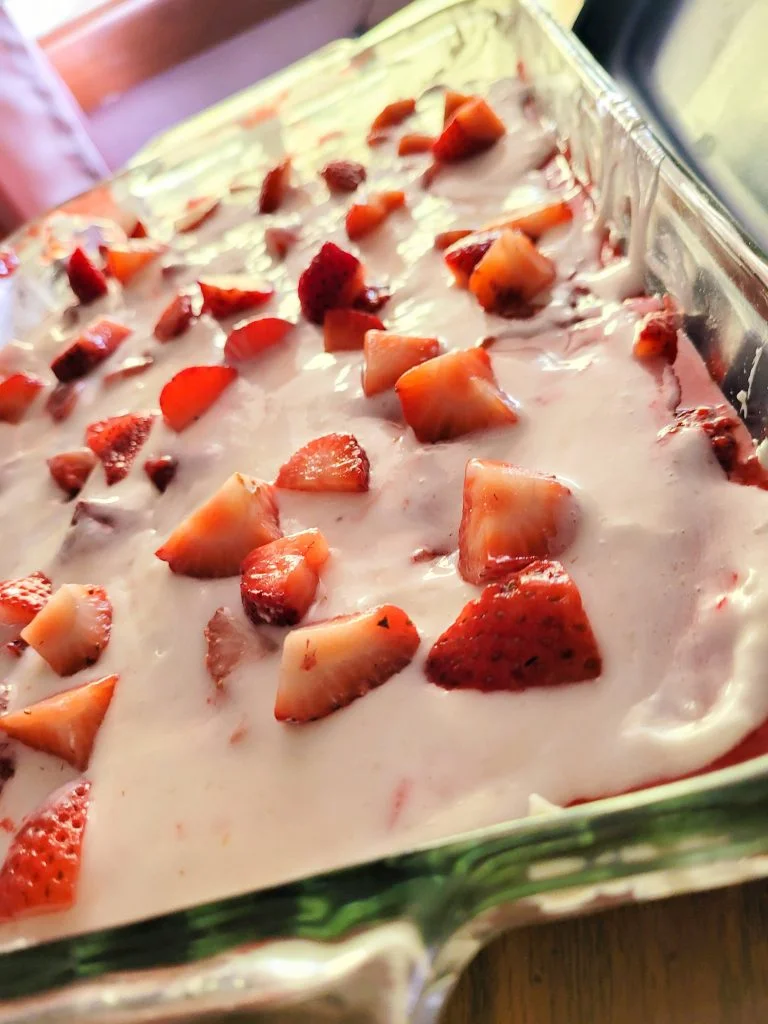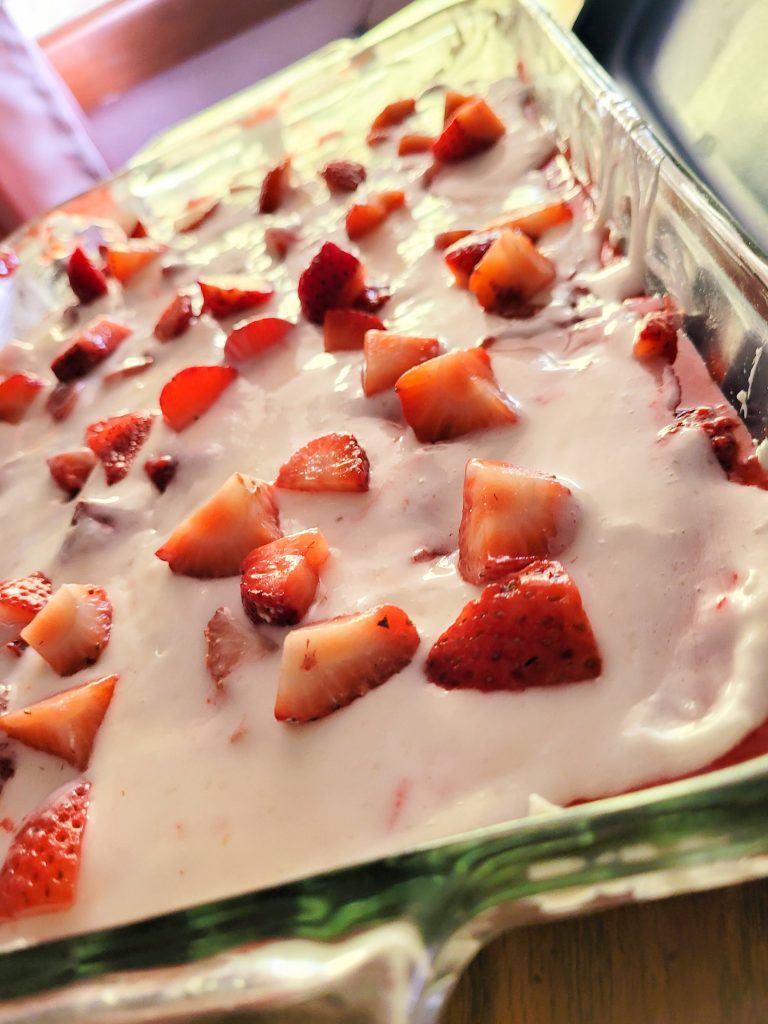 How to make excellent strawberry cheesecake without graham cracker crust:
What is strawberry cheesecake lasagna? It's all about the layers! How to make strawberry cheesecake shortcake is relatively simple:
make shortcake-this is in place of a graham cracker crust for your strawberry shortcake cheesecake
make cheesecake-this is where the cheesecake in the name comes in. It is a blend of whipped cream and cheesecake to make it more cost efficient in this strawberry cheesecake lasagna recipe.
layer of strawberry pie filling-you can make your own strawberry pie filling, but I used store bought to save time
frosting/whipped cream-the whipped cream is to make the cream cheese frosting more white and heating it up is to make it more runny so it can spread easier on the strawberry cheescake lasagna
strawberries on top-decorate the top with strawberries for a more strawberry look. Choose strawberries that are dark red in color. Make sure they are not overripe and mushy and not underripe and greenish.
Variations of strawberry shortcake cheesecake:
add crunch-you can add pretzels to make this a strawberry crunch cheesecake! The pretzels would look nice on top with the strawberries
graham cracker crust-instead of making this strawberry shortcake cheesecake, you could make it more of a strawberry cheesecake by adding a graham cracker crust instead of a shortbread crust
add other fruits-this is for strawberry cheesecake without cream, but you can add any other fruits you wish. Technically you could even recreate this into other flavors of fruits by using the same concept with different flavored pie filling.
whipped cream on top-you can add additional whipped cream on top to make the frosting more fluffy. If you don't have coolwhip, you could make home made whipped cream.
additional strawberry flavor-the first time I made this recipe, I had an additional layer of strawberry filling by combining 6 oz strawberry jello and ½ cup milk over medium heat. Then I poured it oven the cheesecake and let it sit in the freezer for 15 minutes until it was firm. It seemed like an additional step that was not really needed so I took it out of the recipe. If you want more strawberry flavor you can do that though.
jelly-you can make strawberry cheesecake with jelly instead of or in addition to the strawberry pie filling
omit base-you don't need a base for this recipe. You can make strawberry cheesecake gluten free if you take out the shortbread. It will still scoop up with a spatula just fine.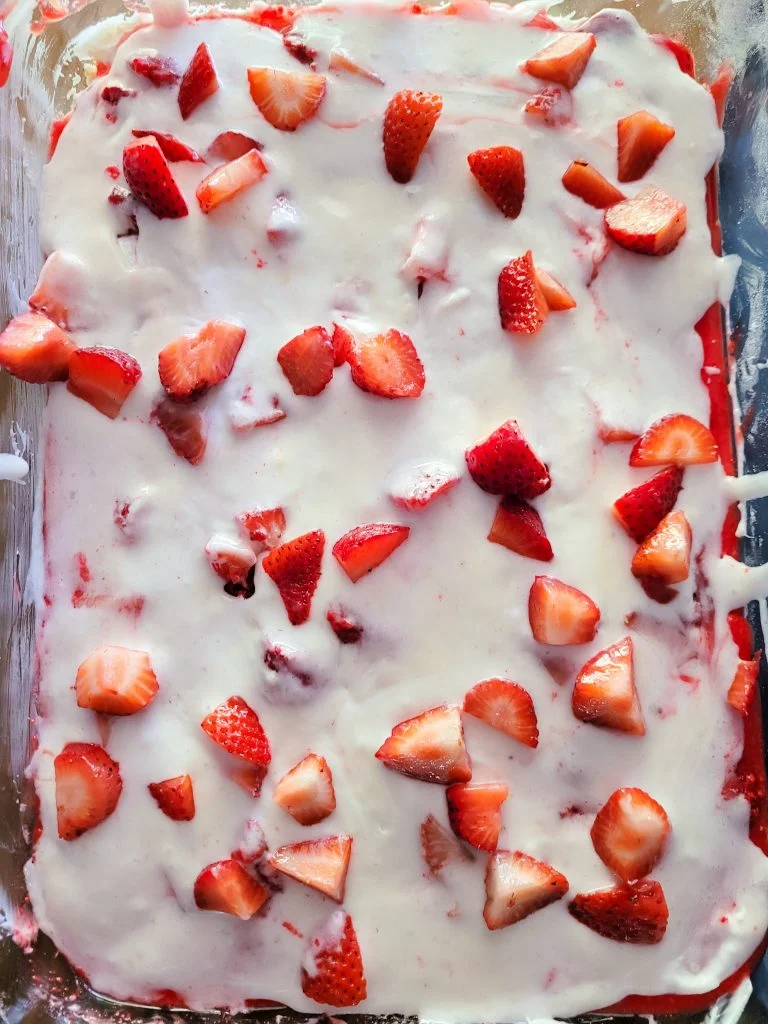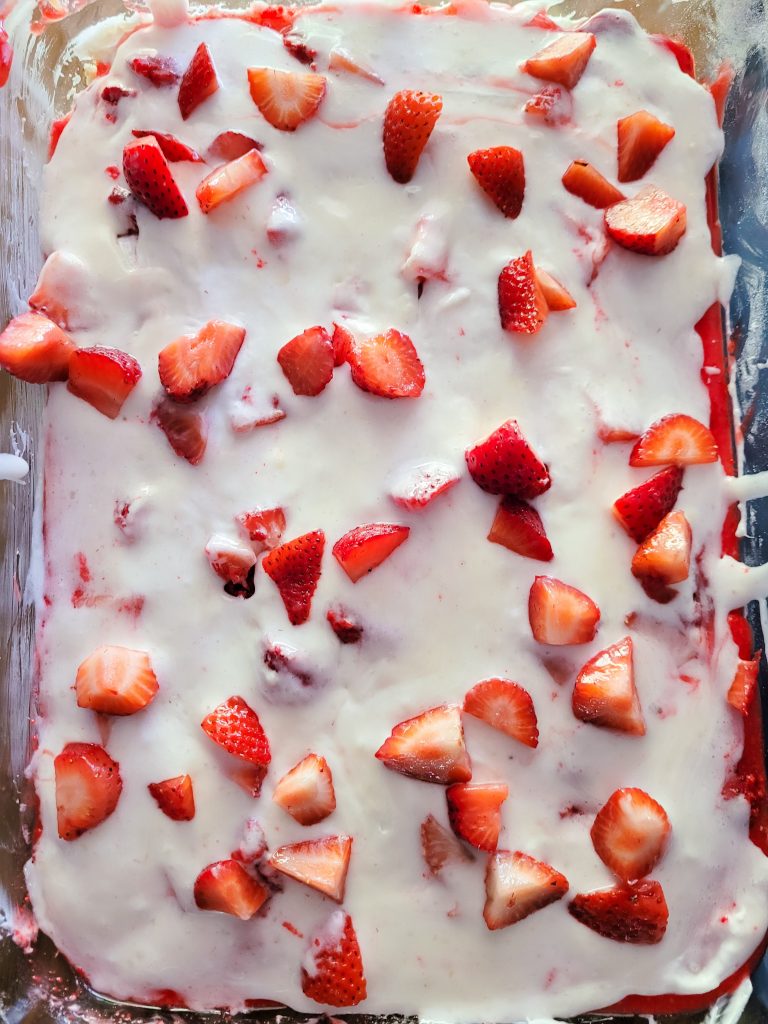 If you cannot get enough cheesecake brownie cookie cheesecake, lemon cheesecake, and peanut butter cup cheesecake are others flavors to try.
How to store strawberry cheesecake without eggs:
fridge-store this recipe in an air tight container in the refrigerator for up to one week.
freezer-this strawberry cheesecake without cream recipe can be stored in the freezer. Before eating, make sure to thaw it at room temperature so it is easier to cut. Only leave room temperature for a few hours though as this dessert should be chilled.
Recipe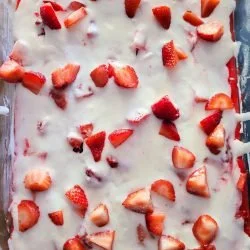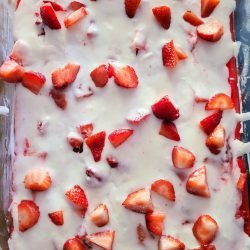 Strawberry Shortcake Cheesecake Lasagna
Strawberry shortcake cheesecake is the perfect way to use up strawberries in layers like a strawberry cheesecake lasagna.
Ingredients
1 ½

cup

flour

2

tablespoon

sugar

2

tablespoon

milk

dash

salt

½

cup

canola oil

¾

cup

sugar

8

oz

cream cheese

8

oz

cool whip

21

oz

strawberry pie filling

1

cup

quarted strawberries

8

oz

cream cheese frosting
Instructions
In a 9 x 13 baking dish, stir together flour, 2 tablespoon sugar, milk, salt, and oil. Pat down from edge to edge to make crust. Bake at 350 degrees for 20 minutes or until slightly golden brown. Let cool before continuing recipe.

When mostly cool, start making cream cheese mixture by mixing together sugar and cream cheese. Fold in half of the whipped cream. Spread this on top of your cooled crust.

On top of the whipped cream, spread strawberry pie filling. Drop about half of the strawberries in this mixture as well.

Heat up frosting so it is easily spreadable. Add remaining whipped cream. Drizzle frosting on top in an even layer. Add remaining strawberries to decorate the top. Serve your strawberry shortcake cheesecake lasagna cold or room temperature.
---
All information presented on this site is intended for informational purposes only. Nutritional facts listed are a rough estimate and should only be followed as a general idea.