Pesto tofu in the air fryer is the perfect weeknight meat that saves the day! 20 minute marinate time that you can spend helping your kids with homework, doing laundry, or reading a book. This tofu pesto recipe is only 3 ingredients and very easy to clean up! You do not have to dirty many utensils in this recipe.
This post may contain affiliate links. This means if you click on a link and purchase something, I may earn a small commission from it. In the footer of this page is my full disclosure policy.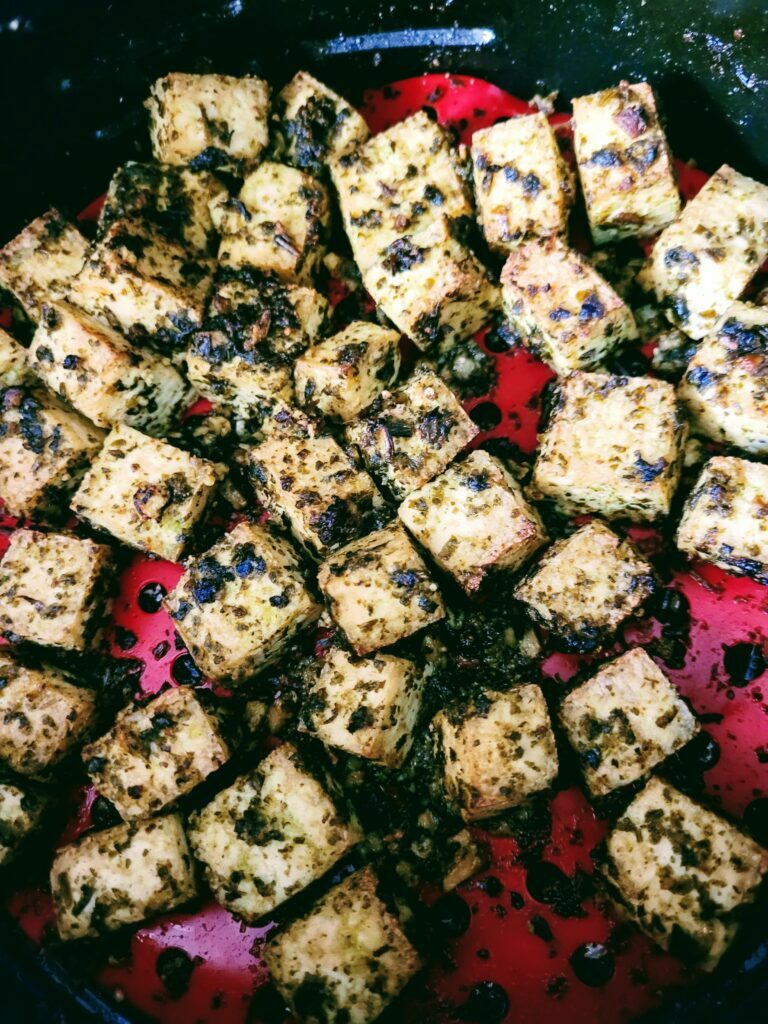 Why you will love this recipe:
Complete meal - plant based pesto tofu makes any meal complete. You can use it as a healthy dinner or it can also make a tasty side dish.
Easy to make - only 3 ingredients and it is a sheet pan dinner. Only takes 2 batches in the air fryer if air frying.
Vegan or non - vegan-whether you are on a special diet or not, this simple meal is for you. Trade traditional pesto for vegan pesto. It is a very simple swap you can make to customize this recipe for you.
Easy to make pesto tofu is perfect for:
Snacking - tofu pesto makes a great on the go snack. Eat cold or warm it up.
Salads - substitute tofu for chicken and get more protein in your salads!
Main dish - excellent in pesto tofu buddah bowls
Side dish - serve with pasta or on pasta, on pizza, etc. If you make tofu slices instead cubes it could be a sandwich.
No matter how you are eating this tofu pesto recipe, you can make it using basic pantry items.
Ingredients:
Tofu-small cubes of tofu make a great finger food
Olive oil-helps pesto stick to tofu
Pesto sauce- the main flavor of this healthy recipe. You can use store bought or homemade pesto.
How to cook tofu with pesto:
Prep the tofu - press the tofu like you normally would
Cut the tofu - make tofu cubes
Marinate - marinate for 20 minutes to allow flavor to infiltrate the tofu
Air fryer or bake - bake until slightly crispy (or golden brown) on a baking sheet (or air fry) and serve with olive oil
FAQ & Tips:
How to make tofu taste better:
Some people find tofu flavorless or really chewy. One way to combat this is to press the tofu longer or harder. Pressing gets the excess water out which assists in the density of the tofu. The less water, the less chewiness. It also gets the water out which allows more room for the marinate to enter the tofu.
Another way to add flavor is to provide a dipping sauce. These pesto tofu bites taste excellent with olive oil on the side. You can also dip them in more pesto if you would like.
How to press tofu without a tofu press:
Not everyone owns a tofu press, but if you do, you definitely can use it. I place a thin kitchen towel on a cutting board, then place my 2 tofu slabs next to each other. The towel soaks up the excess liquid.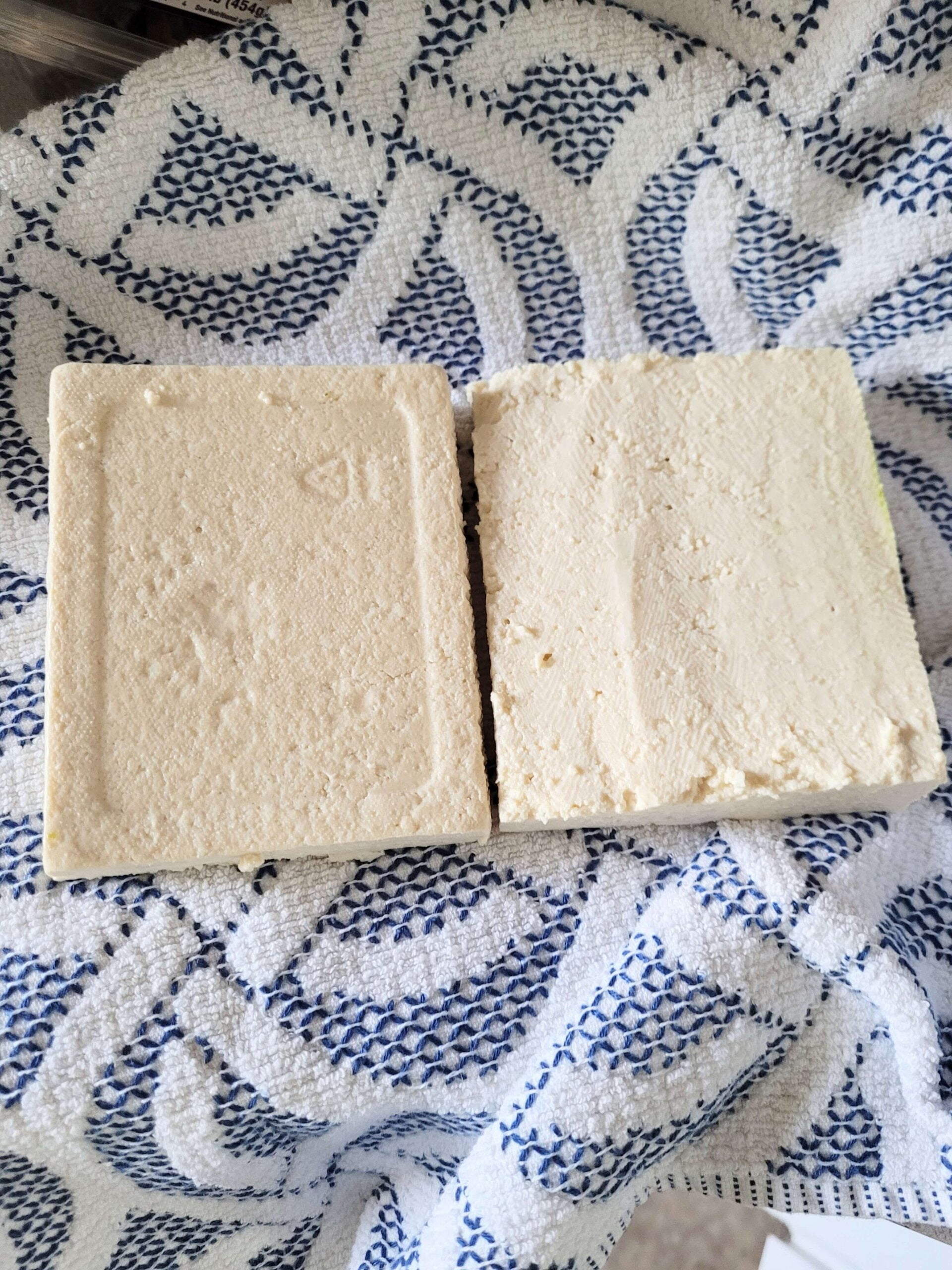 Fold over the towel so it is almost hugging the tofu.
Place heavy object (I use a small storage bin filled with shoes) on top. Press for 20 minutes, then flip over tofu and towel and press again for 20 minutes on the other side. You can put a heavy pan on top and put books on top the pan too!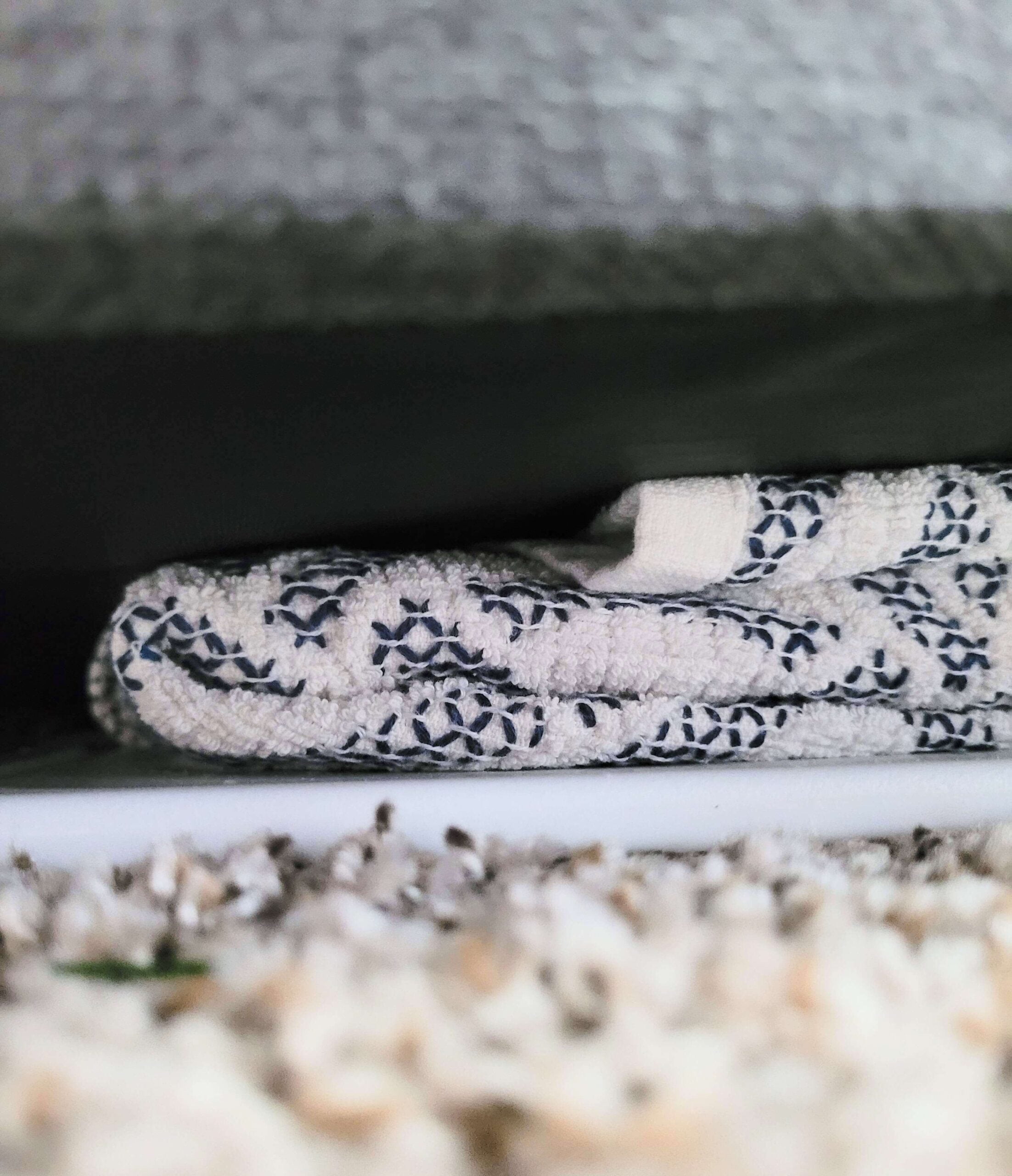 How to store:
Store pesto tofu in an air tight container in the fridge for up to one week. I do not recommend freezing tofu due to the moisture content.
More tasty tofu recipes:
Recipe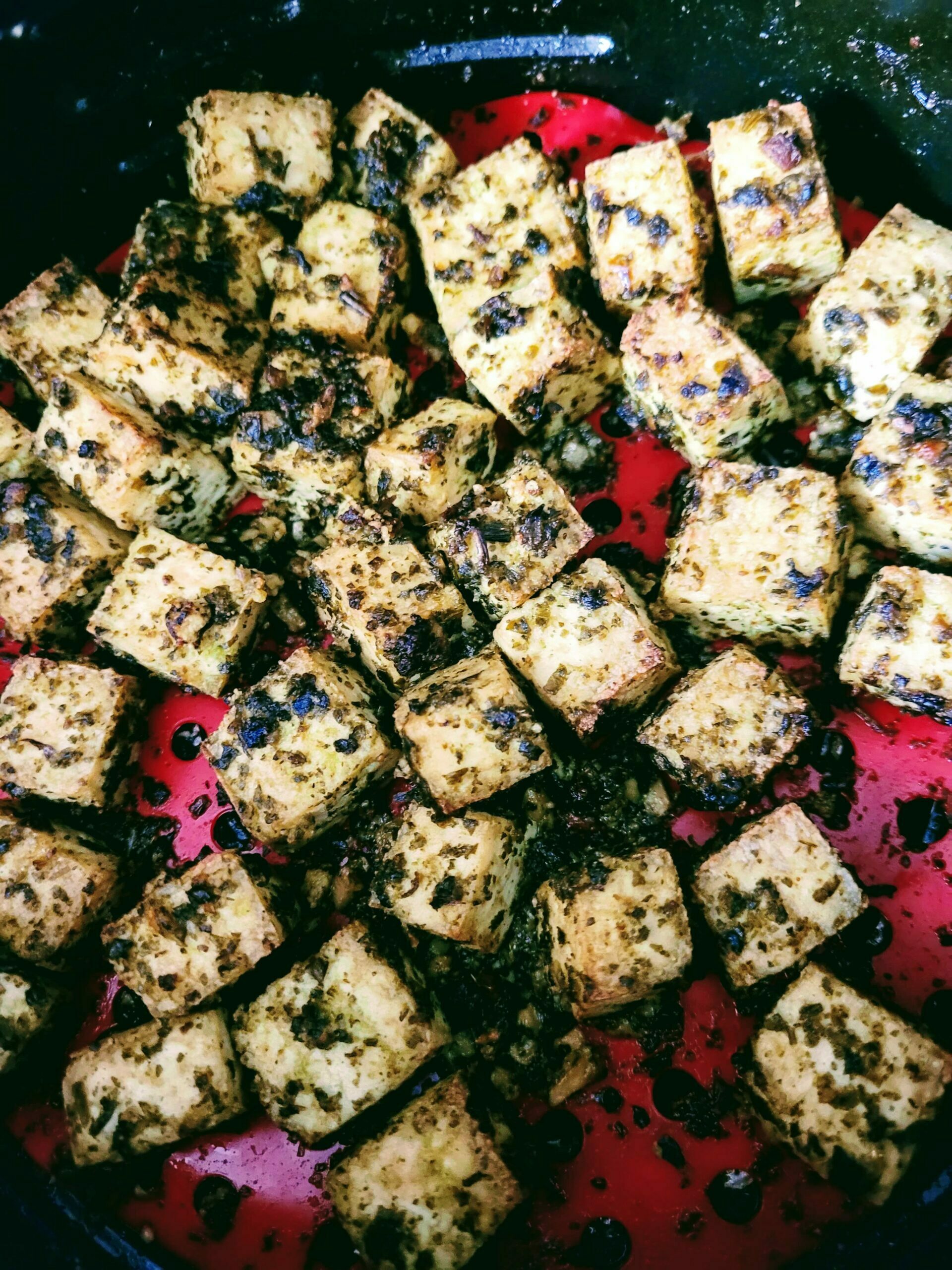 Plant Based Pesto Tofu
Pesto tofu is a quick and easy weeknight dinner that is savory in every bite.
Ingredients
14

oz

firm or extra firm tofu

⅓

cup

pesto

2

tablespoon

olive oil
Instructions
Press tofu for 20 minutes each side like you normally would. If you do not have a tofu press, see above notes on how to press without one.

In a small bowl or tupperware container, mix together pesto and olive oil.

Chop up tofu into bite sized cubes and place in pesto mixture. Gently stir until mixed throughout. Let marinate 10 minutes in the fridge. Stir. Let marinate again 10 minutes.
If baking:
Spray 9 x 13 baking sheet with nonstick spray. Place tofu cubes evenly throughout so there is no over lap. Bake at 400 degrees for 10 minutes. Flip over and bake for another 10 minutes or until slightly golden brown. Serve with olive oil for dipping.
If air frying:
Spray air fryer basket. Preheat air fryer to 375 degrees. Place half the tofu in the air fryer. Air fry for about 7 minutes, flip and fry another 7 minutes. It will be done when it is slightly crisp and golden brown. Serve with olive oil for dipping.
Nutrition
Sodium:
139
mg
Calories:
219
kcal
Fat:
19.8
g
Protein:
10.1
g
Carbohydrates:
3
g
---
All information presented on this site is intended for informational purposes only. Nutritional facts listed are a rough estimate and should only be followed as a general idea.