Does spinach go with salmon? Yes! I am not the biggest salmon dinner fan, but I could eat this salmon with spinach cream sauce every day for the rest of my life and be happy! The garlic cream sauce adds a nice flavor to the fish that other pan seared salmon recipes do not have. You can hardly tell this is salmon, let alone fish. Mashed potatoes or rice would go great with the sauce. This salmon fillet recipe serves about 2-3 people.
This post may contain affiliate links. This means if you click on a link and purchase something, I may earn a small commission from it.
Why you will love this creamed salmon recipe:
Anyone eating this recipe will feel like they are eating in a restaurant in their own home.
Vegetables and protein in a one pan meal, not cutting veggies here!
Garlic flavor in every bite.
Ingredients:
Salmon - pink skin-on salmon is what I use
Spinach - provides greens and nutrients
Heavy whipping cream - whipping cream or heavy whipping cream works. There are plenty of heavy cream substitutes if you need one.
How to make salmon with creamy spinach sauce:
Fry salmon - I like to rub in the seasonings of my salmon before frying so that it is well seasoned before adding the cream
Remove salmon from pan, and cook spinach and garlic in the pan until spinach wilts, add in cream and season-because the pan is already hot from cooking the salmon, it does not take the spinach a long time to cook. This way your salmon does not completely cool off before adding it back to the pan.
Add salmon to cream mixture, serve!
Tips for how to cook spinach with salmon:
Nonstick pan - salmon can get stick to the pan quite easily. Make sure to use your best nonstick pan and plenty of butter to prevent sticking.
Don't flip until ready - cook salmon one side at a time. When making hamburgers, it is common to flip back and forth a few times. You do not want to do that with salmon or else it will cook unevenly.
Juice - leave salmon juice in pan when adding spinach mixture. This will add extra flavor.
Variations of this spinach salmon:
Cayenne pepper instead of red pepper flakes - if you do not have any red pepper flakes, cayenne pepper is a great substitute
More or less cream - more cream would make this more of a soup recipe, but it can be a great option if trying to feed a larger group of people with less salmon than expected. Less cream would make this recipe less creamy and have more of a spinach flavor
More garlic - there is never too much garlic in my opinion!
Skin off - this recipe has skin on salmon, but you can use skinless. If you do not like the skin, cook it with skin on, then cut it off before adding to the spinach mixture.
Is my salmon done yet?
First, I sometimes use a meat thermometer and consider it well cooked if it is above 145 degrees Fahrenheit.
Also, I also look at the color change. As long as my once dark salmon is now a lighter color, it is done.
Finally, another way to check is by cutting off a piece and analyzing the inside texture. If it has lines in it like each layer is evenly cooked throughout, it is done.
How to store this salmon with spinach cream sauce:
Fridge - store your salmon with spinach leftovers in an air tight container in the refrigerator for up to one week
Freezer - I have not tried freezing this salmon with spinach cream sauce. If you would like to try it, go for it! Let me know how it goes. After thawing out again, you might have to add more cream.
Check out my other best fish recipes:
Recipe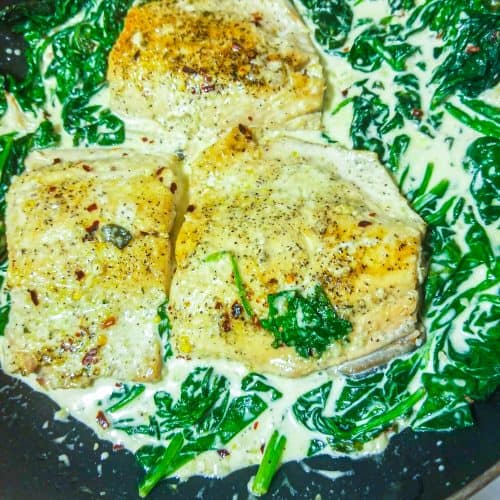 Creamy Garlic Butter Salmon and Spinach
I am not the biggest salmon dinner fan, but I could eat this salmon with spinach cream sauce every day for the rest of my life and be happy! The garlic cream sauce adds a nice flavor to the fish that other pan seared salmon recipes do not have. Very easy salmon recipe even a beginning salmon chef could accomplish.
Ingredients
2-3

salmon fillets

thawed

2

tablespoon

olive oil/butter

1 ½

cups

spinach

1 ½

tablespoon

garlic

seasonings: salt, pepper, and garlic powder

⅓

cup

heavy whipping cream

1

tablespoon

red pepper flakes
Instructions
Place salmon skin side down on a plate. Season them with salt, pepper, and garlic powder.

Pour 1 tablespoon olive oil or butter into pan over medium heat. When oil is hot, place salmon skin side down on pan. Fry for about 5-7 minutes until bottom side is lightly browned. Add more butter/olive oil if needed. Flip over. Fry for another 5 minutes or until meat thermometer temps about 145 degrees. Remove salmon from pan and place on a plate.

In same skillet, place 1 tablespoon olive oil. Add spinach. When spinach just begins to wilt, add in garlic. When garlic is fragrant, but not yet brown, add in heavy whipping cream and red pepper flakes. Stir. Cook for about 2 minutes. Add salmon back in. Cook for 5 minutes. Serve your salmon with spinach cream sauce with a vegetable on the side.
Nutrition
---
All information presented on this site is intended for informational purposes only. Nutritional facts listed are a rough estimate and should only be followed as a general idea.