This pinwheel appetizer is a tradition at my house every holiday! These pinwheel sandwiches are one of our favorite holiday appetizers. Tastes great with Christmas dinner or Easter brunch. You could even make it a thanksgiving appetizer. This pinwheel appetizer serves about 24 people if everyone only eats a serving!
This post may contain affiliate links. This means if you click on a link and purchase something, I may earn a small commission from it.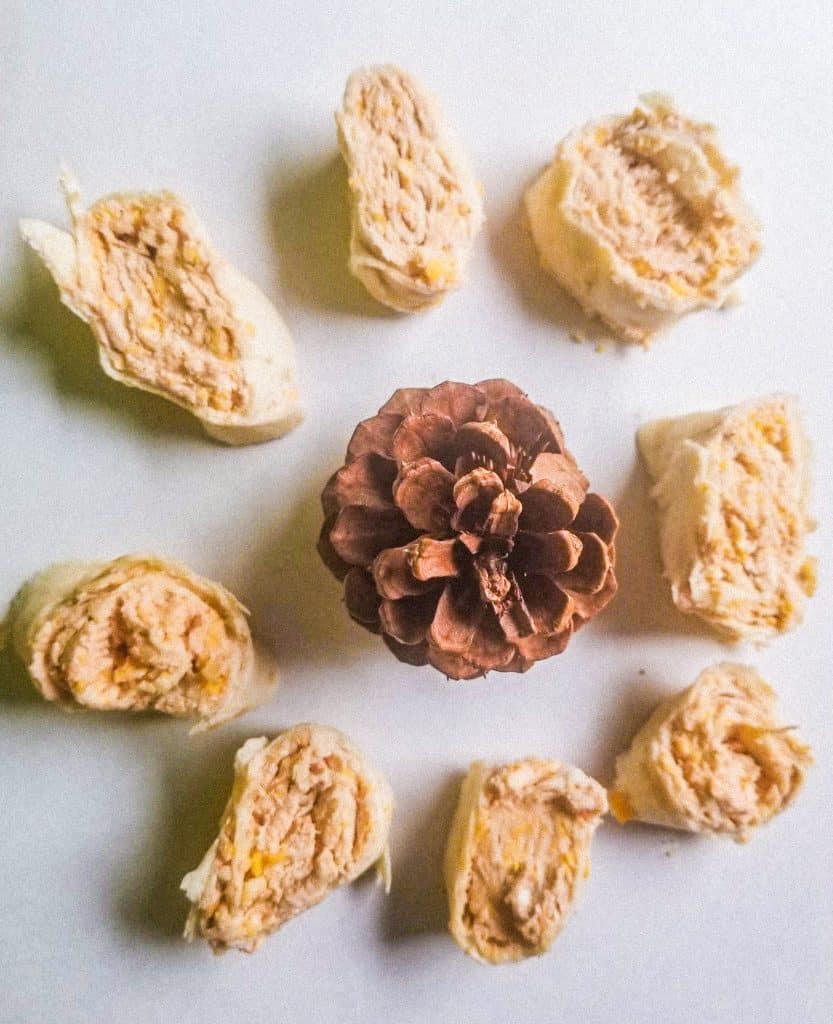 Variations of tortilla roll ups with cream cheese:
tortillas-Sometimes I experiment with different flavors of tortillas such as spinach or tomato basil for these tortillas pinwheels. Just have to experiment and see what works best for you! Click here for my favorite brand of tortillas, not sponsored, this is just what I like to use.
hot sauce-you can swap out the salsa for a hot sauce of your choosing
other cheeses-instead of cheddar, pepperjack or another flavor or cheese could also be an option
add bacon-you can make these pinwheels nonvegetarian if you would like by adding bacon! I would not cook the bacon until it is extremely crispy though, or else that could be too much of a crunch. Make sure the bacon is still nice and flimsy.
What to serve with holiday pinwheels can be anything from Homemade Andes Mints to Eggnog Cookies!
Favorite brands to use for these cream cheese pinwheels:
tortillas-I buy what is cheap. For this recipe any size works, just might need more or less depending on how thick you want your filling and size of tortilla using. Try to use fresh tortillas as well
cream cheese-Philadelphia, the off brand I find has a strange texture for this recipe
sour cream-squeezable or tub kind works
cheddar cheese-shredded works best
salsa-your favorite one would work here! I use a different brand for this recipe every time. Homemade salsa even works.
Overview of cream cheese roll ups:
place tortillas on a plate-if your tortillas are previously frozen, make sure they are completely thawed before beginning the recipe. If they are frozen, remove them from the plastic package and place them in a towel. Microwave for about 20 seconds or until they are thawed and easy to bend.
stir together remaining ingredients in a bowl
spread bowl mixture evenly between all the tortillas-it really depends on how thick you want your tortilla roll ups to be as to how much you spread on. I probably spread on about 2 tablespoons of mixture per tortilla.
roll up tortillas like a rug and freeze.
let thaw before serving, cut and serve.
How to store tortilla pinwheels:
fridge-store these tortilla roll ups in an air tight container in the refrigerator for up to one week
freezer-this recipe can be a freezer meal! I just freeze mine until ready to eat. I let them thaw out for about 15 minutes before serving them if I froze them first.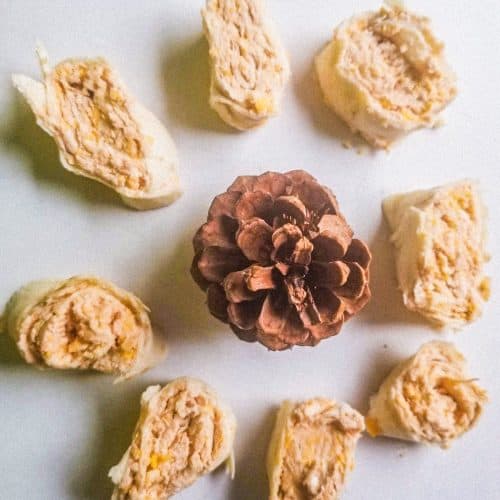 Pinwheel Appetizer
These pinwheel sandwiches are one of our favorite holiday appetizers. Tastes great with Christmas dinner or Easter brunch. You could even make it a thanksgiving appetizer. Bring this pinwheel recipe to your next family gathering, and the guests will not be disappointed!
Ingredients
4-5 12

inch

flour tortillas

8

oz.

cream cheese

room temperature

⅓

cup

sour cream

2

cups

shredded cheddar cheese

½

cup

salsa

1

tablespoon

garlic

seasonings to add at own discretion: celery salt, thyme, oregano, salt, pepper, garlic salt
Instructions
Lay tortillas on a plate. Stir together all the other ingredients in a medium bowl.

Using a spatula, spread cream cheese mixture on top of a tortilla. You can make it as thin or thick of layer as you like. Just make sure it is an even coat.

Roll up tortilla. Repeat with remaining tortillas until mixture is gone. Refrigerate for at least 2 hours before serving. Cut into 1 inch pinwheels before serving. Serve your Pinwheel Appetizer room temp!
Nutrition
---
All information presented on this site is intended for informational purposes only. Nutritional facts listed are a rough estimate and should only be followed as a general idea.