This baked chicken flautas recipe serves about 16 people. Perfect for Cinco de Mayo! You can halve this recipe easily if not feeding that many people or needing a lot of leftovers. Serve with your favorite Mexican food toppings!
This post may contain affiliate links. This means if you click on a link and purchase something, I may earn a small commission from it.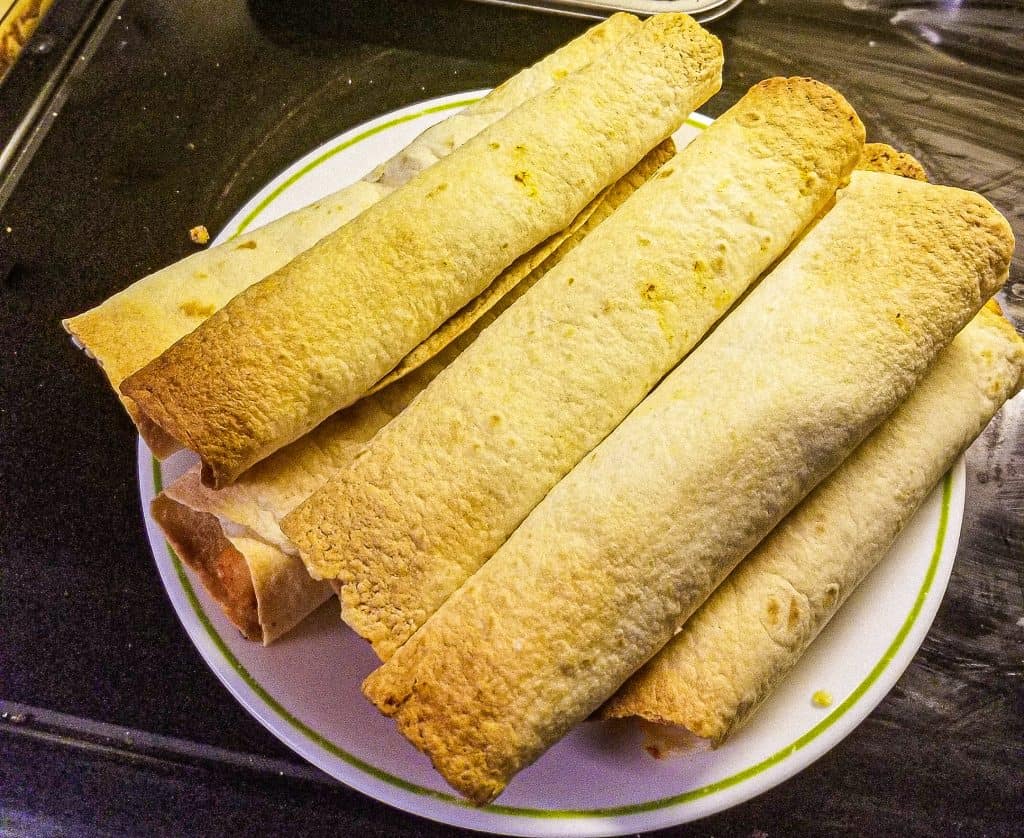 What are flautas?
I went to a Mexican restaurant this past summer, and I ordered chicken flautas not knowing what it was. It was one of the best dishes I have ever ordered, so I just had to find out how to make it. Little did I know, they are also called chicken taquitos.
What is the difference between taquitos and flautas? Taquitos are made with corn tortillas and flautas are with flour. Both are a rolled taco! Flautas do tend to be bigger though because flour tortillas are bigger than corn.
Ingredients:
Tortillas - use the 8 inch or 12 inch ones
Chicken - provides protein
Cream cheese - for the cheesy inside
Cheese - shred your own for a more melted taste
Sauce - Red or green sauce works for this recipe using rotisserie chicken. If you need a recipe for red sauce, click here.
How to make excellent chicken flautas:
Fry onion, garlic, cream cheese, and spices to blend flavors.
Add cooked chicken and salsa-I like to add these later because sometimes it seems like hot cream cheese and salsa can get rather watery together.
Start stuffing the tortillas with the chicken cream cheese mixture
Roll tortillas like a rug-I don't know how else to describe it but like a rug. If you want to watch a video on it, click here.
Tips for making spicy chicken taquitos
Use leftover chicken-this chicken flautas filling recipe is easiest to make using leftover chicken. This saves time by not having to cook it.
Warm tortillas-heating tortillas in the microwave allows them to bend with ease during the rolling process.
Spray tops with cooking spray-adding extra oil to the top of the rolled chicken taquitos makes them more crisp and golden brown.
Extra cheese - use more cheeses like pepper jack, monteray jack,
How to serve chicken and cheese flautas:
I like to put guacamole, pico de gallo, salsa, Mexican rice, sour cream, green chiles, lettuce, black beans, extra cheese, and scallions on top of the sauce on my flautas. The more toppings, the better your flauta plate looks!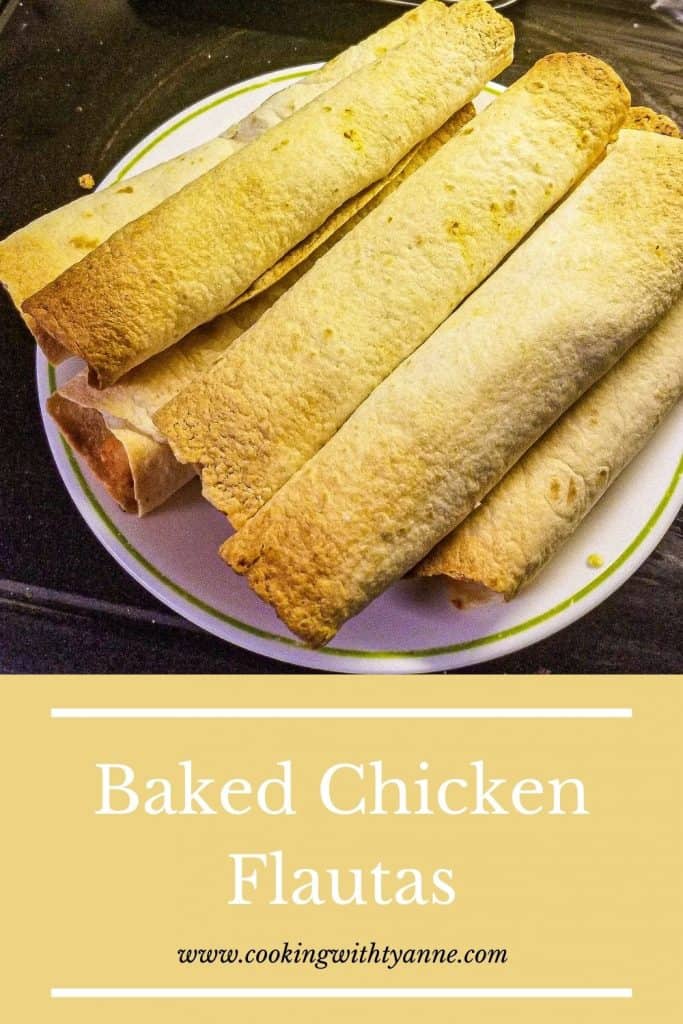 Alternative cooking methods:
Deep fryer - instead of baking these, you can deep fry them until golden brown.
Air fryer - flautas in air fryer are super easy to make. Prepare like normal, and place in air fryer for about 9 minutes or until golden brown.
Pan try - fry these in a little bit of oil until crispy golden brown on each side
Can flautas be made ahead of time?
Yes, bake according to normal directions and let cool. Then, place in an air tight container. Place back in the oven to reheat.
How to store:
Fridge - store this chicken breast recipe in an air tight container in the refrigerator for up to one week
Freezer - this recipe can be a freezer meal! Follow directions as normal, except wait on the sauce if you know this will be a freezer recipe from the start. Remove flautas from pan and place into a freezer tray with a lid. Once cool, place in the freezer for up to one month. To serve, place it in the oven at 400 degrees Fahrenheit for about an hour or until heated throughout.
What to serve with chicken flautas:
Recipe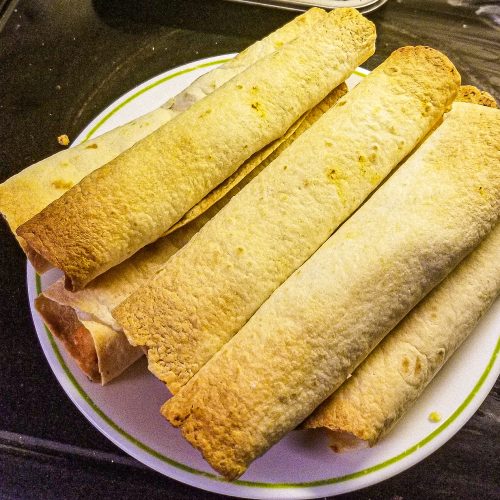 Chicken Flautas with Cream Cheese
Chicken and cheese flautas is a great way to use up leftover chicken. Red or green sauce works for these baked chicken flautas. Easy chicken dish for dinner as it can be made in under 20 minutes.
Ingredients
16

flour tortillas

3

lbs

of rotisserie chicken

8

oz

block of cream cheese

¼

cup

of chopped onion

3

tablespoon

minced garlic

½

cup

of your favorite salsa

spices to add in your own amounts: paprika

cayenne pepper, cilantro, salt, and pepper
Instructions
cook onion in frying pan with 1 tablespoon butter until translucent. Add garlic, cream cheese, and spices.

add chicken, stir until flavors are mixed, and remove from heat. Stir in salsa.

place ¼ cup of mixture into a tortilla and roll it up. Repeat until all the mixture is used up.

Spray tortillas with cooking spray.

Bake at 400 degrees for 12 minutes. Serve the chicken flautas with your favorite red or green sauce.
Nutrition
---
All information presented on this site is intended for informational purposes only. Nutritional facts listed are a rough estimate and should only be followed as a general idea.