No water bath needed for this Peanut Butter Cup Cheesecake recipe! Cheap cheesecake recipe as well since it only requires 1 block of cream cheese instead of 4 like some recipes do! Crispy graham cracker crust with Reeses cups covered with soft cheesecake overtop is what makes up this recipe for peanut butter cheesecake. It tastes like a Reese's peanut butter pie.
This post may contain affiliate links. This means if you click on a link and purchase something, I may earn a small commission from it.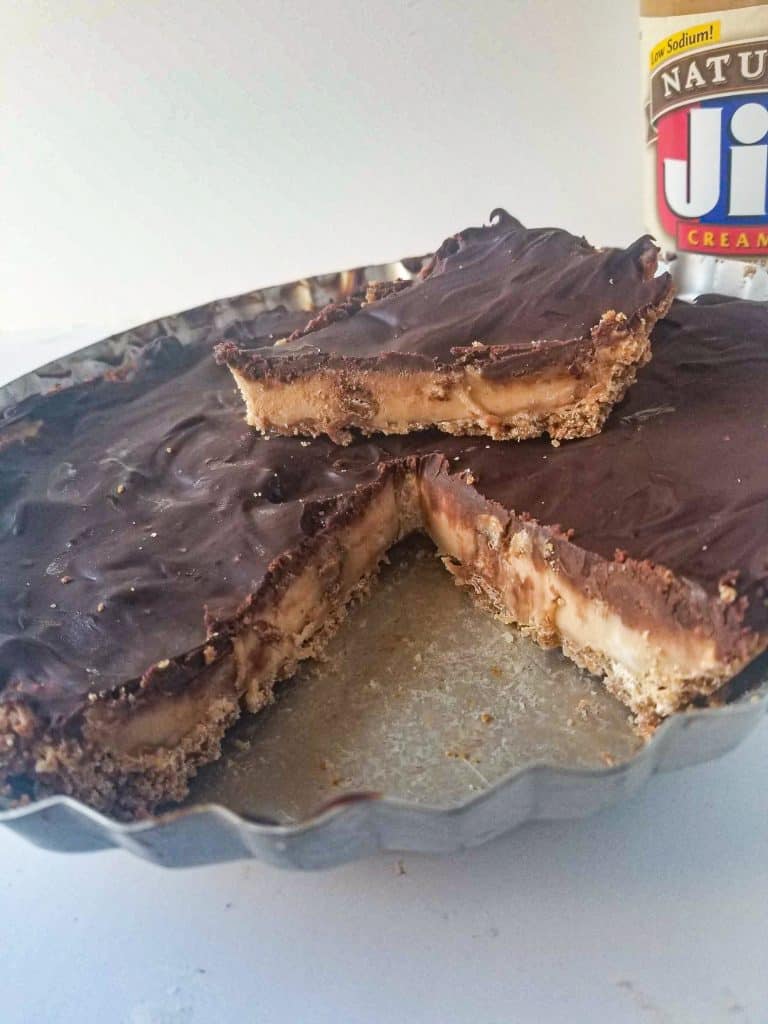 Peanut butter cheesecake with graham cracker crust:
Can make or buy graham cracker crust for this Reeses peanut butter pie. If making yourself, the graham cracker crust recipe I used was 6 tablespoon melted butter, ¼ cup sugar, and 1 cup graham cracker crumbs stirred together and pressed in a pie pan, baked at 350 degrees for 6-7 minutes. If it looks buttery in the center at 7 minutes, it is okay to take out of oven. Do not over bake.
Favorite ingredient brands to use for this ultimate chocolate peanut butter cup cheesecake recipe:
cream cheese- Philadelphia. I always use this brand for my cheesecakes! This is a philadelphia cream cheese peanut butter pie recipe. If you want more recipes with Philadelphia cream cheese, click here.
eggs-farm eggs, any eggs work though.
sugar and powdered sugar- provides sweetness
peanut butter-natural or orginal work
butter-stick butter
Peanut butter and chocolate chips-Nestle
Making peanut butter cheesecake:
First, make graham cracker crust or unwrap store bought crust
Next, make cream cheese mixture
Then, lay peanut butter cups on top of crust, then pour cheesecake on top. Bake for 30 minutes.
Later, make chocolate topping and pour on cheesecake when it is cool. You can pour on one layer at a time and let it harden or you can pour it on all at once. This may take a little longer to set this way if you do the latter option.
Finally, decorate with extra peanut butter cups. Freeze or refrigerate until ready for serving
Variations of peanut butter cheesecake:
less Reeses-Reese's can get expensive, so if you wanted to cut down on Reese's you definitely can.
omit Reeses-you can make peanut butter cup cheesecake without Reese's too
oreo crust-you can switch out the graham cracker crust for an oreo crust
whipped cream-making this peanut butter pie with cool whip on top would add a sweeter flavor. This also might not make it as rich tasting.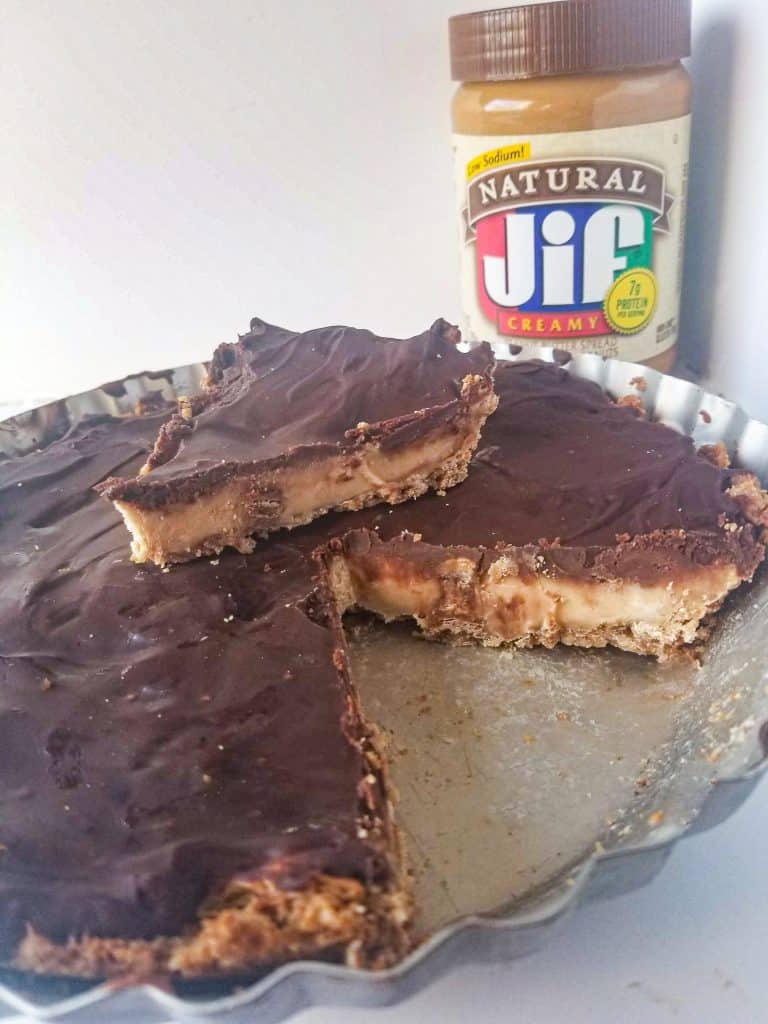 Tips for Cheesecake Baking:
crust-don't over cook crust if you are making it yourself. It is best to take it out sooner than later.
whip cream cheese well-we don't want lumps!
How to store Reeses peanut butter pie:
fridge-store this chocolate peanut butter cheesecake in an air tight container in the refrigerator for up to one week
freezer-this peanut butter cheesecake recipe can also be kept in the freezer. I would recommend thawing it out for about 15 minutes before slicing and serving though because it can be a little hard.
Check out my other recipes with peanut butter:
Recipe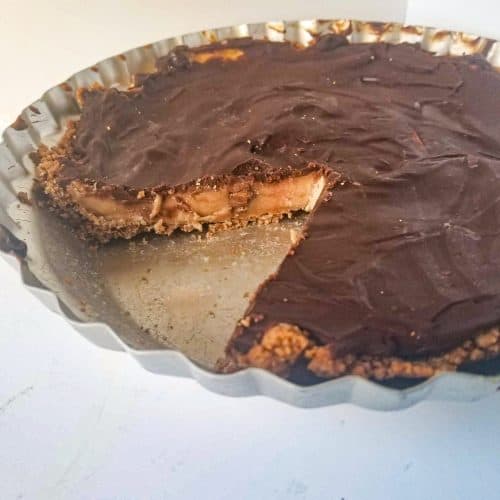 Peanut Butter Cup Cheesecake
No water bath needed for this Peanut Butter Cup Cheesecake recipe! Crispy graham cracker crust with Reeses cups covered with soft cheesecake overtop is what makes up this peanut butter cup cheesecake pie.
Ingredients
1

graham cracker pie crust

8

oz

cream cheese

1

egg

½

cup

sugar

⅓

cup

peanut butter

¼

cup

heavy cream

4

tablespoon

butter

2

cups

peanut butter cups

1

cup

chocolate chips

1

tablespoon

powdered sugar
Instructions
Bake premade pie crust according to directions or make and bake your own. Let cool completely.

While waiting for crust to cool, beat together cream cheese and sugar in a large bowl for 2 minutes on low. Beat in egg and peanut butter.

While crust is cool, put some peanut butter cups in bottom of crust. I put in about 9-10 cups, you can add as many or less as you like.

Pour cream cheese mixture over peanut butter cups. Bake at 350 for 30-32 minutes. Use a toothpick to check to see if it is cooked thoroughly. Let cool.

While waiting for cheesecake to cool, start to make the chocolate topping by warming cream and butter on medium heat in a small saucepan until the butter is melted. Add in chocolate chips. Stir until they melt. Add in powdered sugar. Stir making sure there are no lumps.

While cheesecake is mostly cool, add chocolate topping to the top of the cheesecake. If there is a lot of topping left over, let the first layer of chocolate set and then add another layer later. Can add in extra peanut butter cups to the top for decoration.

Freeze for about an hour or until ready for serving! Let the Peanut Butter Cup Cheesecake thaw a few minutes before trying to cut into it.
---
All information presented on this site is intended for informational purposes only. Nutritional facts listed are a rough estimate and should only be followed as a general idea.