How to make mulberry pie not watery is super easy when baked to perfection. Don't let those mulberries go to waste! This pie recipe serves about 8 people.
This post may contain affiliate links. This means if you click on a link and purchase something, I may earn a small commission from it. In the footer of this page is my full disclosure policy.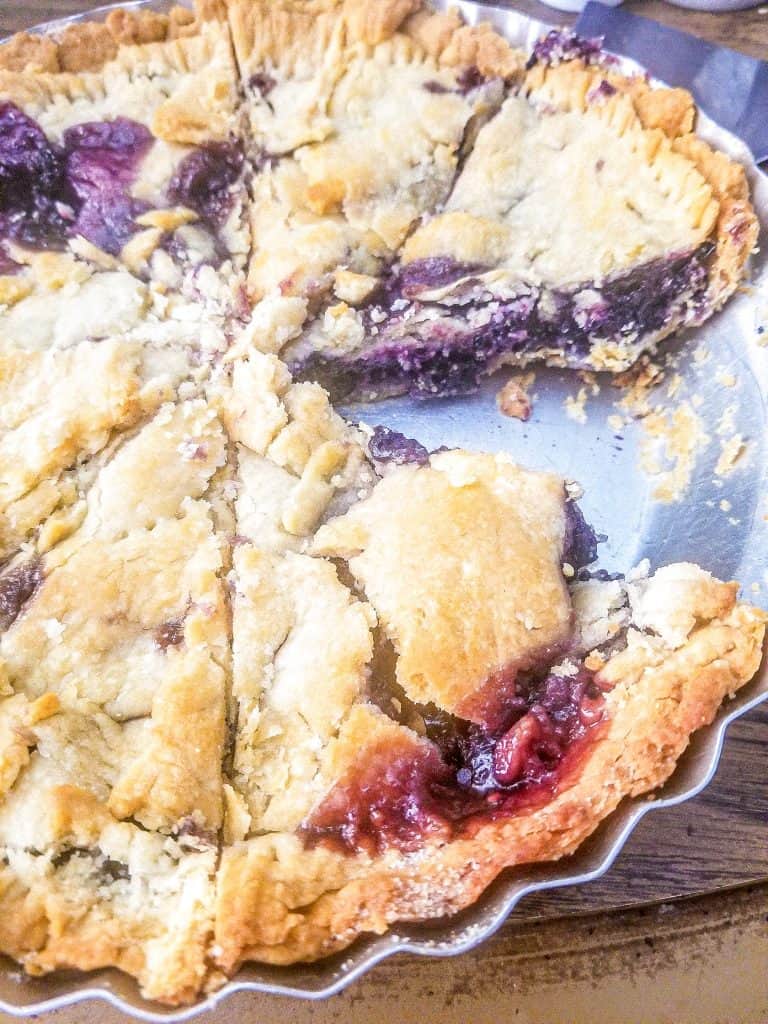 Ingredients:
Pie crust - A store bought crust would work, however, I usually home make my flaky crust using this recipe.
Mulberries - I use wild mulberries. Anywhere you can find mulberries works though.
Sugar - provides sweetness
Flour - for the crust
Melted butter - helps crust stick together
How to make mulberry pie:
Stir together all ingredients except crust and butter
Add butter on top of berry mixture
Refrigerate pie-this allows the flavors to set. I think this step also makes the pie less watery. You can probably omit this step if you are really trying to save time though.
Bake the pie for about 40 minutes or until the filling starts to bubble up.
Variations:
Add other fruits - Some people like to add strawberries to their mulberry pie. I have not tried that. If you want to half the mulberry amount and add in strawberries instead, let me know how it goes.
Top crust design - I used a double crust for this recipe, so the topping is also crust. If you wanted to make a different design on the top crust besides having it a typical double crust pie look, you can change the top design. If you really wanted to cut back on carbs you could omit the top crust all together. This might cut down on your cook time though. I would recommend watching it cook more closely if going that route.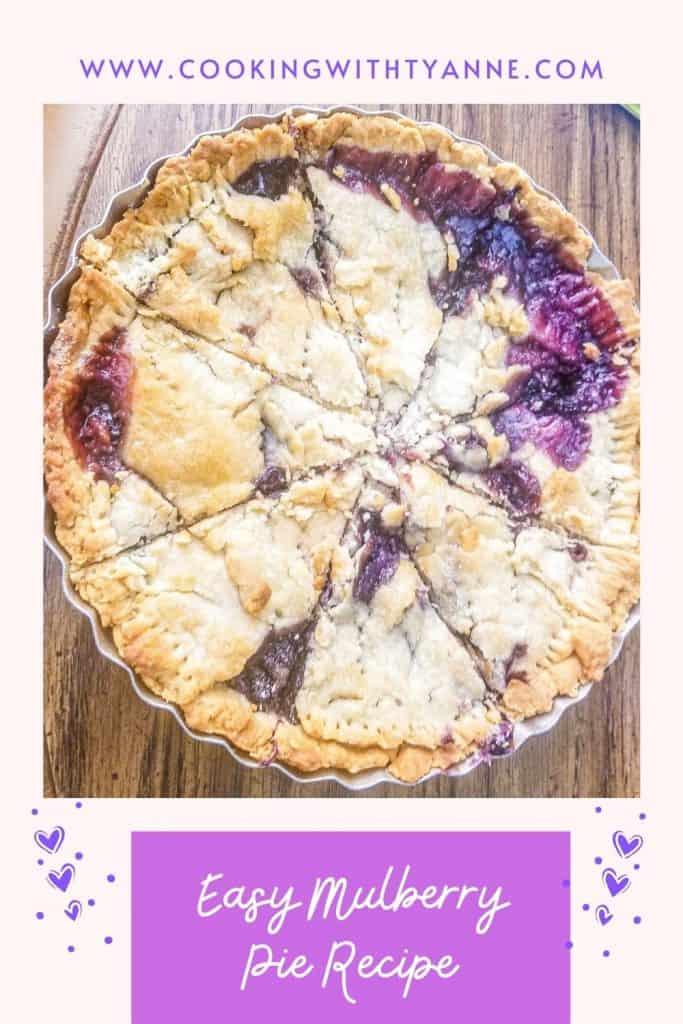 FAQs
What pan do I use?
You need a very large pan for this recipe! Nothing is worse than pie filling overflowing the pie. A simple reused aluminum pan that came out of a store bought pie is not acceptable: it will overflow. It has to be a deep dish pan such as one for making quiche.
Which mulberries do I use for pie?
I always use the mulberries that have just turned that black/purple color. It is better to get them when they still have some red in between the bumps. This will ensure that they are not watery. A pie being watery also depends on the recipe too though, and I tried to make the recipe the least watery as possible. Do not use very under ripe berries in your pie. Under ripe colors include green, pink, and red.
I also always pick my own berries by hand. We have a tree in our yard so that makes things easy. I just fill a bucket and measure out the berries when I get in the house. If you do not have a mulberry tree and have to buy your berries, then you will have to sort out the very ripe ones from the not as ripe ones if there are different ripeness ones in the bag.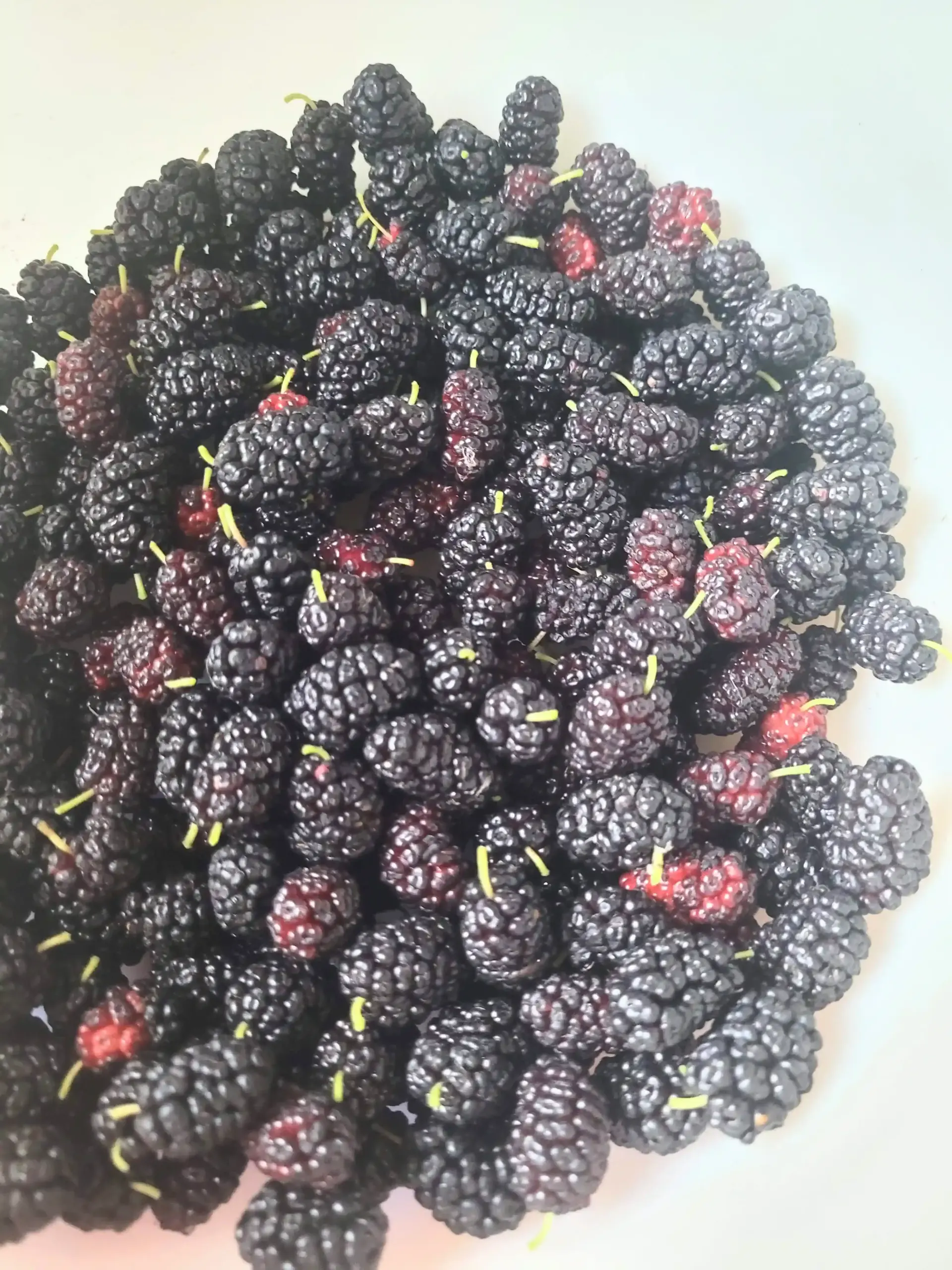 Can I make crust ahead of time?
Keep the crust in the fridge until ready to use. Usually crust starts to dry out after a few days though.
Do I pick the stems off my mulberries?
The stems soften in the pie while it bakes so there is no need to hand pick off the stems like an apple. Even if you were to do this, it would probably deform the berry and leave your hands a very purple color. It is best to leave the stems on the mulberries.
Check out my other delicious pie recipes:
Recipe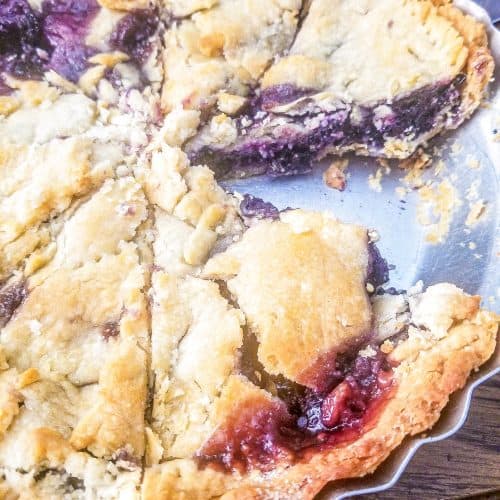 Easy Mulberry Pie Without Eggs
Hard to find a good mulberry pie recipe that is not watery! This mulberry pie recipe does not make your mulberry pie filling turn out watery coming out of the oven. Relatively easy mulberry pie recipe to make with pre made pie crust and fresh mulberries.
Ingredients
1

pie pastry or double crust pastry

3

cups

mulberries

1

cup

sugar

¼

cup

flour

2

tablespoon

melted butter
Instructions
Prepare crust by patting it into a pie dish if it did not come in a pie dish.

Stir together, berries, sugar, and flour in a large bowl. Dump in pie dish with crust in it. Drizzle top with melted butter. Cover with top pie crust if you want to do a double crust.

Press a fork in the edges of the pie where the 2 pastries meet. Poke holes in top of crust for ventalation. Refrigerate for about 10-15 minutes.

Bake at 400 degrees for 40-45 mins or until juice is coming out of holes and pie crust is brown. Serve your mulberry pie topped off with ice cream or whipped cream.
Nutrition
---
All information presented on this site is intended for informational purposes only. Nutritional facts listed are a rough estimate and should only be followed as a general idea.