No time to make crust for pumpkin pie? Don't want to spend money on the crust? Then this Crustless Pumpkin Pie recipe without evaporated milk is the perfect recipe for you. It is actually a pretty healthy pie since it does not have as many carbs and fats! I barely noticed that it normally comes with a crust.
This post may contain affiliate links. This means if you click on a link and purchase something, I may earn a small commission from it.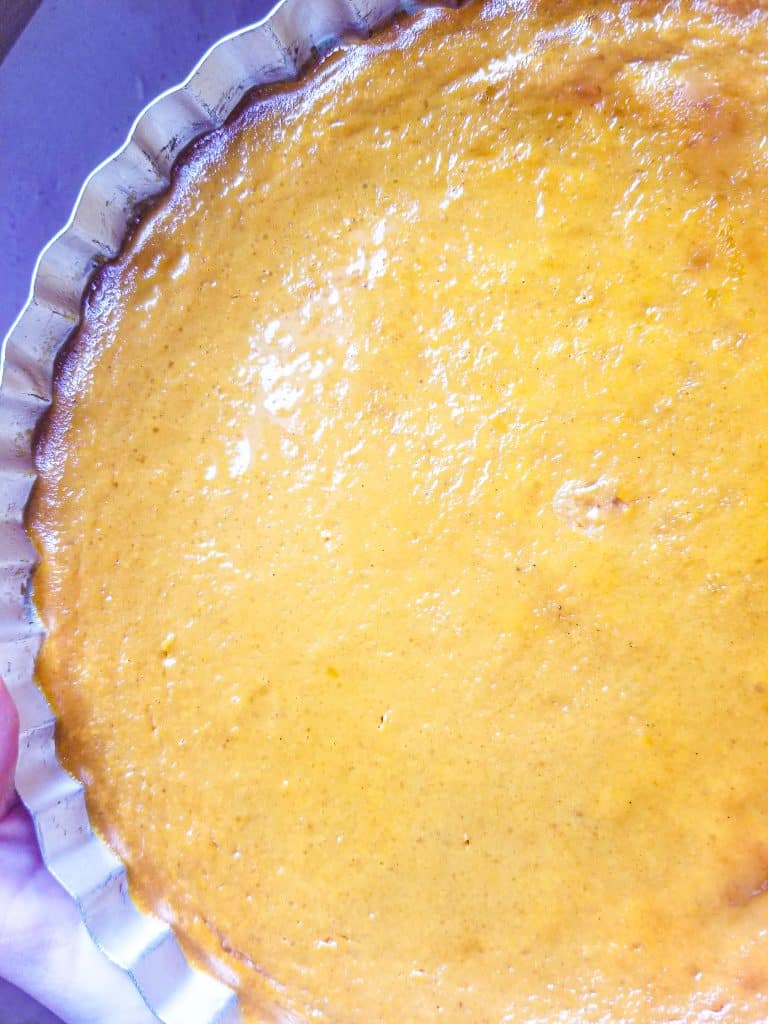 Other great holiday recipes to serve on the table with this pie are: Pinwheel Appetizer, Homemade Andes Mints, and Eggnog Cookies.
Crustless Pumpkin Pie Ingredients:
Pumpkin puree - Libby's, you can also make homemade pumpkin puree
Sugar - provides sweetness
Cornstarch - helps with thickness
Powdered milk - makes it more dense instead of adding a bunch of milk
Spices - adds pumpkin pie flavor
How to make it:
Mix together dried milk with the water so that it makes the milk
Stir together rest of the ingredients. Pour in newly made milk mixture.
Pour custard in sprayed pie tin. Bake!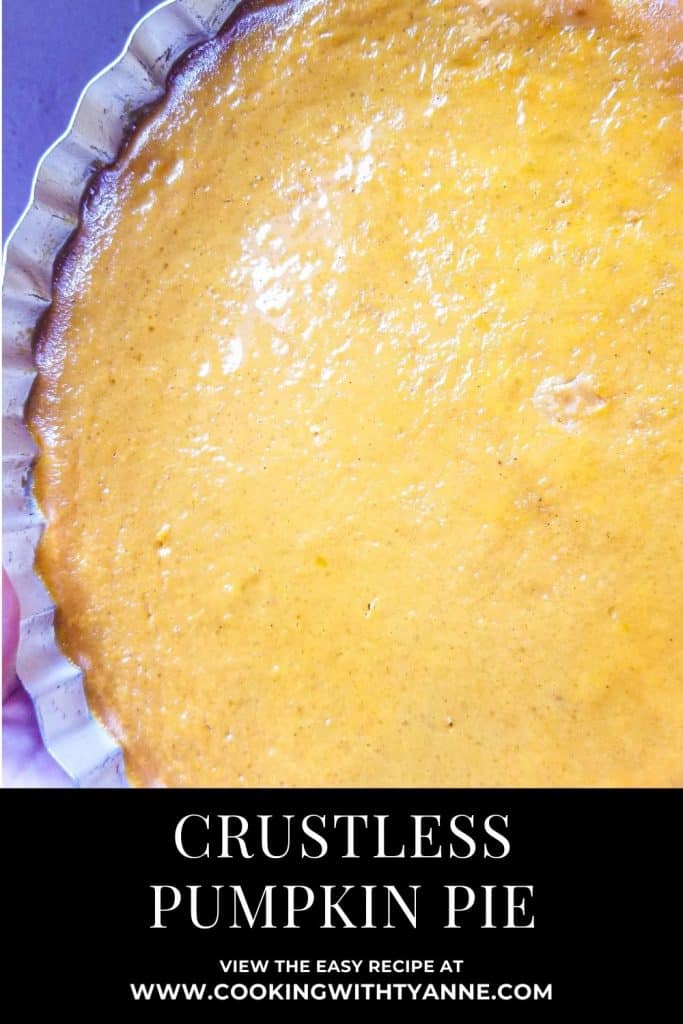 Crustless pumpkin pie topping:
Once pie is mostly cool, feel free to put on any pie topping you want! Traditional toppings include ice cream, whipped cream, or nuts such as pecans.
FAQs
Is using powdered milk necessary?
Yes and no. It does turn out more thick with powdered milk. However, it is not 100% necessary. If you wanted to go with the traditional liquid cows milk, I would recommend only putting half the conversion amount in.
What I mean by that is ⅓ cup powder produces 1 cup of milk. However, this recipe uses 1 cup powder which would convert to using 3 cups of milk. That would over flow the pan though, so I would recommend using only 1 ½ cups of cows milk.
How to tell when crustless pie is done?
When the center is no longer jiggly, the pie is done.
Can pumpkin pie be made ahead of time?
Yes, pumpkin pie lasts about a week in the fridge.
Can I use pumpkin pie filling?
No, this recipe calls for pumpkin puree. Canned pumpkin pie filling is already spiced and has sugar in it so it would be overly sweet since we add sugar in the actual recipe.
How to store no crust pumpkin pie:
Fridge - I store mine in the fridge in an air tight container for up to one week
Freezer - I have not tried freezing this crustless pumpkine pie recipe. I do not know how it would freeze because it is a custard. After it thaws, it might be rather watery. If you want to try freezing it, let me know how it goes.
Recipe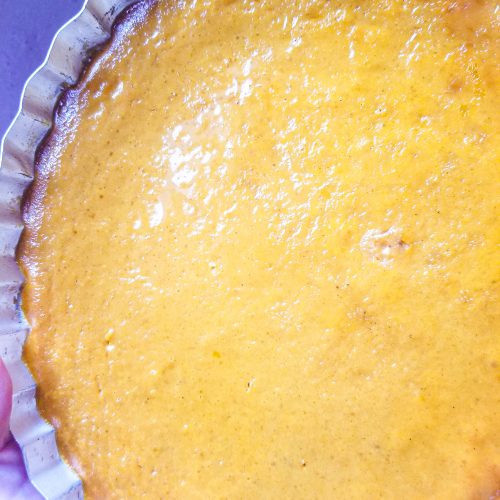 Crustless Pumpkin Pie
Pumpkin Pie without the extra carbs! It is actually a healthy pumpkin pie recipe since it does not have as many carbs and fats! Easy pumpkin pie recipe to make for Thanksgiving.
Ingredients
1 15

oz

can of pumpkin puree

¾

cup

of sugar

2

room temperature eggs

1

tablespoon

of cornstarch

1

cup

of nonfat powdered milk

1 ½

cups

of warm water

Spices to add at your own personal preference:

ginger, nutmeg, cinnamon, and salt
Instructions
Whisk together the nonfat powdered milk and warm water in a shallow bowl. Make sure there are no clumps in it. Set aside.

Stir together the rest of the ingredients in a larger bowl. Add in powdered milk/water mixture.

Spray pie tin and pour in custard. Bake at 350 degrees for about an hour. Remove from oven and serve your Crustless Pumpkin Pie with ice cream or whipped cream.
---
All information presented on this site is intended for informational purposes only. Nutritional facts listed are a rough estimate and should only be followed as a general idea.