This Chocolate Chip Cookie Cheesecake only takes 8 ounces of cream cheese! I used a store bought pie crust and Betty Crocker Cookie Brownie bars mix to save time. Not sponsored, but this is the mix I used. Homemade pie crusts would work as well along with homemade brownie mix. If using a homemade brownie mix or a mix without the cookie part, just quadrouple the recipe for the cookie dough bites to make up for lack of cookie. This recipe probably takes about 4 hours to make from start to finish. This includes the 2 hour cool down time. This Brownie Cookie Cheesecake recipe makes a standard size pie dish.
This post may contain affiliate links. This means if you click on a link and purchase something, I may earn a small commission from it. In the footer of this page is my full disclosure policy.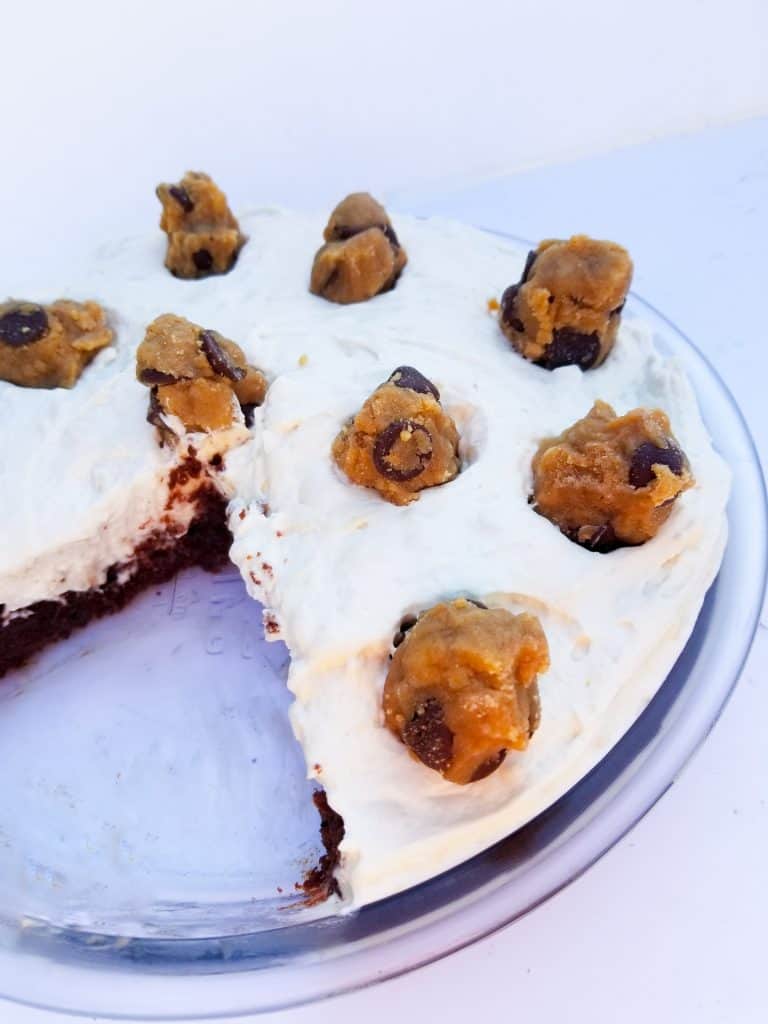 I have other cheesecake recipes as well:
Favorite ingredients to use for this chocolate chip cookie cheesecake recipe:
*brown sugar-provides sweetness, can be either light or dark sugar
*flour-base for cookie dough
*chocolate chips-Hershey's or Nestle
*cream cheese-Philadelphia, the base of the brownie cookie cheesecake
How to make excellent cookie dough cheesecake:
mix up brownie batter and cookie dough in separate bowls
make the cookie brownie layer in the frozen pie shell-when making a pie that is not graham cracker, you do not have to bake the pie crust first. Pour brownie batter onto the crust. Then drop cookie dough on top of it. This will give it a combination of brownie and cookie throughout the cheesecake. Bake with a pie crust shield. Remove from oven and let cool 2 hours to ensure it is cool enough for topping.
make cookie dough balls for topping-this is a good step to accomplish while waiting the 2 hours for the cake to cool down from the oven. Freeze until ready for decorating
scoop in cheesecake topping and decorate the chocolate chip cookie cheesecake. Serve!
Variations of brownie bottom cheesecake:
omit top cookie balls-if you are trying to save time or cut down on sugars, you can omit the top cookie ball part. You can decorate the cake with syrup or chocolate chips, or leave it plain instead
omit cookie filling-you can just decorate with the cookie dough balls on top instead of adding the cookie dough to the brownie mix as well
change crust-you can omit the crust entirely, or you can use another crust such as graham cracker
homemade whipped cream-for this recipe, I sometimes make my own homemade whipped cream. Click here for my favorite recipe.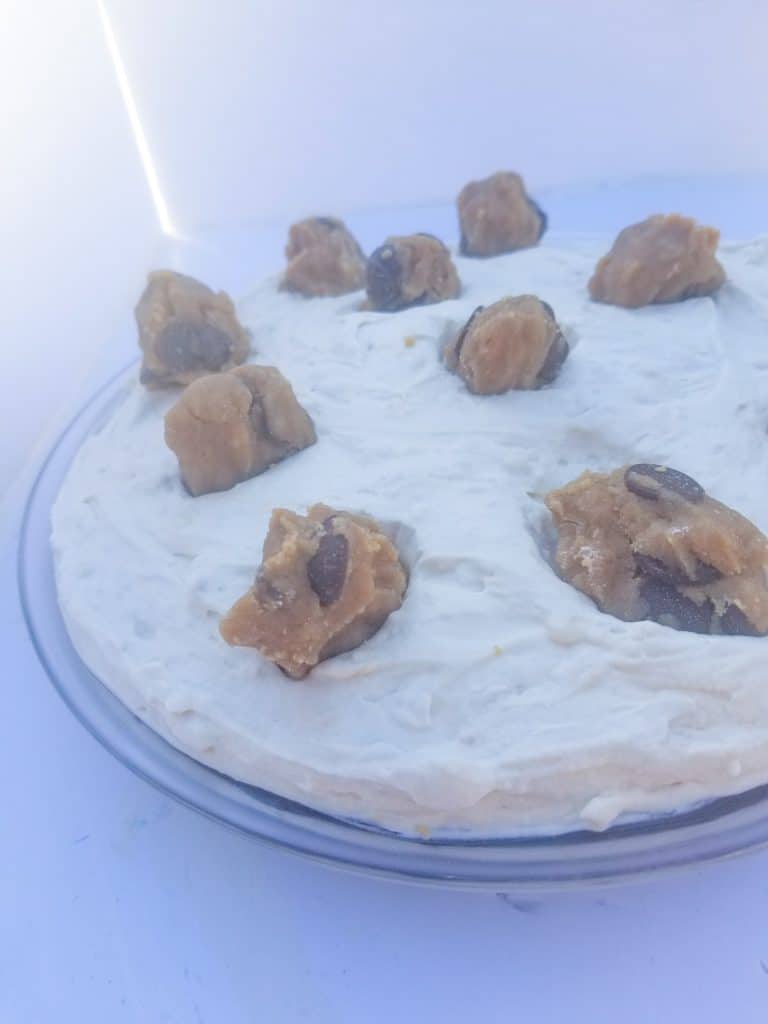 How to store cheesecake:
fridge-if going to be eating right away, I recommend putting a lid on the brownie cookie cheesecake and keeping it in the fridge.
freezer-if the brownie cake will take a while to be eaten, I recommend freezing it in a freezer safe container. Make sure it is properly covered in the freezer!
Recipe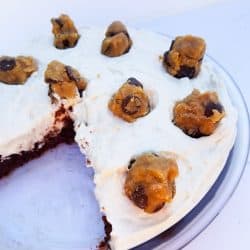 Brownie Cookie Cheesecake
This Brownie Cookie Cheesecake only takes 8 ounces of cream cheese! I used a store bought pie crust and Betty Crocker Cookie Brownie Bars mix to save time.
Recommended Products
hand mixer or stand mixer
Ingredients
Cookie Brownie Layer
1

frozen pie pastry crust

1

box of cookie brownie mix and ingredients listed on your brownie mix to use
Cookie Dough Ball
2

tablespoon

melted butter

¼

cup

brown sugar

¼

cup

flour

¼

cup

chocolate chips

dash of vanilla and salt
Cheesecake
8

oz

package of cream cheese

¼

cup

brown sugar

8

oz

container of coolwhip

dash of vanilla
Instructions
Cookie Brownie Layer
Mix together brownie mix according to directions. For my mix it said to beat together 2 tablespoon water, ⅓ cup vegetable oil, and 1 egg with my brownie mix. Pour into frozen pie crust.

Stir together cookie dough mix according to directions. For my box it said to stir 2 tablespoon water with 3 tablespoon melted butter into the cookie mix. Drop the cookie dough using a tablespoon onto the brownie batter in pie pan. Place foil on the edges of the pan to prevent crust from burning or use a pie crust shield. Note: If just using regular brownie mix with no cookie additive, still bake the same way and just quadrouble the recipe for the cookie dough balls and drop half of them into the brownie batter.

Bake the dessert for 40-42 minutes at 350 degrees. Use a toothpick to check to see if it is cooked all the way through. When it is done, let cool for 2 hours before putting cheesecake filling on top.
Cookie Dough Ball
While pie is baking, stir together ingredients for cookie dough balls. Roll into balls about half dollar size. Freeze until ready to use for topping or cheesecake filling.
Cheesecake Filling
While pie is mostly cool, start making the cheesecake filling by beating together the cream cheese, brown sugar, and vanilla for 2 minutes. Stir in container of whipped cream last.

When the pie is cooled down (at around 2 hours), spread cheesecake mixture on top of brownie filling. Place cookie dough balls on top of cheesecake to decorate it. Add some chocolate chips for decoration, if desired. Cut and serve the Brownie Cookie Cheesecake. Enjoy!
---
All information presented on this site is intended for informational purposes only. Nutritional facts listed are a rough estimate and should only be followed as a general idea.