Spicy brussel sprouts are the best way to eat sprouts, but they are even better when they are spicy brussel sprouts roasted in the air fryer! This vegetable recipe is a spicy food connoisseur's dream side dish. There are several options on how to customize this brussel sprout recipe to your own taste, so keep reading!
This post may contain affiliate links. This means if you click on a link and purchase something, I may earn a small commission from it. In the footer of this page is my full disclosure policy.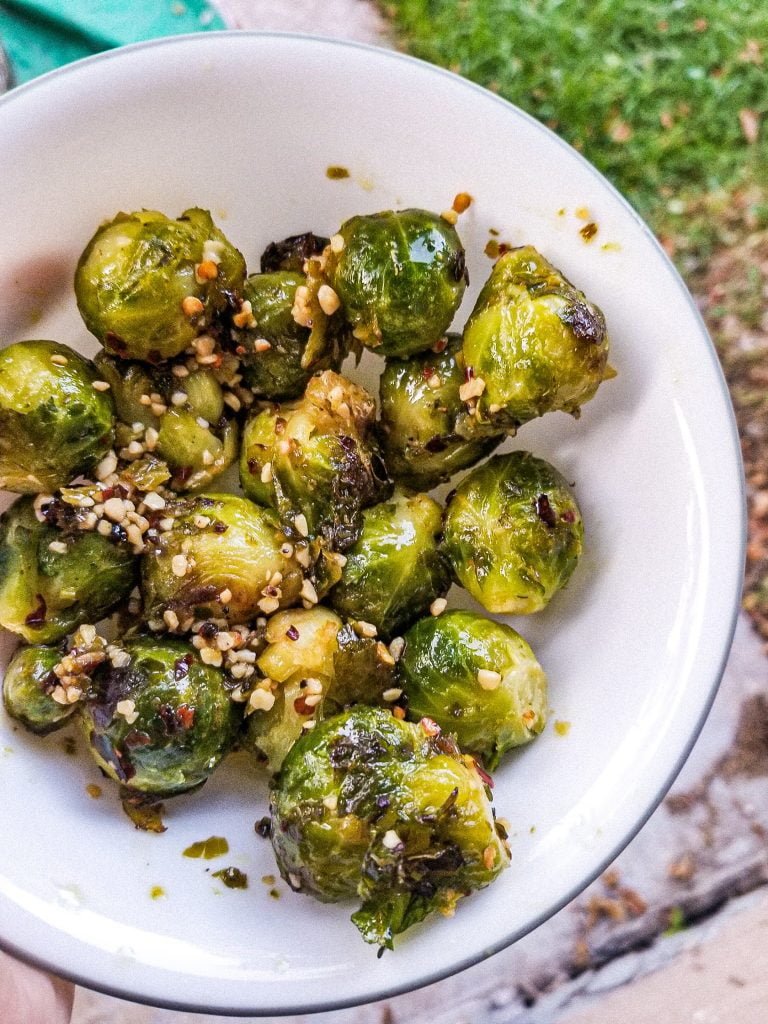 What goes go good with spicy brussel sprouts?
Brussel sprouts of any kind go excellent with meat and potoates! When the brussel sprouts are spicy though, they are the star of the show when it comes to being an addition to a basic meal of meat and potatoes. Sometimes I bring brussel sprouts for my lunch to work just to eat as a main dish because I love them so much!
Variations of spicy brussel sprouts:
oven roast-you can make spicy roasted brussel sprouts in the oven if you do not have an air fryer! Follow the same directions, but put them in the oven instead of air fryer. You can broil them for about 2 minutes on a lower rack and get the same effect.
add a protein-spicy brussel sprouts with bacon are a show stopper! Bacon is the most obviously protein to add, and they taste pretty good that way. Just add cooked bacon to the mixture in the bowl.
addtional spices-if you need additional spices, add more red pepper flakes or garlic! If you what different spices all together, finding what spices compliment brussel sprouts can be difficult. You just have to try to find something that works for you!
Check out my other vegetable recipes
If you are not super into vegetables, you have to check out my recipes! I don't like vegetables but these recipes are the only way I will eat my vegetables. They are worth a shot if you or your kids are having troubles eating your vegetables
If you want more wants to sneak vegetables into your diet Eating Well has a great article for that!
How to store roasted brussel sprouts:
fridge-store this side dish vegetable recipe in an air tight container in the refrigerator for up to one week. I like to portion out the leftovers and take them to work for lunch!
freezer-I have not tried freezing this recipe. If you would like to try it, go for it! Let me know how it goes.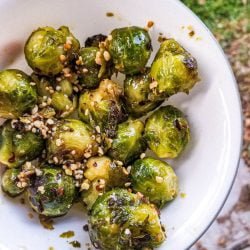 Spicy Roasted Brussel Sprouts
This is the only brussel sprout recipe that will get you loving brussel sprouts!
Ingredients
1

tablespoon

soy sauce

1

tablespoon

crushed garlic

1

tablespoon

red chili flakes

1

microwavable bag brussel sprouts

1

tablespoon

olive oil
Instructions
Microwave your brussel sprouts in bag according to directions. In the meantime, sit together rest of ingredients in a medium sized bowl using a spatula

When brussel sprouts are done cooking in microwave, dump them on a cutting board. When cool enough to handle, cut in half lengthwise. Add to bowl with mixture and stir.

Once evenly coated in mixture, add to sprayed air fryer basket and air fry for about 5 minutes at 400 degrees. If your basket is not big enough, you can air fry in batches. Serve your spicy roasted brussel sprouts hot!
---
All information presented on this site is intended for informational purposes only. Nutritional facts listed are a rough estimate and should only be followed as a general idea.