Super Easy Crustless Ham and Spinach Quiche
Crustless ham and spinach quiche low carb meal that is perfect for getting your nutrients in and using up leftover ham! Not only is this crustless quiche healthy and gluten free, it's also delicious and packed with lean protein and tons of vegetables. Bring on the weeknights (or week day mornings) with this delicious dish! It's packed with nutrients and will last beyond just a day or two! Super easy to reheat leftovers.
This post may contain affiliate links. This means if you click on a link and purchase something, I may earn a small commission from it. In the footer of this page is my full disclosure policy.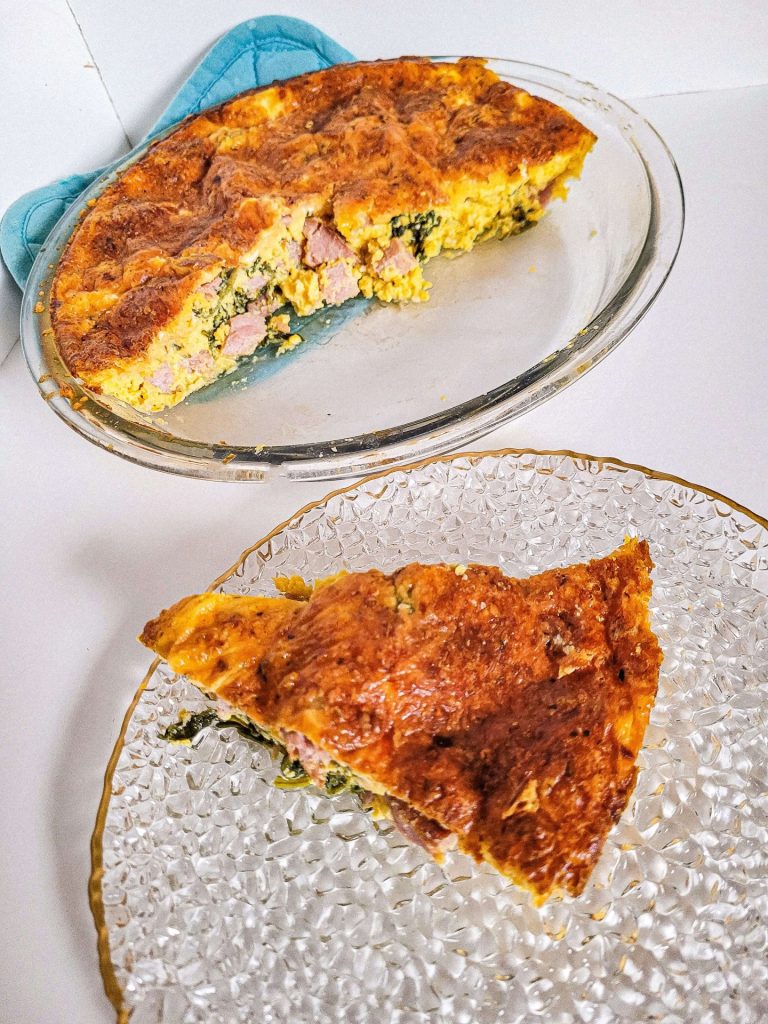 What to serve with gluten free quiche:
If making ham and spinach quiche for breakfast, then serving it with coffee or tea is a good idea! They pair well together for a great start to the day.
If making for a dinner meal, dinner rolls are a good option!
Tips for making quiche spinach:
Make sure top is set-after removing the quiche from the oven, you will know if it is done or not by if the top is jiggling or not. If it is firm, then it is done. If it is still jiggiling, then it is not done and needs to go back in the oven for at least another 3-5 minutes. If quiche will not set after that, try turning up the oven temperature.
Use big enough pie dish: using a decent sized pie dish will be useful in accounting for the spillage of the egg coming in and taking out of the oven. Will quiche rise? No quiche doesn't rise but it is important to have a big enough pie dish to make sure there is no spillage going into the oven. If you do not have a deep pie dish, use a normal pie dish, put place on a 9 x 13 baking sheet as well. this will help stablize coming in and going out of the oven.
Cook the vegetables first-if you are adding more vegetable than just the spinach, make sure to cook them first. This will prevent them from making your quiche watery because they will release the water while cooking in the skillet and not in the oven.
Variations of quiche without pastry:
add a crust-quiche without crust is pretty good, but some people still prefer the crust option. Flaky pie crust is a great bottom for quiche!
cream-this crustless ham quiche without cream uses milk instead. This cuts calories. If you do not have milk on hand, you can use cream or half and half instead.
add more vegetables-what quiche is healthy? Well that depends what you put in it! This ham and spinach quiche is pretty healthy, but you can always add more vegetables to make it healthier. Mushrooms, tomatoes, green onion, artichokes, etc. are healthy ingredients to add. Even broccoli ham quiche tastes pretty good.
different cheeses-you can use any cheese you want. You can even make this with cream cheese! Swiss, pepper jack, and sharp cheddar add a lot of flavor.
Other breakfast recipes
Can you make quiche with milk in advance
Yes, you can store ham and spinach quiche in the fridge until ready to eat. Quiche can be reheated from the fridge by using the microwave.
How to store spinach ham quiche:
fridge-store this ham spinach quiche recipe in an air tight container in the refrigerator for up to a week
freezer-Will quiche freeze well? This recipe can be a freezer meal! I recommend not storing it for very long in the freezer though as it can get freezer burned due to the moisture of the eggs. Prepare as normal, let cook, then slice into serving sizes and freeze individually. Plastic wrap them if needed to seal out air.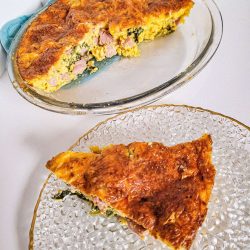 Crustless Ham and Spinach Quiche
A low carb meal that is perfect for getting your nutrients in and using up leftover ham!
Ingredients
2

tbsp

olice oil

1 1/2

cup

ham

diced ham

2

cups

spinach

2

tbsp

garlic

5

eggs

1 1/2

cups

colby jack cheese

2/3

cup

milk

2

tbsp

hot sauce

1

tbsp

pepper

t

tsp

salt
Instructions
In a large skillet, cook ham and spinach together until spinach starts to wilt. Add garlic and sautee until fragrant.

While that is cooking, in a large bowl, crack and beat the eggs with a fork. Add remaining ingredients to this mixture.

Spray a pie dish with nonstick spray. Evenly distribute the spinach mixture on the pie dish. Pour the egg mixture on top. Bake at 375 for 40 minutes or until center is fully set. Serve hot.
---
All information presented on this site is intended for informational purposes only. Nutritional facts listed are a rough estimate and should only be followed as a general idea.