No matter who you're rooting for, you can't help but crave a fresh dip for your party. This cajun shrimp dip with cream cheese is guaranteed to make the perfect addition to your event. Are you feeling like you'll be missing out without a traditional spread of dips and veggies? Well, it's time to rethink your pre-game prep with this recipe.
This post may contain affiliate links. This means if you click on a link and purchase something, I may earn a small commission from it. In the footer of this page is my full disclosure policy.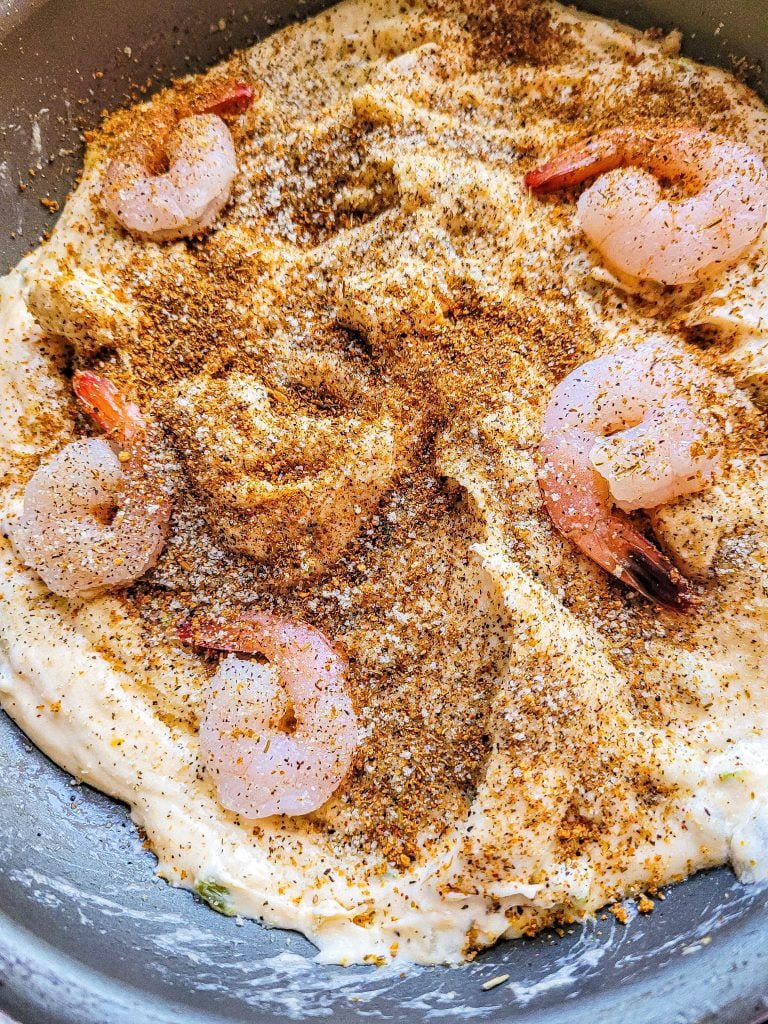 Ingredients:
Butter - lubricates the pan
White onion - adds flavor
Minced garlic - adds aromatic flavor
Green chilies - helps the dip become spicy
Shrimp - cutting the shrimp in half helps the shrimp go a long way, make sure to detail the shrimp if they have tails
Shredded cheddar cheese - cheese for the mixture
Cream cheese - provides creaminess
Mayo - also provides flavor and creaminess
Cajun seasoning - helps spice up the flavor, you can also add old bay
Black pepper - adds spice
How to Make Excellent Shrimp Dip With Cream Cheese:
Cook onions, garlic, and chilies - the purpose of this is to make sure they are fully cooked before adding the shrimp.
Cook shrimp - cooking shrimp before adding the cheeses is essential to make sure it has that buttery texture on the outside.
Add cheeses - the cheese and mayo is what makes this shrimp dip. Without them, there would be no creaminess to scoop onto your chip.
Pro Tips
Use real mayo - miracle whip is NOT the same as real mayo
Room temperature cream cheese - make sure to not try using frozen cream cheese because it will not mix as smoothly. You can microwave from the freeze if you would like or let cream cheese set at room temperature until thawed.
Pairings - serve this with triscuits, corn chips, ritz crackers, pita chips, bagel chips, the options of chips are endless!
Variations of Shrimp Dip:
Lobster - if you want this to taste more like the sea, adding lobster to make shrimp lobster dip sounds super amazing! Just a bit more on the pricey side.
Crab - crab is another way to flavor this appetizer to be more sea-like. Shrimp and crab queso dip is super flavorful! An option to make this cheaper would be to use imitation crab.
Serve cold - serving this shrimp dip cold might make it harder to scoop up with chips, but some people do like it cold!
Add horseradish - horseradish will make this dip taste a bit bitter, but some people like their shrimp that way! Horseradish and ketchup is what makes cocktail sauce, so if you like those flavors with your shrimp, feel free to add it to this recipe.
Sour cream - instead of mayo, you can use sour cream to help make this shrimp dip with cream cheese more creamy.
What to Serve With Southern Shrimp Dip Recipe:
The first thing that comes to my mind that goes with southern shrimp dip is Cajun chicken, Southern baked spaghetti, or other flavors of the south. When Cajun spice is one of the seasonings, it is hard not to think of other Cajun flavors.
Make Ahead
Prepare as normal, but let cool until room temp, then place in the fridge until ready to eat. When ready to eat, heat up on stove until warm throughout.
How to Store:
Fridge - store this cheesy shrimp cream cheese dip recipe in an air tight container in the refrigerator for up to one week
Freezer - I have not tried freezing this recipe. If you would like to try it, go for it! Let me know how it goes. I am not sure if shrimp dip can be frozen and thawed and still taste delicious.
Recipe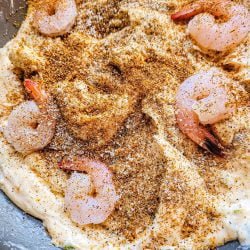 Southern Garlic Shrimp Dip Recipe
A super quick appetizer that will have your guests pleased in no time!
Ingredients
2

tablespoon

butter

¼

cup

white onion

chopped

2

tablespoon

minced garlic

2

tablespoon

green chilies

½

cup

shrimp, cut in halves

detailed

½

cup

shredded cheddar cheese

8

oz

cream cheese

¼

cup

mayo

2

tablespoon

Cajun spice

1

tablespoon

pepper
Instructions
In a small skillet, melt butter over medium heat. Then add garlic, onion, and green chilies. Once onion is translucent, add in shrimp. Stir around until golden on both sides. Add cream cheese and shredded cheese.

After cheeses are melted, add remaining ingredients. Let simmer over medium heat for a few minutes to blend flavors. Serve hot with chips.
---
All information presented on this site is intended for informational purposes only. Nutritional facts listed are a rough estimate and should only be followed as a general idea.