These Sea Salt and Vinegar Potato Chips taste similar to the Miss Vickie's brand of chips! This recipe serves about 5 people. I ate an obnoxious amount of these, so it probably does serve more people if everyone had eaten a normal serving size.
This post may contain affiliate links. This means if you click on a link and purchase something, I may earn a small commission from it.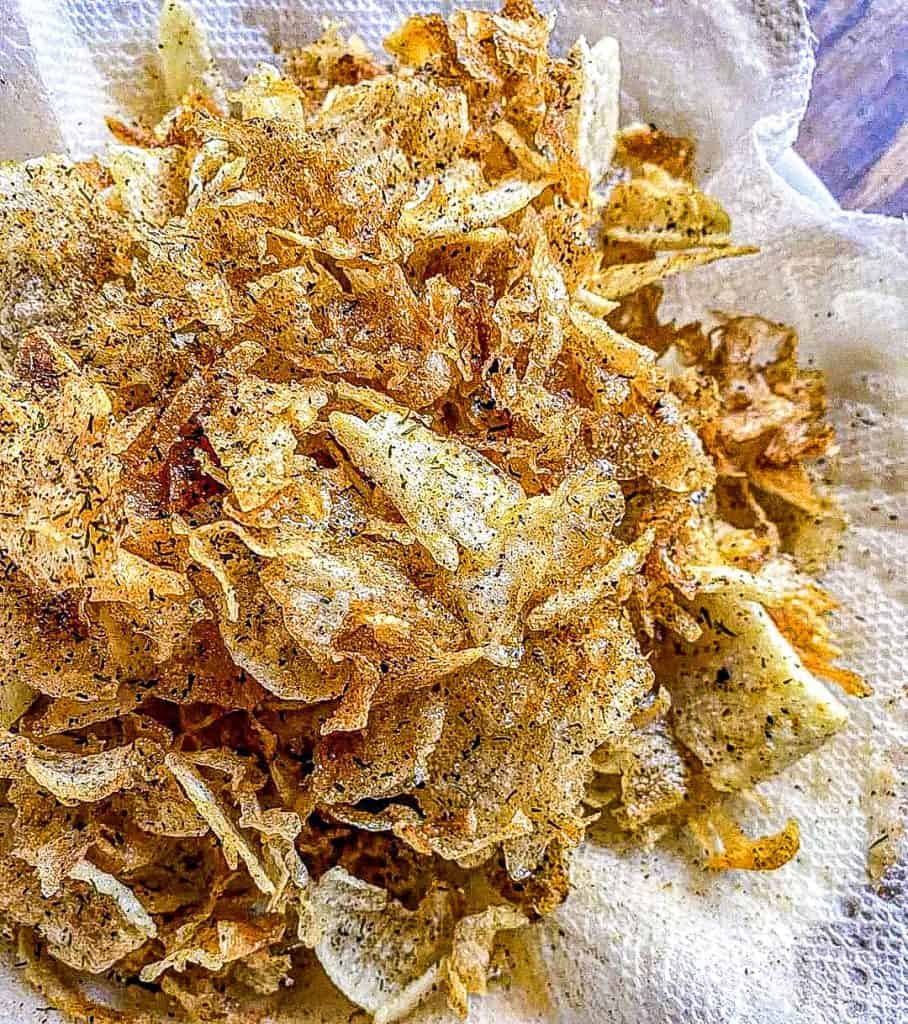 Why this recipe works:
Batches - you make this recipe in batches which can help you feed a crowd of hungry people when they know more is coming
Customizable - you can increase or decrease the ingredients to fit the amount of people you are serving
Ingredients needed:
Potatoes - cut very thinly
Cold Water - helps get starch off potatoes
Apple cider vinegar - makes the vinegar flavor
Salt - the salty part of chips
How to make homemade potato chips:
Prep potatoes - I cut mine using a grater, and then soaked them in a large bowl of water to get the starch off. Then, I soaked them in vinegar for about 30 minutes. If you want a more strong vinegar flavor, soak them for about an hour
Dry potatoes - I dried mine with paper towels. If you want to not use so many paper towels though, you can use a regular tea towel.
Deep fry/air fry potatoes - I deep fried my potato chips until they were golden brown. You can leave them in the deep fryer for as long or as little as you want depending on how crispy you want them. You can make these potato chip in air fryer as well, but they don't quite crisp up as nice. Remove chips with a slotted spoon.
Season potatoes with salt - this will give them the desired salt flavor. You can put as much or as less of salt as you want depending on the desired flavor.
Tips for making potato chips:
Thin potatoes - make sure to cut potatoes very thin to help soak up the salt and vinegar flavor. Cutting potatoes evenly will also help with uniform cooking times.
Right Temperature - make sure your oil is not too hot or cold, but around 375 degrees. If a batch of chips comes out too greasy, try turning up the oil heat. If they are extremely crispy and falling apart, then turn down the heat.
Overcrowding - do not over crowd the deep fryer
Sprinkle with salt - sprinkle with salt right away after coming out of the deep fryer so the salt will stick better
FAQs
What if I do not have a grater?
You can always thinly slice the potatoes by hand with a sharp knife. This might take a little longer and be harder to get thin enough, but it is doable.
What are the best potatoes for homemade potato chips?
Russet holds up best, but red and yellow would work as well. You could even make this a sweet potato chips recipe.
What kind of variations can I make?
You can add different seasonings to flavor the chips with more than just salt. Options include, garlic salt, paprika, old bay seasoning, ranch mix, bbq rub, etc.
How long do I need to soak my potatoes?
They only need to be soaked in water a few minutes because then they go in the Vinegar for 30 minutes.
What causes potato chips to be soggy?
Too hot of oil will cause what is supposed to be crisp, to turn mushy. Follow my best tips practices stated above.
How to store salt and vinegar chips:
Fridge - store homemade potato chips in an air tight container in the refrigerator for up to one week. You could probably store them at room temperature, but I always refrigerate mine. While reheating, the air fryer makes them more crispy if you wanted to reheat them that way.
Freezer - I have not tried freezing this recipe. If you would like to try it, go for it! Let me know how it goes. I am not sure how good they would thaw.
Check out my other potato recipes:
Recipe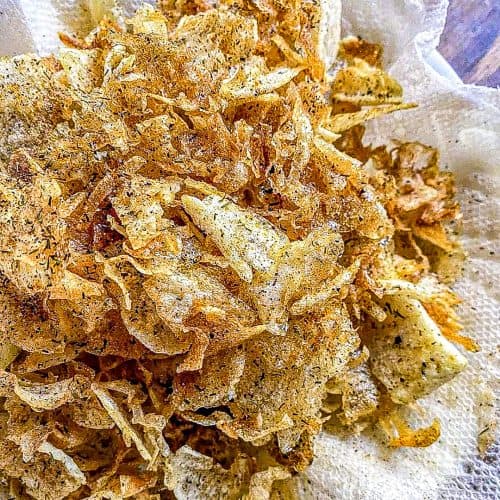 Sea Salt and Vinegar Potato Chips
You could probably air fry these homemade potato chips, but I already had the deep fryer out from the other day and wanted to get more use out of the oil! Deep fried salt and vinegar potato chips so good that you'll be eating them straight out of the deep fryer.
Ingredients
5

potatoes

Water

Apple cider vinegar

Salt

oil

for frying
Instructions
Wash and skin the potatoes, and slice them into thin circles by using a grader.

Place potato circles into a bowl. Fill with water until all potatoes are covered. This is to get the starch off. After a few minutes when starch begins to float, dump out water.

In the same bowl, pour enough vinegar over potatoes until they are completely covered. Let soak for 30 minutes.

After 30 minutes, drain out vinegar and pat potato circles dry with a cloth.
Deep Fryer
Based upon your deep fryer size, place the potatoes in batches into the deep fryer accordingly. Put just enough in to cover the top surface.

Take out of deep fryer when the potato circles are just starting to turn brown. Take out using a spoon with slots and place on a plate with a paper towel to absorb the excess oil. Season with desired amounts of salt. Repeat steps 2-6 with remaining potato circles until gone. You can serve these Sea Salt and Vinegar Potato Chips by batch or wait until all the potatoes are cooked and serve all together.
Air Fryer
Like you would a deep fryer, place potatoes in batches in air fryer basket for about 3 minutes or until crispy. Remove from air fryer and place on a paper towel to remove excess oil. Sprinkle with Salt. Repeat step until all potato slices are used.
---
All information presented on this site is intended for informational purposes only. Nutritional facts listed are a rough estimate and should only be followed as a general idea.