This garlic blooming onion cheese bread is probably the most amazing garlic bread I have ever had with onions! Be sure to chop the onion very fine! Very fine onions will be easier to stick to the bread while pulling it apart like a blooming onion. Plus, if you don't really like onions, it would cut down on the strong flavor. Be sure to not cut all the way down to the bottom or else it will loose the blooming onion effect! This cheesy pull apart bread recipe serves 6 people.
This post may contain affiliate links. This means if you click on a link and purchase something, I may earn a small commission from it.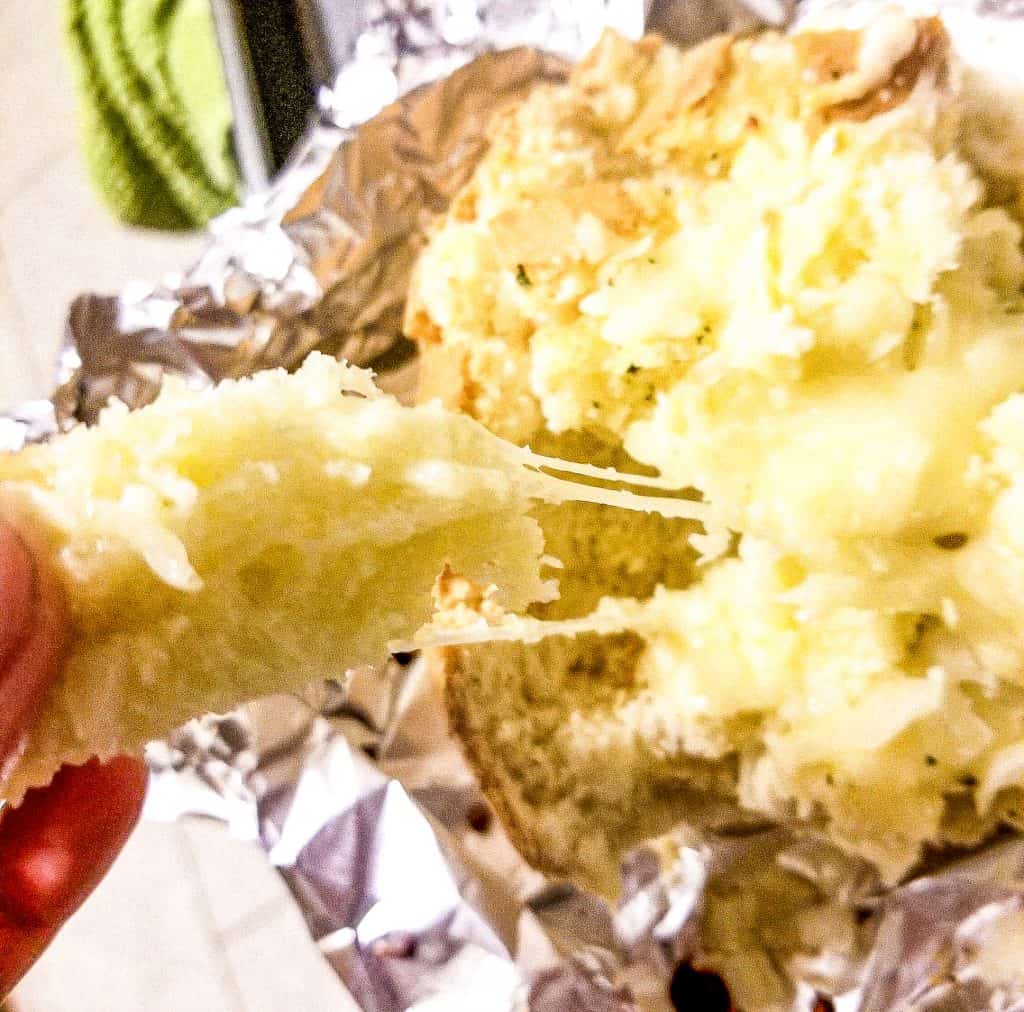 Pull apart cheese bread ingredients:
Bread loaf - I buy mine fresh. You can make your own if you want. Click here for a bread recipe.
Butter - stick butter
Cheeses - I used pepper jack and mozzarella, but any cheese flavor you enjoy would work!
How to make onion bread recipe:
Cut bread - I cut mine vertical and horizontal in enough slits so that they were not too close together and too far apart. How many slits you make really depends on the size of your bread circle. I would start by cutting through the center, and cutting a slice on each side until you run out of bread space, then turn and cut the other direction. You do not want the slits too close together or else they could break off from not having enough bread to hold the bread down.
Put sliced cheese in the slits of the bread, drizzle butter, garlic, and onion mixture on top of the cheese.
Season with garlic salt
Bake covered in tin foil for 15 minutes, then add more cheese to the top and bake uncovered for an additional 10-this will make it so there is cheese on top of the bread, but ensures it does not get burned while baking for that long.
What to serve with:
Meat-since this is to resemble another form of a blooming onion, the most obvious pairing combo I can think of is meat. Particularly, steak!
Pasta-this is like garlic bread, pasta would be a great main dish to pair with your garlic blooming onion cheese bread.
Variations of Cheesy Blooming Onion Bread:
Omit the onions - not everyone likes onions. If you or someone you are cooking for absolutely hates onions no matter how small they are even cut, you can take the onions out.
Minced onion flakes - if you or someone you are cooking for does not like actual onion, a substitute to try could be minced onion flakes. This might make the recipe a bit crunchier, but you can just use less if that is the case. This will give it a boost of savory flavor without the full on onion taste.
Cheese variations - this bloomin onion bread recipe requires pepperjack and mozzarella cheese, but you can use whatever cheese you have in your fridge. I do like to use cheese slices for in between the slits of bread. You can use shredded cheese if that is all you have on hand though.
Bread cut - you do not have to cut your blooming onion bread bread horizontal and vertical, you can choose one or the other. This would create cheesy bread slices instead of the blooming bread effect though, but it would be easier to prepare.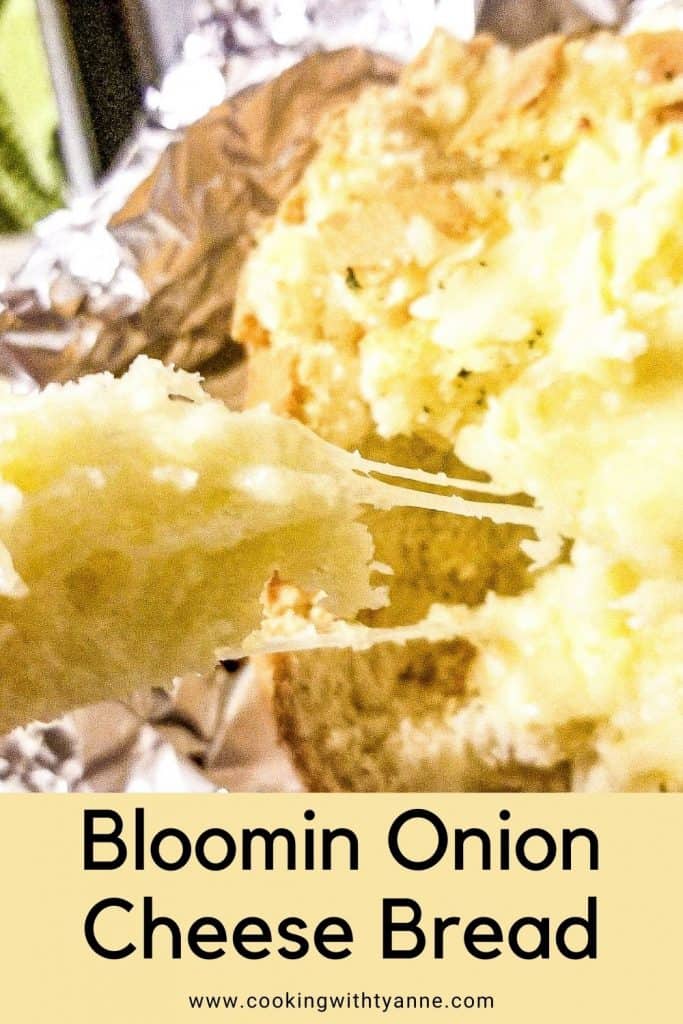 How to store:
Fridge - store this appetizer bread in an air tight container in the refrigerator for up to one week
Freezer - I have not tried freezing this recipe. If you would like to try it, go for it! Let me know how it goes. I am not entirely sure how nicely it would thaw out though.
Check out my other bread recipes:
Recipe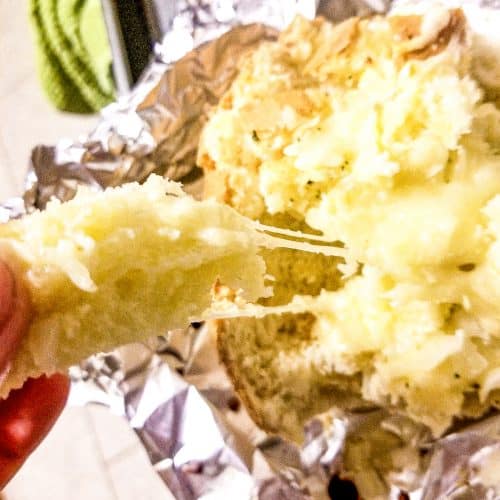 Blooming Onion Bread with Cheese
This garlic blooming onion bread is probably the most amazing garlic bread I have ever had with onions! Cheese and onion make this round bread loaf pop with flavor. This cheesy garlic bread recipe is an irresistible appetizer.
Ingredients
1

circular bread loaf

⅛

cup

medium yellow onion

chopped FINELY

2

tablespoon

minced garlic

⅓

cup

melted butter

Sliced pepper Jack cheese

Garlic salt for seasoning

Shredded mozzarella cheese for topping
Instructions
Cut loaf of bread into about 10 slices width wise and length wise, not going down all the way to the bottom. This ensures the loaf will stay together but will allow the consumer to be able to pull out the bread slices and eat it. Think of it like a blooming onion at a restaurant: the bottom is always intact but the petals can be pulled off. Place loaf on a sprayed baking sheet.

Place pepper Jack slices into each crack of the bread. This will allow the cracks to open up more.

Pour melted butter into a liquid measuring cup. Dump the minced garlic and onion into melted butter. Pour this mixture into the cracks of the bread with the pepper Jack cheese in them.

Sprinkle top of bread with garlic salt

Cover with foil, and bake at 350 degrees for about 13-15 minutes. Uncover, and sprinkle with some mozzarella cheese and bake for another 10 minutes or until cheese is melted. Serve your Blooming Onion Bread hot!
---
All information presented on this site is intended for informational purposes only. Nutritional facts listed are a rough estimate and should only be followed as a general idea.