Baked Churros without Piping Bag
Easy quick dessert recipe for baked churros! I find that by adding more cinnamon, it makes the sugar-cinnamon coating stick better! This is a 4 ingredient recipe using the ratio of sugar and cinnamon that worked best for me! Depending on your amount and brand of puff pastry, you might need more or less sugar/cinnamon ratio and butter! This baked churros without eggs recipe makes a fairly quick dessert as there is no dough mixing! This baked churro with puff pastry recipe serves about 10 people.
This post may contain affiliate links. This means if you click on a link and purchase something, I may earn a small commission from it. In the footer of this page is my full disclosure policy.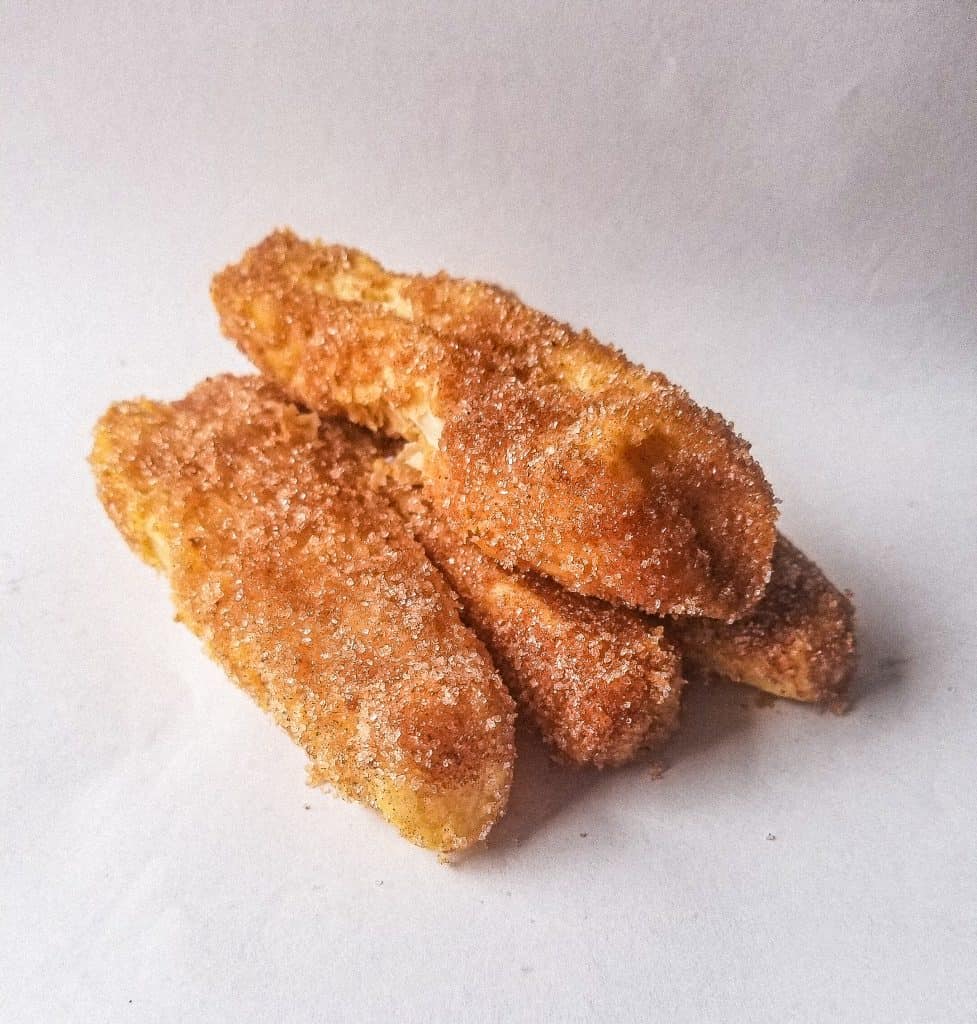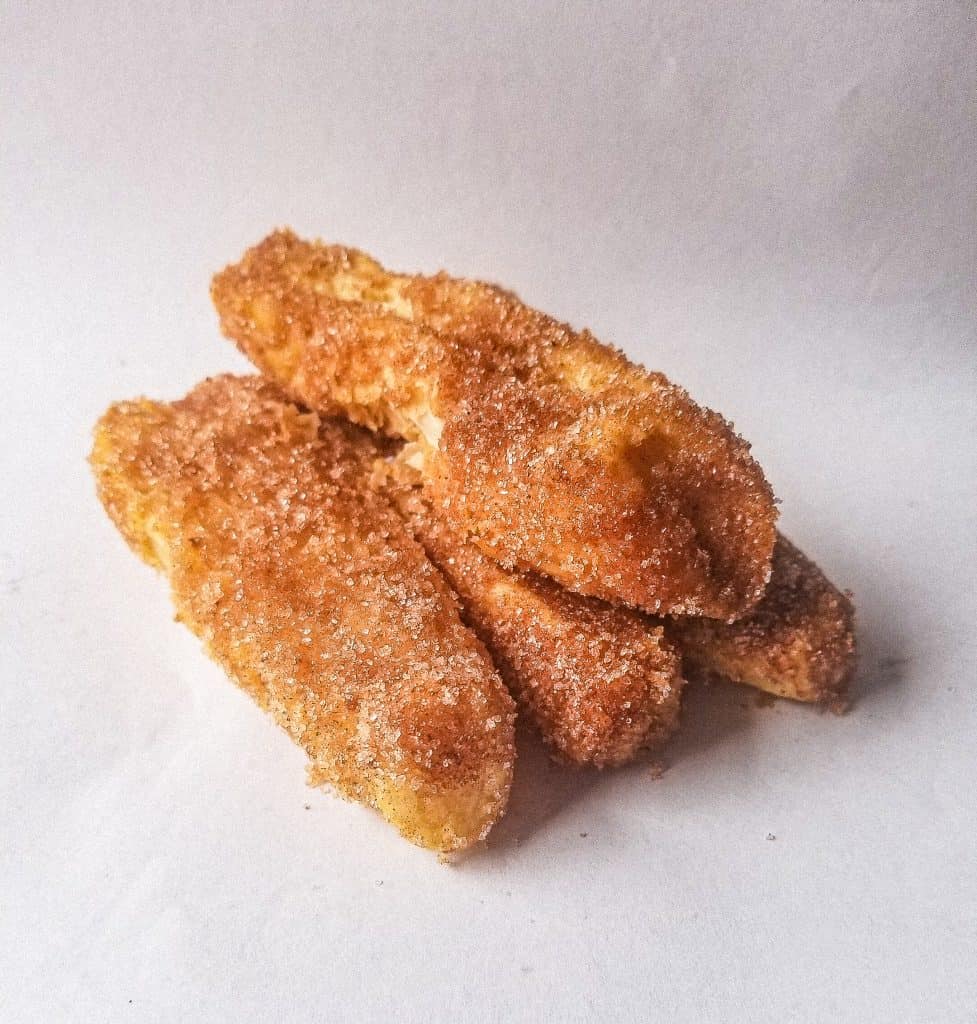 These baked churro donuts would taste good with any Mexican dish! Check out my Mexican dishes to serve them with:
What baking sheet to use?
Unlike for cookies, I try to use a thinner baking sheet for everything else. The churros do not take as long on a thinner baking sheet compared to a thicker baking sheet. A Teflon extra nonstick pan would work just fine! You can get these for under $10.

Favorite ingredient brands to use for this easy baked churros recipe:
*puff pastry-I used store bought. You can home make your puff pastry too if you want! You can also make a homemade puffy pastry recipe. 
*butter- stick butter
*sugar-C&H cane sugar
*cinnamon-McCormick
Toppings for eggless churros:
Some people like to put syrup on their churros! You can also serve pudding on them or chocolate. Whipped cream or ice cream would also be good flavors.
If you have leftover puff pastry, you can fill it with chocolate.
How to make excellent churros with puffy pastry:
cut puff pastry-I cut mine into about 4-6 inch strips. You could probably cut these into whatever size you would like though. Bake the puff pastry according to directions
prepare butter and sugar and cinnamon-the butter helps the cinnamon/sugar mixture stick to the puff pastry. You might need more or less cinnamon and sugar or butter depending on how hard you push the puff pastry into the cinnamon and sugar mixture. I have made this recipe multiple times, and the ratios never fail me! No leftover cinnamon/sugar or butter to throw out when I get done.
How to store oven baked churros:
fridge-store this easy dessert recipe in an air tight container at room temperature for about a week
freeze-I have not tried freezing this recipe. If you want to try it and freeze it, let me know how it goes. I do not know how these churros would thaw out though.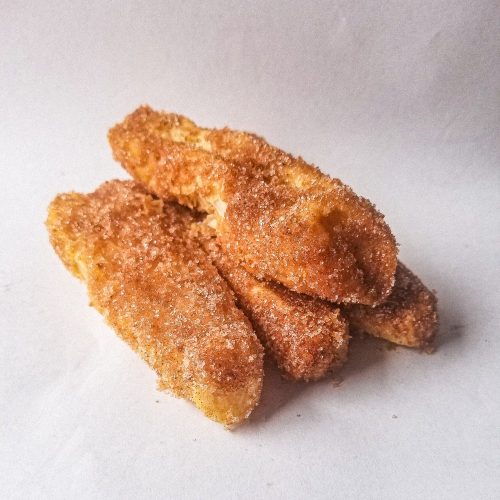 Baked Churros
Easy quick dessert recipe for baked churros! This is a 4 ingredient recipe using the ratio of sugar and cinnamon that worked best for me! These baked churros without piping bag can be made within 20 minutes.
Ingredients
1

sheet puff pastry

thawed

7

tbsp

melted butter

1

cup

sugar

1 1/2

teaspoon

cinnamon
Instructions
Cut puff pastry into 5 inch by 1/2 inch strips. Place on a sprayed baking sheet and bake at 400 degrees for 10-12 minutes or until golden brown. Meanwhile melt butter in one bowl, and combine the sugar and cinnamon in another bowl.

After the puff pastry is golden, remove from oven and let cool for 3 minutes or until cool enough to handle. Roll baked puff pastry strips in the butter and then roll in the sugar and cinnamon mixture. Place on a drying rack to cool. Serve your baked churros cold or hot.
Nutrition
---
All information presented on this site is intended for informational purposes only. Nutritional facts listed are a rough estimate and should only be followed as a general idea.