The peach cobbler muffins batter was so good that I couldn't stop eating it! I am surprised I got any peach muffins at all from it because I ate so much batter. These muffins baked tasted even better than the batter. Recipe makes 24 muffins, and should take no longer than 40 minutes to make from peeling the peaches to them coming out of the oven.
This post may contain affiliate links. This means if you click on a link and purchase something, I may earn a small commission from it.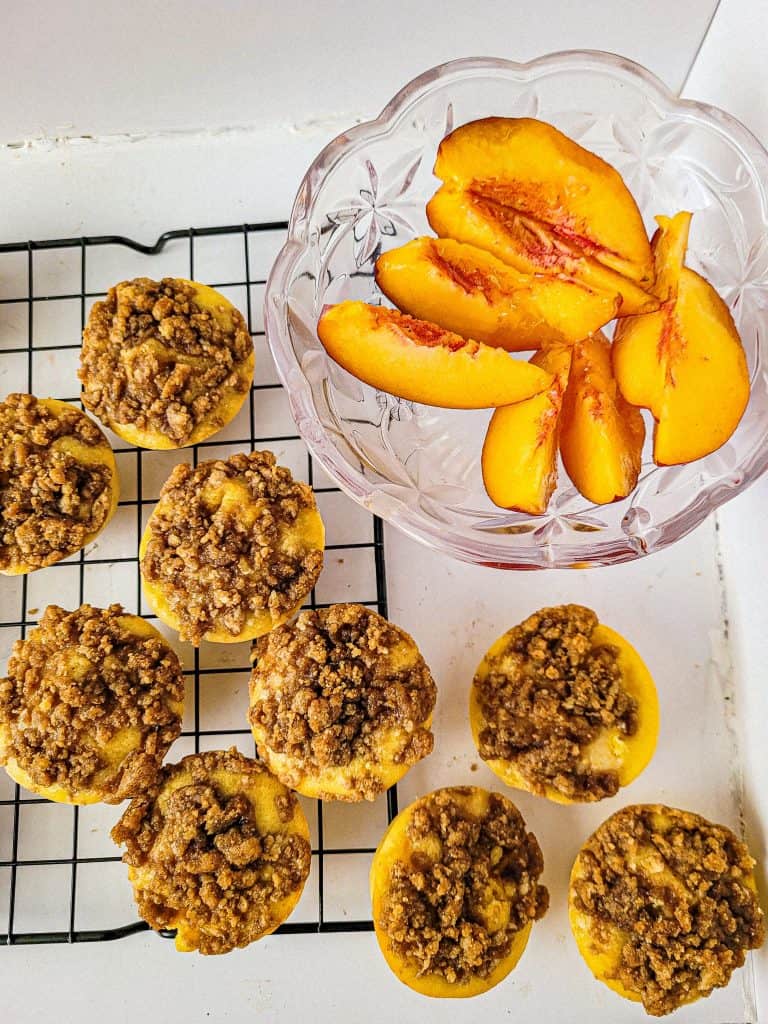 This peach cobbler muffins recipe is great if you have peaches you need to use up before they go bad. Click here for some other recipes you can use peaches with.
Main ingredients for peach cobbler muffins:
Flour - provides a base
Baking power - helps muffin rise
White and brown sugar - provides sweetness
Peaches - I used Colorado peaches
Milk - Whole Milk
Butter - stick butter
How to make peach cobbler muffins:
Make sure the peaches are peeled very good and do not have any skin on them. It would also help if they do not have any hard parts of the pit left in them. Sometimes when I eat peaches, some of the pit sticks to the peach. This causes me to bite on that part of the pit, which is very unexpected and hard and would not be pleasant to bite into in your muffin.
Stir together the dry ingredients, then add the rest of the ingredients. This is a one bowl recipe, so that is really nice!
Spray muffin tin, and dump the batter in each muffin cup.
Make the topping and sprinkle it on the muffins. The topping is so good!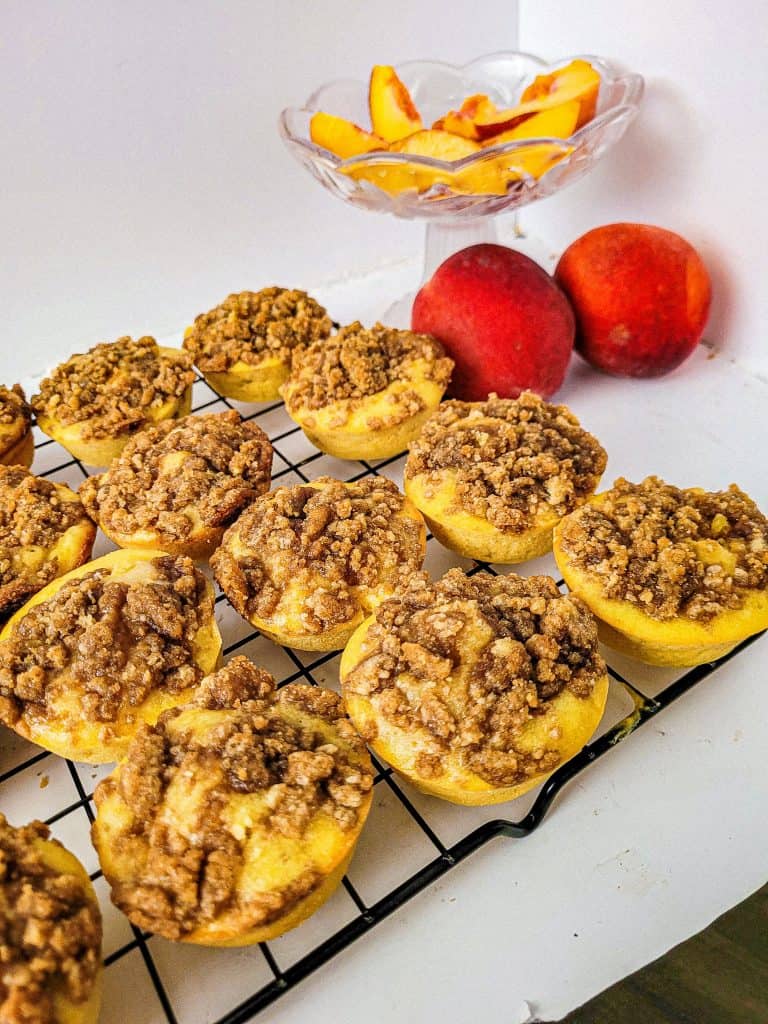 How to serve:
Serve muffins for breakfast with coffee or with lemonade on a hot summer day!
How to store:
Fridge-Do you need to refrigerate peach cobbler? My family always stores every fruit dessert, including banana bread, in the fridge for up to one week.
Freezer- I have not tried freezing these peach cobbler muffins, if you want to try it, let me know how it goes!
FAQ
How do I know if my peach cobbler muffins are done?
Toothpick - by removing the muffin tray from the oven, and inserting a toothpick into a muffin, you can tell if the peach muffins are done if the toothpick comes out clean. If the toothpick does not come out clean, let the muffins bake for a few more minutes.
Cut open a muffin - I know this requires sacrificing a muffin by destroying the shape, but if you cut open a muffin and the inside is not sticky, the muffins are done.
Best Tips:
Canned peaches - you can use fresh or canned peaches. If going the canned route, make sure they are not peaches in syrup and are fully drained and patted dry before cutting
Don't over bake - over baking can result in your muffins becoming dry. It is best to do the toothpick test soon than over bake and be too late.
More than just peaches - you can also sub half the peaches for strawberries, raspberries, blueberries, etc.
Check out my other recipes for muffins:
Recipe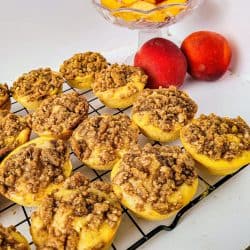 Peach Cobbler Muffins
This Peach Cobbler Muffin dough was so good I couldn't stop eating it! These easy peach muffins tasted even better after the oven.
Ingredients
3

cups

flour

1

teaspoon

baking power

dash salt

1 ½

cup

sugar

2

cups

fresh chopped peaches

peeled

½

cup

milk

2

eggs

½

cup

vegetable oil
topping ingredients
¾

cup

brown sugar

¾

cup

flour

⅓

cup

soft butter

cinnamon to taste
Instructions
In a large bowl, stir together flour, baking powder, sugar, and salt. Add peaches. Stir. Add remaining muffin ingredients.

Pour into sprayed muffin tins, only fill them about ¾ full as they do rise a little.

In a small bowl, combine the topping ingredients. Sprinkle over muffin batter in the muffin tins.

Bake at 350 degrees for 20 minutes or until toothpick comes out clean. Gently scrape knife along the sides of the muffin in the tin to remove them. Serve these Peach Cobbler Muffins warm or cold!
---
All information presented on this site is intended for informational purposes only. Nutritional facts listed are a rough estimate and should only be followed as a general idea.