Crazy Good Cheesy Pesto Pull Apart Bread
This pesto pull apart bread is an easy recipe to make with biscuits! I had a lot of biscuits and pesto in my fridge, and that is how this pesto bread recipe was born. This pesto cheese bread recipe serves about 6-8 people and is 385.21 kcal per serving.
This post may contain affiliate links. This means if you click on a link and purchase something, I may earn a small commission from it.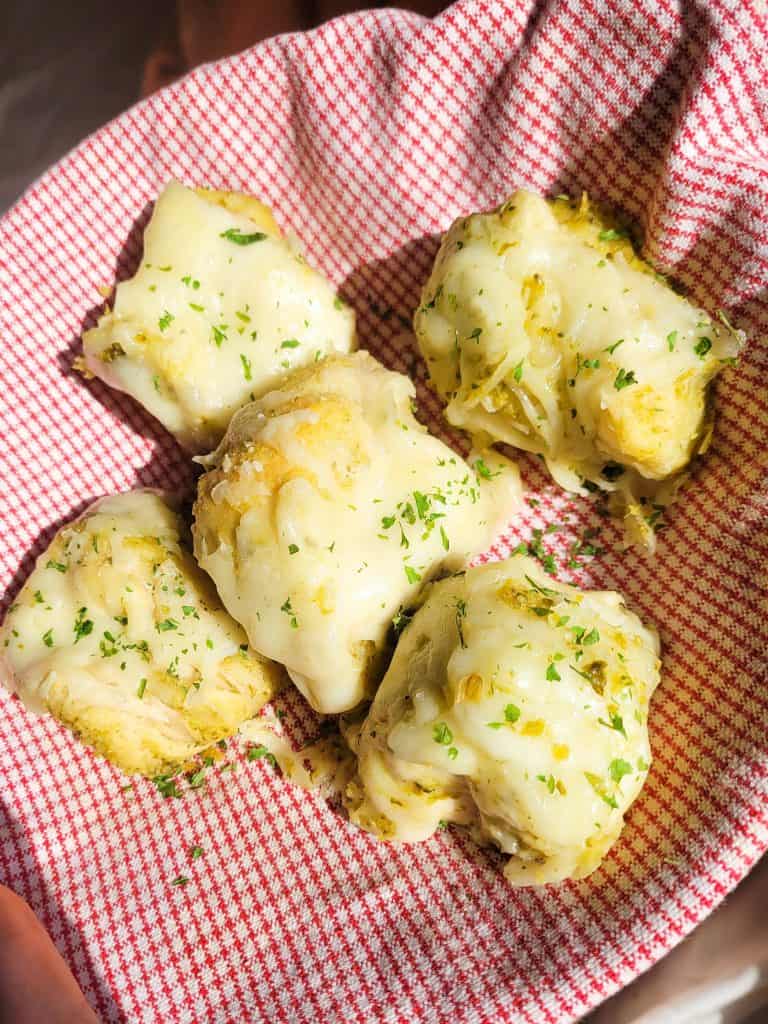 Tips for pull apart pesto bread:
Do not look if the top is brown and think your cheesy bread is done! This biscuits can be still not done on the inside edges. To see if it is actually done, make sure to pull off a roll and see if the edges still feel like dough. If the edges still feel like dough, continue to bake for a few more minutes. If they feel firm, then remove from oven and serve!
To ensure the cheese does not burn too much on the top before the biscuits are done, you can cover the dish with tin foil while baking. I typically do not do this, but it is an option.
Check out my other bread recipes:
What to pair with pesto cheese bread?
Meat-this pesto bread would go well with a meat dish such as hamburgers, pork loin, steak, etc.
Pasta-just like how regular garlic bread goes amazing with pasta, you can serve pesto pull apart bread with any pasta dish that needs it!
Variations of pesto bread:
take out inside cheese-originally, I did not intend to have any cheese on the inside of these. I had a lot of cheese on hand sitting in the fridge so I decided to try stuffing them. They were stuffable so I went with this version instead. This is not a necessary component though.
omit all cheese-you can make this pesto bread recipe dairy free (if you also use dairy free pesto), by omitting all cheeses!
fresh mozz-the first time I made this, I stuffed my biscuits with shredded mozzarella cheese. This was rather difficult to do. Now I like to make this recipe with fresh mozzarella instead. This makes stuffing the biscuits a little easier.
Main ingredients to use for this pesto pull apart bread recipe:
biscuits-try to use name brand
pesto-I love the Barilla brand for everything! Homemade is good too. If you want to make your own, click here.
cheese-shredded works, but if you can afford it, the fresh cheese balls are easier to fold the biscuit around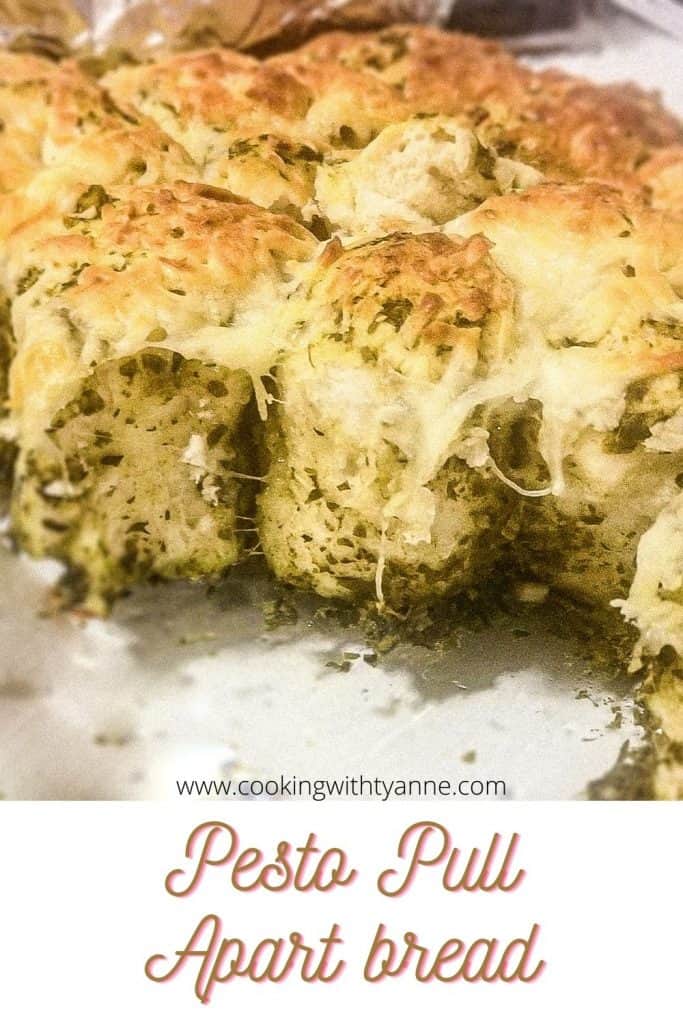 Overview of savory monkey bread:
flatten each biscuit-the flatter the biscuit, the easier it will be to stuff.
stuff biscuit with cheese-I just put a dab of cheese in each biscuit circle, then folded the edges in to enclose the cheese. It is important to make sure there are not holes in the biscuit to where the cheese can escape while baking.
roll biscuit balls in pesto-you can dump the pesto in a small bowl and run the biscuit through it to evenly coat the ball
place biscuits on a 9 x 13 baking dish-make sure the dish is sprayed
top with extra shredded cheese and bake!
How to store appetizer bread:
fridge-store these garlic pesto bread rolls in an air tight container in the refrigerator for up to one week
freezer-I have not tried freezing this pesto bread. If you would like to try it, go for it! Let me know how it goes.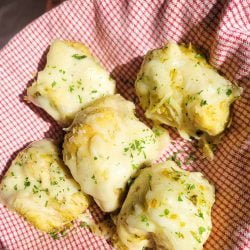 Pesto Pull Apart Bread
This pesto pull apart bread is an easy recipe to make with biscuits! Pesto bread appetizer in cheeseballs!
Ingredients
2 8

oz

cans of biscuits

1

jar pesto sauce

1-2

cups

shredded mozzarella cheese or fresh mozz balls

4

oz

fresh mozzarella
Instructions
Open cans of biscuits and roll each biscuit out with a rolling pin; you can also spread out biscuits with your fingers. Just make biscuit bigger somehow.

Put a tablespoon of cheese into center or biscuit. Fold up edges of biscuit so that the cheese cannot fall out of your biscuit ball.

Dump pesto sauce into a small bowl. Roll the biscuit balls into the pesto sauce. Place biscuit balls onto a sprayed cake pan. Sprinkle biscuits with remaining cheese. Bake at 350 degrees for 22-25 minutes. Serve your Pesto Pull Apart Bread hot!
Notes
To check to see if biscuits are done, take a fork and try to pull out a biscuit ball from the center of the pan. If the ball has firm sides and feels not doughy, then it is done. If it's not done, continue baking for a few extra minutes.
Nutrition
---
All information presented on this site is intended for informational purposes only. Nutritional facts listed are a rough estimate and should only be followed as a general idea.