You can turn a block of tofu into buffalo tofu bites in the air fryer! Even if it is your first time making tofu, you will be successful in making this delicious recipe. Tofu strips coated in a dry mixture of cornstarch and seasonings, tossed in a sauce mixture of buffalo sauce, oil, and more cornstarch. Double air fried for extra texture! Some people think tofu is bland, but with buffalo sauce, it can never be a bland flavor! Mouth-watering, spicy buffalo tofu in every bite! Air fryer buffalo tofu is so easy to make.
This post may contain affiliate links. This means if you click on a link and purchase something, I may earn a small commission from it. In the footer of this page is my full disclosure policy.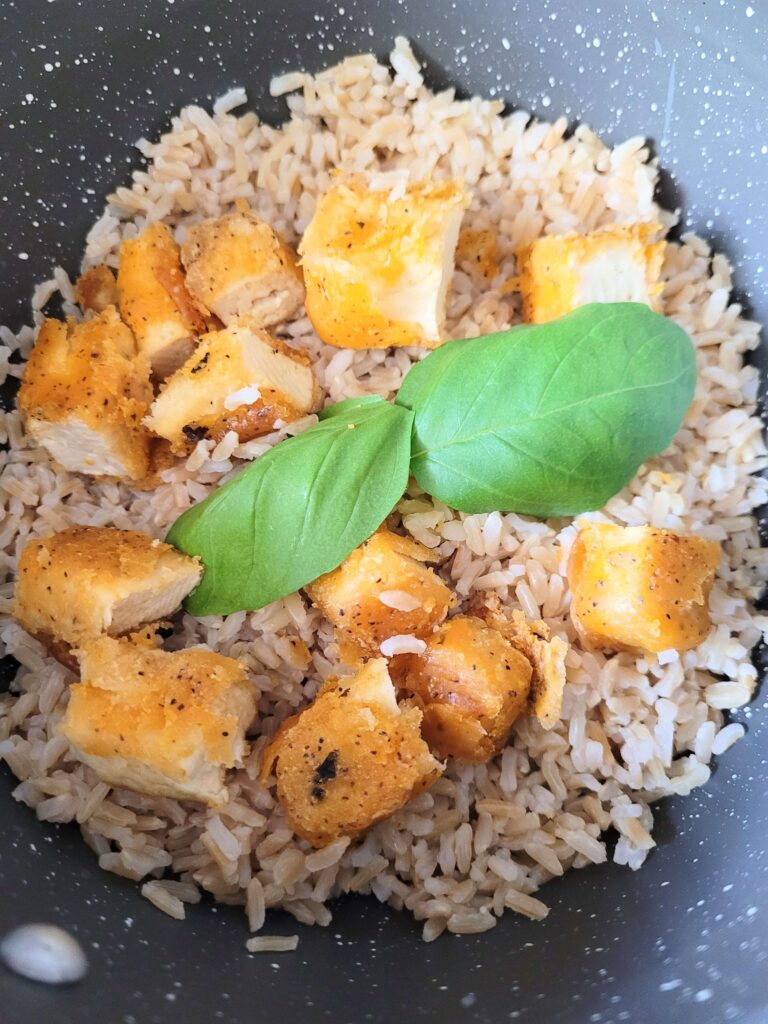 Why you will love these buffalo tofu nuggets:
gluten free-no flour needed in this recipe!
affordable-the price of chicken is really high right now, so making buffalo tofu is not only vegan and vegetarian, but also a lot cheaper than making chicken!
crispy coating-this may be a vegan buffalo tofu recipe, but this tofu can get just as crispy as chicken making crispy baked buffalo tofu wings. It's like buffalo chicken without the chicken!
high in protein-eating buffalo tofu wings does not mean skimping out on the protein in your diet. Tofu has plenty of plant based, nutricious protein.
low number of ingredients-not many ingredients means less mess to clean up and more clean eating!
low prep time-using the air fryer cuts down on preheating time and cook time.
What is buffalo sauce made of?
Common ingredients in buffalo sauce include ceyenne pepper, vinegar, water, soybean oil, spices, and preservatives. If you want to make your own buffalo sauce, there are some great ways to make some.
What do tofu buffalo wings taste like?
These taste fairly similar to spicy chicken nuggets. I find them more enjoyable than chicken wings because they are not as stringy as chicken meat is.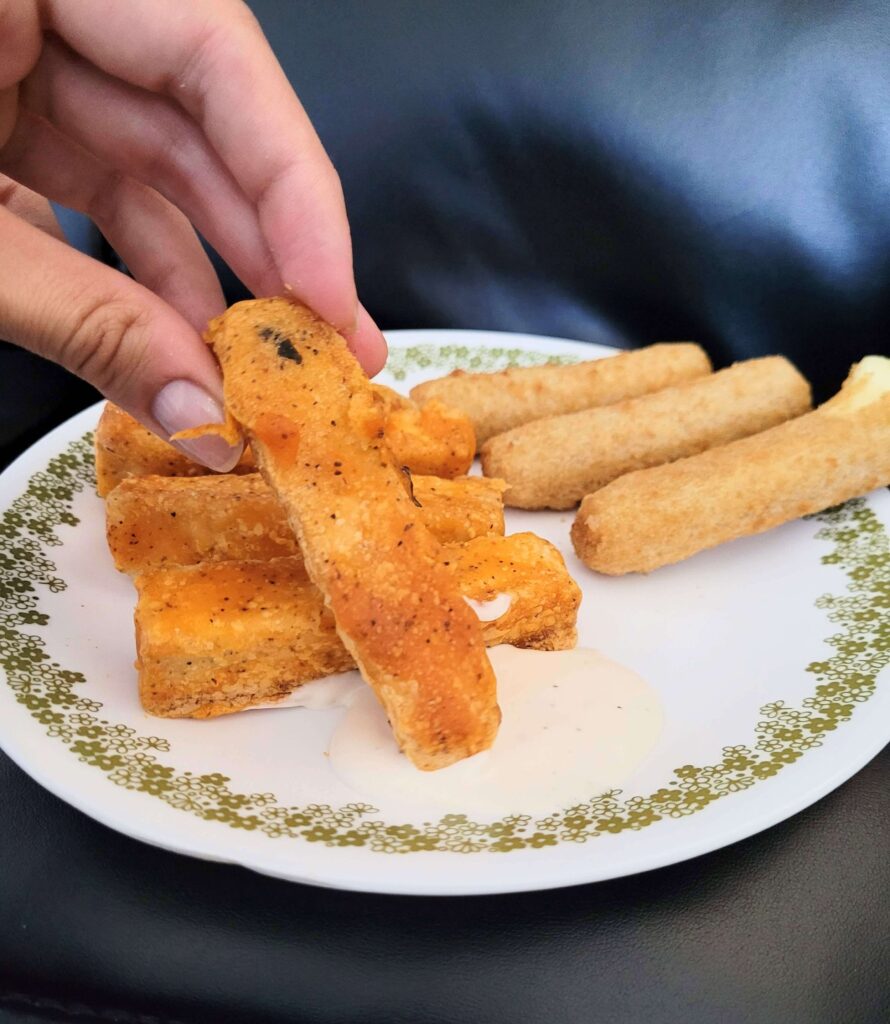 Ingredients needed to make buffalo tofu:
firm tofu-extra firm works too. We just don't want any soft tofu.
cornstarch-this will help coat the tofu
onion powder-adds flavor
garlic powder-adds flavor
black pepper-adds flavor and color
buffalo wing sauce-adds extra spicy flavor and gives the buffalo name
olive oil-adds oil to help coat tofu pieces. This recipe is dairy free since it uses oil instead of milk to coat.
How to make buffalo tofu wings:
press tofu-press piece of tofu with a tofu press or in the description I give below of how to press tofu if you don't have a tofu press. I typically cut tofu in half height wise so the contraption won't be so tall while pressing it.
dry mixture-in a small bowl, put cornstarch and seasonings. This will help absorb excess water from the tofu. Bake with this mixture on.
wet mixture-save dishes by making the wet mixture in the same bowl as the dry mixture! Air fry with this mixture as well so it is double coated in flavor! Serve with your favorite dipping sauce!
You can use the oven to make this easy baked buffalo tofu. Preheat to 400 degrees, and follow the directions the same, just add 3 minutes onto the air fryer basket time for each section.
Common questions while making tofu:
Where is tofu in the supermarket?
I either find it in the section by the premade salads or by the regridgerated dressings in the produce section of the store.
Do I have to press my tofu?
Yes, it would be ideal if you pressed your tofu before making this buffalo tofu recipe. If you do not press your tofu, then it does not hold its shape very well while cooking. The shape is what makes the texure taste like it does.
If you use super super firm tofu, then you might not have to press it as much.
How to press tofu:
I place a thin kitchen towel on a cutting board(make sure it is a clean dish towel), then place my 2 tofu slabs next to each other. The towel soaks up the excess liquid.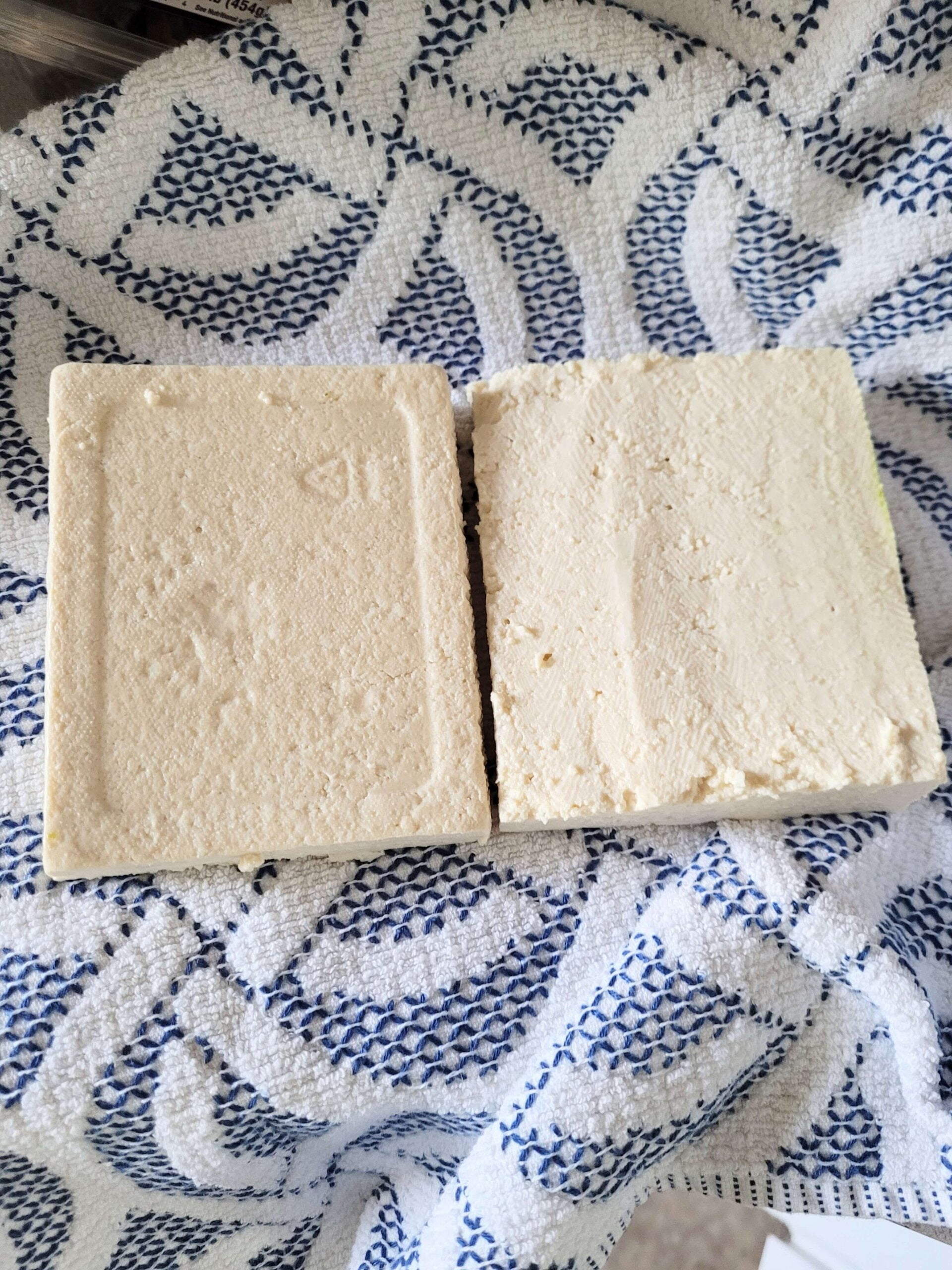 Fold over the towel so it is almost hugging the tofu.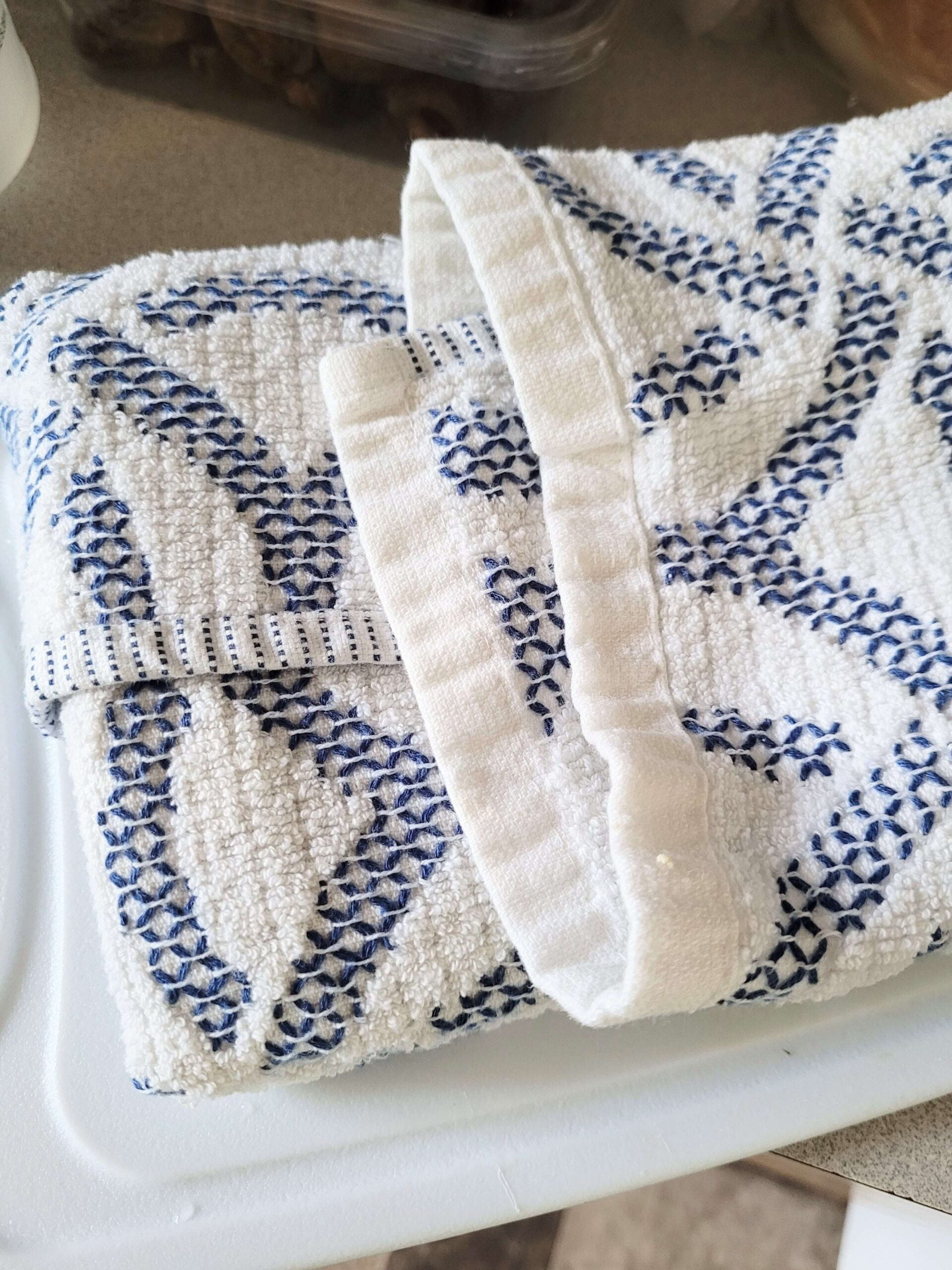 Place heavy object (I use a small storage bin filled with shoes) on top. Press for 20 minutes, then flip over tofu and towel and press again for 20 minutes on the other side. You can put a heavy pan on top and put books on top the pan too!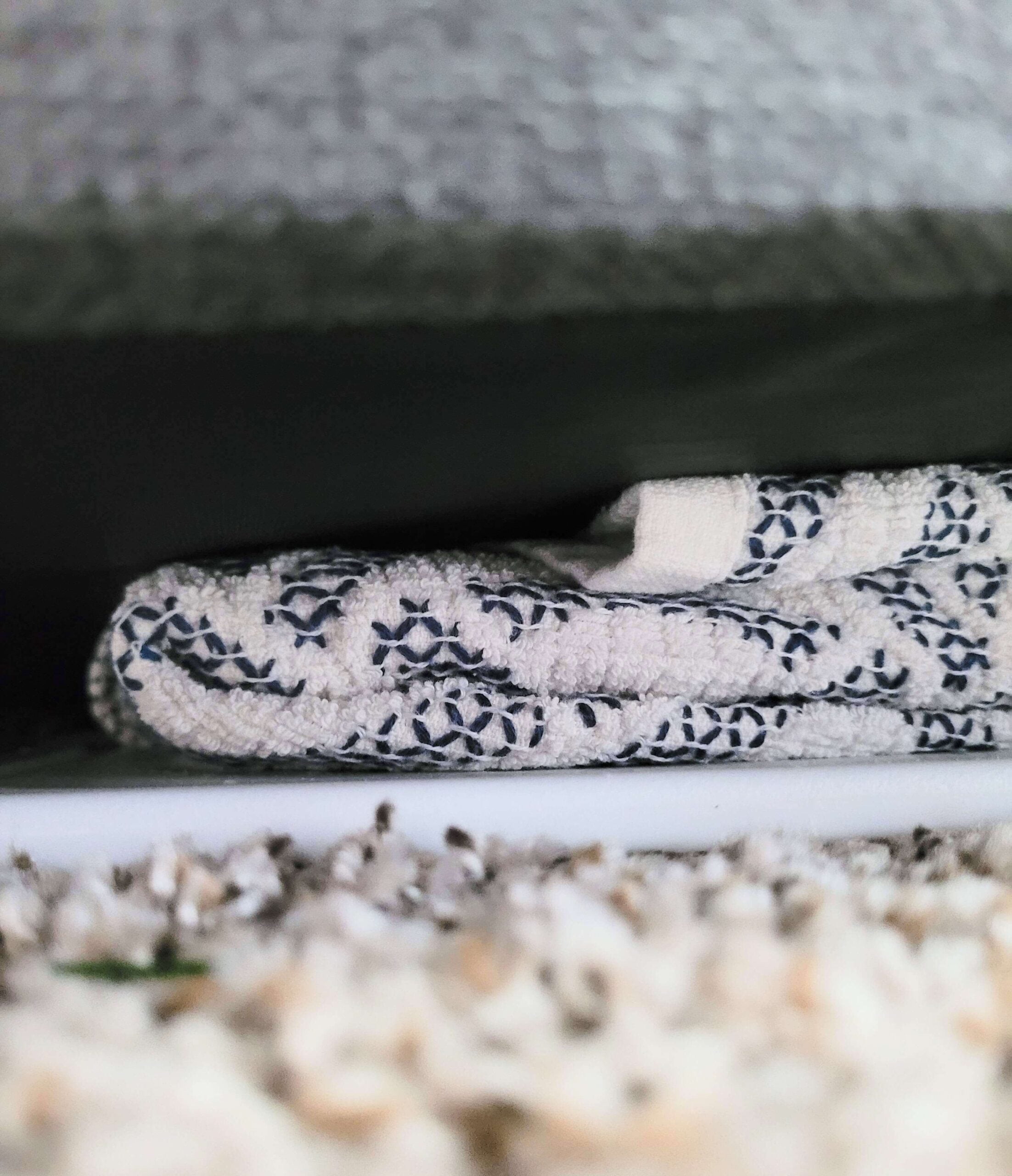 How to serve tofu hot wings:
There are so many ways to serve buffalo tofu! You can cut them into smaller pieces and make them into vegan buffalo tofu nuggets. This would make a great appetizer for a main dish like french dip or pesto pasta.
Another option is to make a buffalo tofu wrap. Put the pieces in a wrap with lettuce, your favorite sauces, and a tortilla.
If you wanted to make a variation of this, you can leave the tofu block as is and not cut it into strips. Just cut it into thin slices height wise so it is still a large slab. Prepare like normal but then serve as buffalo tofu sandwich on a bun!
Can tofu be reheated?
Yes! How to reheat this buffalo tofu meal and store leftovers is pretty simple! Store in an air tight container in the fridge for up to about 4 days. Reheat using the air fryer (5 minutes) or microwave. It should only take about a minute to reheat using the microwave, it just does not get as crispy as the air fryer does.
Check out my other tofu recipes:
Recipe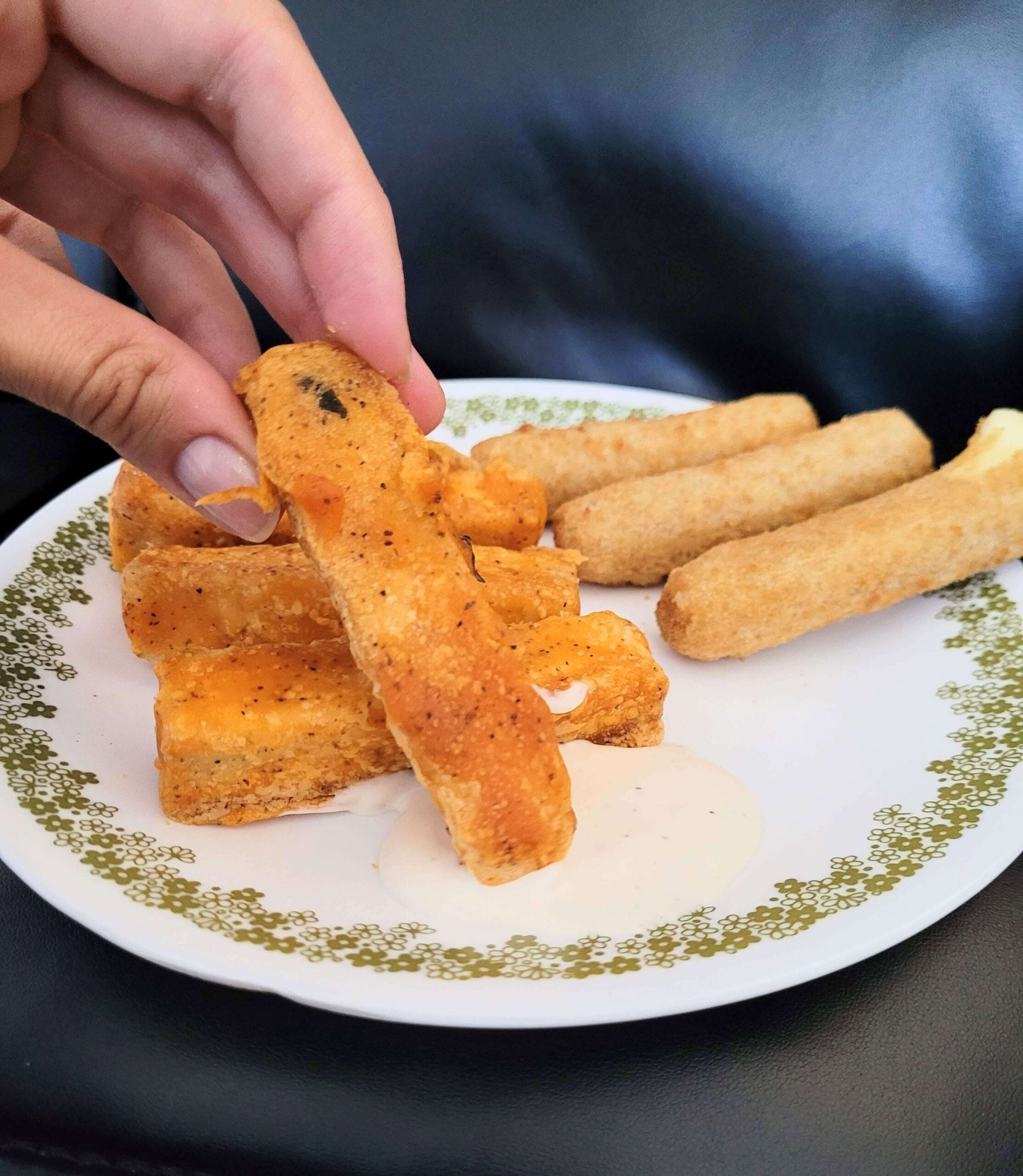 Buffalo Tofu in the Air Fryer
Turn a block of tofu into a delicious game day appetizer! Also tastes good in buffalo tofu wraps or make bigger slices for buffalo tofu sandwhiches.
Ingredients
1

block

firm tofu

½

cup

cornstarch

½

tablespoon

black peppper, garlic powder, and onion powder

⅓

cup

buffalo wing sauce

3

tablespoon

olive oil

2

tablespoon

water

optional
Instructions
Pressing Tofu:
Cut tofu block in half height wise so it is easier to get out moisture. Press tofu as you normally would or follow my directions below:

How I press tofu: I place a thin towel on a cutting board, then place my 2 tofu slabs next to each other. The towel soaks up the excess water. Fold over the towel so it is almost hugging the tofu. Place heavy object (I use a small storage bin filled with shoes) on top. Press for 20 minutes, then flip over tofu and towel and press again for 20 minutes on the other side.
After pressing tofu:
Preheat the air fryer to 400 degrees.

Cut both tofu slabs into strips about a half inch wide. You can either cut long or short strips depending what you are using these buffalo tofu bites for.

Stir together cornstarch, and seasonings in a small bowl. Roll each tofu strip in this mixture and shake excess cornstarch off. Place each strip in the sprayed air fryer basket. Spray tops of tofu with cooking spray. Air fry for about 8 minutes. Do not discard extra cornstarch mixure!!

Turn over tofu strips and air fry for 4 minutes. While waiting, pour remaining ingredients in cornstarch mixture bowl. You can add more cornstarch if you find it to be too runnny or you can add a little water if it is too thick.

After the 4 minutes, take out tofu strips out of air fryer and roll each of them in the new buffalo sauce mixture. Re-spray air fryer basket and place buffalo tofu bites in the basket. Air fry for about 3 minutes each side.

When the buffalo sauce looks like it is dry, you can remove from the air fryer basket and serve with your favorite sauces!
---
All information presented on this site is intended for informational purposes only. Nutritional facts listed are a rough estimate and should only be followed as a general idea.