These Double Chocolate Chip Banana Muffins without milk are a great way to use up those brown bananas sitting in your fruit bowl. These banana chocolate chip muffins with cinnamon also solves a chocolate craving as they have cocoa powder and chocolate chips. The bananas make it somewhat healthy though! These muffins also got a purple ribbon at the county fair, so I say they are pretty tasty!
This post may contain affiliate links. This means if you click on a link and purchase something, I may earn a small commission from it. In the footer of this page is my full disclosure policy.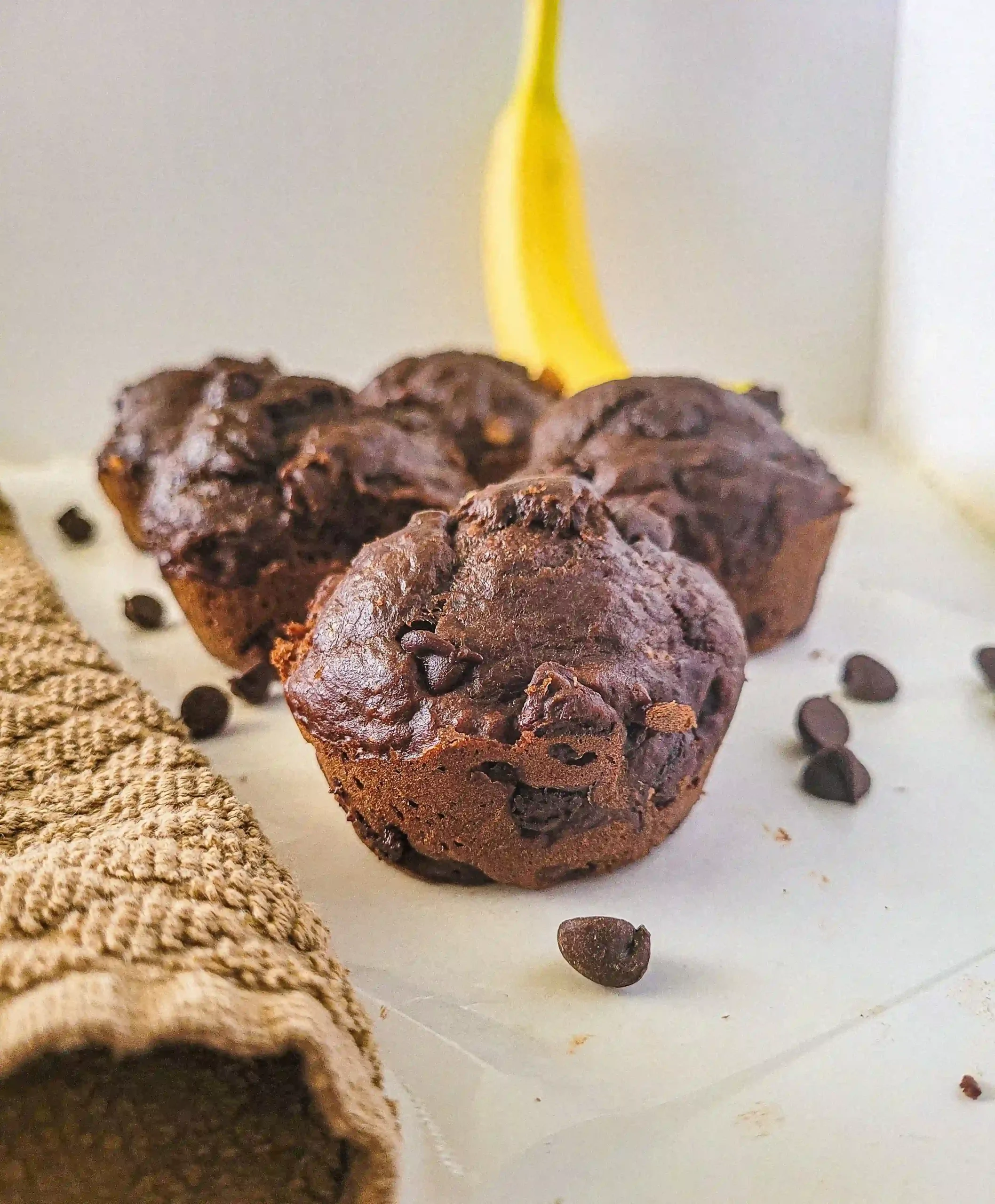 Do not let your brown bananas go to waste! Brown bananas are still bake-able bananas. Click here if you need more ideas on how to use up your brown bananas.
This was the first food I made after my last surgery, and these easy chocolate banana muffins without butter did not disappoint. Super easy recipe to make trying to get back into the swing of things after recovery.
Reasons to love this Hershey Chocolate Chip Muffin Recipe:
They are an easy breakfast to grab in the morning and go about your day.
A GREAT way to get fruit into your diet (kind of)!
Who doesn't love double chocolate???
Uses up brown bananas you don't want to eat by themselves.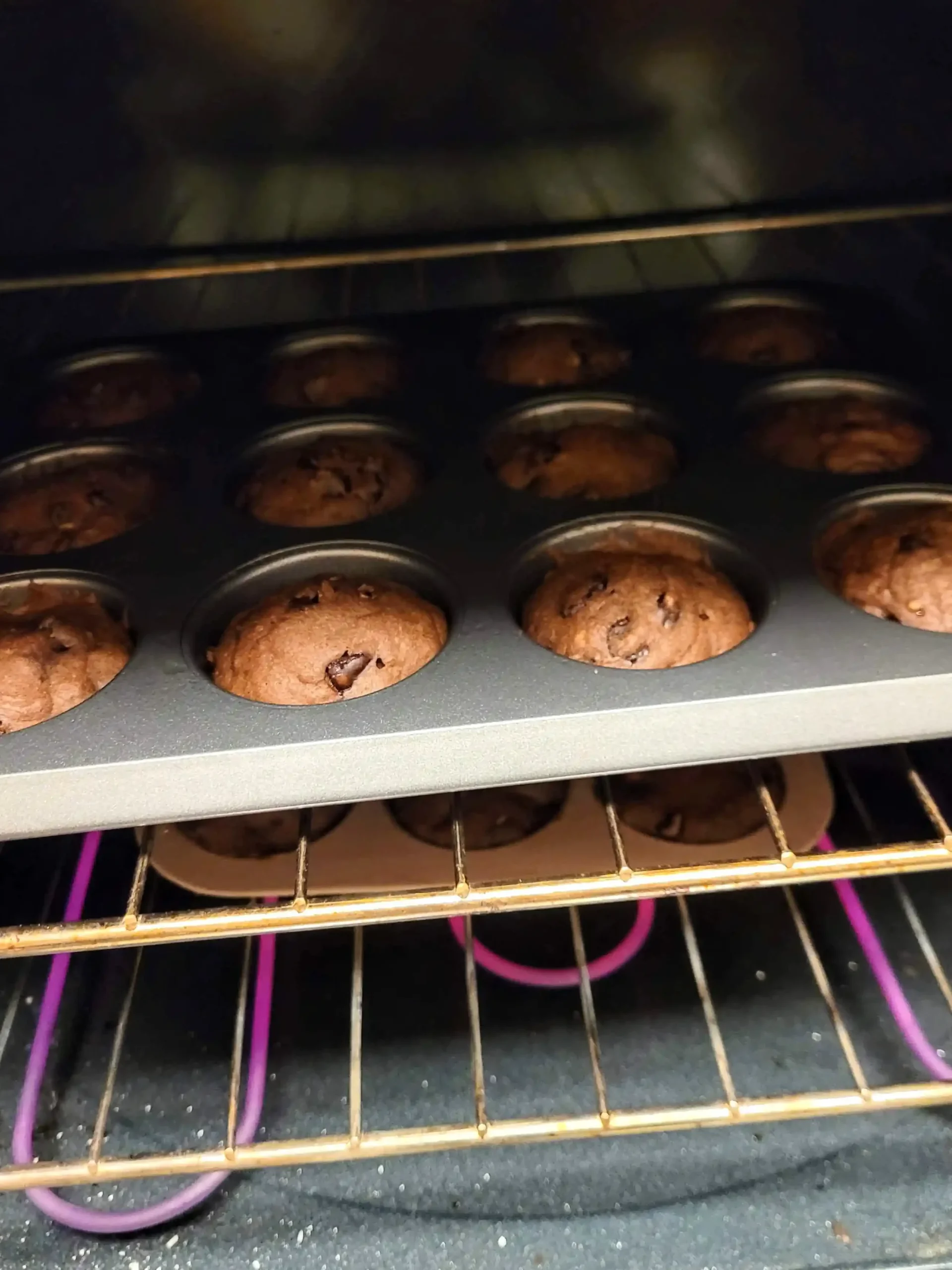 Ingredients:
Bananas - I use fairly large bananas
Sugar - provides sweetness
Flour - helps bananas be less sticky
Cocoa powder - adds chocolate flavor
Baking soda - helps muffins rise
Baking powder - also helps muffins rise
Cinnamon - adds flavor
How to make excellent chocolate banana muffins:
Beat banana, sugar, and eggs together-this stage is vital because that way it doesn't have any lumps in the muffins
Stir together dry ingredients, and combine with wet ingredients. Stir in chocolate chips.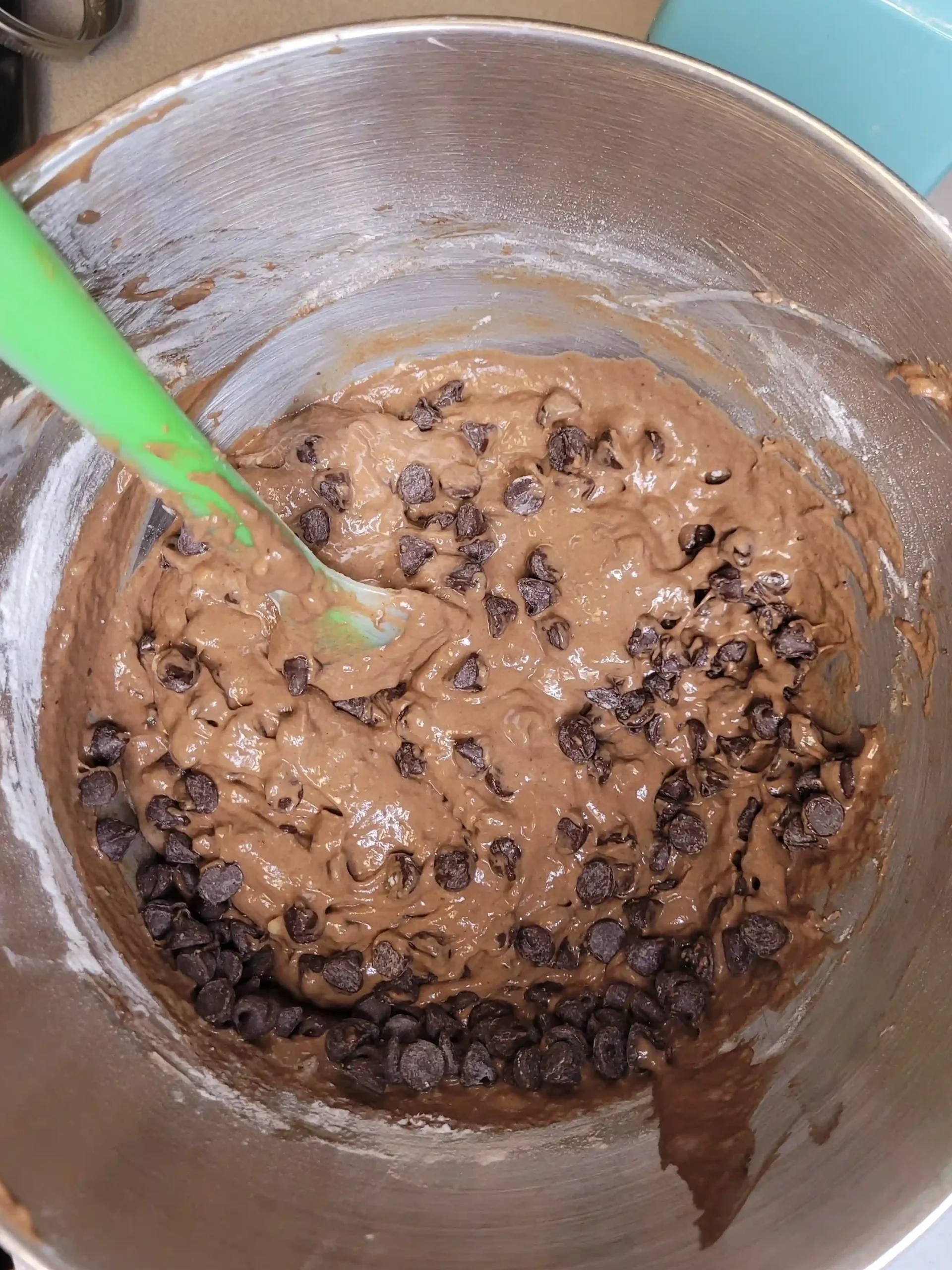 Bake the muffins until toothpick comes out clean!
Variations of these easy chocolate banana muffins:
More or less banana-If you want to use more bananas in this chocolate chip banana muffin no butter recipe, you can add 1 more banana. If you don't have enough bananas, 3 bananas works as well. 3 bananas also makes this dessert a darker color.
More cocoa powder-more cocoa powder would make this chocolate recipe, even more chocolatey!
Vanilla chips-you can make white chocolate chip banana muffins if you use white chocolate chips instead of regular chocolate chips!
Dairy free-this muffins can easily be made dairy free if you use dairy free chocolate chips.
Dark chocolate-you can use dark chocolate chips to add additional health benefits to these chocolate banana muffins instead of using milk chocolate.
Add vanilla-most baking recipes do have vanilla in them. You can add vanilla if you would like for additional flavor.
Add nuts-nuts provide extra nutritional value. If you want extra crunch, add in ½ cup of nuts.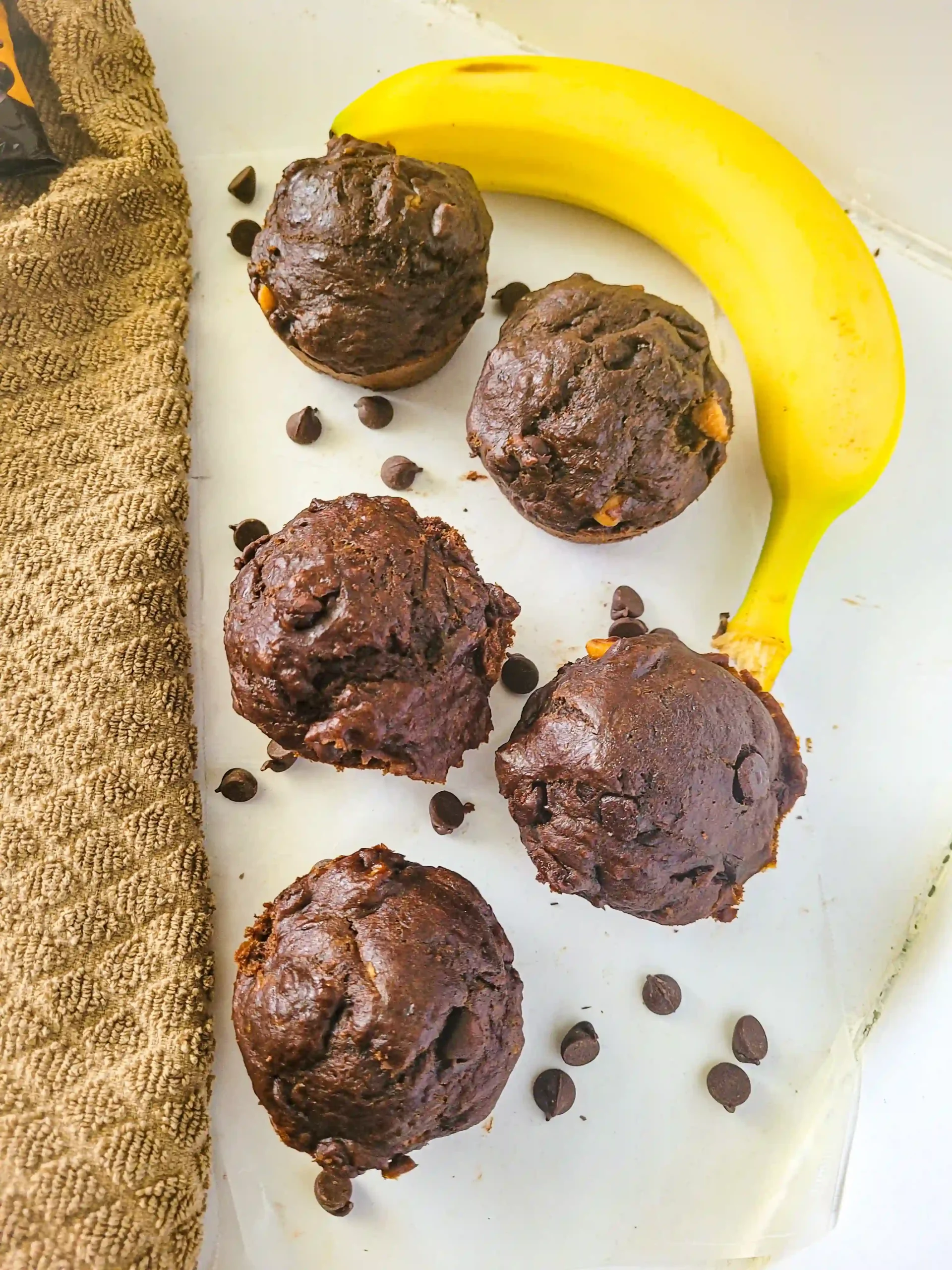 Check out my other best muffin recipes:
How to store these double fudge banana muffins:
Refrigerator-my family always stores all fruit desserts in the fridge. I have stored them in a sealed Tupperware container on the table room temperature before. However, they developed a weird film on them, so I would not recommend that. They will keep longer in the fridge too. They do tend to dry out after a while, so it is best to try and eat them while they are fresh.
Freezer-I have not tried freezing these. If you do try it, let me know how it goes!
Recipe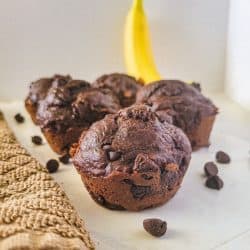 Chocolate Chip Banana Muffins
These Chocolate Chip Banana Muffins are a great way to use up those brown bananas sitting in your fruit bowl. They got a purple ribbon at the county fair, so I say these easy banana muffins are quite tasty.
Ingredients
4

ripe bananas

1

egg

¼

cup

oil

¼

cup

sugar

1 ½

cup

flour

⅓

cup

cocoa powder

1

teaspoon

baking soda

¼

teaspoon

baking powder

1

teaspoon

cinnamon

1

cup

chocolate chips

dash of salt
Instructions
In a large bowl, beat together bananas, egg, and oil for about 2 minutes. Add in sugar. Mix until no lumps.

In a smaller mixing bowl, stir together, flour, cocoa powder, baking soda, baking powder, cinnamon, and salt. Add to the wet ingredients. Stir until combined. Stir in chocolate chips.

Spray 12 muffin tins. Pour batter into those muffin tins so they are about ¾ of the way full. They do rise, so do not overfill.

Bake for 18-20 minutes at 350 degrees. Allow to cool in muffin tins for about 2 minutes. After that, remove muffins from muffin tin with a fork and place on a wire rack or plate. Allow to cool before eating your Banana Chocolate Chip Muffins.
Nutrition
---
All information presented on this site is intended for informational purposes only. Nutritional facts listed are a rough estimate and should only be followed as a general idea.