When deciding to make steak or shrimp fajitas, you might as well do both and make steak and shrimp fajitas! How to make fajitas is relatively easy as this recipe is made with leftover steak. No need to spend time prepping and marinating the steak for this fajita recipe. This is a one pan meal, which makes less dishes!
This post may contain affiliate links. This means if you click on a link and purchase something, I may earn a small commission from it. In the footer of this page is my full disclosure policy.
Ingredients:
Butter - helps cook the shrimp
Shrimp - main part of recipe
Leftover steak - beef portion of recipe
Chopped bell pepper - provides flavor and color
Chopped onion - adds flavor
Minced garlic - adds flavor
Tortillas - serve with beef and shrimp fajitas
Fajitas seasoning - seasoning for the recipe
How to Make Fajitas
There is a couple of different ways to prepare this meal as well. In the picture, I assembled the steak fajitas a different way than they are traditionally served at a restaurant. In a restaurant, the waiter usually comes out with a frying pan of steak and shrimp with peppers. Then, a container of warm tortillas to assemble yourself along with a plate of toppings. I like melted cheese on my shrimp fajitas though. So assembling with a plain tortilla shell is unappealing to me. I just fried each tortillas in a skillet with melted cheese, and then folded it over for the picture. There is a gap at the top so I could hold it like a hard taco shell and then put lettuce, sour cream, salsa, and guacamole at the top.
Best Steak for Fajitas:
For this recipe, I used leftover sirloin tip steak. Fajitas are a great way to use leftover steak as all the seasonings and sauces cover up the dry, leftover steak. You can also use flank steak or cube steak instead.
What to Serve with Homemade Steak and Shrimp Fajitas
Homemade tortillas! I love serving these fajitas with freshly shredded cheese on a homemade tortilla. Sour cream, salsa, fresh onions, cilantro, and guacamole are super good on top! If you are feeling extra flavor, I recommend adding beans or rice to the tortilla shell as well.
Variations of Steak and Shrimp Fajitas
Add other proteins-if you want additional protein to your Mexican fajitas, you can add chicken or hamburger! Some people like to add tofu as well.
Cast iron skillet-you can make the steak and shrimp fajitas in a cast iron skillet if you so wish. Prepare the same as the steak and shrimp fajitas stove top directions say but use the cast iron!
Oven-you can make the shrimp fajitas in the oven. Just preheat oven to 375 degrees and place shrimp and steak pieces on a sprayed baking sheet. Place in oven for about 10 minutes or until the steak is heated throughout and shrimp is curled.
Air fryer-air fryer steak and shrimp fajitas can be super tasty. If going this method though, I do not recommend putting the shrimp and steak in the air fryer at the same time. The steak might get too crispy in the air fryer, and most people like their steak kind of chewy still without a hard coating. Put the shrimp in the air fryer first for about 5 minutes until the ends start to curl, then add the steak to heat it up. You can also microwave the steak to warm it up as well if you would like since this recipe is using leftover steak.
Griddle-if you have your griddle out from breakfast still, you can make steak and shrimp fajitas on blackstone grill just like you would on regular stove top.
Add other seasonings-if there is a favorite seasoning of yours that I did not add to the recipe, you can definitely add it at your own accord.
How to store steak and shrimp fajitas
Fridge - store this recipe in an air tight container in the refrigerator for up to one week
Freezer - I have not tried freezing this recipe. I do not think it would freeze and thaw very well. If you would like to try it, go for it! Let me know how it goes. 
Check out my other Mexican recipes
Recipe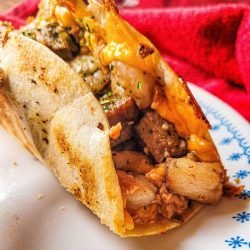 Beef and Shrimp Fajitas No Marinate
Bring the best kinds of fajitas together by making this steak and shrimp fajitas recipe. This steak fajitas recipe uses leftover steak.
Ingredients
4

tablespoon

butter

2

cups

shrimp

2

cups

leftover steak

¼

cup

chopped bell pepper

¼

cup

chopped onion

2

tablespoon

minced garlic

4

tortillas

3

tablespoon

fajitas seasoning

½

teaspoon

both salt and pepper
Instructions
In a large skillet, melt 2 tablespoon butter. Add shrimp and cook until tails curl.

Add 2 tablespoon of butter, and toss in leftover steak, bell pepper, onion, and garlic. Sprinkle seasonings on top. Cook until steak is warm throughout and flavors are blended.

For assembly, place mixture in tortillas. Top off with lettuce, cheese, sour cream, salsa, guacamole, etc.
---
All information presented on this site is intended for informational purposes only. Nutritional facts listed are a rough estimate and should only be followed as a general idea.