This chicken tamale casserole with jiffy mix is not too spicy! Easy tamale casserole for all spice levels. The sweet corn muffin mix blends well with the savory enchilada sauce. I was a little hesitant at first because I did not know how it would blend, but it blended in a perfect way. This chicken cornbread tamale casserole recipe serves 10-12 people and is 365.11 kcal per serving.
This post may contain affiliate links. This means if you click on a link and purchase something, I may earn a small commission from it.
Favorite ingredients to use for this cheesy chicken rice casserole recipe:
chicken breast-for protein, use the bag kind for simplicity
rice-Knorr Mi Arroz seasoning mix with long grain, enriched rice. If you don't have the seasoning, click here for a Spanish rice with salsa recipe.
corn-for hidden nutrients
milk- whole milk
seasonings-to add flavor
cheeses-shedded
enchilada sauce- To flavor the mixture. If you want to homemade your own, click here.
Overview of Mexican chicken casserole recipe:
make cornbread layer-this will be the base of the tamale egg casserole. These ingredients include muffin mix, corn, eggs, milk, cayenne pepper, cumin, oregano, celery salt, and cheddar cheese. Bake.
cut slits in cornbread-this will be where the enchilada sauce will enter the inside of the casserole. Only pour enough sauce on top so that still gets absorbed. You do not want it swimming in sauce or else it will get soggy. Save remaining sauce for final topping.
bake again with chicken, rice, and shredded cheese. Serve!
Toppings for jiffy tamale casserole:
How to serve tamales is fairly easy. I like to put the usual Mexican toppings on my chicken tamale bake! These include, salsa, sour cream, guacamole, refried beans, scallions, extra cheese, etc. Do not forget about the leftover enchilada sauce you can put on top as well!
Cheesy chicken tamale casserole recipe variations:
omit rice-if you want to cut back on calories, you do not have to add rice to the top of the chicken tamale casserole.
change seasonings-if you have other seasonings you normally use on Mexican recipes, you can use those in lieu of or in addition to the spice options I provided.
sauce-you can probably use green enchilada sauce instead of red enchilada sauce to change it up on top of this tamale casserole with cornbread.
Check out my Mexican main dishes:
How to store chicken tamale casserole without masa:
fridge-store this chicken breast recipe in an air tight container in the refrigerator for up to one week
freezer-I have not tried freezing this tamale casserole recipe. If you would like to try it, go for it! Let me know how it goes. I would not see a reason as to why it would not work as cornbread is definitely freezable.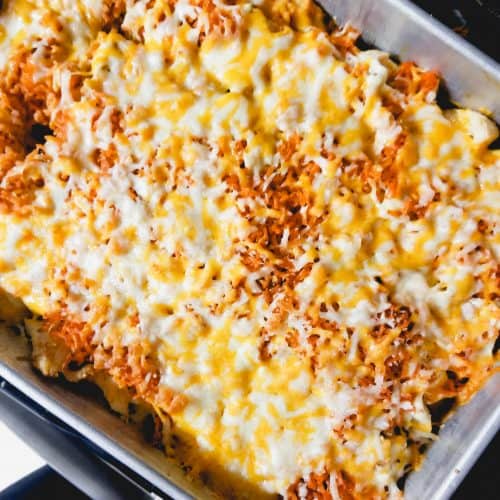 Chicken Tamale Casserole
This chicken tamale casserole without masa is not too spicy! Great chicken tamale recipe for all spice levels. Chicken tamale casserole with jiffy mix has the perfect blend of savory and sweet.
Ingredients
2

cups

of shredded cooked chicken breast

2-3

cups

of cooked Spanish rice

8.5

oz

Jiffy corn muffin mix

1 14.5

oz

can of cream-style corn

2

eggs

½

cup

milk

1

tablespoon

chili powder

1

teaspoon

cayenne pepper

1

teaspoon

cumin

1

teaspoon

oregano

1

teaspoon

celery salt

2

cups

cheddar cheese

2

cups

red enchilada sauce

1

cup

cheddar jack cheese
Instructions
In a large bowl, stir together muffin mix, corn, eggs, milk, cayenne pepper, cumin, oregano, celery salt, and 1 cup cheddar cheese. Pour into a sprayed 9x13 baking dish. Bake for 18-20 minutes at 400 degrees.

When the 20 minutes are up, take dish out of oven and stab the cornbread with a condiment spreader knife so create little slits all over. Pour 1-to 11/2 cups of the enchilada sauce over the cornbread ensuring that the sauce goes into the slits. Save remaining sauce as you do not want to pour it all in or the cornbread will get soggy.

On top of the enchilada sauce, place shredded chicken, rice, and then the remaining cheese on top. Bake for 10 minutes at 400 degrees or until cheese is melted.

Cut and serve your chicken tamale casserole! Each person can use as much of the remaining enchilada sauce on their plate as they want for topping. Can also garnish with sour cream, salsa, and guacamole. If you need a guacamole recipe, click here.
Nutrition
---
All information presented on this site is intended for informational purposes only. Nutritional facts listed are a rough estimate and should only be followed as a general idea.