This is the best recipe for salmon salad. I have not made salmon very many times before, but this tastes like a restaurant! I whipped up this salmon avocado salad recipe really quick, so I was impressed with myself. If I am an amateur at making salmon and can make this, so can anyone! I baked it skin side down and cut the flesh apart from skin after it was done baking. This salmon salad sandwich recipe serves 3 with no leftovers.
This post may contain affiliate links. This means if you click on a link and purchase something, I may earn a small commission from it.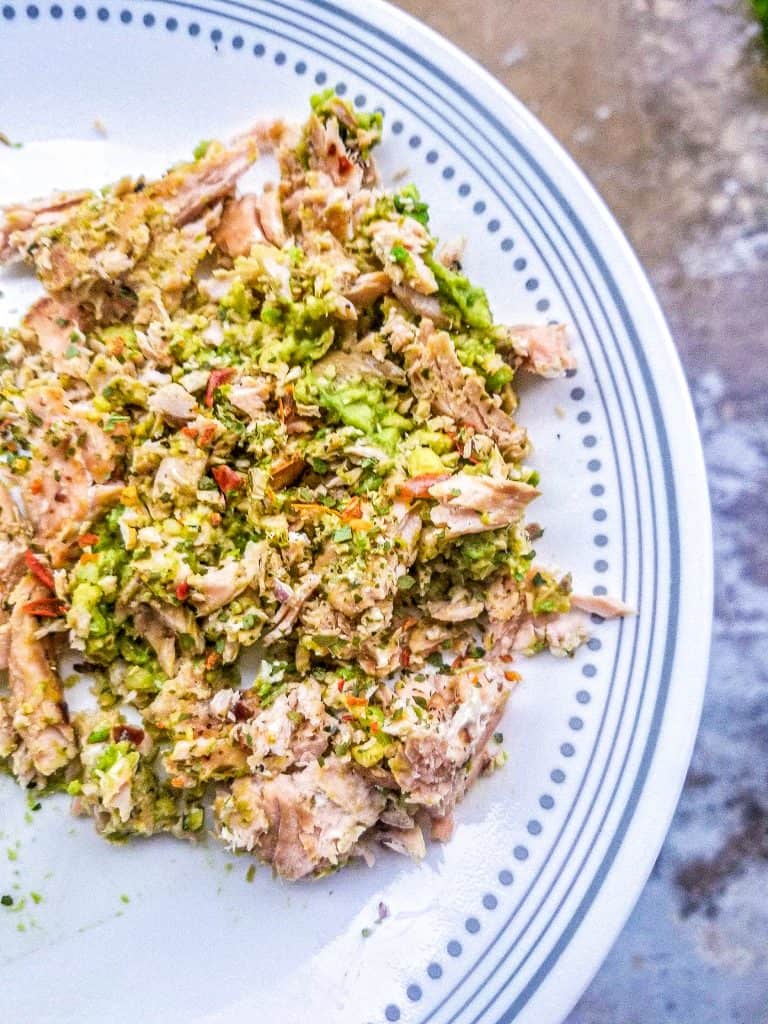 If you want to know how to choose an avocado, click here. I always forget how to know if what looks like a good avocado or not, so it is good to refresh the memory!
Favorite brands for this easy salmon recipe:
salmon-I do not have a favorite brand. I usually buy the one that is on sale during lent. Any salmon fillet would probably work though. I like to spend the extra money getting mine without skin because it is a pain to try and scrap it off. Since I was new to making salmon when I first wrote this recipe, I mention salmon with the skin on. Since becoming a salmon enthusiast, I do like to spend the extra money and get it with the skin off.
red pepper flakes-honestly, I have been using the sample packets from Pizza Hut.
garlic pepper- I am not sure what brand it is, but I found it in the cupboard. It is a game changer for this recipe! It is worth the investment if you do not have some already.
avocados-haas small. Haas large avocados would work too, but I find that these do not keep as long sometimes. They are more expensive than the small ones most of the time as well.
Overview of this healthy salmon recipe:
prep the salmon-rubbing the salmon with olive oil will help the seasonings stick and aid in making the fish not stick to the pan. Pouring additional oil in the pan will also help. If you wanted to be extra safe though, spray the pan as well. I have had salmon get stuck to the pan way too many times when cooking salmon that still has the skin on.
bake salmon until internal temp reaches 145 degrees. If you do not have a meat thermometer, when the fish turns a more pink color and is no longer clear, then it is done.
stir other ingredients together in a bowl. Add in salmon and season well. Serve on bread or plain.
Salmon avocado salad variations:
more avocado-you can add more avocado if you want this to be more of a spread like chicken or tuna salad.
more salmon-if you wanted there to be more protein in this healthy salmon salad recipe, you can always add more salmon!
seasonings-you can doctor this recipe up using any of your favorite salmon seasonings I may not have mentioned!
What to serve with this avocado dish with salmon?
I like to serve mine with some form of potato! Click here for some other ideas though.
Can I make the salmon part in advance?
Yes! You can cook the salmon and store it in the fridge until you are ready to make the rest of the recipe. You can also use any leftover cooked salmon you may have in your fridge as well.
Check out my recipes for salads:
How to store this baked salmon recipe:
fridge-store this salmon salad recipes in an air tight container in the refrigerator for up to one week
freezer-I have not tried freezing this smoked salmon salad recipe. If you would like to try it, go for it! Let me know how it goes.
Recipe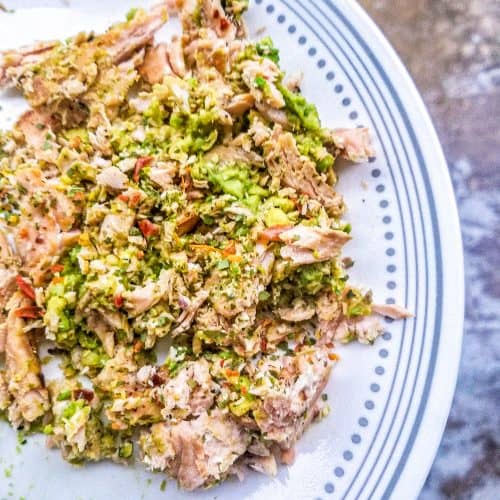 Salmon Avocado Salad
Baked salmon recipe turned into a salmon avocado salad! Very easy salmon recipe with only a few ingredients!
Ingredients
12

oz

salmon fillet

2

tablespoon

olive oil

Seasonings: garlic pepper, garlic powder, salt, pepper, red pepper flakes, parsley

2

mashed avocados

1

tablespoon

minced garlic

2

tablespoon

minced onion
Instructions
Rub salmon with olive oil on both sides. Season with salt and pepper to taste. Place in a 9x9 baking dish that is coated in olive oil.

Bake for 25 mins at 425 degrees or until internal temperature reaches 145 degrees. Remove salmon from oven and cut into small pieces.

Mash avocados on a plate with a fork. Add salmon, onion, and garlic. Stir. Season with parsley, garlic pepper, salt, and red pepper flakes in desired amounts of your choosing. Serve the Salmon Avocado Salad on bread or eat plain!
Nutrition
---
All information presented on this site is intended for informational purposes only. Nutritional facts listed are a rough estimate and should only be followed as a general idea.