I had this Starbucks Pineapple Matcha drink a few weeks ago at Starbucks. It was actually my first time trying matcha! This green Starbucks drink recipe allows you to make the drink at home for less than half the price you would pay there! Refreshing with every sip, this recipe serves 2 people.
This post may contain affiliate links. This means if you click on a link and purchase something, I may earn a small commission from it. In the footer of this page is my full disclosure policy.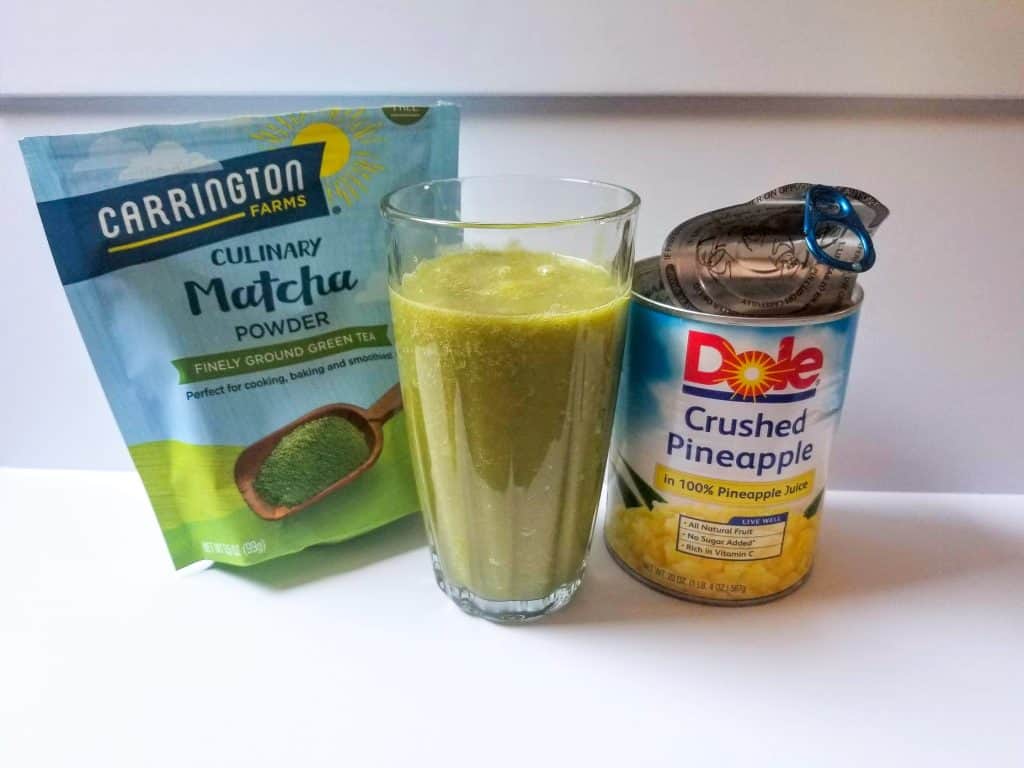 What's in Starbucks Pineapple Matcha recipe?
Matcha - green tea powder
Water and ice -
Crushed pineapple - Dole
How to make iced matcha latte like Starbucks:
Blend crushed pineapple-I like using crushed pineapple because I think it makes the drink taste more pineapple-y. The pineapple may already be crushed, but blending by itself it is necessary to ensure that it is crushed even finer because it can be kind of stringy if you skip this step.
Add water and ice to blender-the ice will add texture and the water will water down the pineapple a little bit so it is not too strong of flavor. Blend until smooth.
Blend again for 2 minutes-you can skip this step, but I believe in an extra 2 minutes of blending time to ensure everything is smooth
Add matcha and blend-this will get the matcha mixed throughout without having to worry if the ice is crushed enough or not
Pour into 2 cups and serve!
If you want to check out my other Starbucks knock-off recipe, click here for my Iced Chai Tea Latte. I also have an eggnog milkshake recipe for the Christmas season as well.
Variations and toppings:
Use pineapple juice-if you don't have crushed pineapple, you can use pineapple juice and skip the first round of blending in this matcha pineapple
Omit water-water is just to make more liquid so everything blends more easily but you do not have to use water if you want a more strong pineapple flavor
Omit ice-the first time I made this Pineapple Matcha recipe, I did not use ice and it turned out fine!
Don't blend ice-I like blended ice because sometimes Starbucks fills the cup of mostly ice and not much liquid, to blending the ice ensures that this is not the case. You do not have to blend the ice at all.
More or less matcha powder-some people do not like a lot of matcha so you can add less if you or someone you are making this for does not like matcha. However, if you really love matcha, you can add more than the amount that is called for.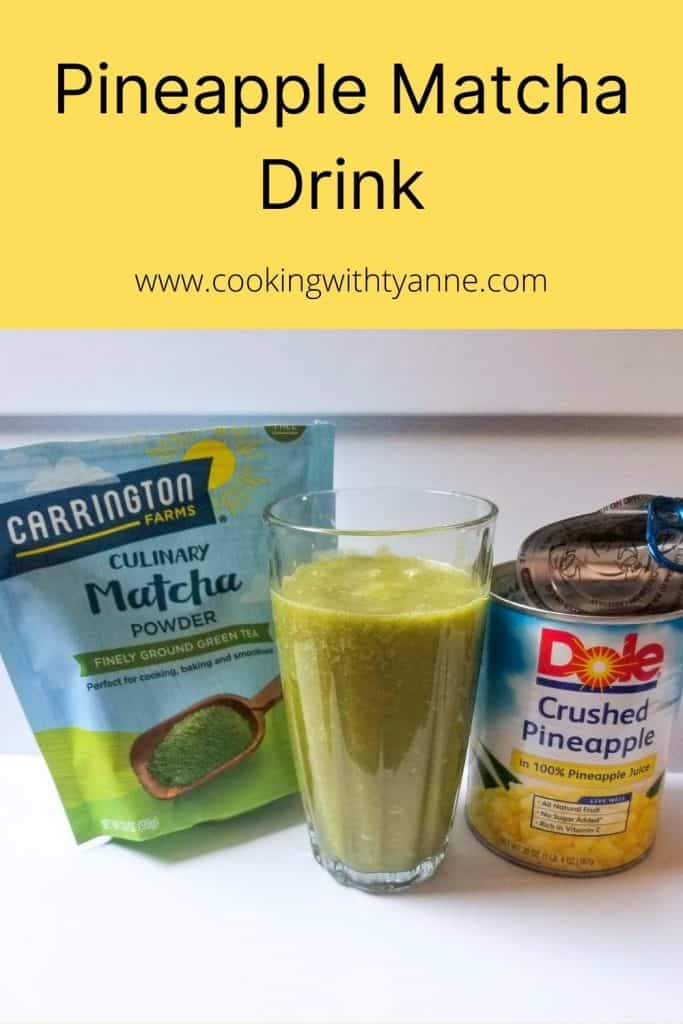 FAQs
What is matcha?
Matcha is made out of ground green tea leaves (why it has a tea flavor) that are ground fine with a stone. It is basically just a tea powder, so it is nothing to be scared of just because it is green. Matcha is also high in antioxidants which makes it healthier than other teas. It is higher in antioxidants because it is a ground tea leaf instead of using a whole tea leaf in water. Brewed tea leaves only release so many nutrients in water versus ingesting the whole leaf when it is ground. If you want to learn more about matcha, click here.
Is using crushed pineapple necessary?
No, pineapple juice would probably work instead of crushed pineapple as well. If using pineapple juice, then you would just skip the first round of blending.
Is matcha caffienated?
Yes, but not the same as coffee. Coffee provides you with a spike in energy right away but matcha provides long lasting energy.
How to store iced green tea latte:
Fridge - store this matcha green tea latte recipe in an air tight container in the refrigerator for up to one week
Freezer - this can be stored in the freezer. Take out and let it thaw until liquid-y enough to drink.
Recipe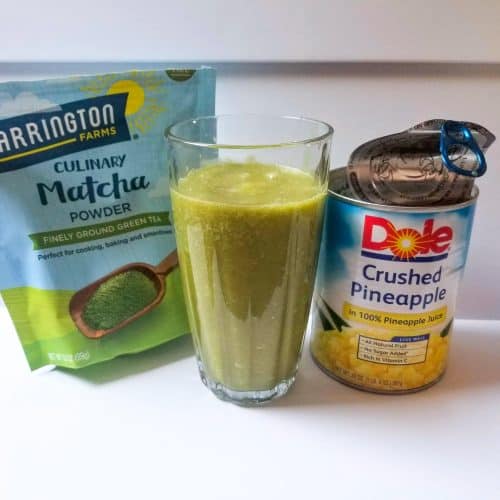 Pineapple Matcha Drink Without Coconut Milk
This green Starbucks drink recipe allows you to make the pineapple matcha drink at home for less than half the price you would pay at Starbucks!
Ingredients
20

oz

can crushed pineapple

½

cup

water

2

teaspoon

matcha powder

6

ice cubes
Instructions
Put the crushed pineapple in a blender. Blend until frothy. Add water and nice. Blend again until mostly smooth. When you think it is mostly smooth, continue to blend for another 2 minutes to make sure it is smooth.

Add the matcha powder to the pineapple mixture. Blend until mixed. Pour into 2 cups. Serve your Iced Pineapple Matcha Drink cold.
---
All information presented on this site is intended for informational purposes only. Nutritional facts listed are a rough estimate and should only be followed as a general idea.