Sauteed asparagus on stove top is the fastest way to cook asparagus, and so customizable to personal preference. Learn how to cook asparagus on the stove with this simple and easy step-by-step guide. From prepping the asparagus to adding seasonings, get tips and tricks for perfect results every time.
This post may contain affiliate links. This means if you click on a link and purchase something, I may earn a small commission from it. In the footer of this page is my full disclosure policy.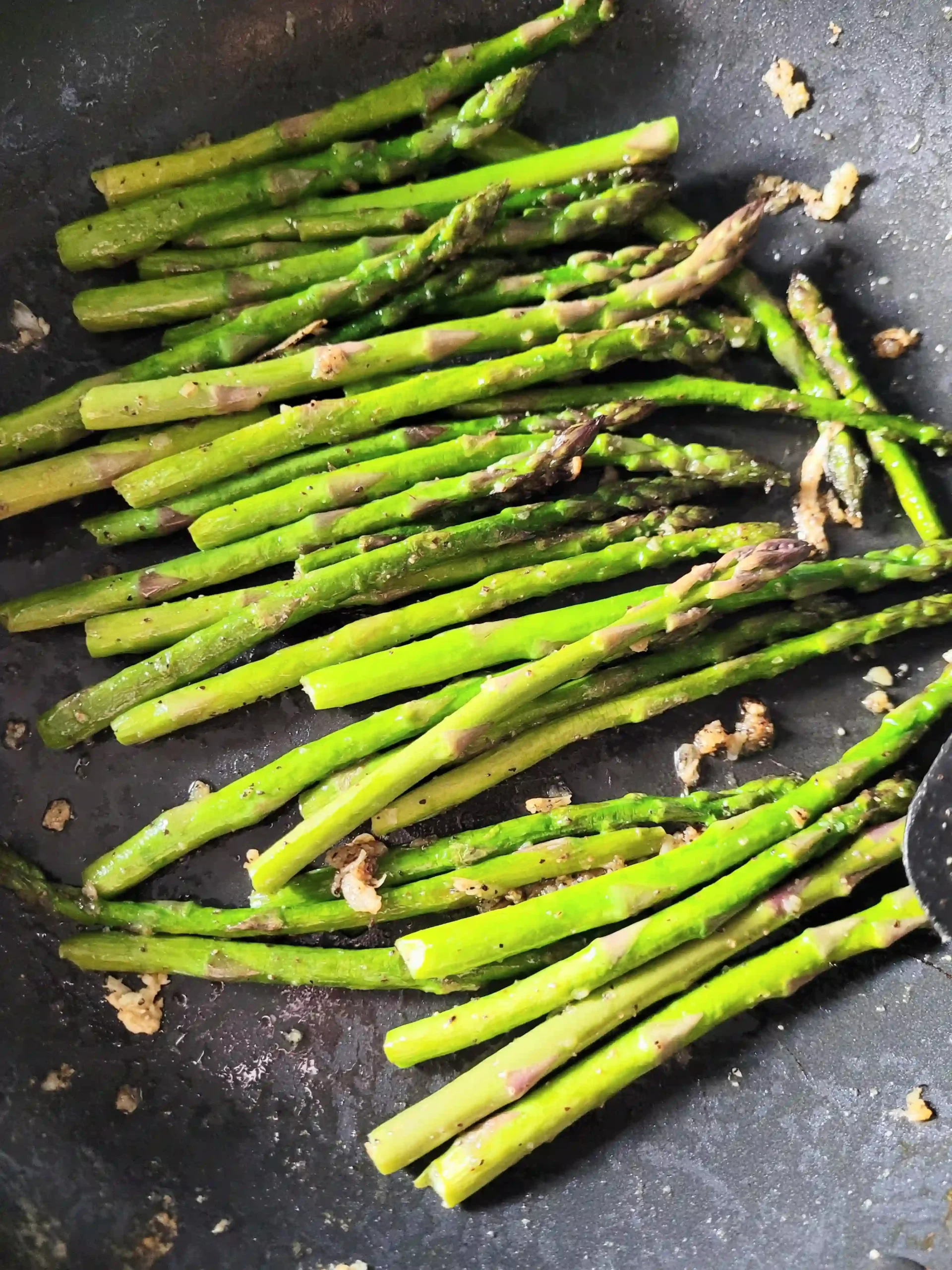 Ingredients
Asparagus - the main ingredient
Butter - to add flavor and oil the pan
Garlic - adds aromatic flavor
Pepper - provides seasoning
How to Cook Asparagus on Stovetop
Cooking garlic butter asparagus on the stove has never been easier! Melt butter in skillet, and add asparagus and remaining ingredients. Stir around in the pan for about 6 minutes until fully cooked.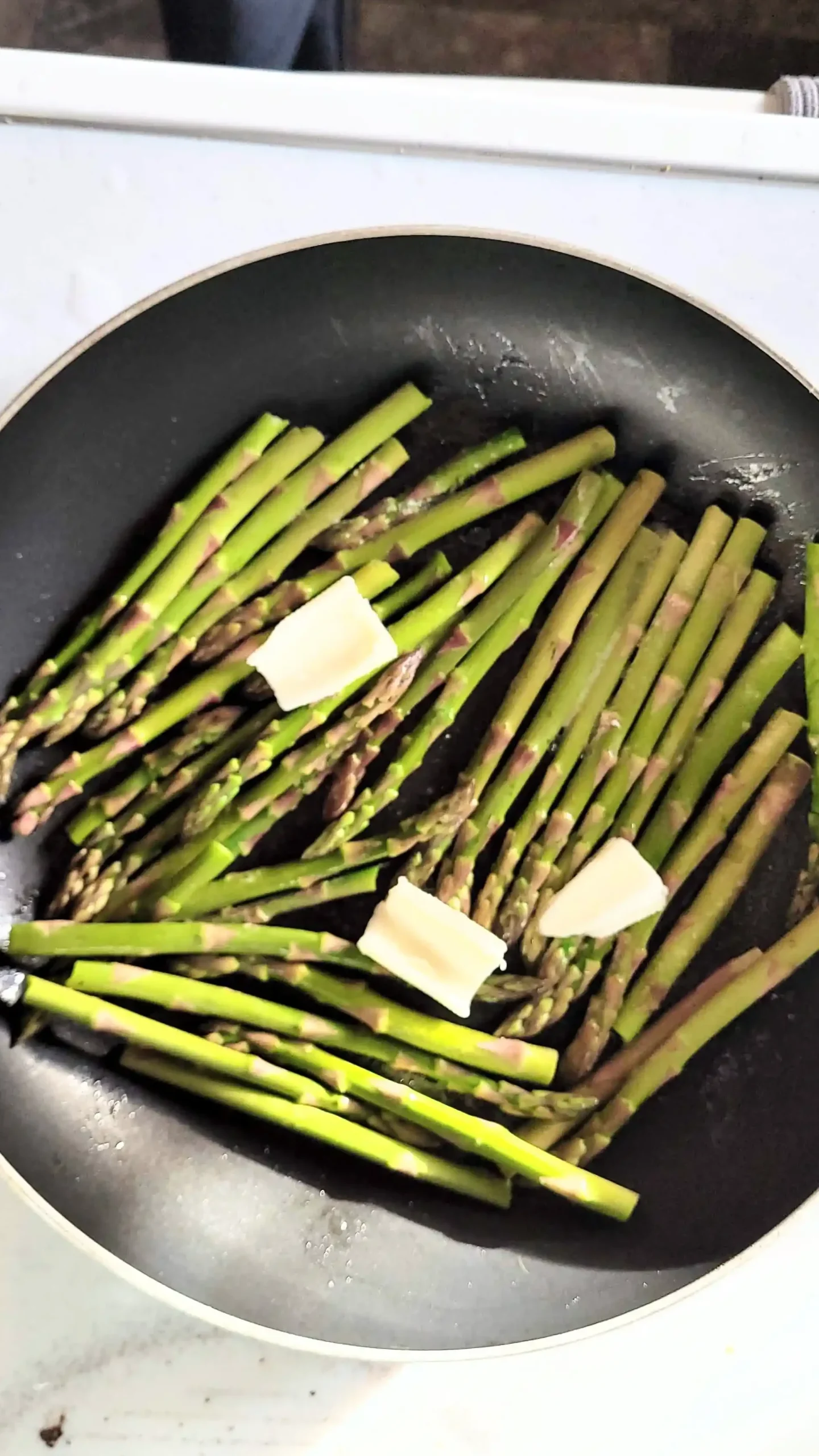 Tips for Making Asparagus on Stove
Don't stack - cook asparagus in the skillet in a single layer. Do not overlap or this will not cook the asparagus evenly.
Add any seasonings - add parmesan cheese or any seasonings you would like to flavor this skillet cooked asparagus.
Quality asparagus - make sure to choose good quality asparagus at the grocery store. Good quality asparagus will be a nice deep green color throughout and have a smooth stalk with no wrinkles. Look for the scale leaves, aka bracts, being closed instead of open.
How to Trim Asparagus
The bend and snap technique. Bend the bottom of the asparagus until it breaks at the weak point. This will allow the hard woody part to come apart from the stem we are going to eat. Not all your asparagus will be the same size while trimming it. See picture below for reference. These are the hard, woody parts that are wrinkly. Discard them or turn them into a soup!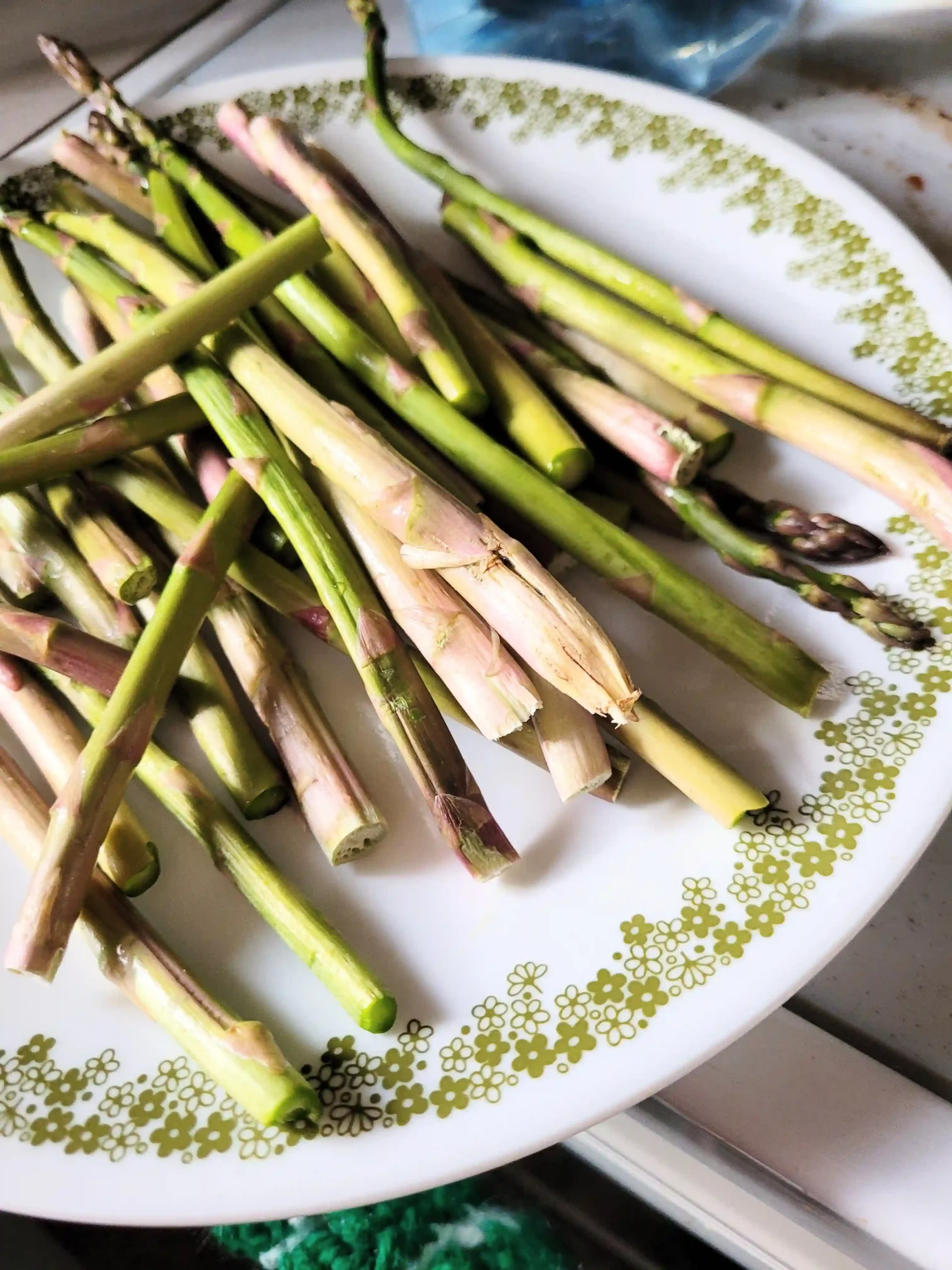 How to Wash Asparagus
Asparagus might look clean in the grocery store, but the tips can contain dirt. Soak off dirt on the tips by soaking tips in a bowl of cold water. Towel off the water with a dish towel.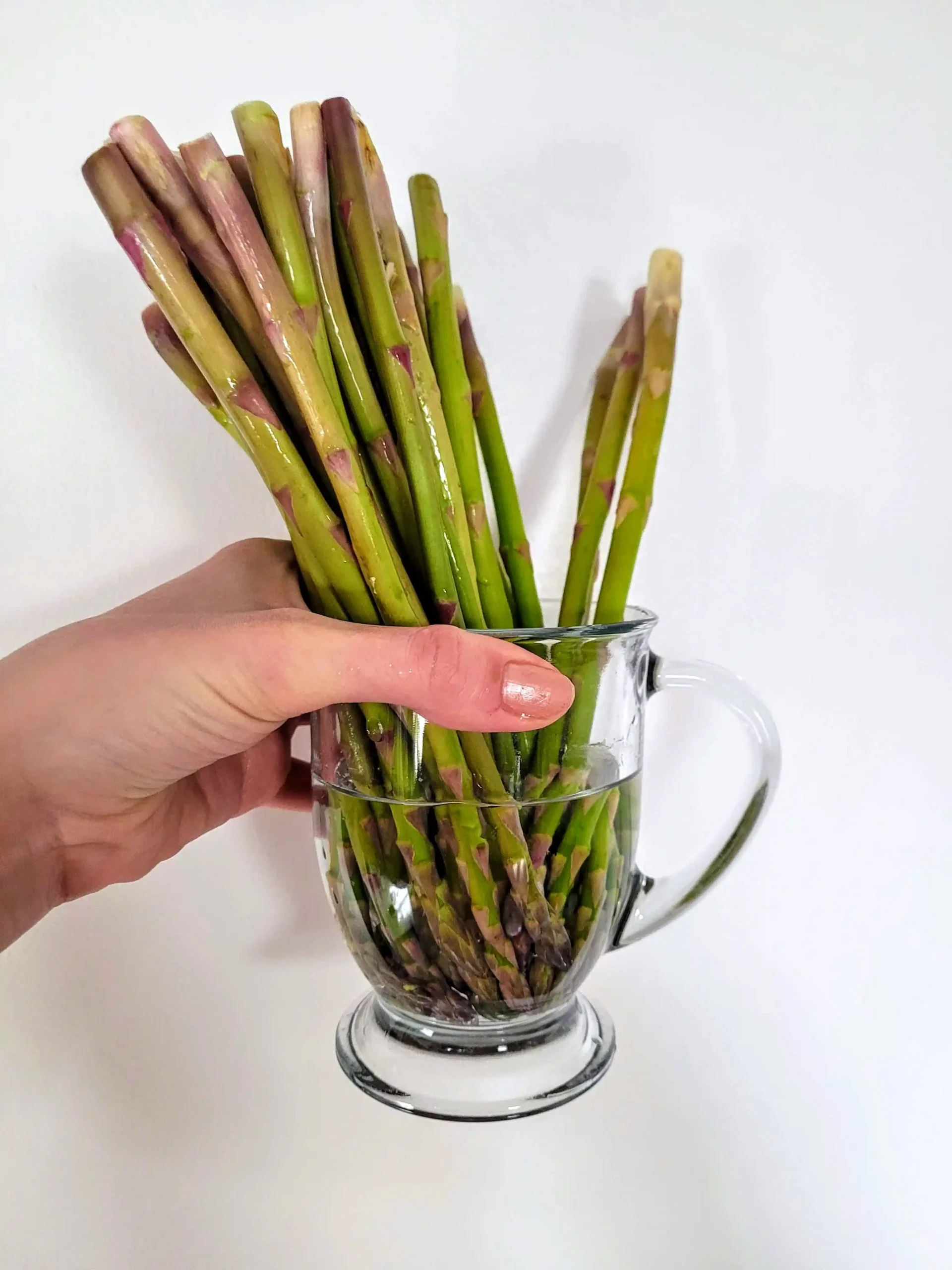 How Long to Cook Asparagus
Skinny asparagus cooks the fastest, in about 3 minutes. Most asparagus is bigger in size and cooked in about 6-7 minutes.
What to Serve with
Meat - any meat with butter like steak or butter chicken would complement garlic butter asparagus quite nicely!
Pasta - garlic butter asparagus pairs well with pasta because of the garlic butter flavor. Try this side dish recipe with pesto chicken pasta and sausage and spinach pasta.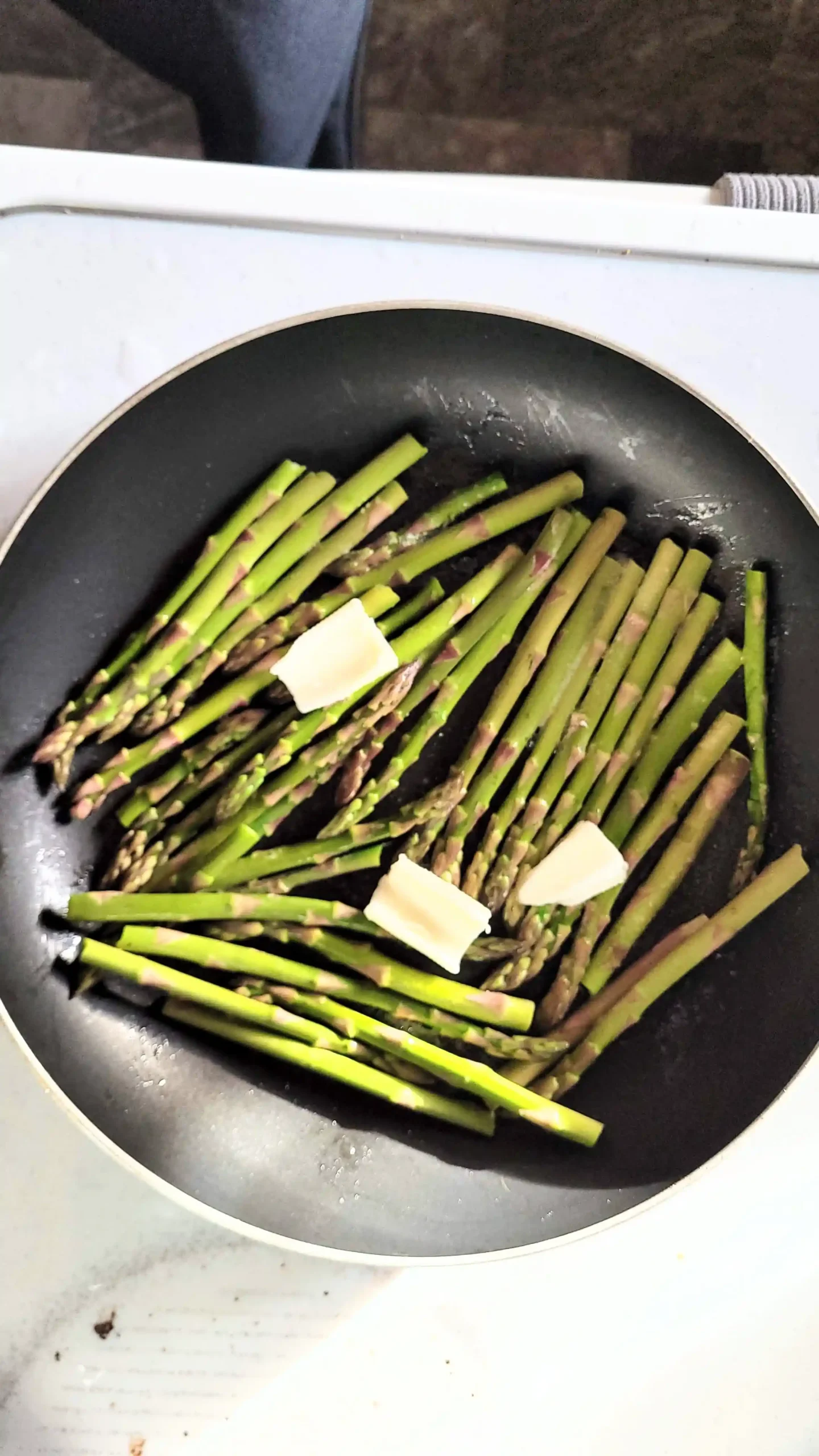 How to Store and Reheat
Store cooked asparagus in an airtight container in the fridge for up to 4 days. Reheat by air frying or reheating on stove with a splash of water for freshness. You can use leftovers in pastas or in fried rice.
Other Sides Dishes
Recipe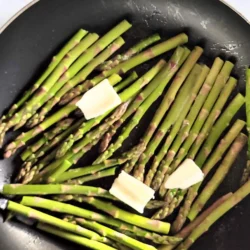 Garlic Butter Asparagus in Skillet
How to cook asparagus in garlic butter on the stove is so yummy and flavorful.
Ingredients
1

bunch

asparagus

2

tablespoon

butter

cut in slices

1

tablespoon

garlic

1

tablespoon

pepper
Instructions
In a large skillet over medium heat, add half the butter.

Trim ends of asparagus by bending the stalk until the bottom breaks at the weakest point. Discard the ends. Plate tops in melted butter on skillet.

Add remaining butter on top of asparagus.

Press garlic and place with asparagus and stir around to cook garlic. Season with pepper.

Asparagus will be fully cooked after about 6 minutes or when it turns a dark green color.
Nutrition
Sodium:
45
mg
Calories:
84
kcal
Fat:
6
g
Protein:
3.2
g
Carbohydrates:
6.7
g
---
All information presented on this site is intended for informational purposes only. Nutritional facts listed are a rough estimate and should only be followed as a general idea.