It's almost the end of zucchini season, and I know how everyone needs to find a way to use their zucchini before it spoils! I was gifted some zucchini; so I went out and bought a tool to make the creamy pesto zoodles without a spiraler. This is a healthier meal than regular pesto pasta since its made of mostly vegetables. This can be a healthy lunch or a healthy dinner. This creamy pesto zoodle recipe serves 2-3 people.
This post may contain affiliate links. This means if you click on a link and purchase something, I may earn a small commission from it.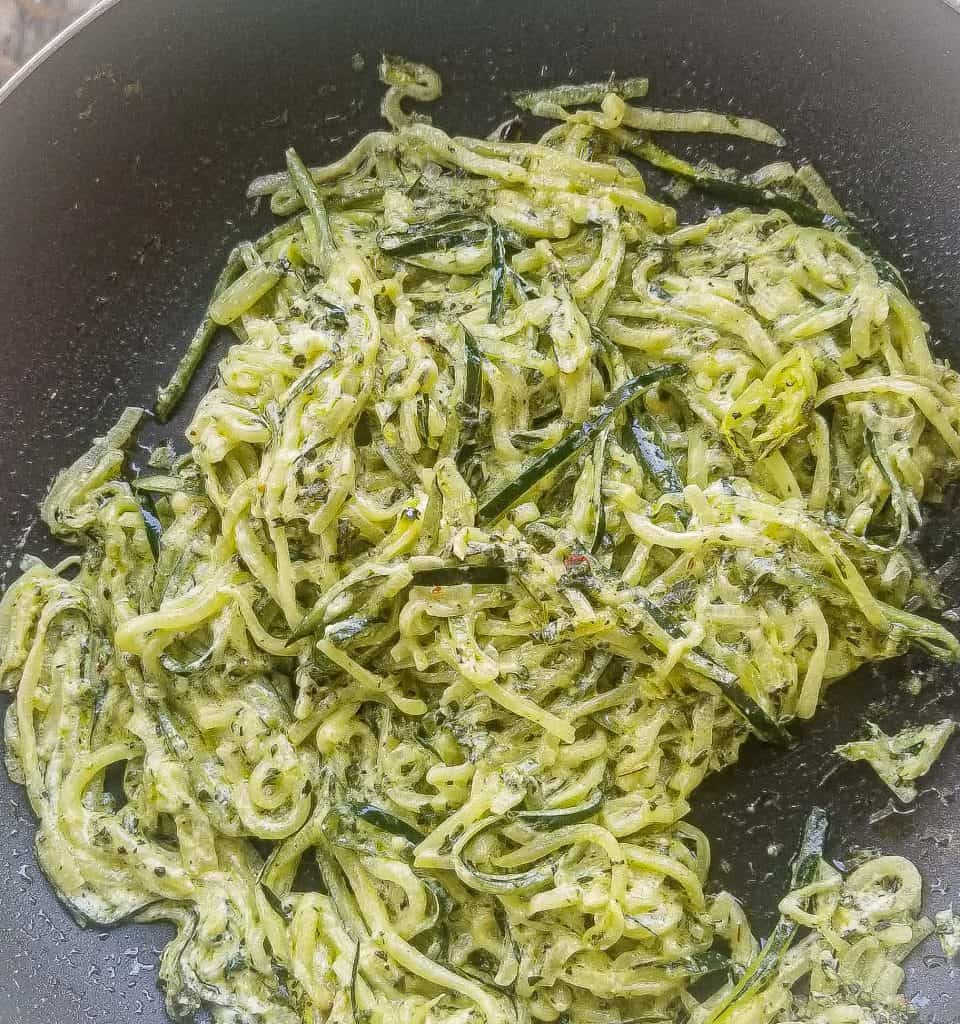 Ingredients:
Zucchini - from our home garden! You can buy yours at a grocery store too
Cream cheese - Philadelphia, I think this brand makes it more creamy
Pesto sauce - I homemade pesto sauce, but you can use any pesto you desire. I made a spinach based pesto instead of basil based
Spinach - Organic Girl
How to make Pesto Zoodles:
Shred zucchini-this is how your pesto zoodles form. I recommend shredding them fairly thin so that way they all cook evenly and more quickly
Make sauce in zucchini pan, add in spinach over medium heat-this is a one pot meal so they can all cook together in the same pan.
Serve!
Variations of pesto zoodles:
Add artichokes - spinach and artichokes go well together! Artichokes would also provide more nutritional value.
Omit spinach - I added spinach because I had an excess amount in my fridge. You do not have to add that though if you do not wish to!
Add meat - You can also add a protein like shrimp or chicken if you want to make this more filling.
Add marinara sauce - instead of pesto, you can use marinara sauce!
What to serve with zucchini noodles:
I recommend serving vegetable pasta with breadsticks! When eating a lot of vegetables, it can be hard to feel full afterwards, so eating a small carb is a great option.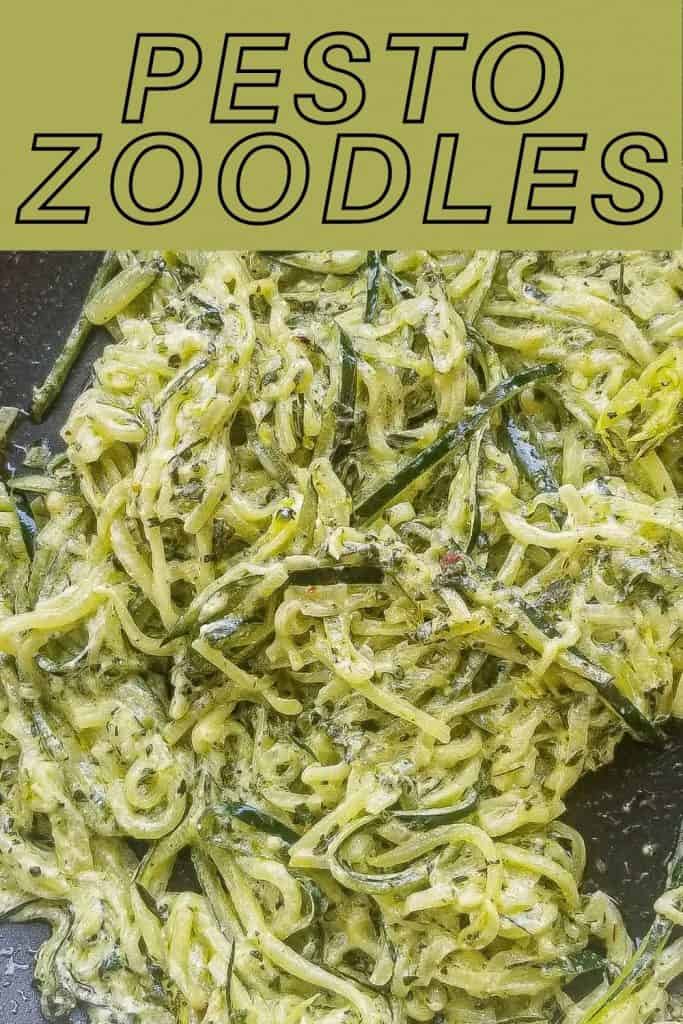 How to store this low calorie meal:
Fridge - store this pesto zoodles vegetable recipe in an air tight container in the refrigerator for up to one week
Freezer - I would not recommend storing the pesto zucchini noodles in the freezer, but the zoodles themselves can be a freezer meal! Shred off the zucchini into strips and freeze until ready to make the rest of the recipe.
FAQs
What are zoodles?
Zucchini in noodle form = zoodles!
Do I need a special tool to shred the zucchini?
think the vegetable peeler I bought to make these zoodles was a great investment; I have made this healthy pasta recipe several times since buying the tool. It is just a basic vegetable shredder; it was not the zucchini spiral maker most people use for zoodles. It was kind of like a potato peeler, except it had little triangles to cut strips. You can use a spiralizer, mandolin, julienne, etc. if you would like to though. There are so many different ways to make the zoodles themselves. 
Check out my other spinach recipes:
Recipe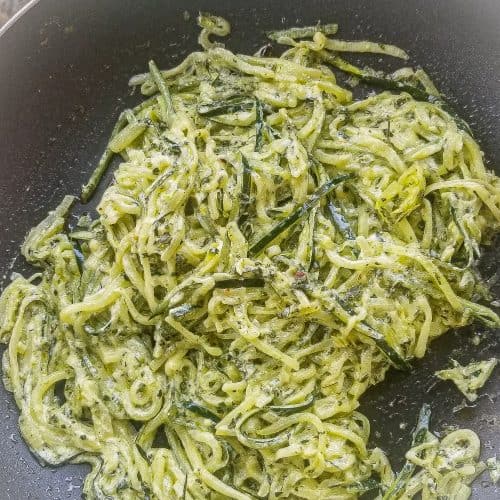 Creamy Pesto Zoodles
Low carb recipe for supper! Healthy pasta zoodles with cream cheese, spinach, pesto, and of course zucchini! No zucchini spiral maker used. I just used a vegetable shredder while making this creamy, low calorie pasta.
Ingredients
½

a medium zucchini

4

oz

cream cheese

½

cup

pesto sauce

1

cup

spinach

optional
Instructions
Begin by shredding the zucchini into strips. Shredding it is kind of like peeling a potato. Do not shred the soft center part with the seeds though. Fry these strips in 2 tablespoon olive oil over medium heat.

Once zucchini is starting to fry and begins to soften, add cream cheese and pesto. Cook until cream cheese is melted. Stir occasionally. If using spinach, add to skillet. Cook until spinach is dark green. Serve the creamy pesto zoodles when all flavors are blended together.
---
All information presented on this site is intended for informational purposes only. Nutritional facts listed are a rough estimate and should only be followed as a general idea.