If you love sausage, you'll love this Sausage and Spinach Pasta recipe! I can smell this pasta as I type out this recipe, because it is that good of a comfort food. The sausage gives it a smoky flavor with the spinach adding a hint of veggie. This sausage spinach pasta recipe serves about 2-3 people. Can double the recipe if feeding a family. This pasta should be done in 30 minutes or less!
This post may contain affiliate links. This means if you click on a link and purchase something, I may earn a small commission from it.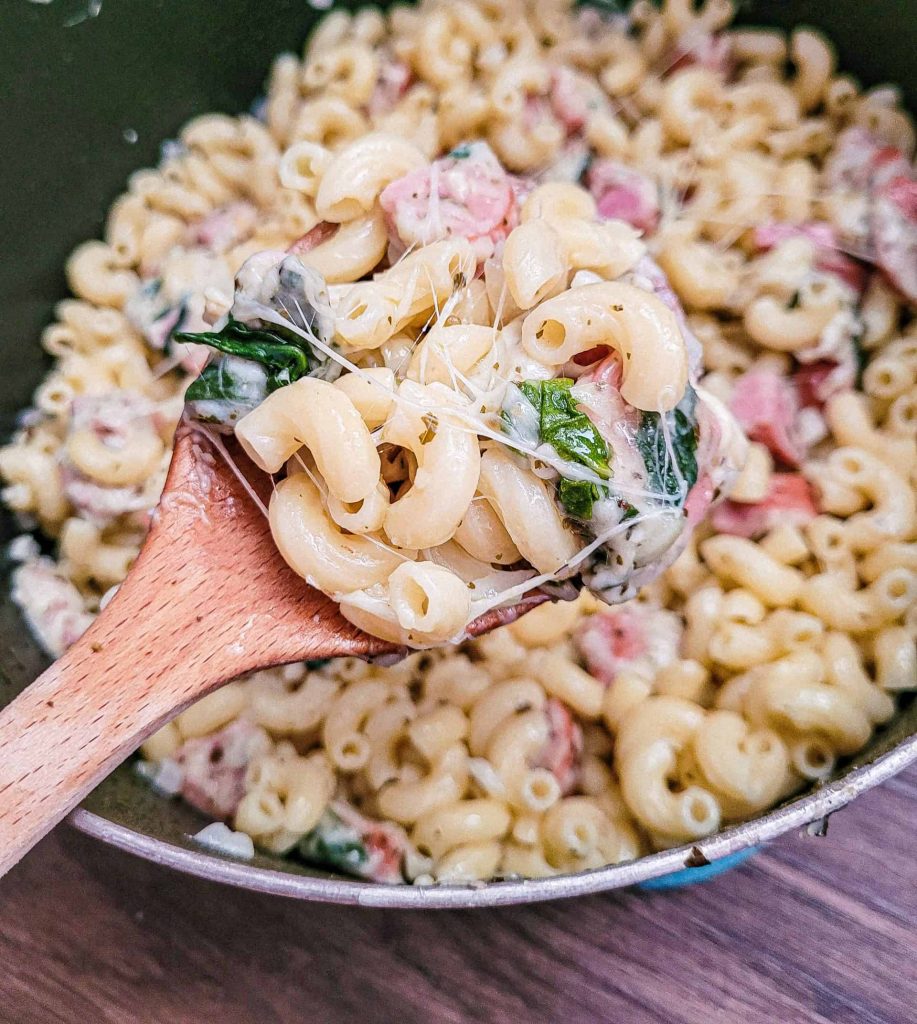 Main ingredients:
Pasta - large elbow noodles, any shape of noodles would work though as long as you cook them according to their box directions
Sausage - whatever is on sale, I usually use a spicy pepper flavor
Milk - whole milk. Can add more milk if wanting it more creamy as well.
Spinach - fresh spinach works best here
Cheese - I shred my own
How to make pasta with spinach and sausage:
Cook pasta according to box directions
Add olive oil, sausage, spinach, onion, and garlic to a large pot-cook until fragrant
Pour milk and shredded cheese to pot, then add cooked pasta
Variations:
For variations of this sausage spinach pasta recipe, you can add artichokes or pesto! I love the spinach artichoke flavor combination. The pesto would add a nice green color. If looking for more meat, chicken would be a great add-in. With homemade pasta, the options are endless though!
What to serve with sausage spinach pasta:
Since this is a lot of carbs, serving this with a garden fresh salad will make this a more balanced meal! Other Italian side dishes can be garlic bread, garlic knots, or bruschetta.
How to store sausage spinach elbow pasta:
Fridge - store this spinach pasta recipe in an air tight container in the refrigerator for up to one week
Freezer - this recipe can be a freezer meal! Cook recipe according to directions, but then let it cool and place in a freezer container. Freeze for about a month. When ready to eat, place pasta in a 9 x 13 baking dish and bake at 400 degrees for about an hour.
Other pasta recipes:
Recipe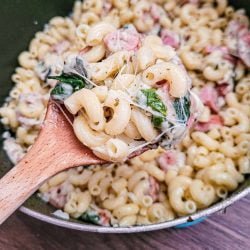 Sausage and Spinach Pasta
If you love sausage, you'll love this Sausage and Spinach Pasta recipe! Smokey sausage with spinach adding a little veggie. This sausage spinach pasta recipe should take less than 30 minutes to make.
Ingredients
4

tablespoon

olive oil

½

box of 16 oz large elbow pasta

½

lb

of sliced sausage

½

bag spinach

¼

medium yellow onion

3

tablespoon

garlic

¼

cup

milk

½

cup

shredded mozzarella cheese
Instructions
Cook elbow macaroni in a large pot according to directions on box. Once fully cooked, drain pasta into a colander. Place pot back on stove while allowing pasta to drain in sink.

In same pot over medium heat, add olive oil, sausage, spinach, onion, and garlic. Cook until garlic is fragrant and onion is translucent.

Add in milk and shredded cheese to the pot. Cook until cheese is stringy. Add back in pasta to pot. Stir around until well mixed. Serve your Sausage and Spinach Pasta hot.
Nutrition
---
All information presented on this site is intended for informational purposes only. Nutritional facts listed are a rough estimate and should only be followed as a general idea.