Pesto bacon pasta is one of my favorite pasta recipes made with my favorite store bought pesto. A great way to use up leftover meats from the fridge! I do home make pesto at times, but for this recipe, I used store bought. This easy pasta recipe serves 2-3 people. Can double recipe if feeding a bigger family!
This post may contain affiliate links. This means if you click on a link and purchase something, I may earn a small commission from it.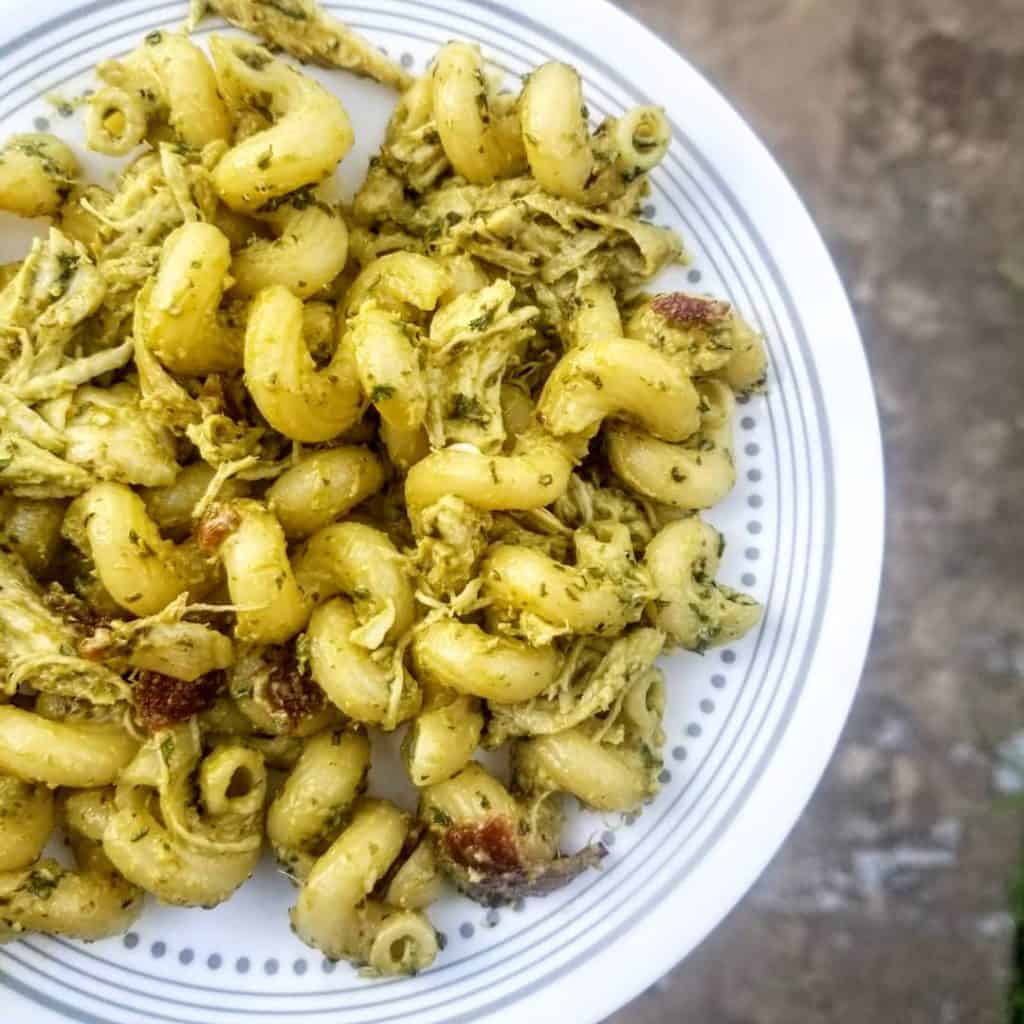 I made Pesto Bacon Pasta as my night before the virtual half-marathon meal. I did finish the half marathon, so I give this recipe credit for giving me the carbs to follow through. Carbs really do make a difference before running!
Why you will love this chicken pesto pasta:
Use up ingredients - if you have leftover chicken and vegetables sitting in the fridge, it is so easy to make a meal out of them in 20 minutes.
Carbs and protein - pasta contains carbs but protein from the chicken provides extra nutrients
Less dishes - this is a one pot meal which makes for an easy clean up
Reheating is easy - pop your pasta leftovers on a plate in the microwave for 30 seconds or until heated throughout.
One pot pasta ingredients:
Pasta - I have been using the Hy-vee brand since 10/$10 is a good deal.
Bacon - I used some I got from a local locker
Chicken breast - the kind in a bag that is easy to thaw out one piece at a time
Pesto - Barilla creamy ricotta and arugula flavor, not sponsored, but I just think everyone needs to try this flavor of pesto! I could have eaten this flavor plain. Best pesto flavor out there.
How to make bacon pesto pasta:
Cook the chicken first. I used leftover chicken for mine so it was already cooked and needed a use!
Boil pasta for the minimum time or until the pasta can be easily squished between your fingers. That is how I can tell when the pasta is done! I do this with all pasta recipes I make, except spaghetti.
Add remaining ingredients and stir!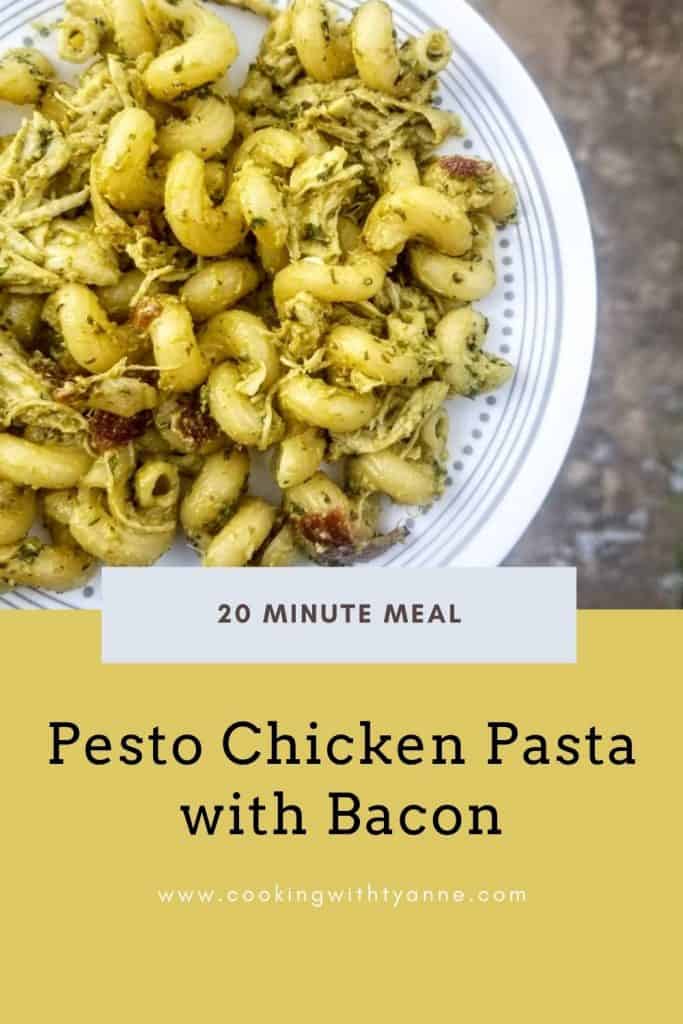 Variations:
More bacon - you can always add more bacon if you want your pasta to have more of a smoky flavor.
More pesto - if you want more of a runny sauce, adding more pesto would be a good option! I used jar or a pesto packet. You do not have to heat jarred pesto sauce before adding it.
Mix pesto and another sauce - mixing pesto and red sauce is a combo some people like to do to cut back on oils since pesto has oil (without saturated fat).
Different noodle type - "what type of pasta do I use?" is a question people ask as if the noodles are all that different from each other. Your favorite shape of noodle works here.
Tips and tricks
Use homemade pesto
Prep your homemade pesto in advance so you have it on hand for this recipe. Store bought pesto is pretty good but homemade pesto will have more aromatic flavors of the basil and garlic.
Use thick cut bacon
Sometimes regular cut bacon can burn quickly, and no one wants crunchy burned bacon in their pasta! Thick cut bacon cooked is soft and not overly crispy.
Read through ingredient list
This recipe calls for cooked chicken and bacon. Make sure those are cooked before beginning this recipe!
How to store:
Refrigerate - eat this bacon pesto pasta leftover by storing it in your fridge in an air tight container for up to one week.
Freeze -This can be made into a freezer meal! Just let it cool in a freezer pan and freeze for up to a month. When ready to eat, throw directly into the oven at 400 degrees Fahrenheit for about 2 hours. You are welcome to add more pesto sauce after the oven since sometimes the moisture disappears after baking.
Check out my other delicious pasta recipes:
Recipe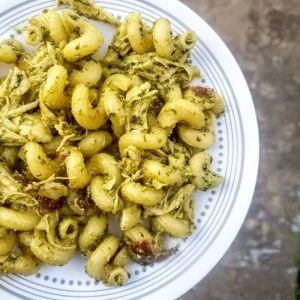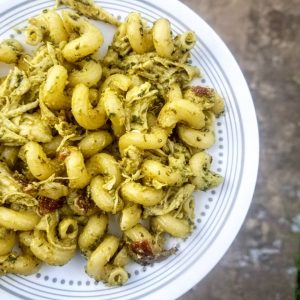 Pesto Chicken Pasta (20 Minute Meal)
Very quick pasta recipe with chicken and pesto! This chicken and pasta recipe serves 2-3 people, but you can double the recipe if feeding a larger group of people.
Ingredients
½

box of pasta of choice

3

strips cooked bacon

crumbled

1

cup

cooked chicken breast

chopped

6.3

oz

jar pesto sauce

Sprinkle of parsley
Instructions
Cook pasta according to directions on the box, drain.

In same pot pasta was in, add back in pasta, and remaining ingredients. Stir over medium heat until it is warm. Serve this Pesto Chicken Pasta with parsley on top.
Nutrition
---
All information presented on this site is intended for informational purposes only. Nutritional facts listed are a rough estimate and should only be followed as a general idea.