Chocolate cookies with white chocolate chips make an excellent twist on chocolate chip cookies in this no chill inside out cookies recipe!
I was craving a chocolate dessert, but only had vanilla chips on hand in an excess amount. So I made the best of both worlds: a chocolate cookie that also helped use up my insane amount of vanilla chips= Inside Out Cookies. These cookies are very soft. This soft cookie recipe makes about 2 dozen cookies.
This post may contain affiliate links. This means if you click on a link and purchase something, I may earn a small commission from it.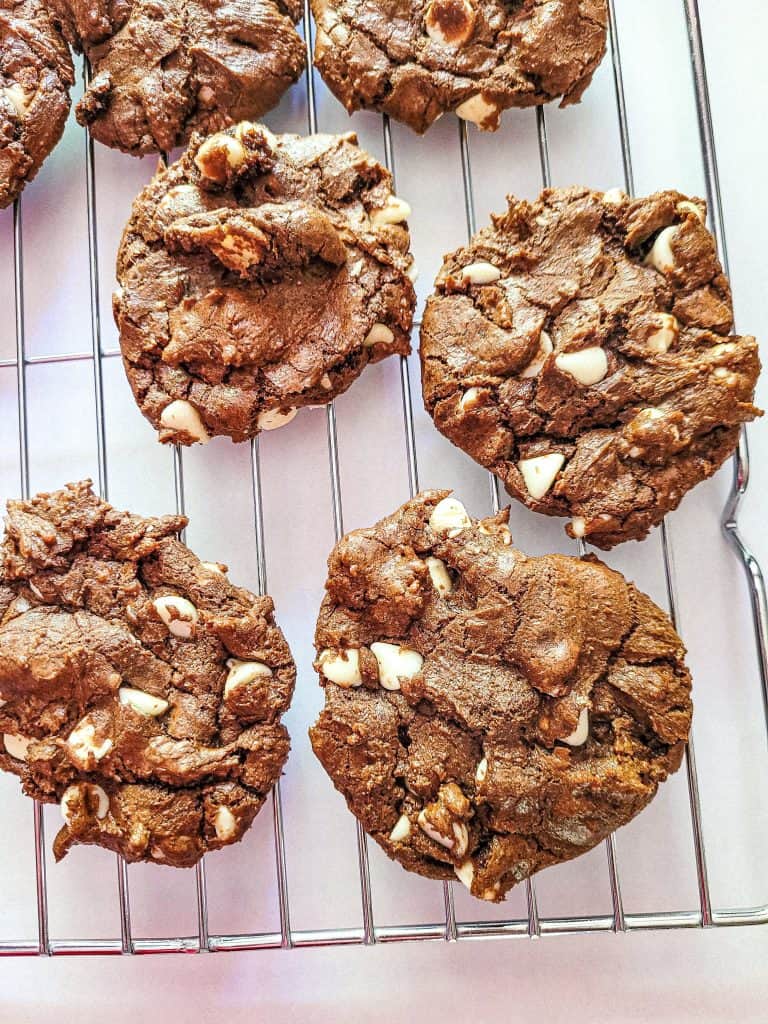 Why you should make reverse chocolate chip cookies:
No chilling - save time with this no chill cookie dough recipe. You can bake and eat within the hour!
Soft and chewy - the softer the cookie the better!
No melting chocolate - this reverse chocolate chip cookie recipe gets the chocolate flavor from cocoa powder, so there is no melting chocolate on the stove involved.
Ingredients:
Butter - stick butter
Brown sugar - provides sweetness
Vanilla - I use real vanilla
Flour - provides structure
Cocoa powder - the chocolate part
Baking soda - helps them rise
White chocolate chips - the chips!
How to make chocolate cookies with white chocolate chips:
Mix together wet ingredients first in a large bowl.
Stir together dry ingredients, then add to wet ingredients. If you wanted to make this a one bowl recipe, you could just dump the dry ingredients directly into the wet ingredients and stir.
Stir in chocolate chips.
Scoop cookies with cookie scoop onto sprayed baking sheet. ALWAYS SPRAY THE BAKING SHEET. If you do not have a cookie scoop, you can just drop heaping tablespoonfuls onto the sprayed pan as well.
Best Tips:
See end note for cook time tips - I always burn my cookies before implementing these tips so be sure to look at my notes!
Use a decent baking sheet - I always bake cookies using a special baking sheet I use for only cookies. This baking sheet is different from other baking sheets as it is a thicker pan. The cookies take slightly longer to bake, but using a thicker pan does make a difference.
Let cool on wire rack - but only for 1 minute! If you try and remove the cookies right out of the oven, they will fall apart. You have to let them continue to bake on the pan for 1 minute, then remove from pan with a spatula.
Extra white chips - while the cookies are cooling, you can press any extra white chips on top for extra chip flavor.
How to store chocolate cookies:
Short term: Store at room temperature in an air tight container for about a week.
Long term: You can freeze these cookies in a plastic bag or air tight container for about a month. Thaw out and eat.
Check out my other best cookie recipes:
Recipe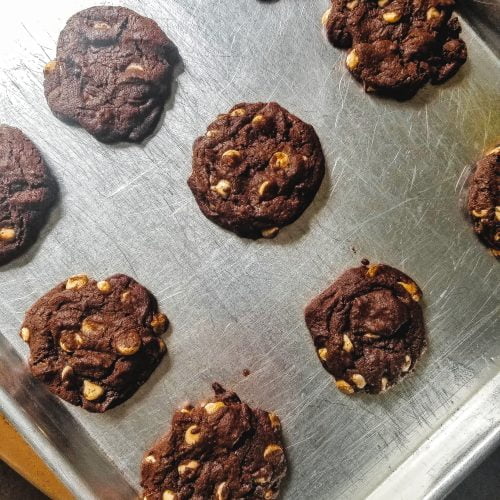 Inside Out Cookies
This chocolate cookie recipe with white chips satisfies your chocolate craving, and allows you to use up your white chips! Very simple cookie recipe that is 148kcal per cookie. This chocolate cookie recipe also makes very soft cookies!
Ingredients
½

cup

melted butter

1

cup

dark brown sugar

1

egg

dash of vanilla

1

cup

flour

½

cup

cocoa powder

½

teaspoon

baking soda

dash of salt

1 ½

cups

white chocolate chips
Instructions
In a large bowl, beat together butter and brown sugar for about two minutes or until well mixed. Add egg and vanilla, and beat again for 1 minute.

In a smaller bowl, stir together flour, cocoa powder, baking soda, and salt. Add this to the wet ingredients little by little. Stir. Add in white chocolate chips. Stir.

Using a cookie scoop, drop batter onto a sprayed baking pan. Do not heap the cookie scoop as these do spread out a bit. Bake at 350 degrees for 10-11 minutes. Remove from oven when cookie edges are just starting to harden. Let the pan cool on a wire rack for 1 minute, then remove cookies and let them cool on a wire rack. Serve your Inside Out Cookies warm or room temp!
Notes
Baking note
: Everyone's oven is different, so I recommend setting the timer for 10 minutes for the bake time and going from there. To me, it is best to have these white chocolate chip cookies underdone and able to cook for a few extra minutes longer if needed after checking them the first time versus set the buzzer too high and have to take them out burned. Once they are burned, there is no going back.
Nutrition
---
All information presented on this site is intended for informational purposes only. Nutritional facts listed are a rough estimate and should only be followed as a general idea.