Peanut Butter M&M Cookies
The taste is pretty much in the title: traditional peanut butter cookies with m&ms. Very soft peanut butter m&m cookies! I like my cookies soft, so I am glad these turned out that way. I was really into peanut butter for a time there so I decided to add M&Ms to my peanut butter cookies, and they were so good! If you want to read about the benefits of peanut butter in baking, click here.
This m&m cookie recipe makes around 30 cookies. A serving is 2 cookies.
This post may contain affiliate links. This means if you click on a link and purchase something, I may earn a small commission from it.

Check out my other delicious cookie recipes:
How to make excellent peanut butter m&m cookies:
mix together wet ingredients and sugars-this helps the sugar become less grainy and it will beat the egg in. You can use a whisk for this part if you do not have a hand mixer
stir together dry ingredients-dry ingredients include flour, baking soda, and salt.
add dry ingredients to wet ingredients while stirring. Then, add m&ms.
scoop out dough onto sprayed baking sheet using a cookie scoop. If you do not have a cookie scoop (we did not have one for many years), use a heaping tablespoon.
bake! Look at my notes on the baking instructions.
Favorite ingredient brands to use for this peanut butter cookie recipe:
*butter-Best Choice or Crystal Farms
*white and brown sugar-C&H cane sugar
*peanut butter-Jif Original or Natural
*vanilla-McCormick
*flour-Gold Medal
*baking soda-Arm & Hammer
How to store m and m cookies:
room temperature-I like to store my cookies room temperature in an air tight container for about one week.
freezer-I have not tried freezing these cookies before. I do not see why they would not be freezable though! If you would like to try freezing them, let me know how it goes!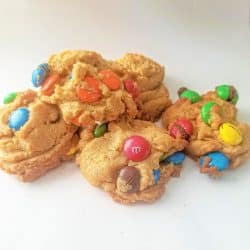 Peanut Butter M&M Cookies
Easy peanut butter cookie recipe with m&ms! Soft cookie texture for this peanut butter dessert. This peanut butter recipe makes about 30 cookies.
Ingredients
1

stick melted butter

1/2

cup

white sugar

1/2

cup

brown sugar

1/2

cup

peanut butter

1

egg

dash vanilla

1 1/4

cup

flour

1/2

tsp

baking soda

dash salt

2

cups

M&Ms
Instructions
Mix together butter and sugars for 2 minutes in a large bowl. Add in peanut butter, egg, vanilla, and mix until combined.

In a smaller bowl, stir together flour, baking soda, and salt. Slowly add to wet ingredients while stirring. After well combined, stir in M&Ms.

Using a cookie scoop, scoop out dough onto a sprayed baking sheet leaving 3 inch spaces between each one so they can grow a little bit. Heaping the cookie scoop is okay in this recipe as they do not expand a ton.

Bake for 10-12 minutes at 350 degrees. Remove from oven. Let cookies cool on a wire rack. Serve the Peanut Butter M&M Cookies when cool.
Notes
Baking time note: I would recommend setting the timer and checking on these m and m cookies at the 10 minute mark. If they are still soft on the edges, put them back in the oven for a few minutes to firm them up a bit. If they are firm on the edges at 10 minutes, take out of oven. I usually let my cookies cool on the pan on top a wire rack for 1 minute. Then, I remove the peanut butter cookies from the pan and place them on the wire rack to cool.
Nutrition
---
All information presented on this site is intended for informational purposes only. Nutritional facts listed are a rough estimate and should only be followed as a general idea.