Monte Cristo Sandwich with Cheddar
I watched the movie The Count of Monte Cristo, and thought of the Monte Cristo sandwich! The movie and sandwich are unrelated, but click here for some fun facts about the movie.
This is a very tasty lunch. It should take you less than 15 minutes to make this monte cristo sandwich. I think this sandwich recipe could be very kid friendly as well. It kind of reminds me of French Toast but in a sandwich form, without cinnamon. This recipe serves 2. You can double this easy sandwich recipe if feeding more than 2 people!
This post may contain affiliate links. This means if you click on a link and purchase something, I may earn a small commission from it.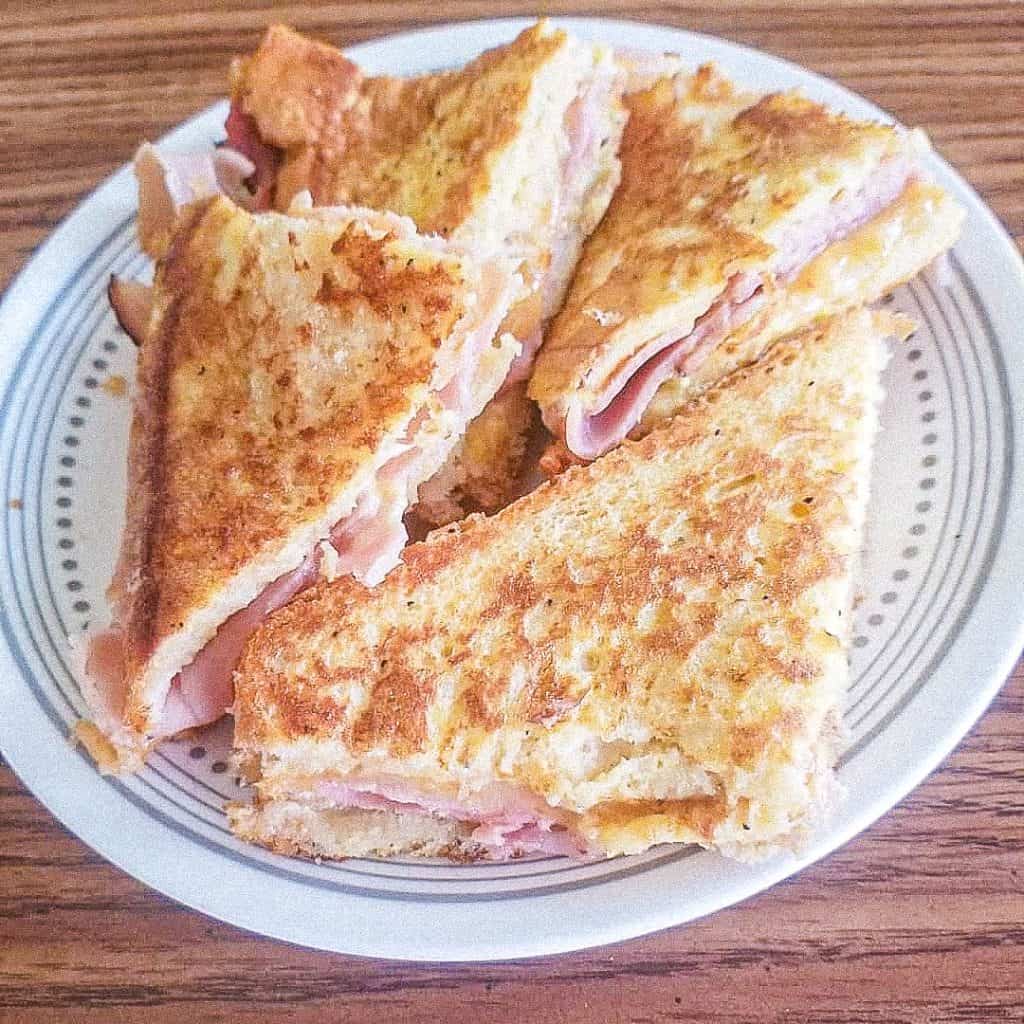 Check out my other best sandwich recipes:
How to make this monte cristo recipe:
make inside of sandwich-put mustard and mayo with the meat and cheese on the inside of the bread like you would with any regular sandwich.
press sandwich down with a pan-put on the top slice of bread and press the sandwich down with a pan. You could probably skip this step if you really wanted to, however, I find that by pressing down the sandwich, it stays together better when frying.
make egg mixture-this is what will go on the outside of the sandwich, and give it a different color.
gently dip sandwich in egg mixture-you do not want your sandwich to be soaking in the egg mixture, or else it will get soggy. Just coat it enough to be an even coat
fry sandwich-make sure your pan with butter is hot before frying.
Main ingredients for this easy sandwich recipe:
butter-spreadable table butter
bread-store-brand name sandwich white bread
eggs-farm eggs, town eggs would work too
mayo-Kraft
mustard-spicy or regular mustard
ham– Cherrywood flavor is my favorite, your favorite would work as well though!
sliced cheese-chipotle cheddar, or any cheddar
How to store grilled cheese:
fridge-store this sandwich in an air tight container in the refrigerator for up to one week. Great way to meal prep.
freeze-I do not believe sandwiches would freeze very well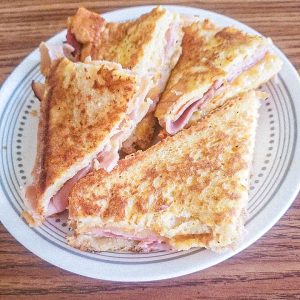 Monte Cristo
This monte cristo sandwich is nothing like the movie, but it sure tastes yummy! 15 minute lunch recipe is easy to make and one of my best sandwich recipes.
Recommended Products-Click to Buy
Ingredients
2

tbsp

butter

4

slices

of bread

2

eggs

salt

pepper

mayo to spread

mustard to spread

4

slices

of deli ham

2

slices

of cheese of your choice

I used chipotle cheddar
Instructions
On a plate, spread mayo and mustard on one side of each slice of bread. Place 2 slices of deli ham and 1 slice of cheese onto two of the slices of bread. Assemble with the remaining two slices of bread to create the sandwich. Press sandwiches down with a skillet so they are more flat. This will help them stay together when doing the egg mixture.

Fry butter in a large skillet over medium heat to melt it. While the butter is frying, in a small bowl that fits the bread, whisk together eggs and a dash of salt and pepper.

When butter is melted and skillet hot, dip both sides of one of the sandwiches into the egg mixture. Transfer from egg mixture to skillet. I would recommend doing this quickly so the bread does not get too soggy. Repeat with the remaining sandwich.

Cook sandwiches until golden brown on each side. I like mine on the lighter side so it was about 3-4 minutes.

Cut and serve your Monte Cristos.
Nutrition
---
All information presented on this site is intended for informational purposes only. Nutritional facts listed are a rough estimate and should only be followed as a general idea.